Delhi
Under The Shadow Of Tughlaqabad Fort Lies A Massive Structure Called Adilabad Fort
It looks small from a distance. But as you approach it crossing the dusty open field where local boys often play cricket, you gradually realize the enormity of the structure. It takes some effort to climb the stairs and reach the top of this fort. But the aerial view of the entire Tughlaqabad region is entirely worth the exertion! There are two gateways, but the most prominent and functional one is the one that you find while approaching it from the northern side, from the tomb of Ghiasuddin Tughluq.
Under The Shadow Of Tughlaqabad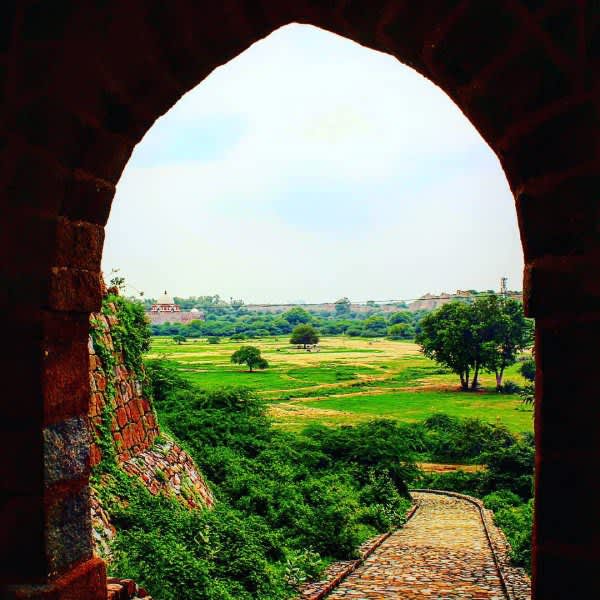 Picture Credits: amrendranarayan11
Adilabad is located southwards from the even more colossal Tughlaqabad Fort, which was the heart of the third city of Delhi, also called Tughlaqabad. While Ghiasuddin Tughluq is credited with building this city, Adilabad Fort is believed to have been built by his son, the enigmatic and mercurial, Muhammad Bin Tughluq (1325 AD -1351 AD). 
It is not certain what exactly Muhammad wanted to do with this fort because there was already a much larger fort existing nearby, but then he was known for his eccentric decisions that made him one of the most intriguing monarchs of Delhi. Depending on one's viewpoint, he was either a madman or a genius, but he surely was not an ordinary man! The majestic architecture of the fort bears the testimony of his vision.
Current Condition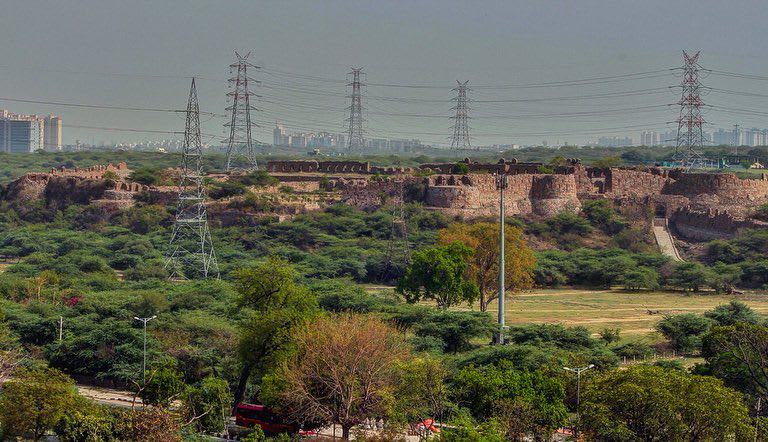 Picture Credits: shivam_saxena_photojournalist
After the fall of the Tughlaqs, the fort probably became an abandoned piece of forgotten history. But it was a sturdy construction, and stands more or less intact after so many centuries. It followed the basic design of the Tughlaqabad Fort and was connected to it with a causeway, which no longer exists today.
It contains an outer and an inner enclosure; inside the inner fortification, the remains of a citadel are prominently visible, complete with bastions and iron gates. Of late, the authorities have also taken some effort to beautify the place. So you can now see flowering plants and shrubs adorning the inner courtyard of the fort. 
It is also a popular hangout spot for the army and air force personnel as they have bases located nearby. They can often be seen there busy with their exercises and briefings. 
But this should not alarm you for any reason - they do not interfere with regular visitors and just concentrate on their own drills.
Reaching Adilabad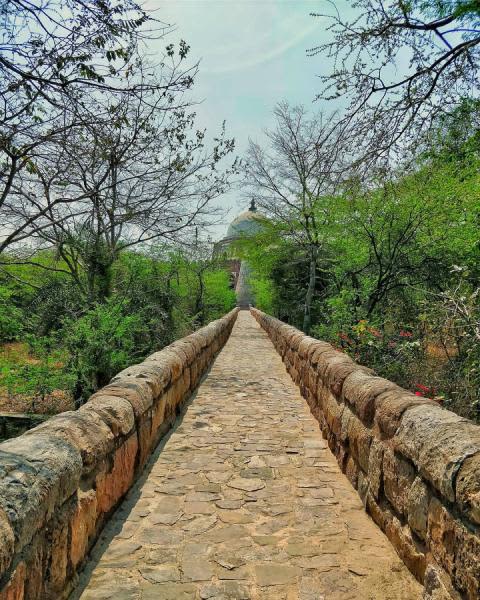 Picture Credits: karanpsbrar
Reaching Adilabad is easy because it is located just near the Tughlaqabad Fort, which is a major attraction. You can reach it from the Tughlakabad Metro Station. Otherwise, you can also reach it from the other side by reaching Hamdard Nagar on a tempo or bus, and take a brisk walk along the Mehrauli-Badarpur Road. 
While you need tickets to enter the Tughlaqabad Fort, there is no such requirement to visit Adilabad. So, you can just roam around the fort for fresh air or you can include your jaunt along with the bigger fort and the tomb of Ghiasuddin Tughluq for a comprehensive tour of the fourth city.
Come along and don't forget to get your precious DSLRs along for that perfect aerial shot! See you there, picnic baskets in tow.
Once it's safe to do so, come along and don't forget to get your precious DSLRs along for that perfect aerial shot! See you there, picnic baskets in tow.
Where | Adilabad Fort - Mehrauli - Badarpur Rd, Tughlakabad