Delhi
Achari Chicken Wings, Charmoula Grilled Fish & Hazel Double Nut Shake: Our Favourites,Hunger Station
This awesome eatery looks pretty formal from the outside, but as we made our way in, we were in complete awe of the fun and quirky décor and furniture. Right from the posters at the entrance to the wall designed by Filmy Owl, we were delighted to see the fresh bursts of colours all around.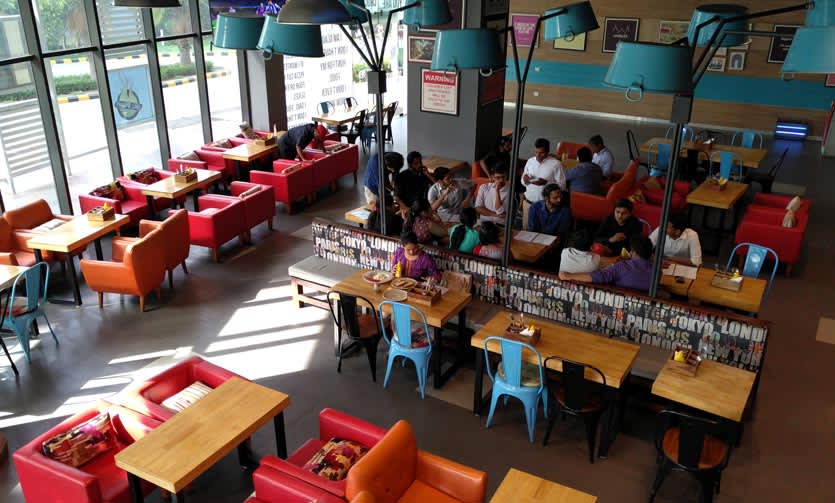 The place is quite huge so there's ample seating, from bar stools to comfy sofas, they have it all spread across two floors. After looking around quite a bit, we found a cosy spot and couldn't wait to taste their dishes. Here's everything we tried:
Achari Chicken Wings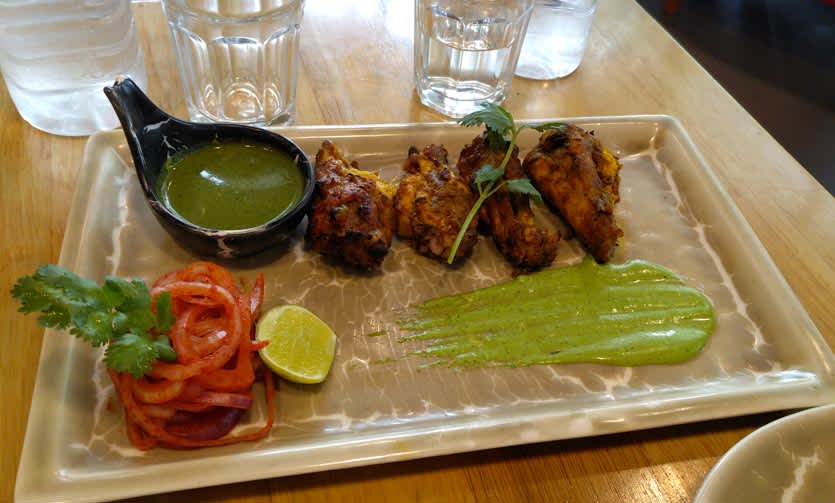 This was the first thing we ate and it was pretty interesting as it was nicely cooked to perfection in the tandoor. Also, instead of being dressed in barbecue sauce, the wings were marinated with pickle. They tasted so good, especially the consistent achari flavour, that we polished off every last morsel! 
Price | Rs 195
Tandoori Corn on The Cob
We were quite excited about this dish (because it got us thinking about the bhutta season i.e. monsoons in a jiffy!) and could only imagine how amazing it would taste after being cooked in the tandoor. It looked aptly juicy and guess what? It was awesome! The spices that it'd been marinated in were of just the right consistency so they didn't overpower the natural sweetness of the corn, which was great.
Price | Rs 125
Vietnamese Style 5 Spice Chicken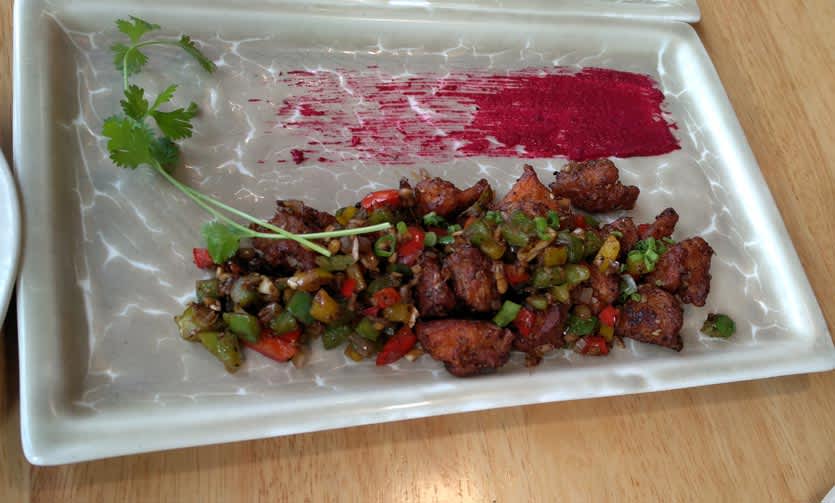 Next, we tried the deep-fried chicken dish we thought would be a flavour bomb. It tasted like a distant cousin of the popular chilli chicken, but we were happy with the clear distinction between the two. Crunchy pieces of chicken and bell peppers, which proved to be great friends of the spices - cushioning their piquancy perfectly, this dish made for a nice starter!
Price | Rs 235
Kerala Chilli Chicken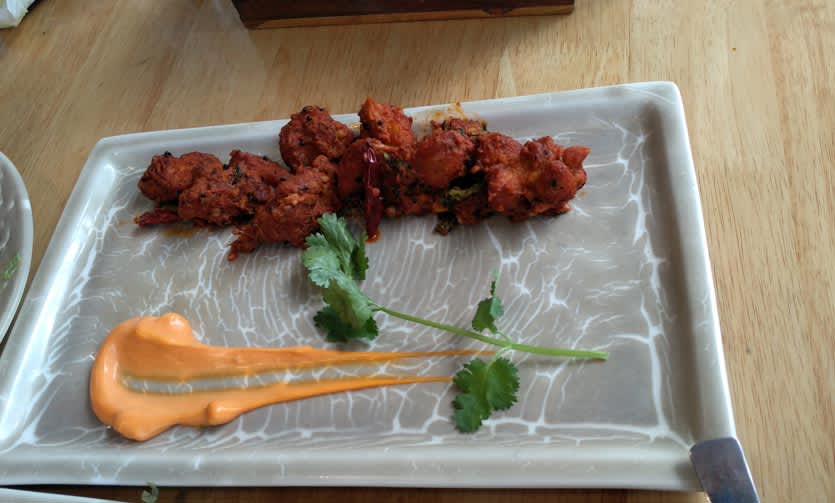 On its arrival, we thought it was quite similar to the regular Chicken 65, but our views completely changed upon tasting it. This dish looked very spicy and quite honestly, it was, but one bite with a dash of the mayonnaise based sauce that accompanied it, and we had a perfect jugalbandi performance taking place in our mouths! It was quite generously marinated as if each little piece had its own dry gravy bag *starry eyed*.
Price | Rs 225
Hazel Double Nut Shake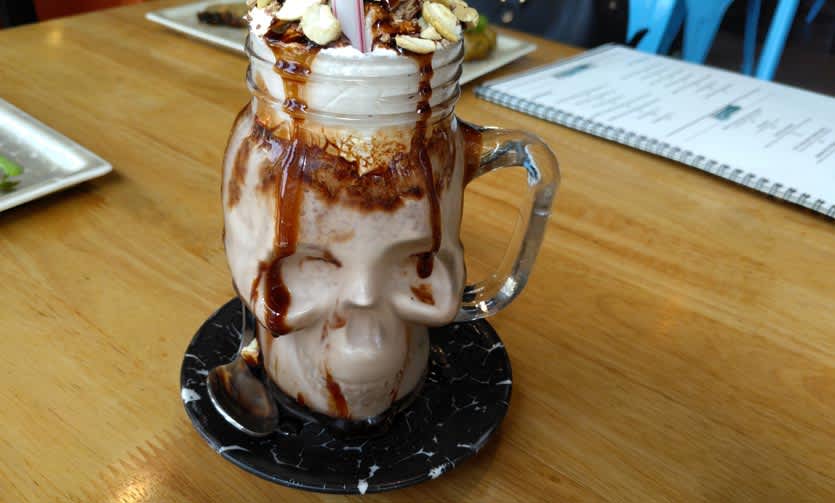 By this time, we were pretty much done with our quota of spicy and tangy food for the day and needed something excessively chocolatey. Their Hazel Double Nut Shake was simply heavenly! Topped with vanilla ice-cream and a generous helping of whipped cream, not to forget the sprinkled dry fruits, our sweet tooth has been satiated for the next few days, at least!
Price | Rs 215
Pink Lemonade Mocktail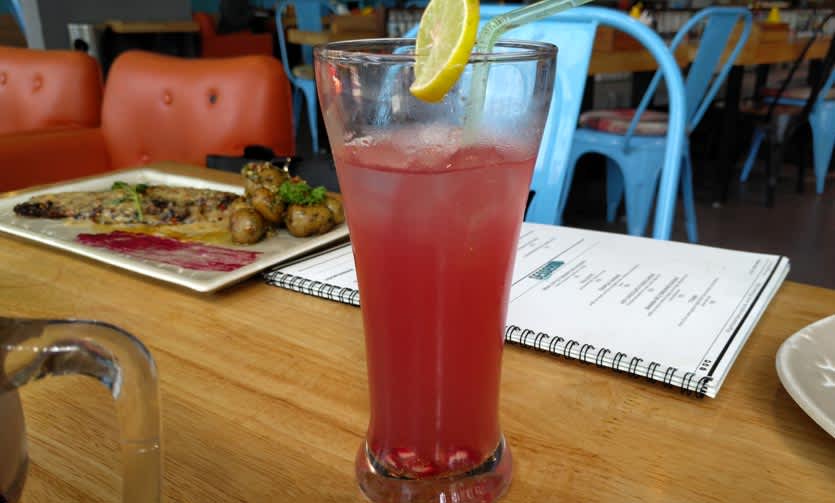 The heat (from the food and from the seat in the sun that we'd so carefully selected) could only be cooled by a refreshing drink like this. Made with peach, cranberry and pomegranate, this Lemonade helped us wash down all the yummy food we'd just devoured. Moreover, it energized us to gorge on the main course – something we thought we just didn't have the space for!
Price | Rs 199
Hunger Station Charmoula Grilled Fish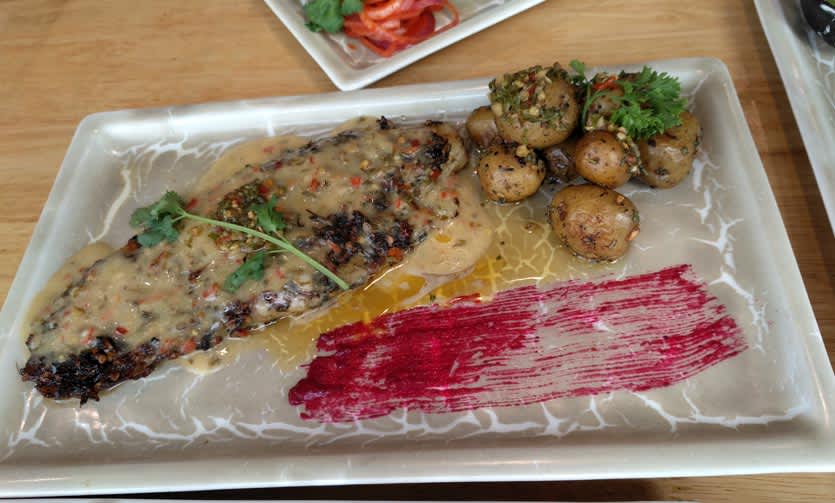 Cooked to perfection and accompanied by a side of jacket potatoes (our forever faves), this dish was undoubtedly the highlight of our meal! It was quite tender and the flavours that exploded in our mouths after the very first bite were delicious to say the least. Seasoned generously with spices like coriander seeds, it was fresh, light and absolutely lip-smacking!
Price | Rs 315
Tandoori Chicken Kulcha Pizza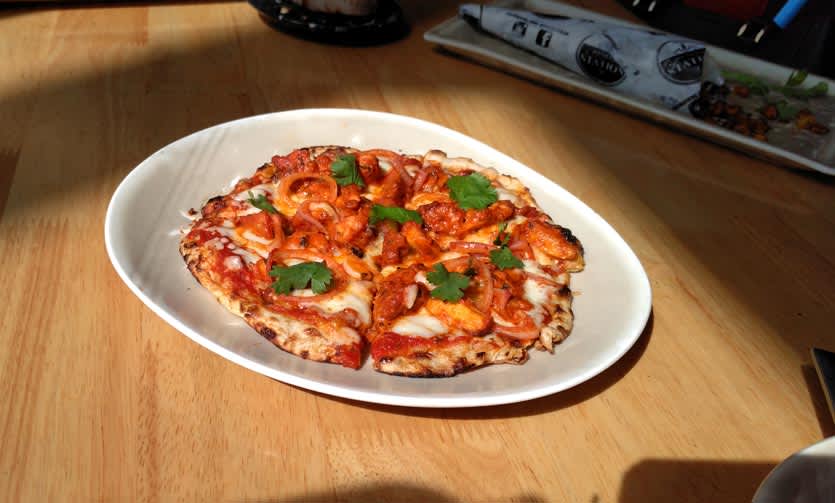 The kulcha base was baked with a creamy zesty sauce and crowned with the ideal amount of chicken chunks infused with quintessential butter chicken gravy. Also, the flavour of the kulcha really complemented the spices of the chicken. Defo try this one if you love your chicken and kulchas!
Price | Rs 315
Tropical Sundae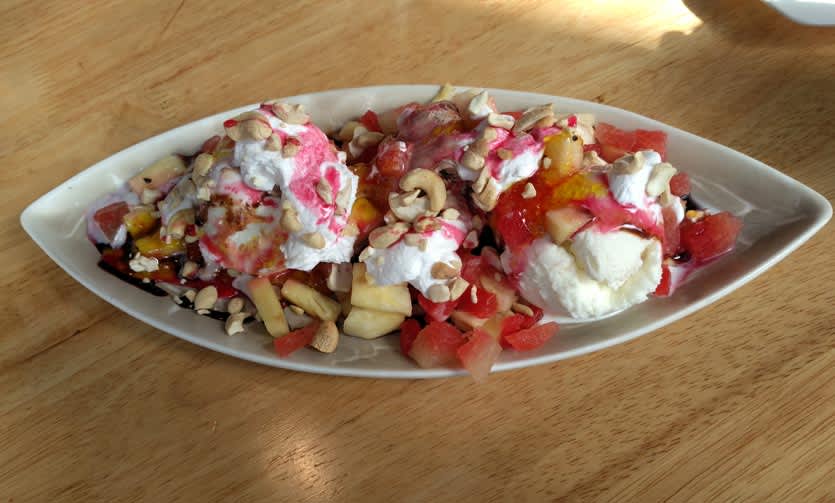 A generous quantity of fruit like pineapple and watermelon sprinkled around three scoops of ice-cream (2 of vanilla and 1 of chocolate), the dessert was pretty much an explosion of creamy ice-cream in our mouths and wrapped up our meal nicely!
Price | Rs 175
All in all, we'd say that this eatery has a super chilled vibe to it that invites you to come on in and just unwind over some great food and yummy drinks - so when are you swinging by?!
Where | Spaze i-Tech Park, Tower C, Ground Floor, Sector 49, Sohna Road, Gurgaon
Check Out Their FB Page | https://www.facebook.com/hungerstationspaze/