Delhi
Aam Panna & Cake Batter Frogurts: We Ate Our Way Through Newbie Menchie's, HKV!
Menchie's, all the way from USA with more than 500+ locations across the world, just opened its doors for the people of Delhi in our very own urban village, HKV! As soon as you enter, you're welcomed by an ecstatic staff and smiling faces. 
The first thing they ask you is whether you're visiting Menchie's for the first time or not and follow it by explaining the process of making your very own frozen yogurts. Their outlet in HKV has super bright and colourful walls! They provide 120 flavours and toppings like Maple Syrup, Belgian Waffles and Tart Flavors and out of this, 60 of them keep changing every day. NAICEE.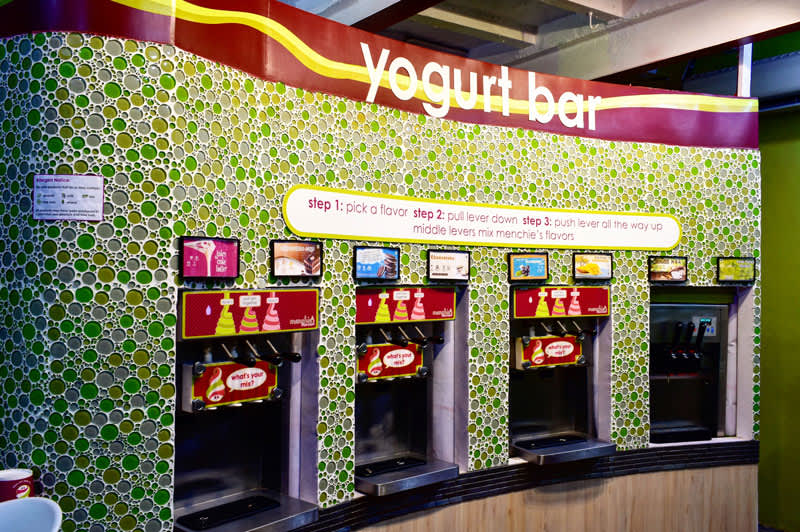 You can watch amazing swirls put on your yogurt given by the swirl master himself, the man behind the counter, after which you can choose from over 20 different crazy creative jams, exquisite fruit and scrumptious toppings. You could even mix two flavours on one machine by pulling down the lever placed in the middle *omg so cool*. So it comes out to be 'Two Times The Goodness'. You can even taste their flavours as many times as you desire before ordering one for yourself! 
Keeping the taste palate of Delhiites in mind, they have some amazing desi flavours too, which could bring a complete twist to your taste buds, like Aam Panna, which provides a soothing effect in this heat and Kesar Elaichi, known to be trending big-time among the millennials!
Here's what we tried here:
Aam Panna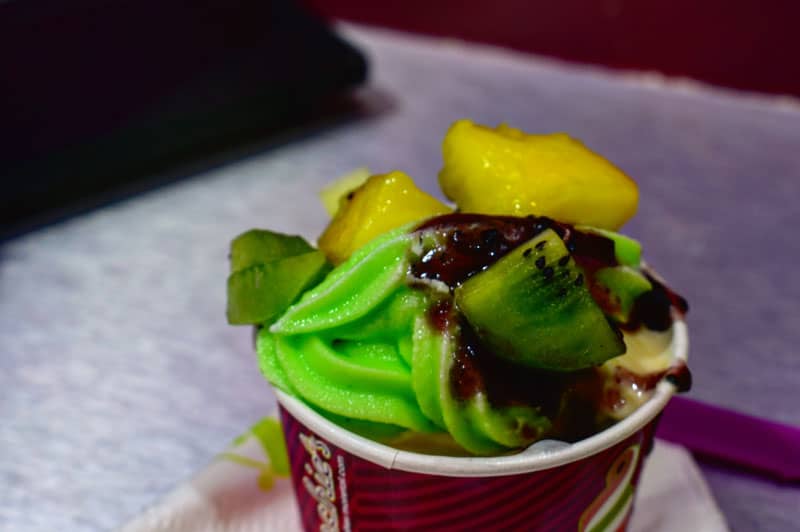 Aam panna, known to have heat resisting properties and made from green mangoes definitely shows in in this flavour's color and taste. Very very soothing in this scorching heat. Being a little sour in taste, we loved it because it had that desi Indian taste which we've all grown up loving.
Amazing Blueberry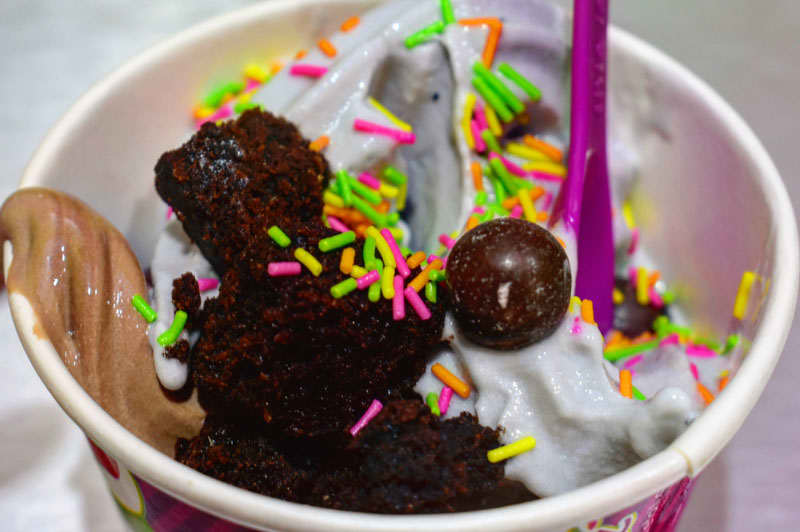 This flavour offers a little sweet and a lil sour taste when it touches your tongue. It's acidic levels have been created at just the right amount. Made from fresh blueberries every day, it's a hit among their customers. It tastes best with their fresh fruit toppings like kiwi and juicy blueberries, finished with rainbow sprinkles and drool-worthy caramel sauce. Another plus, it's available in a low fat variant as well!
Heavenly Cheesecake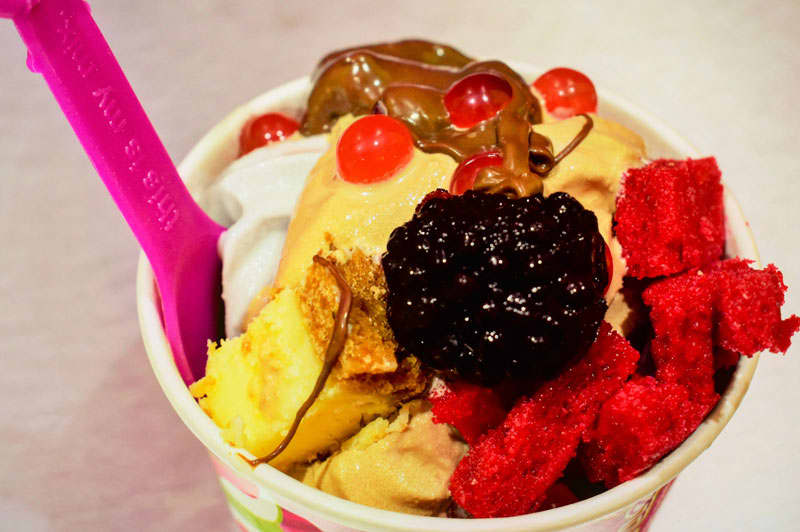 There's no doubt about the fact that as soon as you put the first spoonful in your mouth, you feel like you're in heaven! Yes! It's that delicious. Made from rich and absolutely mouth watering cream and soft cheese which screams yummm, we loved it with the Nutella crunch sauce and the red velvet cake which simply dissolved in our mouth. Also, don't hesitate to top this delicious cup of yumminess with marshmallows (yumm!) and strawberry poppers giving it that extra little twist. 
Cookie Cream Dough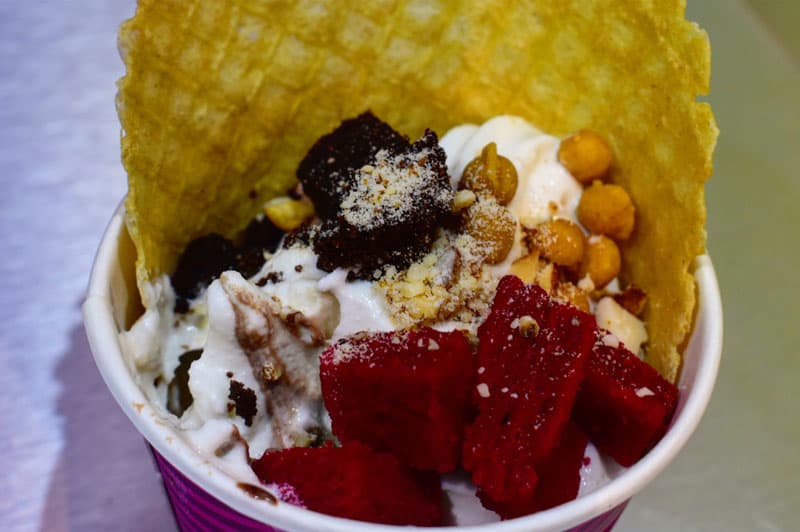 An absolute hit among the kiddies, we sure loved this one too! A lip smacking blend of Oreo cookies and soft cheese, butter and cream, made with smiles on the faces of the crew, we had an amazing time tasting this very light and very low fat creamy Oreo yogurt. We topped it with butterscotch nuts, the yummm chewy bitten brownies which were super light and a crispy wafer-light waffle. The chocolate sauce with this one is a must try. Happily, it's available in low fat and no sugar kinds for the health freaks too!
The toppings which are a hit among the patrons are gummy bears, rainbow sprinkles, red velvet cake, chewy bitten brownie, the salivating absolutely yummm cheesecake, fresh pomegranates, tropical kiwi and passion and strawberry fruit poppers which pop as soon as they touch your tongue!
You have the option of choosing from three cups of small, medium and large sizes. Thinking about the price? Well, we paid 90 paise for each gram we poured the 'Fro'-'Yo' in the cup. Go try!
Price | 90 Paise/Gram
Where | Building No. 26, Hauz Khas Village