Delhi
Kadak Chai & Aloo-Pyaaz Parathas For Your Desi Pitstop @ Suresh Tea Stall In GTB Nagar
Over the many years, Guru Teg Bahadur Nagar, popularly known as GTB Nagar has become the food hub of DU students. An abode to eateries of various types and cuisines, GTB Nagar is the one stop with hordes of happening places that'll every imaginable hunger pang! These days, GTB Nagar is literally flooded with a new breed of eating joints, serving interesting things on the platter. But let's be honest here, there's just something about that garma-garam aloo ka parathas you'd prefer over a burrito, something about that kadak chai ki chuski that'll always be a notch up from a caffe latte, and something about the fact that you'll always be ready to hog on a full plate of rajma chawal rather than a full bowl of caesar salad.
Apart from all the fancy, new age restaurants and cafes GTB Nagar shows off, there are still some places that are existing from the days of yore. That may not have adapted to many of the new age dishes, but provide you with something more at prices that'll not burn a hole in your pockets. We finally went to one of such places, popularly loved by its frequenters, Suresh Tea Stall & Fast-Food. It's happening, cool and fun in its own way. Read on!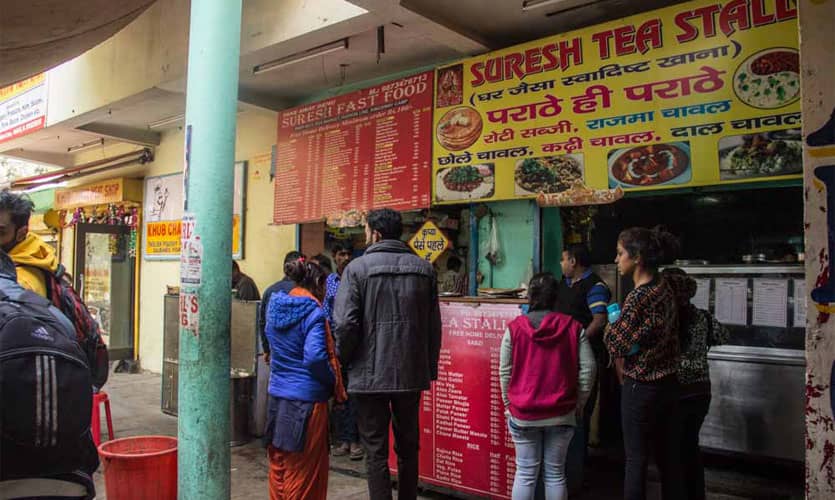 Around a 10-12 minute walk from the GTB Nagar Metro Station Gate No.4, Suresh Tea Stall & Fast-Food, a humble little shop in the DDA market of Hudson Lane, serves you comfort food in hearty portions, the desi way. They have a rather unique seating arrangement, with a thick, concrete slab structure placed over the left-hand side of the area, with two or three small tables covered with flowery dining sheets, in between the spaces, accompanied by plastic stools. The ambience hits you right in those desi feels. The place is never bereft of customers, all throughout the day. The service is quick, which is good, as we hate waiting around when we know there's good food coming!
They have an extensive menu, both for Indian and Chinese cuisines. Almost 10 types of parathas with 10 types of sabzis and around 25 variants of Chow Mein. Can you imagine! But the best part - these are all at such pocket-friendly rates, it's crazy! Confused about what to order, we asked them for populars and here's what we decided on -
Kadak Chai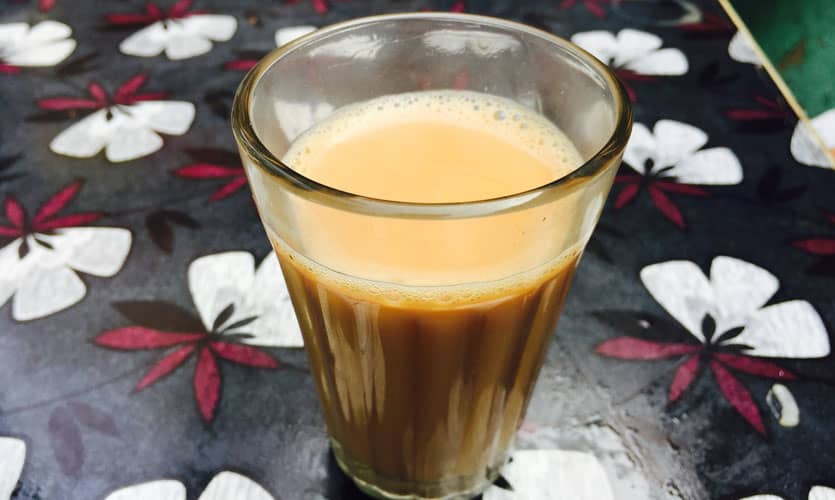 A single sip of this steamy Kadak Chai on a cold winter morning hits you right there in the chai-loving feels! All the hill-station vibes come in, and you're somehow magically transported to a hypothetical one in your mind. Suresh Bhaiya is known to make the best Kadak Chai and we totally agree! The flavour of the tea with the subtle hint of ginger makes it a perfect all-time beverage, especially during winters. This is a must try for sure!
Price | Rs 10
Aloo-Pyaz Ka Paratha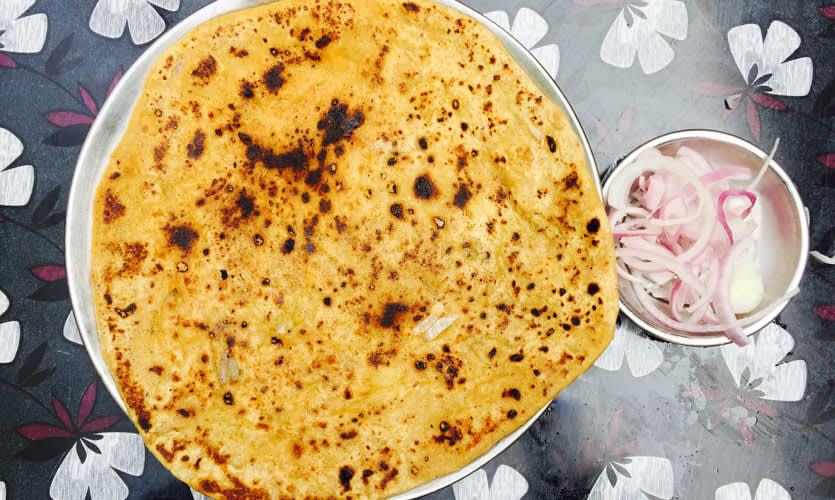 Parathas in North India are amongst the staple breakfast meals. And this place worships that fact! With over 9 types of parathas to choose from, everyone gets what they like here. We settled on the classic Aloo-Pyaz Paratha and loved it! It was hot, it was spicy and flavourful in all the good ways; well-cooked, soft and filling indeed. It went perfectly with the lip-smacking mixed pickle that they serve here. Also, their stuffed parathas are a must try too as they're loaded, yes, loaded with stuffing. Super filling and super cheap, what else do you need?
Price | Rs 25
Rajma Chawal
No one says no to rajma chawal! We believe everyone loves it and we shall hear nothing otherwise. This is super popular here, with most PG students coming over here for lunch and ordering some mouthwatering Rajma Chawal, homemade style! The Rajma Chawal are well-cooked, subtly spiced and won't allow you to share your plate with your friends. Well, they can have their own at just 40 bucks, so why should you share anyway?
Price | Rs 40 (Half)
Chilli Garlic Chowmein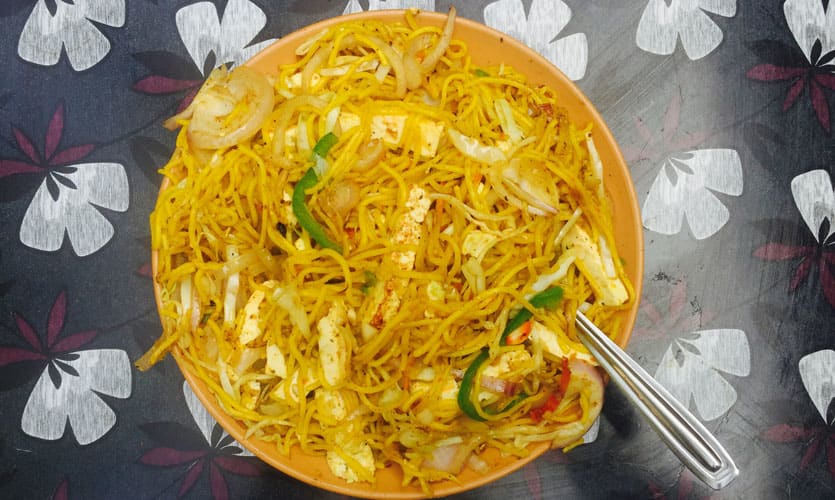 A plate full of spicy garlic noodles and mixed veggies, long chunks of cottage cheese, all stir-fried, the desi-Chinese way. And we all are suckers for some desi Chinese now, aren't we? Although it was a bit too salty, and we didn't quite agree with the inclusion of cottage cheese in the Chilli Garlic Chowmein, but we let it pass. Its super spicy, desi and tasty. Go for it if you can handle the heat!
Price | Rs 80 (Half)
Honey Chilli Potato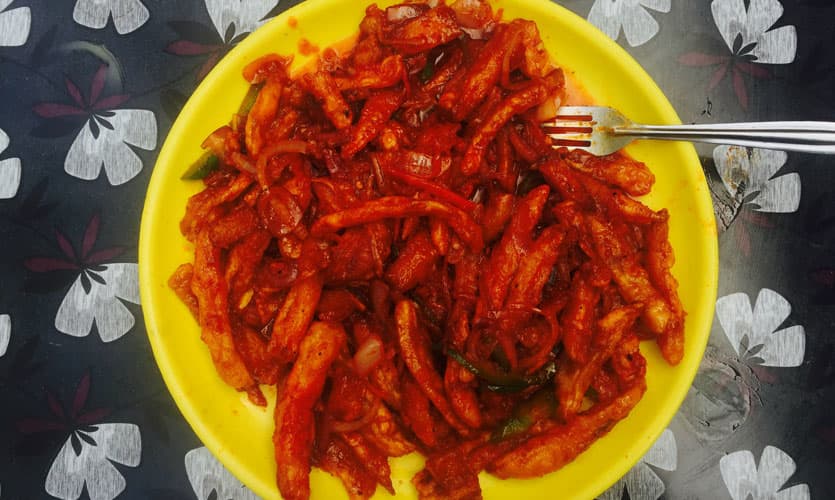 Now we've heard it's a hit amongst the regulars, so this was certainly on our list. The first thing we noticed was the flaming red colour of the dish. Dubious about how it'll taste, we took a bite and it's safe to say that the colour had no flavour of its own, and the potato fingers were well-cooked, tasted honeyed and spicy, just the way one likes it and we totally get why it's the most sought-after snack here. Although the colour does seem to put one off a bit, as it looks a bit unnatural. Otherwise, this one's delicious! 
Price | Rs 70
With its lovely Kadak Chai and a wide range of tasty finger foods and filling meals, Suresh Tea Stall & Fast-Food is your one stop for breakfast, lunch and dinner. A blessing for the PG students living in nearby residential areas, this is a place you'd not want to miss. Delectable food at super pocket friendly rates. So, are you hitting Suresh's anytime soon? 
Location | 5, DDA Market, Hudson Lane, Kingsway Camp, Delhi University-GTB Nagar