Delhi
The Ladakh Buddhist Vihara Will Offer You A Tiny Slice Of Serenity At The Little Tibet Of Delhi
It's very easy to miss this place, hidden behind the walls of a flyover by the side of a very busy road. The entry is akin to a small tunnel and it's almost impossible to imagine the Little Tibet locality that resides on the other side. Once you pass through the gate, the long line of shops become visible. The market is always crowded and the milieu makes you forget for a while that you're still in Delhi. A left turn from there takes you to the Buddha Vihara, which may not be comparable to the grand shrines in Dharmshala in terms of size and grandeur, but still offers ample glimpses of the Tibetan culture.
Salvation Amidst Chaos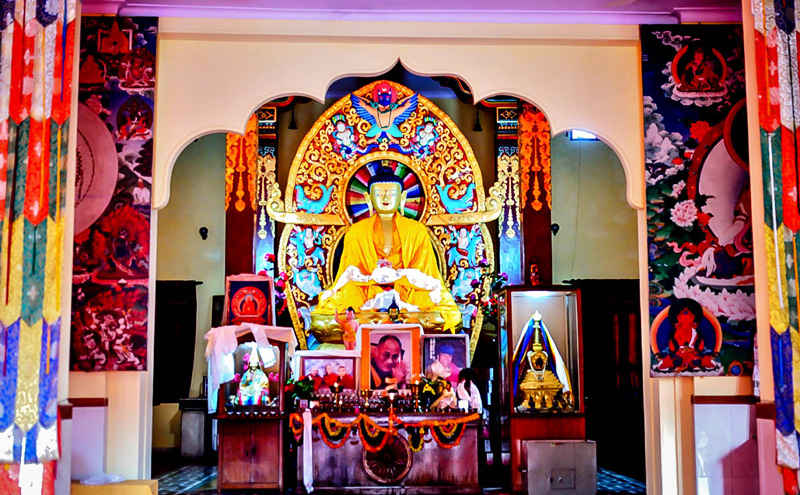 The Ladakh Buddhist Vihara or the Buddhist Monastery is a brightly coloured building with a giant Buddha statue inside it. Due to the scarcity of space, the compound is not very big but it can still accommodate people who want to spend some solitary moments of peace. Colourful Tibetan prayer flags fluttering in the wind are visible even from a distance and they quickly announce that it's a completely different world that is not at all comparable to the one that surrounds it. 
Just outside the main building is a cabinet for traditional butter lamps and the compound is adorned with various Tibetan-style statues including one of Jawaharlal Nehru who is seen as a friend of the community as he was instrumental in setting up this place. Another prominent statue is that of Kushok Gyals Ras Bakula, an important religious as well as political figure for the community. The monastery walls are adorned with typical Tibetan 'Chakras' that can be rolled by the spiritual visitors.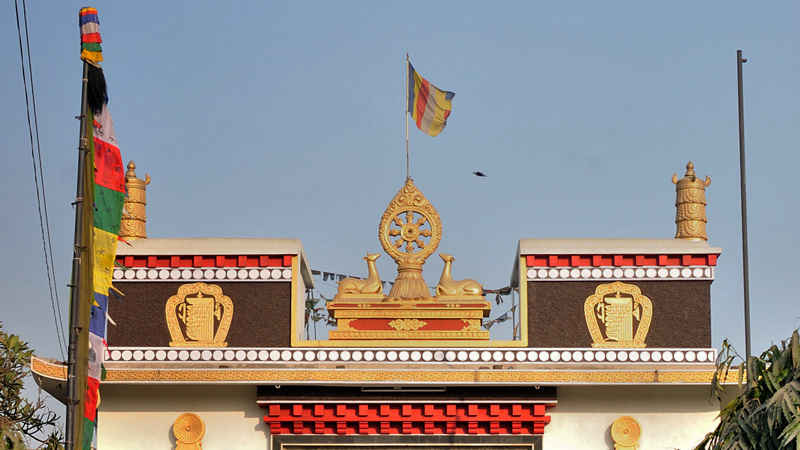 The interiors of the Vihara are much more elaborately decorated. There's a large statue of Lord Buddha at the centre as one would expect. The walls are adorned with large paintings that are excellent examples of Tibetan art and craft. These paintings mostly depict various stories and myths related to the life and times of Lord Buddha. An elderly monk normally plays the traditional drum and a lot of people can be seen meditating inside the room.
Handy Insider Info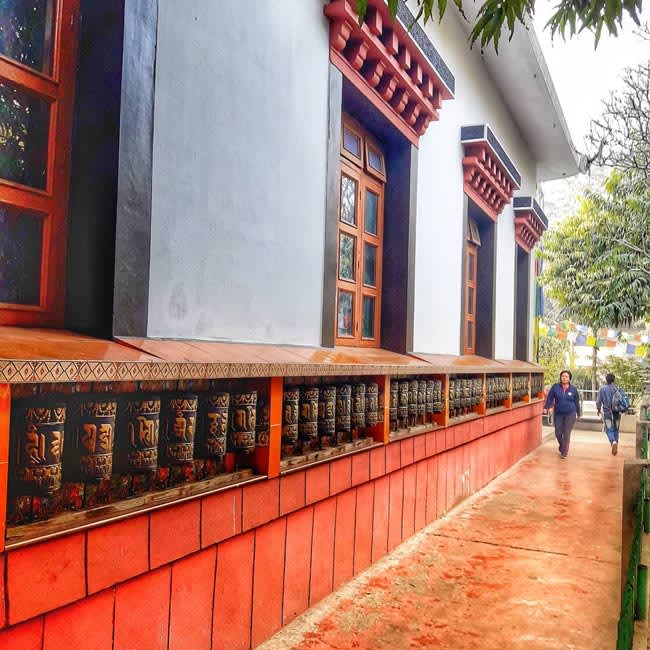 Picture Credits: dawn_jose
This monastery is a beautiful and well-maintained structure and it does not charge anything from the visitors. Anyone can go inside and meditate, and photography is also not prohibited here unlike in some of the other religious locations. But in exchange for this courtesy, it is a good idea to follow certain basic principles. For instance, you must remove footwear before going inside and also it is better not to speak very loudly or use the camera flash inside the room so as to avoid disturbing other visitors and monks.
A Shopper's Delight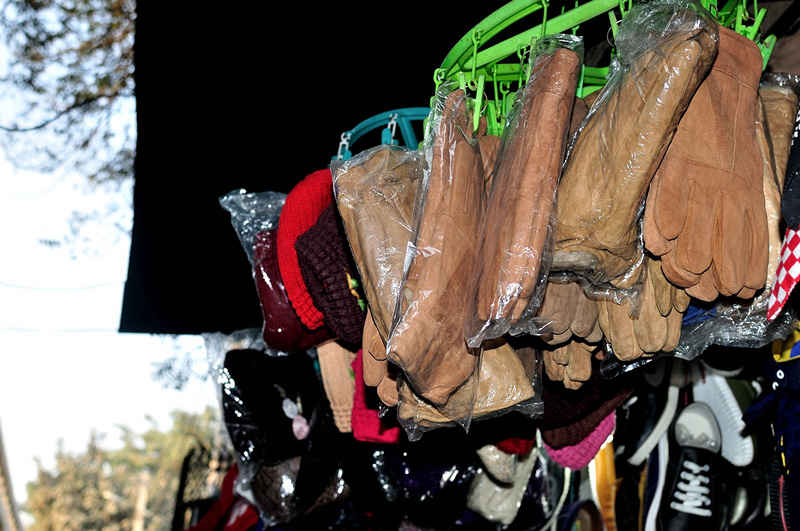 If you find the spirituality or mysticism to be too overwhelming, there's no reason to fret! Some retail therapy in the adjacent market can easily bring you back to the material world. This market is also called the 'Monastery Market' considering its location and in fact, it's a treasure trove, especially during the winters. Jackets, woollens, sweatshirts, track pants, gloves, scarves, socks and every other imaginable item that you may need to survive the harsh winter of Delhi can be found here. There are more than fifty stalls in the market and they offer these items at very reasonable rates. So if you're too strapped for cash to purchase branded items from the malls and do not want substandard specimens from suspicious vendors, this market probably offers the best compromise!
The market is not only limited to winter clothing, and the shops sell other items too such as backpacks, shoes and even watches, although the longevity of the electronic items is suspect. You can also find some of the shops selling fancy products such as Tibetan artefacts, statues and semi-precious jewellery. Also, if you get too tired of all the shopping, you can find a couple of good restaurants in the same market that serve authentic Tibetan delicacies such as momos, thukpa, chowmein and delicious butter tea.
Reaching The Ladakh Buddhist Vihara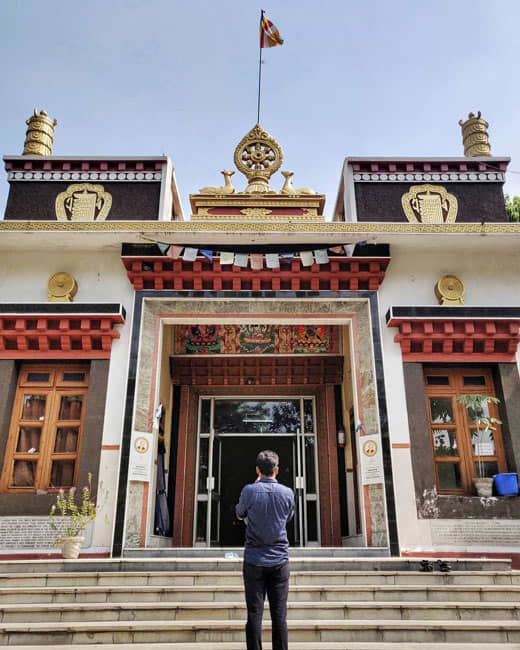 Picture Credits: gauravdeswal99
It's not very difficult to locate the Vihara. It can be reached by a 15 to 20 minutes' walk from Kashmere Gate ISBT. One of the cycle rickshaws can also take you there for Rs 20. It is a good idea to reach there during the daytime so as to fully appreciate the view of the Vihara and also to be able to check the items in the market carefully before purchase. Also, please note that it remains closed on Mondays, so you should plan accordingly.
Come on by for some retail shopping, a soul-soothing spiritual jaunt and some yummy eats!
Where | Ladakh Buddhisht Vihara,  Bela Road, ISBT Kashmere Gate, Railway Colony, Civil Lines, New Delhi