Delhi
A Structure Dating Back To A Bygone Era And Located Inside A Sports Stadium - All About Phuta Gumbad
Delhi is a goldmine of monuments found at every nook and corner of the city. You will be surprised as even in the most unexpected places and in the inner recesses of the capital you will surely be able to spot a structure dating back to a bygone era.
Ever seen a tomb inside a sports stadium? Come to Delhi and you will! Jawaharlal Nehru Stadium, a massive sports arena built with much dedication in 1982, houses this tiny dome structure. No one really knows its story, except that the architecture looks like it belongs to the Lodi era, and that it was in an utter ruinous condition when it was first found. Hence the name – 'Phuta' which means torn and 'Gumbad' is a dome.
A Walkthrough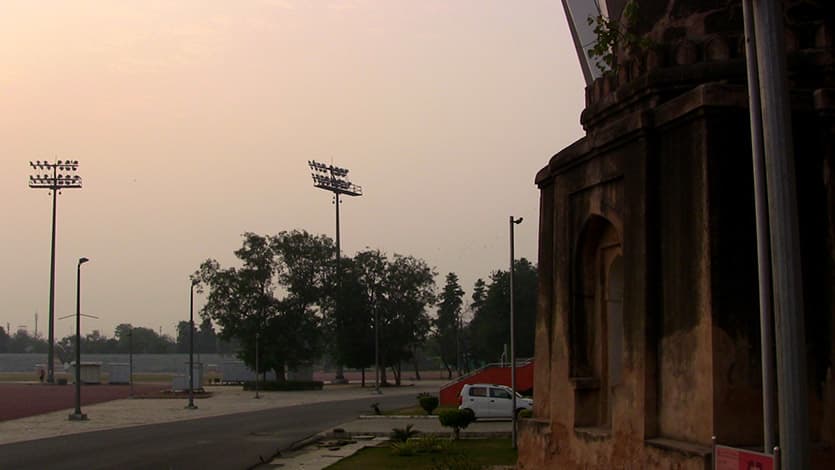 The nearest metro station is the JLN station on the violet line going from Central Secretariat towards Badarpur. Walk or take a rickshaw to reach Gate 1 of the stadium and inform the guard you've come to see the dome. Walk straight, then turn right on the naturally swerving path. 
On your left you will see people practicing in various sports on the field. On your right, the trademark white coloured protrusions of the stadium and flights of steps, the indoors, and a Canteen. Right next to the canteen lies this small Gumbad. 
The Modest Looking Structure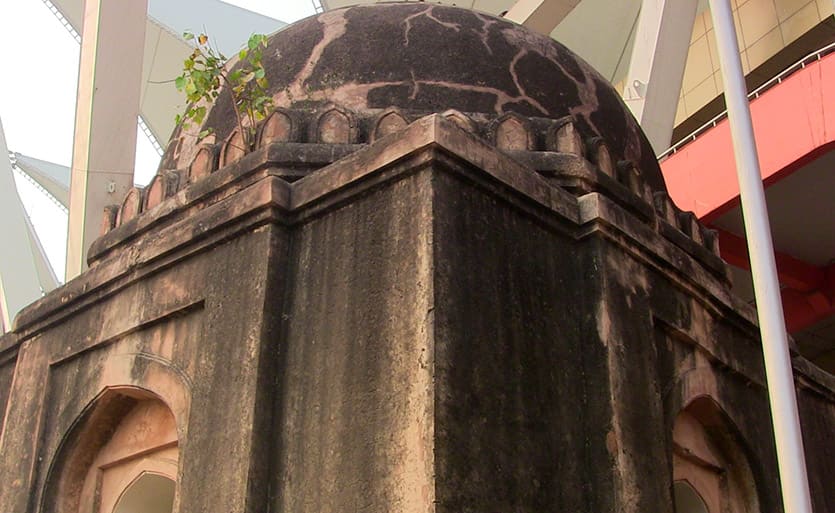 The structure is built on a raised platform. It is of a square plan with arched entrances on three sides and a closed wall (a mihrab recess) on the fourth – west side. The dome springs from an eight sided drum. The interiors of the tomb are decorated with arched niches and squinches. Externally, the features to be noted are the Kanguras on the drum wall, lotus crest on the dome and the high plinth.
The walls and the dome ceiling are currently being replastered and since the repair work is still ongoing, entry is not allowed inside the dome. Overall it resembles a small shelter.
From Another Perspective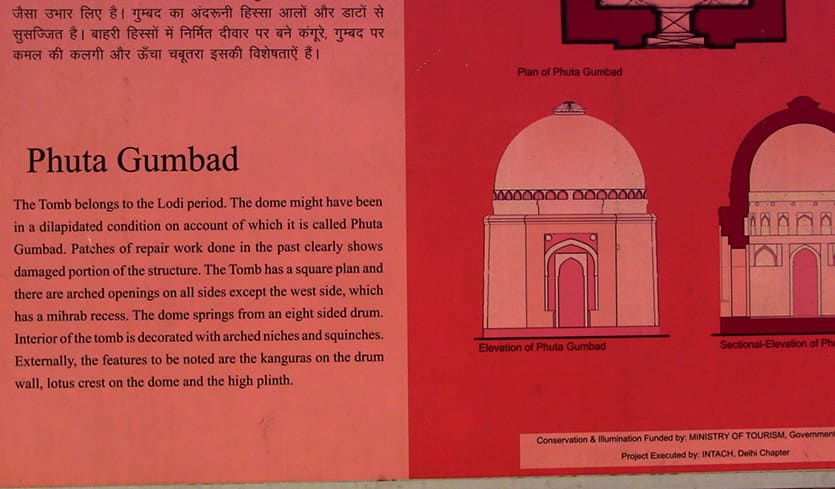 Maulvi Zafar Hasan, a famous historian mentions the Phuta Gumbad in his 1919 book - Monuments of Delhi. According to him, the size of the monument and the size of the dome of the monument are ill-suited to each other. He claims it belonged to the Tughlaq period and concedes that the dome is the resting place of a courtier of Ferozshah Tughlak who was a peaceful king fond of architecture himself. 
Go play and while you're at it discover Delhi's heritage along the way!
Location | Phuta Gumbad, Jawaharlal Nehru Stadium, Pragati Vihar