Delhi
A Pebbled Gateway to World Cuisine and more - Pebble Street in CP
A cute yellow Vespa parked outside, macadamized floor and a big yellow European themed courtyard- we already had a good feeling about Pebble Street. Although the place is famously known for playing live matches and their humongous variety of cocktails, their food and music are equally good. 
Depending on the crowd, the place has different seating areas. From grungy, low lit areas with big couches for the younger crowd to cheerful and bright courtyard for families and corporates, you find it all here. The vibe is very European with flags of various football teams and a wall dedicated to all of the famous rues and streets from the world. Couple that with their attentive service and bites from the world, this place surely keeps up with the cosmopolitan aura of Connaught Place. 
Here's what we indulged in:
Vietnamese Chicken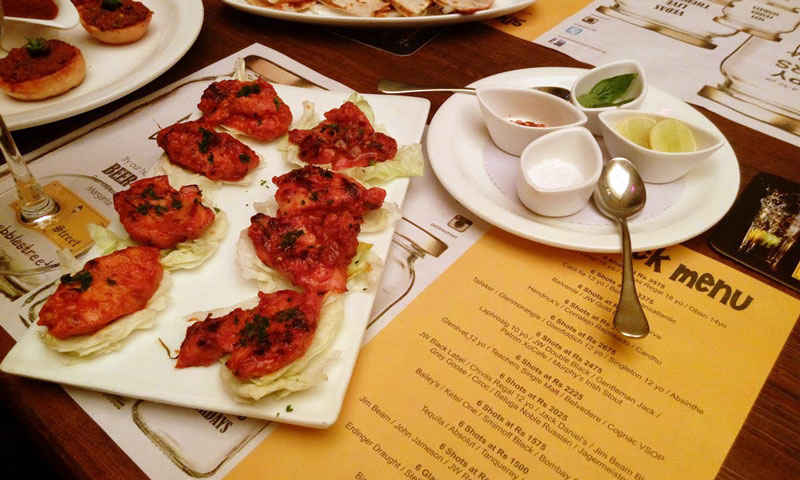 Their menu has been curated thinking that instead of heading to a number of different places to meet your fancy, you get a variety of cuisines under one roof. We couldn't help but start from the East and slowly inch our way to the other corner of the world. The Vietnamese Chicken, grilled with lemongrass and peanut sauce was served over a bed of lettuce with accompaniments like lime wedges, sea salt, chilli flakes and basil leaves. We rubbed a little bit of sea salt and drizzled some lime juice over the chicken to find oriental flavours bursting in our mouth. The chicken tasted a lot like chicken satays only better.
Bunny Chow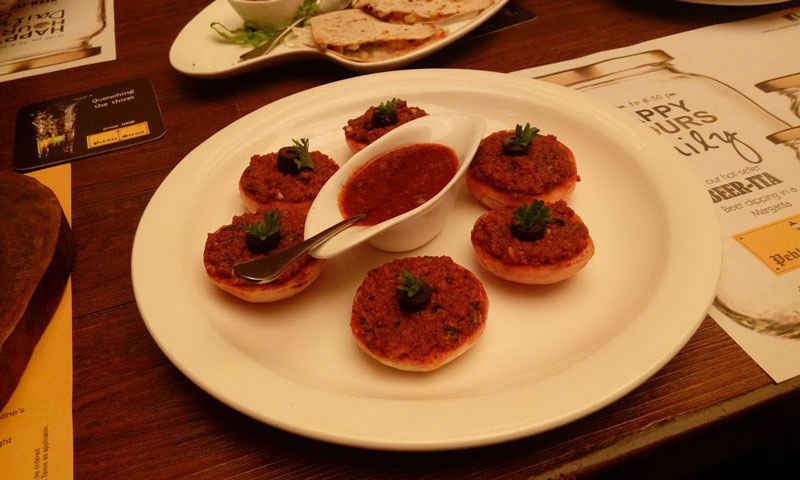 To simplify this starter- it is a better looking keema pav and not the African bunny chow. On a bed of extremely soft buns, Pebble Street placed spicy and tangy minced meat with an olive on top that gave it a distinct edge. So if you love your keema pav but want something smaller with your drinks, you know what to order! 
The Mumbai Iced Tea
We obviously had to sip on something with all of the good food. The Mumbai Iced Tea really stood out in their drinks section. It had the spirits from a classic LIIT but what really helped it stand apart was the kala khatta giving it a complete Mumbaiya twist! Chuski lovers can get the best of both worlds with this cocktail.
Long Island Iced Tea
We think you possibly can't go wrong with a LIIT. The overpowering rum, the sweetness of cranberry juice, the citrusy lemon flavours, vodka and tequila never goes wrong. It will always remain a great cocktail to pair with your spicy starters.
Pesto Arancini Balls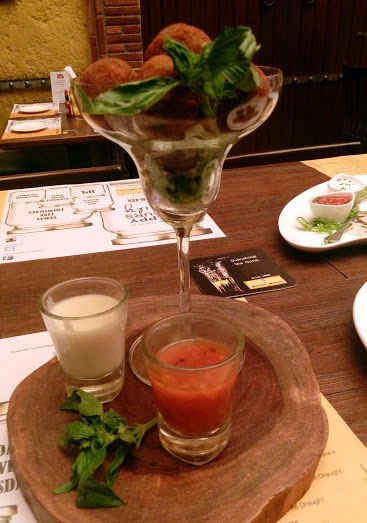 This dish is mostly a hit or miss. The pesto did give a much needed kick to the otherwise bland arancini balls. It came with its own cheese dip which further teared down the flavours a notch but the spicy tomato dip was lovely and it did make the dish taste pretty great.
Vegetarian Quesadillas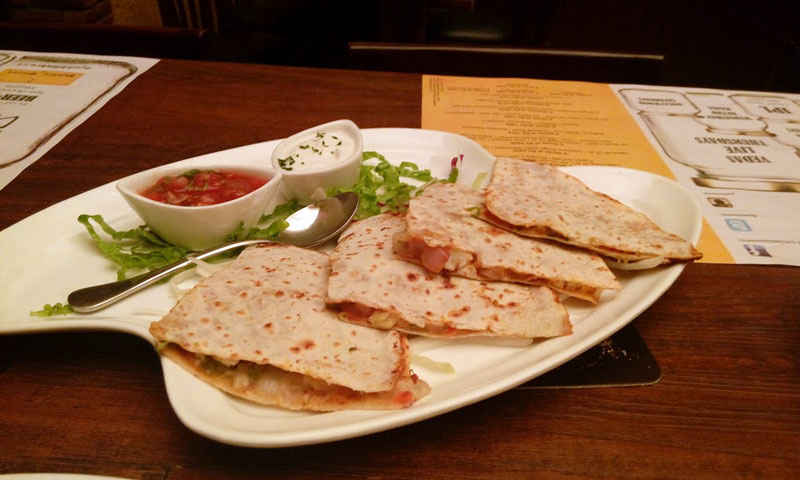 There is nothing queso or cheese can't fix and vegetarian quesadillas can be a very good example of this saying. Salsa and cheese filling slapped between two tortilla slices and lightly toasted is always a great food to nibble on with our drinks. It is also a comfort food of sorts. Slathering it with sour cream and more salsa, we were more than ready to drink some more.
Coronarita
Our foods being mild, we also wanted our drinks to be kind of mellow. This drink looked really grand with a whole bottle of corona continuously emptying itself into a mug of lime Margarita. It tasted a little sour and if you are anything like us and love your drink minus the bitter taste, this one is a must try! 
Death By Chocolate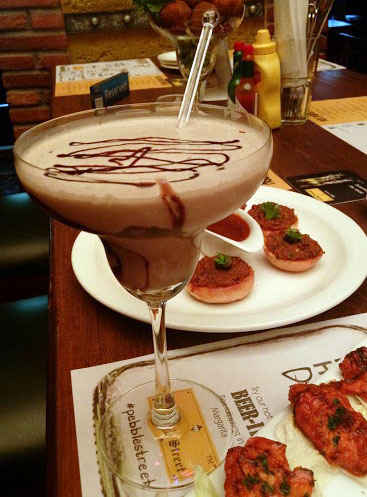 This is the father of all drinks, if you love chocolate that is. Made of kahlua, baileys, vodka, chocolate syrup and chocolate ice-cream- it looks like chocolate shake, tastes like a drunk cold coffee (thanks to the baileys) and it's served on a margarita glass to keep it from being classified into cold coffee.
Chicken Khow Suey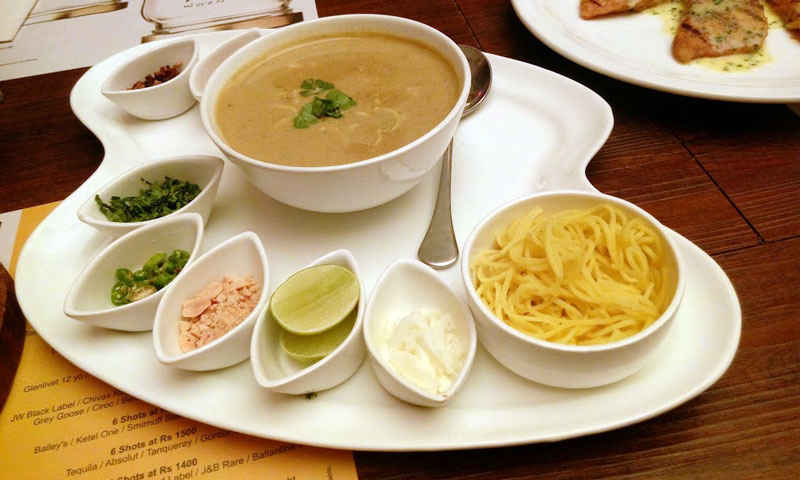 With all the booze and lovely starters, we needed something to sober us down and what better way to do that than with Burmese flavours. The classic Khow Suey is not something to try at a place like Pebble Street but all their other food served enough reasons to make us boldly ask for a khow suey. The creamy coconut soup with chicken got a slight kick from paprika, we added some egg noodles, crispy noodles and all of the traditional accompaniments like green chillies, crispy shallots and garlic, chopped egg, peanuts and lime juice to make it even better! Nursing a cold? Ask for this one. 
Grilled Fish with Lemon Butter Sauce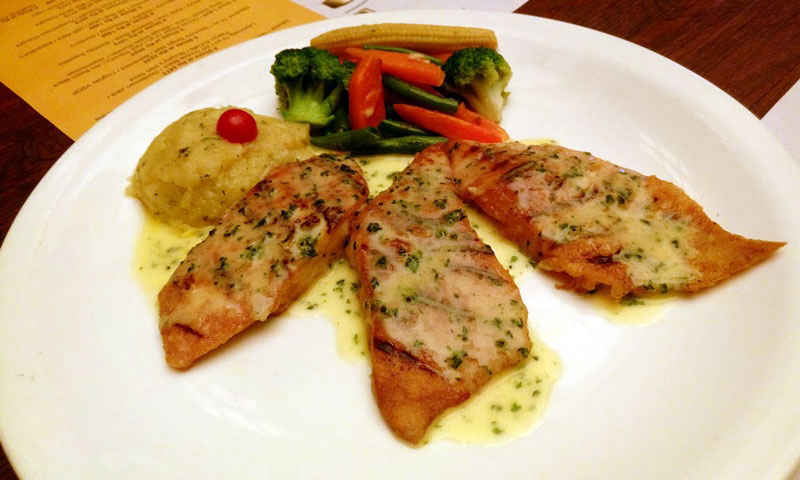 A classic sole grill is always has always been a well received dish for those who love their fish and are inclined towards healthier living. Although the dish cannot be classified as a healthy one (cue: butter, oodles of it) it still is a light dish. The sole was grilled very well and drizzled with creamy and tart lemon butter sauce sprinkled with parsley and it came with a beautifully mashed potato dollop and grilled veggies. 
Chocolicious Shots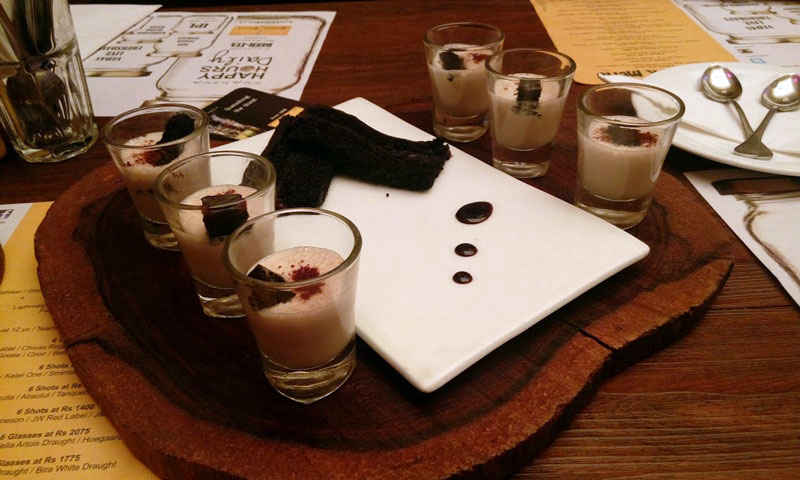 Tiny chocolate fudge cake slices in a chocolate shot glass. The description is enough to make any chocolate lover salivate. If you aren't someone who loves alcohol shots, make sure you try this chocolicious shots and stay sober yet drunk on chocolate.
The Ultimate Dessert Sampler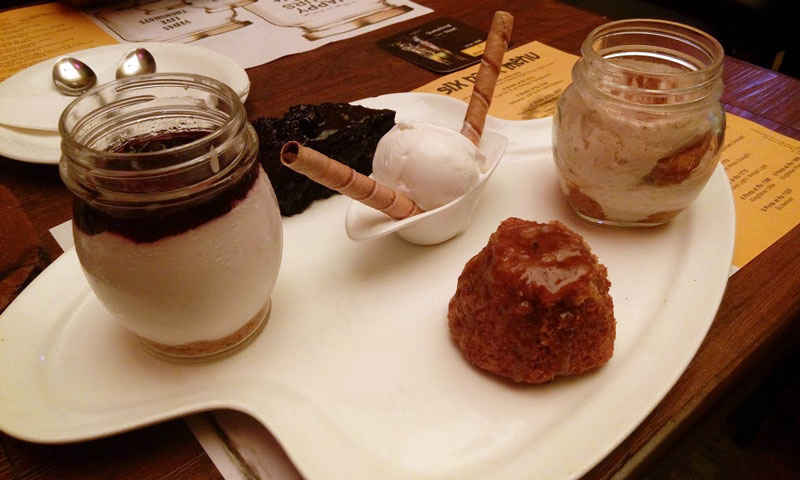 Expect to get into coma on sampling this one- dessert coma! With a soft Apple Nut Pudding that sends one to winter wonderland with the sweet essence of cinnamon and sticky toffee sauce, a Blueberry Cream Pie that tastes like a supple panna cotta with blueberry compote, a Desserted Wonder which had a rich fudge cake with hot fudge sauce and ice-cream and ending with a Tiramisu which failed to charm us amongst other better desserts. 
Pebble street has long established its base since the past couple of years but don't simply undermine its status as another pub/ bar that you can head to during IPL. Next time try from their great variety of dishes from the world cuisine menu and make sure you try their desserts- it's a sin you won't regret! 
Meal for Two | Rs 2000
Location | 61-62, First Floor, N Block, CP