Delhi
A Newbie's Guide to the Best Teppanyaki Restaurants in Town
Teppanyaki, for the uninitiated, is a style of Japanese cuisine that involves cooking on an iron griddle, usually right at your table. For connoisseurs of the Japanese cuisine as well as for somebody who has had enough of the usual Sunday buffets and is looking for a more interesting alternative, Teppanyaki can be a fun affair. 
Here is a list of restaurants in Delhi that serve some admirable Teppanyaki: 
Benihana
You know you cannot go wrong with Benihana and Teppanyaki. This New York based restaurant chain has been known for its Teppanyaki for over five decades now. It's also known for the chef's mean tricks at the Teppanyaki grills. Juggling knives or eggs on sticks, you're certainly in for an entertaining meal. Choose from among Teppan entrees like Grilled Lamb or Chicken Teriyaki. Do try the Tempura Roll and Sushi when here. Though on the pricier side, head over for a great Teppanyaki experience. A meal for two would cost approximately Rs 3000.
Location | R 5, Lower Ground Floor, Epicuria Mall, Near Nehru Place Metro Station, Nehru Place
Kylin Premier
Kylin proves to be a master of all trades - besides a pleasing ambience, some mouthwatering Thai delicacies and a live sushi bar, it also serves some of the best Teppanyaki in town. Choose from among a variety of Teppanyaki starters like Teppan Fish in Thai Herbs or head to the main course with some Teppanyaki sautéed Prawns or a Tenderloin Steak. A meal for two at Kylin would cost approximately Rs 1800. 
Location | 302, 3rd Floor, Ambience Mall, Vasant Kunj
En-The Japanese Restaurant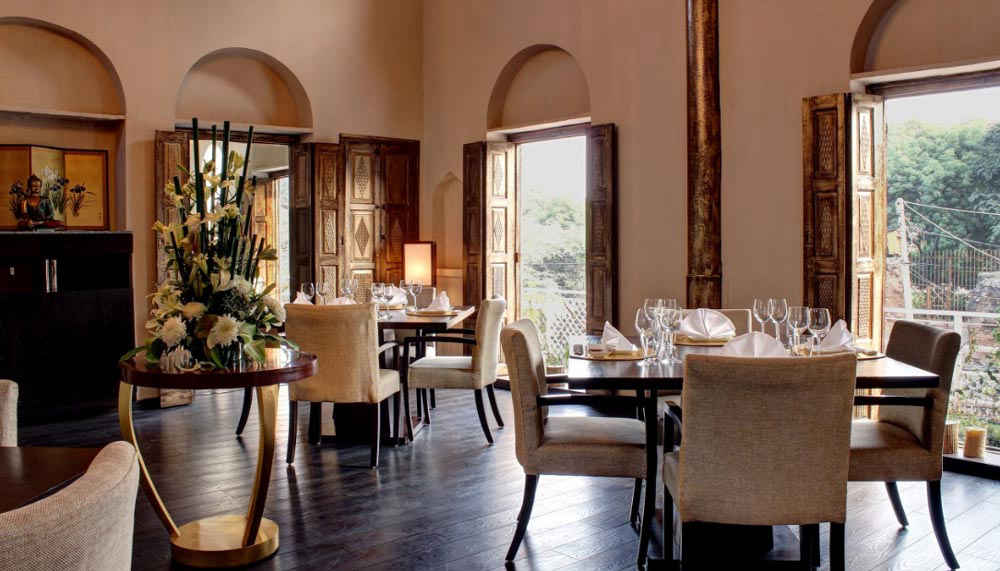 Private balconies in an age old haveli with a splendid view of the Qutub Minar-nothing can possibly spell romantic better than this venue. Choose from an array of chicken, vegetables and seafood Teppanyaki entrees. The Teppan Buta-Kakuni which is a braised pork belly is quite popular. En is also well known for its fresh sushi and fried Chicken Tatsuta-age. A meal for two at En would cost approximately Rs 2500.
Location | H 5/1, Ambawatta One, Kalkadas Marg, Mehrauli
T.K's Oriental Grill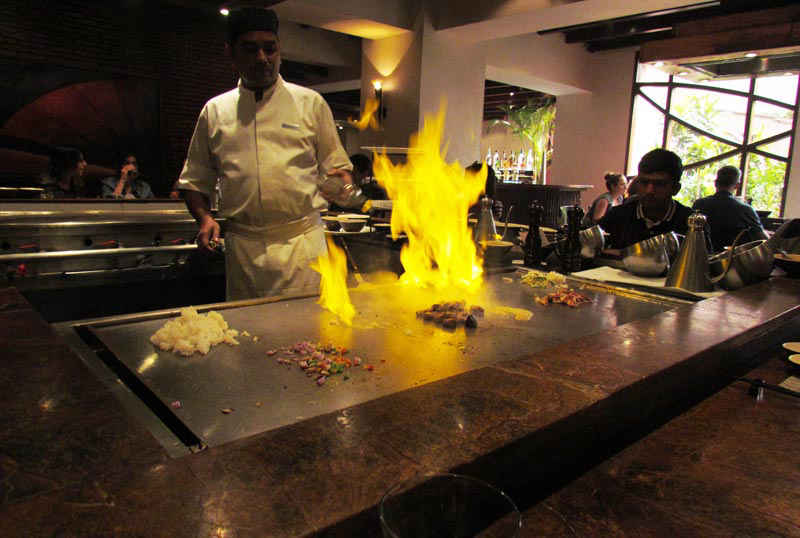 Picture Credits: Yummraj.Com
Nothing compares to having the freedom of choosing your own ingredients and watching your own personal chef transforming them into a meal right before your eyes. The Hyatt Regency's Japanese Restaurant, T.K's, offers an authentic Teppanyaki experience alongside a great ambience- wooden décor, marble table tops et al. You have the option of choosing from their a la carte Teppanyaki options (which comes in the vegetable, meat and seafood varieties), or pick one of the set 10 course or 8 course Teppanyaki meals. The Thai Yellow Curry and the Seafood Teppanyaki are highly recommended. A meal for two would cost approximately Rs 3000. 
Location | Hyatt Regency | Bhikaji Cama Place
Chew- Pan Asian Cafe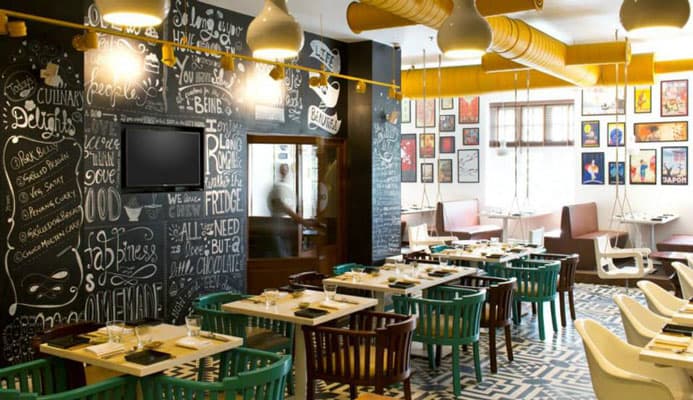 Head over to this Connaught Place favourite for all food that is Asian- Chinese, Thai and Japanese etc. With a chic décor, Chew is also the place to be for a great Teppanyaki experience. Though the Teppan menu is limited in terms of the number of items, it offers varieties like Grilled Prawns, Tuna as well as Chicken Teriyaki. Chew is also sought after for its scrumptious dumplings and a lip-smacking array of desserts. A meal for two would cost approximately Rs 2000.
Location | M-16, Outer Circle, Connaught Place
Japanese Fuji Restaurant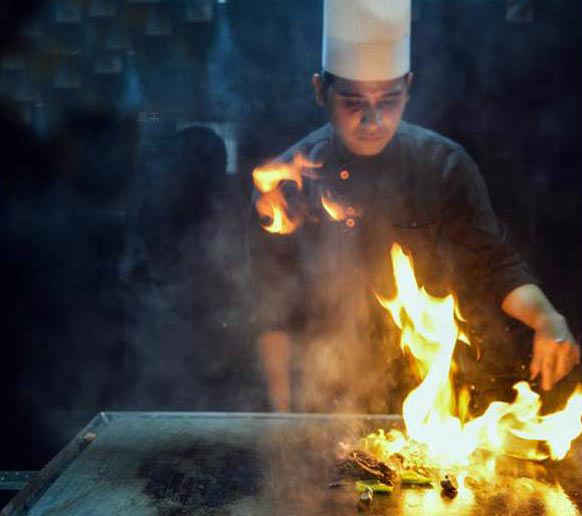 Located in the heart of the city, Japanese Fuji Restaurant strays away from the traditional options and offers some bacon, tuna and scallop, cooked Teppanyaki style. Prawn, salmon and Sea Bass are also quite popular options. Also check out the Ramen at Fuji. A meal for two would cost approximately Rs 2000.
Location | M-41/2, Speedbird House, Middle Circle, Connaught Place
Guppy By Ai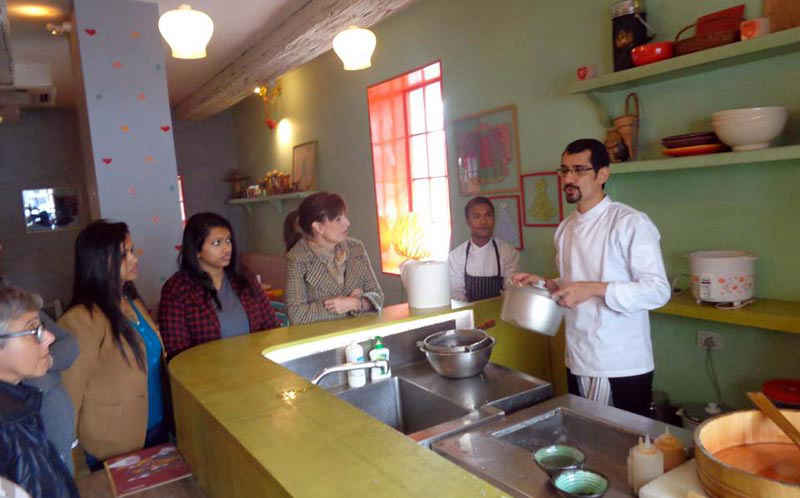 For your fill of authentic wealthy & healthy Japanese delicacies that are high on rich, intense flavours that completely transcend the boundaries of culture & country, you know Guppy is the ideal spot! As for the Teppanyaki experience, their exotic Teppanyaki vegetables are highly recommended. A mal for two would cost you around Rs 3,500.
Location | 28, Main Market, Lodhi Colony
Set'z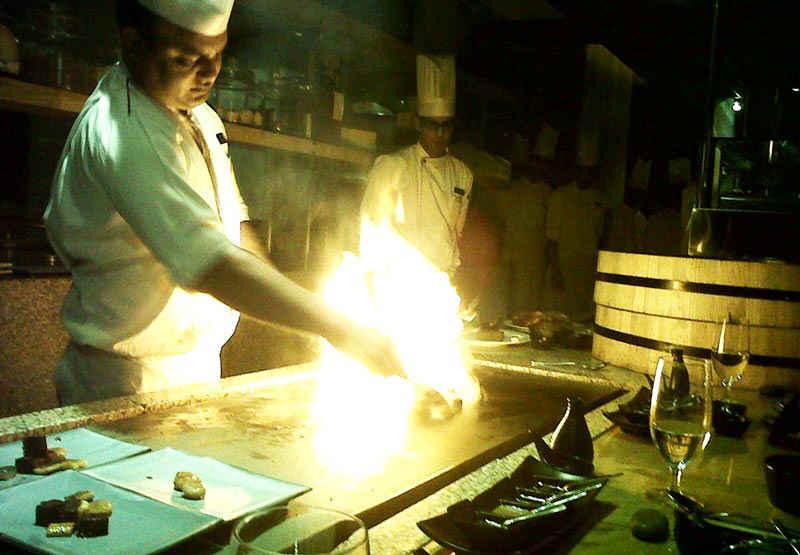 Set in Delhi's iconic Emporio mall, SET'Z is a lovely conglomeration of 7 different kitchens under one roof. A combination of simplicity, elegance and class, the ambience of SET'Z provides the perfect setting for a nice relaxed meal. Amongst their Teppanyaki options we'd go all in for the Teriyaki Chicken and Tenderloin Bulgogi. A meal for two would cost you around Rs 4,500.
Location | DLF Emporio, Vasant Kunj
Akira Back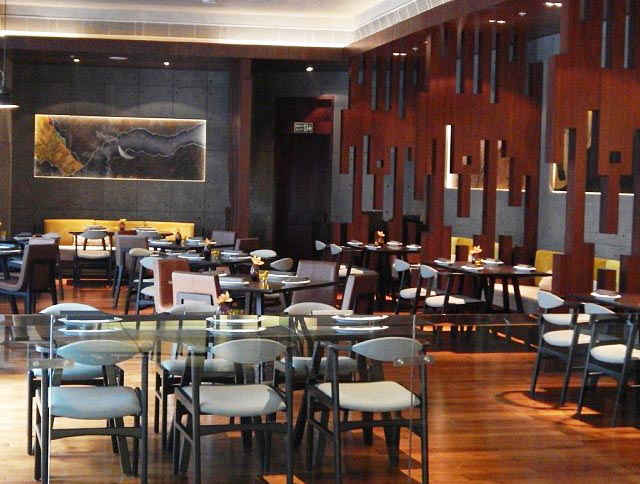 Akira Back offering its patrons a contemporary gastronomic experience imbibing the authentic techniques and flavours from the land of the rising sun is always a delight to visit! Their Teppanyaki Grilled Salmon cooked in spicy teriyaki is just the show stealer. A meal for two here would cost you around Rs 5,000.
Location | JW Marriott, Aerocity