Delhi
Here's All About Gyarah Murti, A Massive & Glistening Black Sculpture In The Heart Of The City
The massive, glistening black sculpture depicting Gandhi's iconic Dandi March of 1931 stands proudly in the heart of the city, easily visible on the Sardar Patel Marg, near Willingdon Crescent. This poetic sculpture by veteran artist and sculptor Devi Prasad Roy Chowdhury shows ten Indian people following Gandhi on his path-breaking Civil Disobedience protest, hence the name - 'Gyarah Murti'.
The Vast Sculpture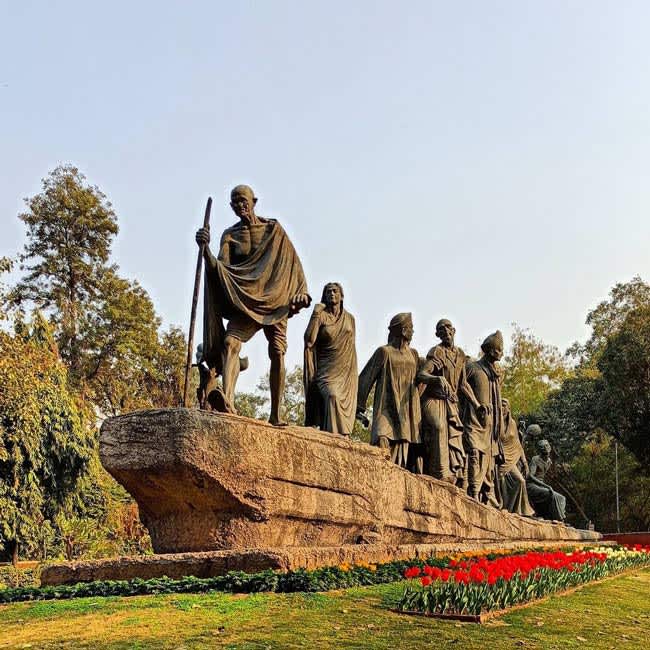 Picture Credits: lekhi57
Gandhi's iconic retinue in the sculpture includes a woman with her head covered following close after him; a cluster of three men, including a turbaned Sikh visible of high pedigree, a Hindu scholar with topi and an emaciated Muslim peasant; a Hindu man wearing a turban as a mark of intellectual distinction, with a religious mark etched on his forehead; an impoverished peasant looking far ahead, bearing no marks of class, caste or religion on his body; a Christian priest; another woman in a skirt and a young boy egging on a weary old man to travel farther.
Rich Symbolism
The portraiture of individuals participating in the Dandi March and a modern rendition of that event in the past symbolises the righteous anger of the citizenry. It is not an idealised piece of sculpture, but one that contains the great truth about the people who succeeded in overthrowing the mammoth machinery of colonialism.
The individuals in the frame are all arranged in a posture of determined forward movement. Gandhi leads them humbly, with his head slightly bowed, looking to the ground. The others are pointing towards a distant but approachable destination with hands and eyes. The entire piece depicts and celebrates the spirit of collaboration.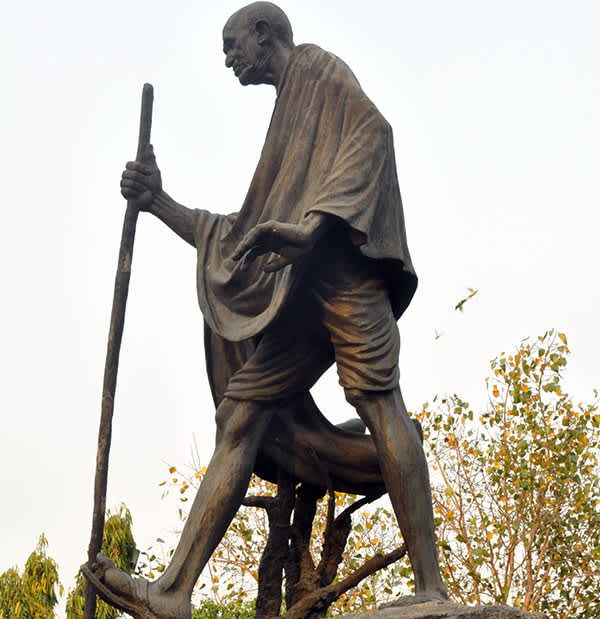 The maverick sculptor, with his eye for crucial detail, has represented them all with taut sinews, which show a tense mood of anticipation and a suppressed exhilaration. Optimism is etched on their faces with hints of smiles. The figures are larger than life. The aim, clearly, is not simplistic mimesis, but an embellished representation of a nation's idea of the self. There are no flags here, no marks of nationhood, but only a vast diversity of individuals making their way forward together.
The Scalpel Behind The Stone
The prolific artist D.P. Roy Chowdhury (1899-1975), has created poetry in stone and on canvas. Throughout his life, he remained an artist who is said to have moved with and among the general public, choosing his figures and models from there.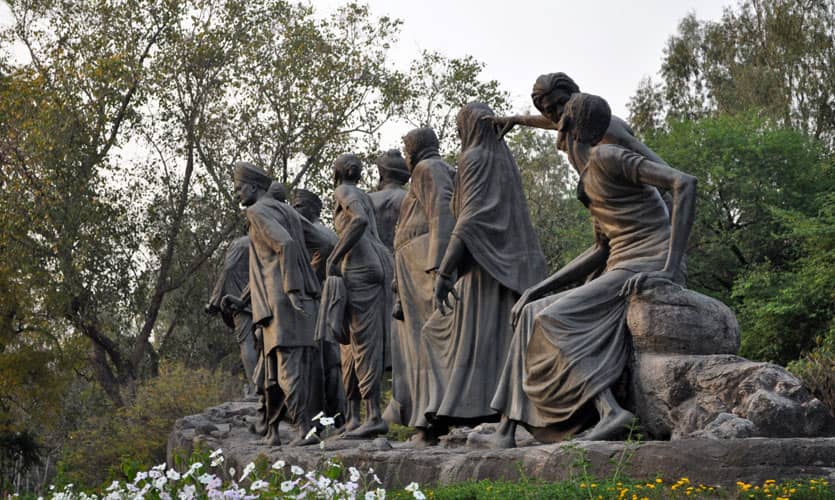 There has often been a lot of discussion about identifying the individuals of the Gyarah Murti group. But it is a pointless adventure, as those faces are recognizable not because they are famous, but because they belong to the common multitude.
They are no one in particular, and yet all of us. His realism is mixed with a stroke of imaginative fantasy. He acquired his art and honed his skills under the expert tutelage of E. Boyes, Rabindranath Tagore and Hiranmoy Roy Choudhuri. In 1937, he was honoured by the British government as the Most Exalted Member of The British Empire, and in 1958, he was awarded the Padma Bhushan by the President of India. His litany of masterpieces includes Triumph of Labour and Madras and Martyrs, among memorable scores of others.This rendition of India's political past does not fail to inspire awe despite the present-day political climate being most unpromising, inspiring nothing but raw cynicism.
So the encounter with the Gyarah Murti happens perhaps at an opportune moment, representing a moment of single nationhood before it got ideologically divided. Come witness the glory of our nation right here at Gyarah Murti!
Where | Gyarah Murti - Near Willingdon Crescent, Sardar Patel Marg