Delhi
Underrated Places In Delhi To Head To For A Scrumptious Plate Of Nihari
Nihari is a word that has become consistent within the desi food circle in Delhi for quite a long time now. Earlier, only a handful of street-side joints mastered the art of fine nihari, but today, it seems like this thick gravy dish has found solace even on the haloed pages of fine-dine menus. From the kitchens of the Mughal darbar to the shops lined in front of Jama Masjid, this delicacy has charted its course and survived quite a long run of social and political events.
Nihari or Nahari is said to originate from the Arabic word 'Nahar', meaning 'early morning'. So folks, the concept of nihari was that it used to be cooked overnight in deghs, simmering on fire for a good 7-8 hours before being served to the working class during the Mughal reign. It was said to provide the requisite energy for a day's hard work. The spicy curry mixed with succulent morsels of a high level of protein (beef and mutton) became so famous afterwards, that it got adopted as a dish to be served to the royals too! And rest as they say is history (literally in this case) and nihari, even today, is demanding respect from all walks of life.
So, we decided to tingle our spice buds and went on a mission to unearth the very few street joints which are still serving nihari, many of which did not disappoint, and so here goes our list for 'Not-to-Miss' places if you're as in love with nihari as us!
1. Madina Chicken Corner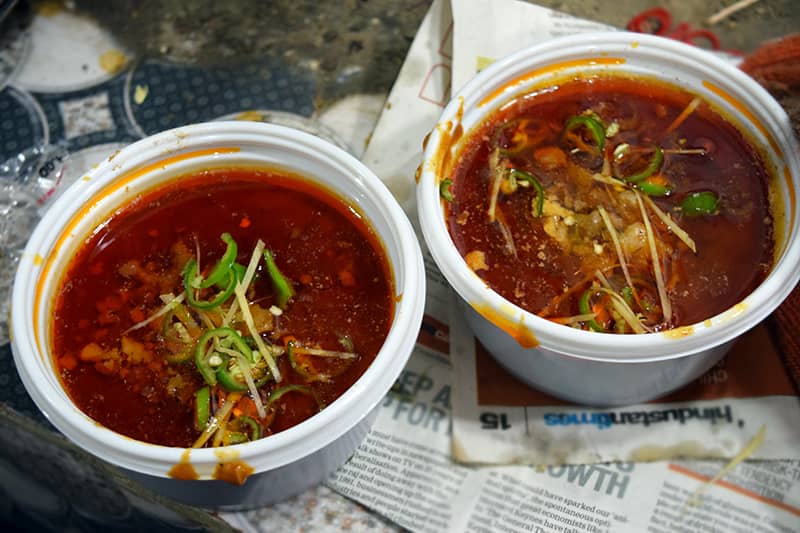 This street-side joint has three outlets in the area of Zakir Nagar alone, and every one of them was full by the time we reached them! Although we stood patiently in the crowded, one-room establishment which has been plastered with newspaper cuttings praising the proprietor, Mohd. Arif., we couldn't help but stare at the beef being ladled in curry, plate after plate. The Ghee Nihari over here is somewhat of a revelation, with almost three spoons of ghee slathered over the nihari and one can't but gobble it all up! We recommend this pace for even those who are visiting Delhi for just a day. 
Where | Madina Chicken Corner - Zakir Nagar, Okhla
Call Them | +91 8527 863 016
Timings | 8 AM - 11 PM
2. Haji Shabrati Nihari Waley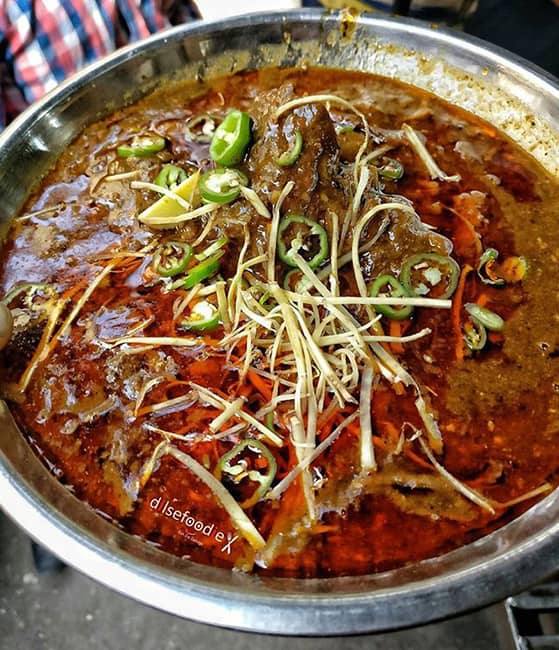 Picture Credits: dilsefoodie
They are probably the oldest surviving family in Delhi, and still continue to make niharis, all seven days of the week. In business since 1957, this small blink-and-you-miss-it shop in Haveli Azam Khan, Chitli Qabar is bound to arouse suspicion as to whether they could fulfil your aspirations regarding nihari! Locals are of the mind that Haji Shabrati's quality has diminished over time but for us, this place served one of the most flavourful niharis we have ever gorged on. With tandoori rotis being baked right in front of you, it's an adventure of a meal rather than just a foodie visit to this place!
Where | Haji Shabrati Nihari Waley - Shop 722, Haveli Azam Khan, Chitli Qabar, Jama Masjid
Call Them | +91 9810 135 786
Timings | 7:15 – 10 AM, 5:30 – 10 PM
3. M.I. Food Center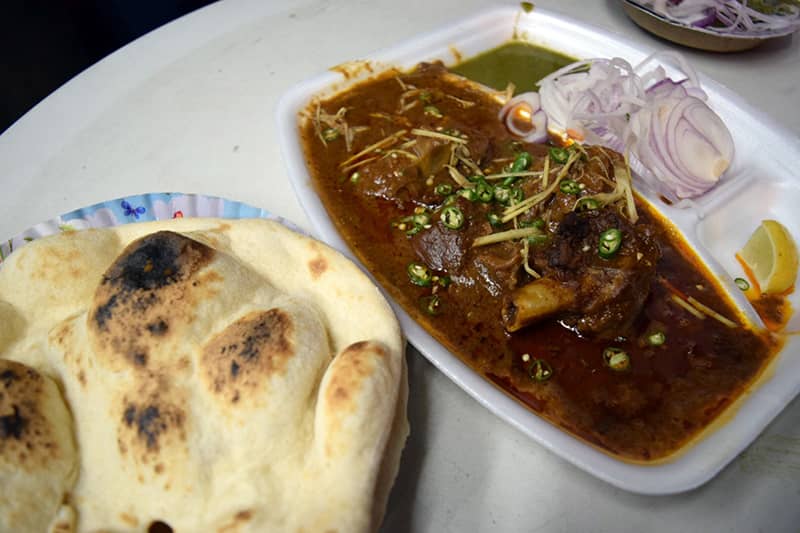 Right in the middle of the upscale and uber-chic Mehar Chand Market, are two shops run by a single family of butchers, who start selling their tandoori items after sunset. The quality of their tikkas, Chicken Fry and tandoori dishes is said to be unmatched and the taste is in itself in a league of its own. We ordered a plate of Mutton Nihari from this famous institution and can't stop gushing about it! Although, for some critics, this plate of nihari would be more of a qorma owing to its thick consistency, hey who are we to complain?! We absolutely adored the lip-smacking food here and would definitely recommend it for our foodies.
Where | M.I. Food Center - 43, Mehar Chand Market, Lodhi Colony
Call Them | +91 11 4905 1040
Timings | 12:30 - 11 PM
4. Kallu Nihari
Being third on our list is in no way an indication that Kallu fares below others and in fact, Kallu wins the competition single-handedly! Operating from a small shop that couldn't house more than five people all at once, this guy starts selling at 5 PM and people have complained that the goods get polished off within the hour, only to see pots and pans being washed after a day's sale by 6 PM (that too if you're lucky!). The red colour on Kallu's Nihari, the huge chunks of meat, the zesty spices and the garnishing of green chillies and ginger are enough to label this place as legendary! 
Where | Kallu Nihari - 180, Chhatta Lal Mian, Jama Masjid, Behind Delite Cinema, Daryaganj
Call Them | +91 9899 201 639
Timings | 6 - 10 AM & 5 - 11 PM
5. Kit Care Kabab Corner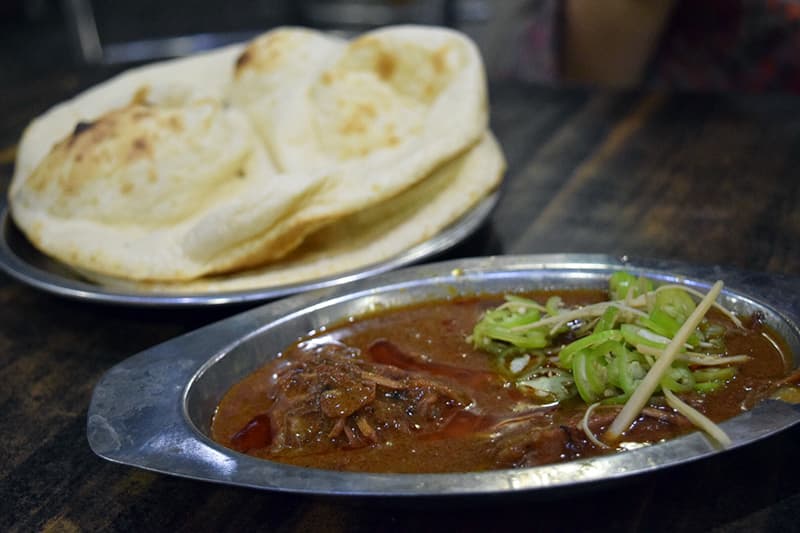 In the bylanes of the compound of Nizamuddin, a fairly new place called Kit Care opened up recently and has left the entire competition behind. Specializing in nihari and serving some cracking tandoori rotis along with Beef Tikkas, Chicken Tandoori and many such mouthwatering dishes, we recommend this place for those who love heading here for the weekly visit to the dargah or are nihari enthusiasts. Thank us later for leading you to this jewel of a place!
Where | Kit Care Kabab Corner - Shop T21, Near Musafir Khaana, Nizamuddin
Call Them | +91 9899 429 062
Timings | 6 - 11:30 PM
6. Javed Famous Nihari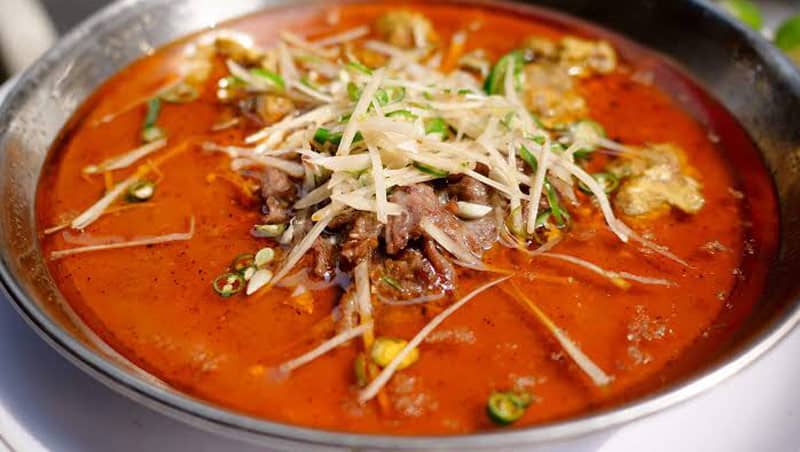 This one is tucked in Okhla and is known to serve delicious  Nihari, Paya and Nalli that will take your tastebuds for a spin. These good folks believe in slow cooking methodology and hence the dishes are cooked for more than 12 hours with whole Indian spices to elevate their taste. If you're a hardcore meat lover (like us), this one has to be on your bucket list!
Where | Javed Famous Nihari - Zakir Nagar Main Rd, Mehboob Nagar, Jogabai Extension, Zakir Nagar, Okhla
Call Them | +91 9818 807 822
Timings | 12 Noon - 3 PM , 3 - 6 PM
By the time we'd tried out all these places, we definitely felt a hundred sizes bigger but the satisfaction and contentment that such Mughlai dishes provide is incomparable! You need to check out ALL these gems!