Delhi
Marvel At The Glorious Views & Find A Mysterious Floating Island @ Prashar Lake
Prashar Lake lies 49 kms North of Mandi in Himachal Pradesh. The scenic beauty here lies in the three storeyed pagoda like-temple surrounded by lush green vegetation and the deep sea blue coloured lake whose depth is still a mystery to all *starry eyed*! The temple dates back to the 13th century (wow!), legend has it that a six year old child built this temple from a single oak tree. The lake has a floating island which revolves around the temple and neither science nor logic can solve all the mysteries in Prashar Lake.
A trip that was short and truly memorable, here comes the tale of our jaunt to the surreal Parashar Lake!
What To Pack In Your Rucksack
Woolen jackets, gloves, windcheaters to keep you warm, a comfortable pair of shoes or full-out trekking boots. Definitely pack a good sunscreen and/or a hat, to prevent damaging sunburn. It'll come in handy if you also have some filling snacks and chocolates, for that quick energy boost and to carry torches and flashlights. The most essential thing is to carry a lightweight backpack and of course, lots of enthusiasm!
Here's How To Get Here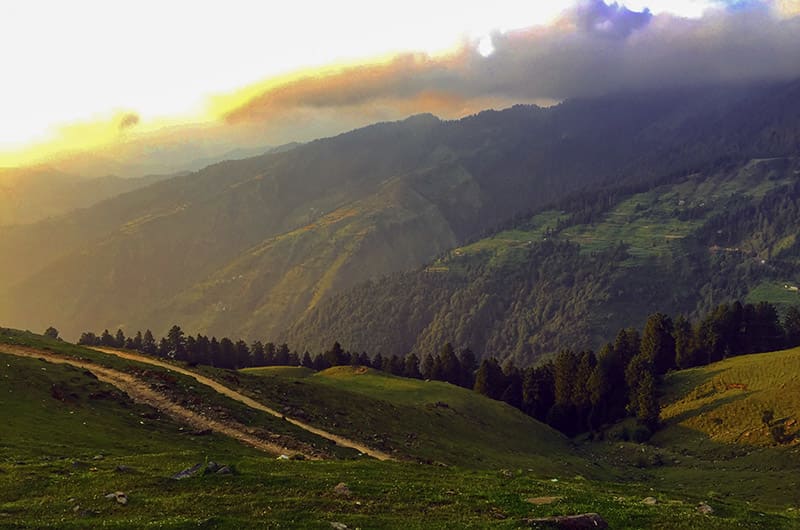 From the Mandi bus stand, getting a shared car or bus to Baggi isn't much of a big deal. From Baggi, you can either can trek 9 kms in lush greenery, not to mention perfect weather. It's a moderate-level trek, so you can expect to reach Prashar Lake in about 4 to 6 hours. If you want to give the trek a pass (which during the monsoons is a good idea), a cab would take you there in an hour (more or less). For a shared cab, you'll end up shelling out around Rs 200.
Camping Options & Guesthouses Galore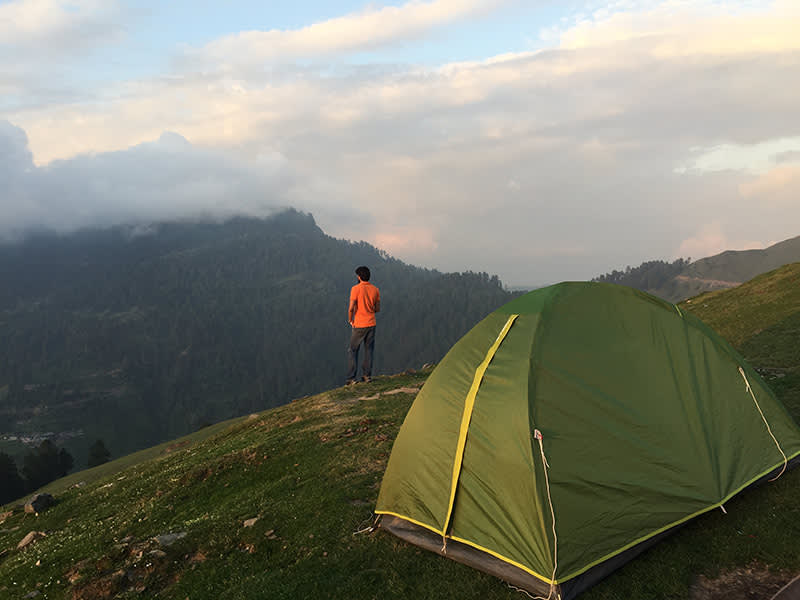 The luxurious staying options here are typically guest houses (P.W Guest House being one) which tend to be a little far from Prashar Lake itself. On the other hand, there are lots of camps in the entire area just outside the boundaries of the temple, which will charge you about Rs 300 a night, and will happily offer you sleeping bags inclusive of the cost. If you want an even more authentic outdoorsy adventure, you can even sleep in the temple, free of cost - a blanket will cost you a meagre Rs 30!
Maggi Maggi Maggi!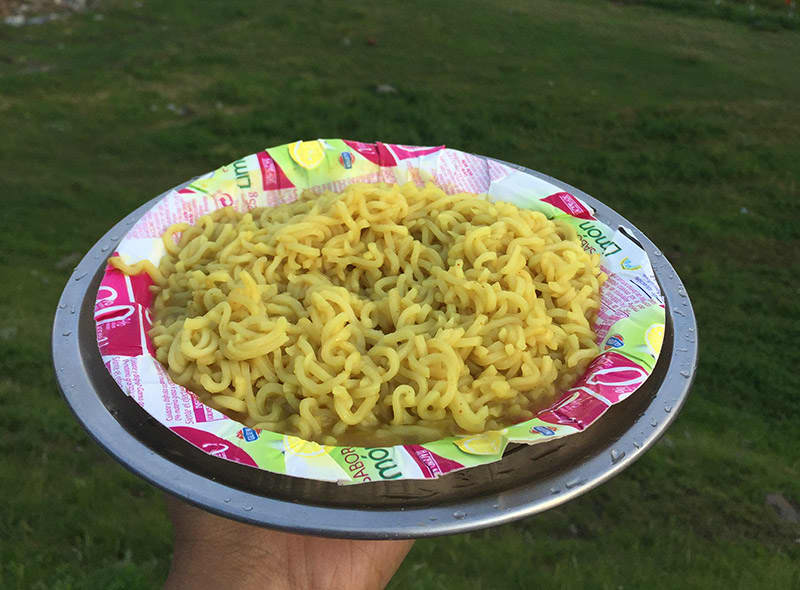 Ahh now we come to the pet puja part of the itinerary. Just like a regular small hill station, there's not much in the way of restaurants and cafes, but they do a mean Maggi plateful and delicious Rajma Chawal, which you can gorge on while sipping some garma garam chai and gazing at the spectacular views! 
Things To See & Do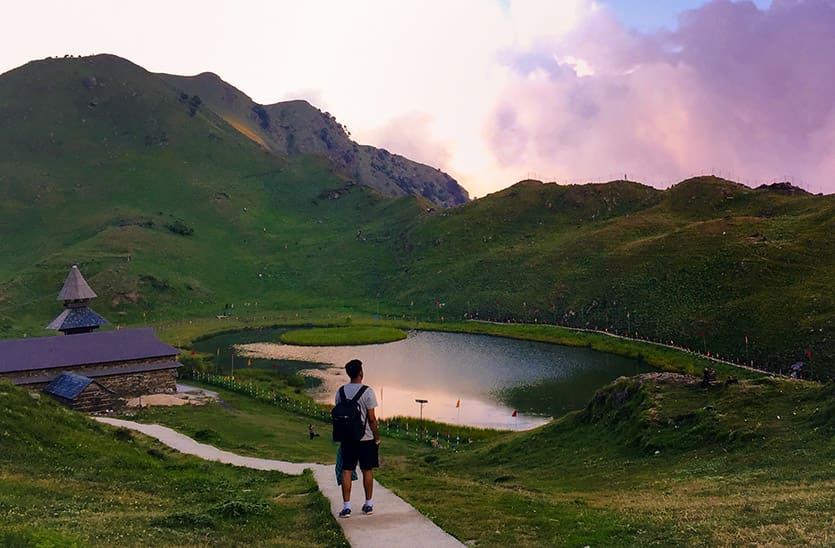 If you're hoping for a serene and beautiful way to end the day then nothing can be better than the reflection of sunlight in the Prashar Lake. Such a beautiful sunset with bonfire, camping and long conversations - how does it get any better than this!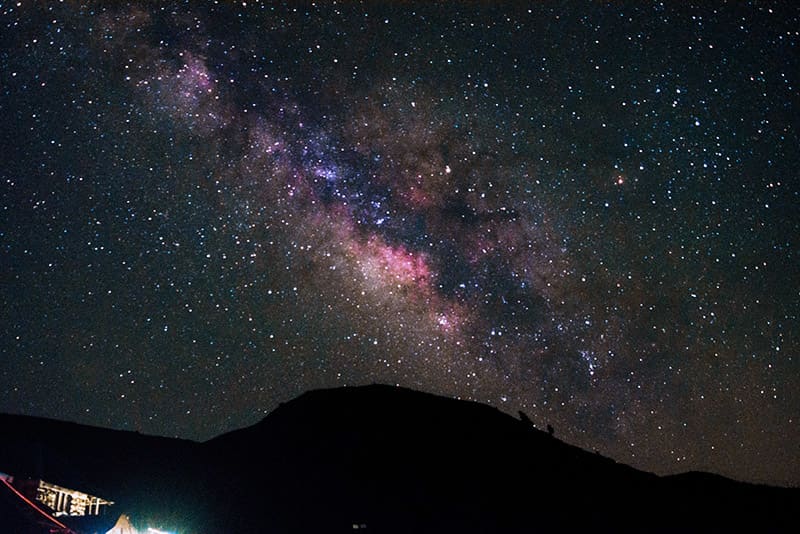 Come nightfall and you'll have the entire Milky Way Galaxy for a view! A night illuminated by constellations and thousands of stars will surely make for an other-worldly experience! Needless to say, we dusted out our cameras and clicked away to glory.
Good To Have Info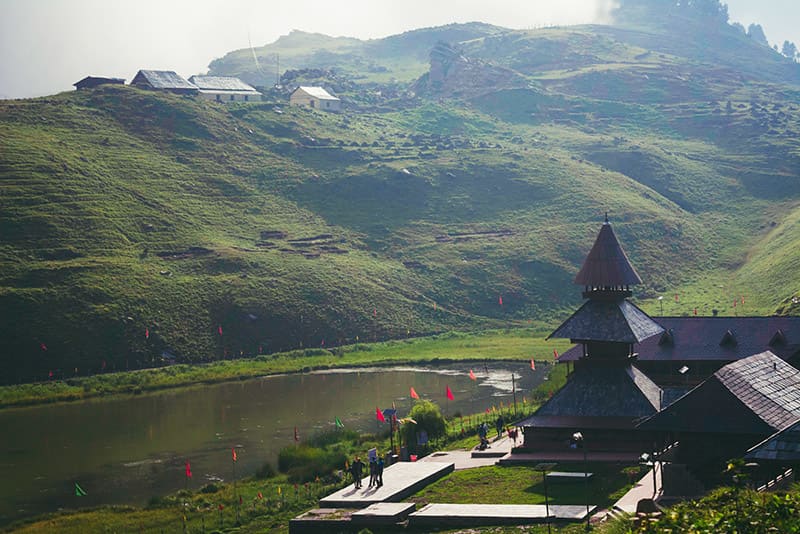 During the monsoons, expect swarms of insects and leeches so wear a good pair of shoes and cover yourself fully. We advise you not to plan your trip via local platforms like Panally.com etc, because the charges they levy is way expensive for no good reason.
At nightfall, you can expect foxes and other wild animals roaming around in places of utter isolation so we advise you not to walk about alone at night in isolated parts. Don't expect a proper toilet, so be prepared to share washrooms and toilets. One is located at the backside of the temple boundary and the other one behind the temple.
A truly scenic place that fills your soul with serenity and peace, don't hesitate to pack your bags and land up here!
 Where | Prashar Lake, Near Mandi, Himachal Pradesh