Delhi
A Fab New Lounge Dedicated Entirely to Our Favorite Sitcoms, We Took Entourage For a Spin
The newbie, Entourage Lounge, located in the heart of Defence Colony has heard all your hollywood prayers and has brought your television fantasies to life.
The first look of the cafe will certainly make you crazy, it's like a dreamland; with Game of Thrones characters to How I Met Your Mother's gang, you can see them all. And if this doesn't tickle your fantasy, you can take up a quiz for your favourite show every Thursday and win yourself a mind blowing refreshing drink!
Quiz nights on Wednesdays, Open mic standup comedian standoffs on Thursdays, Mad men themed sufi nights on Saturdays and Deceptive Sundays Upclose Magic is how Entourage rolls keeping you entertained through the week.
Pablo Escobar Mojito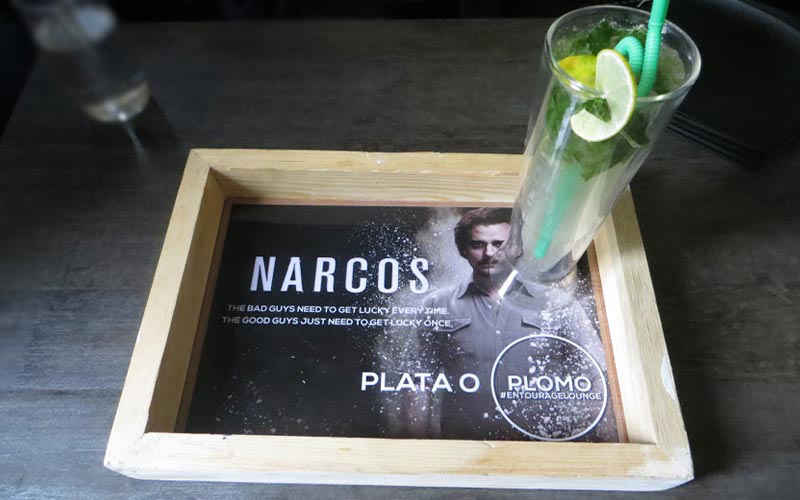 The bullet shaped glass caught our eyes in the very first place. This rum-based mojito was one of the most refreshing and exhilarating drink we've had so far!
Thai Corn Puchkas
To accompany our Mojito, we had Thai Corn Puchkas from their fusion menu. The puchkas stuffed with boiled corns and cheese, and lip smacking mint water, proved that this newbie knows how to make the ordinary, extraordinary.
Hash Brown Tikkis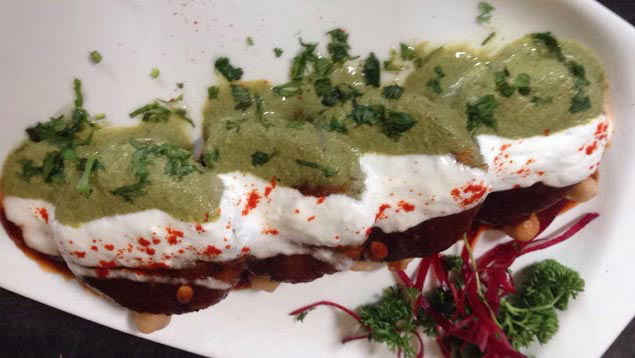 The tricolor sauces on the tikkies caught our attention in the very first moment. The tikkis were so mushy and soft and a little crispy on the outside. Overall, delicious! 
Bloody Mary (Inspired by Dexter)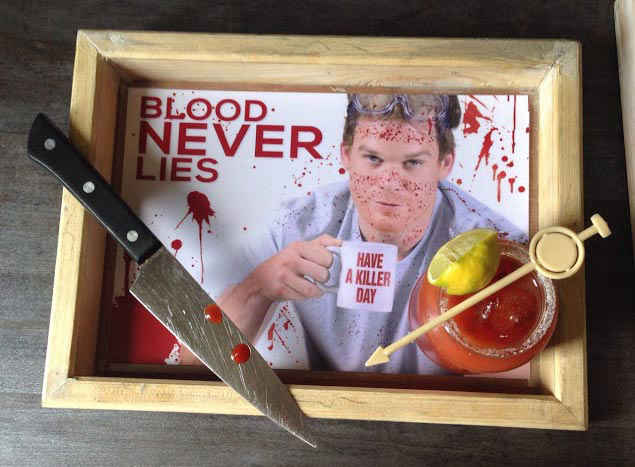 It had a real gory and yet witty presentation, with blood-like droplets on the knife. And then what else did we need when the presentation matched the zesty taste of it!
Parmesan & Galouti Rolls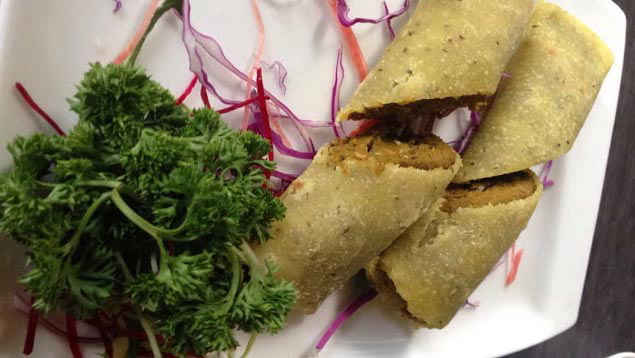 We then went in for the Parmesan and Galouti Rolls, served with traditional mint sauce. The parmesan and galouti was bonded perfectly together and was amazingly scrumptious. Never thought this combination could be so delectable.
Bitchin' Batch Bitch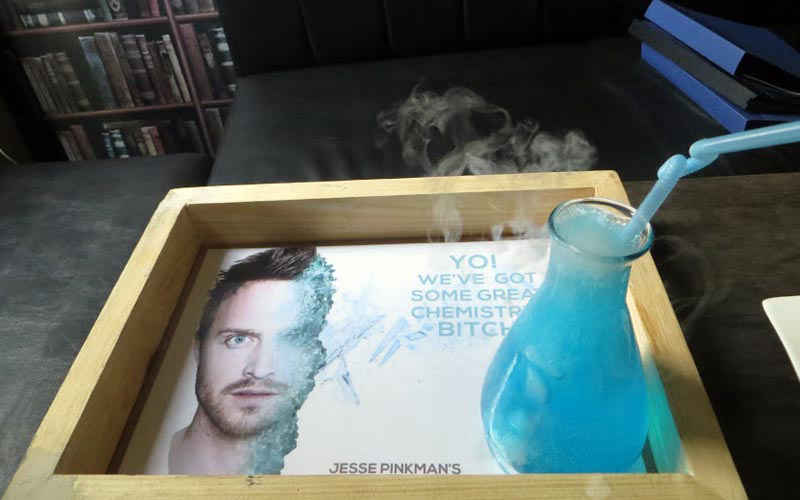 Up next was the king of their signature drinks, Bitchin' Batch Bitch inspired by Breaking Bad. With dry ice, smoke and all the right presentation, this seemed like one hell of a drink. This ice chilled blue lagoon was one of a kind. 
Zombie (Inspired by Walking Dead)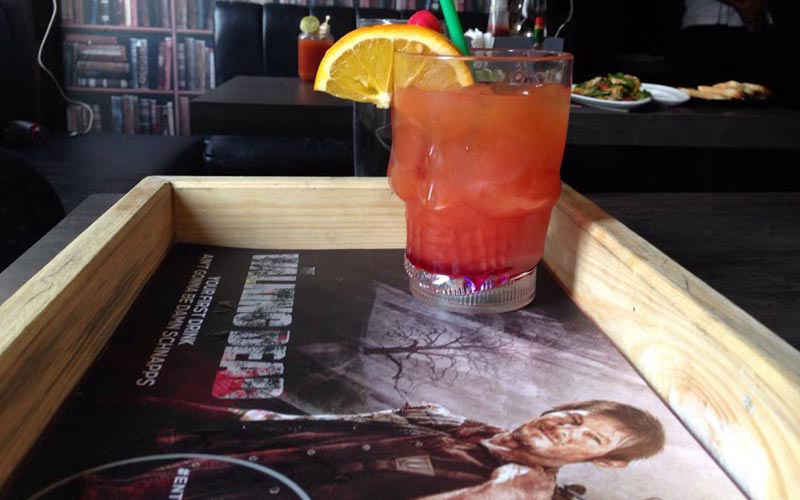 The glass was shaped like a skull with disco lights emanating from the base. What a sight it was! This drink was a perfect blend of white rum, dark rum and cranberry. 
Shrimp & Bacon Rolls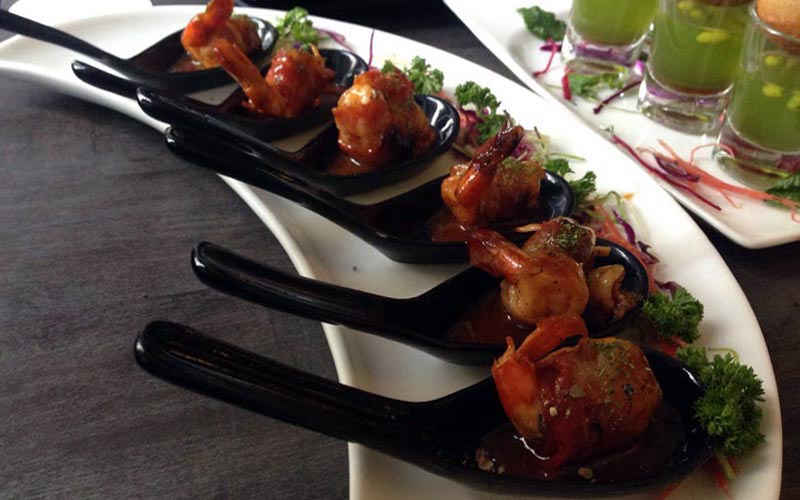 It had bacon-laced shrimps dipped in their house barbecue sauce. With shrimp so tender, bacon so chewy and sauce so gooey, we were in for a real treat!
Fish Duxell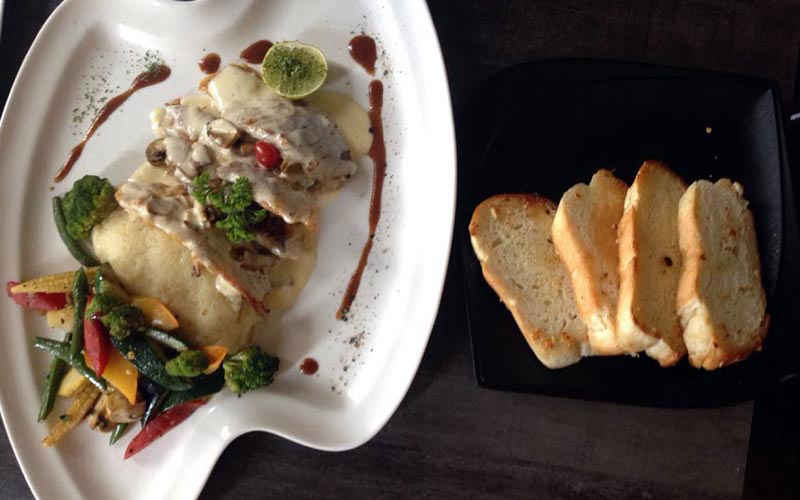 We had Fish Duxell for the main course. A soft and tender fish served with potato mash and boiled vegetables was a really filling meal for one. The fish was so well cooked in butter, that each bite oozed a good amount of salty butter. Super butterly delicious!
With TV on our plate and a great entourage of our favourite sitcoms, Entourage Lounge has got us hooked. Go try it for yourselves!
Location | 22, Main Market, Block C, Defence Colony
Rating | 8 / 10
Must Tries | Shrimp and Bacon Rolls, Bitchin' Batch Bitch, Fish Duxell