Delhi
A Delhi Confluencer Circle Event | Tipping Back Margaritas & Talking Shop @ Arriba
The super-secret, hallowed and exclusive group called the Delhi Confluencer Circle just had its very first maiden bash at the most dreamy, pretty Mexican joint called Arriba- Mexican Grill & Tequileria, nicely tucked away in the swanky confines of the Asiad Village Complex.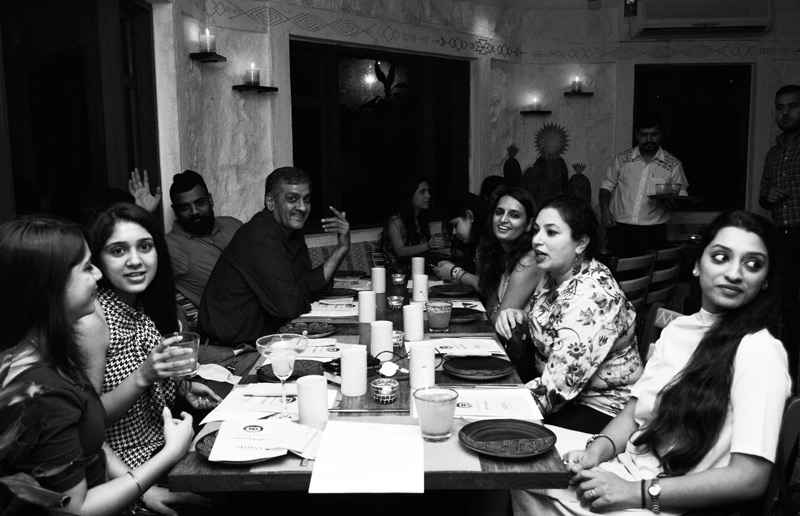 It was happily billed as a classy, fun blogger meet where they lured the biggest and best Delhi bloggers with the promise of endless glasses of heady Margaritas and unflagged, riotous conversation!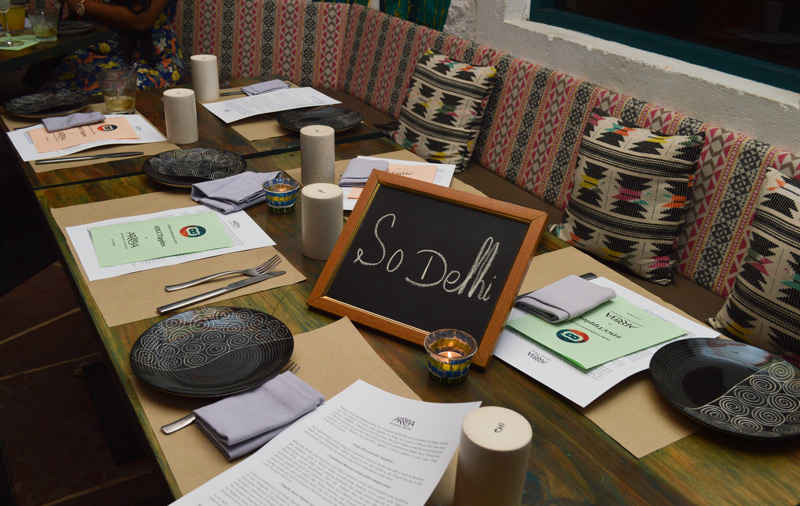 It was a gathering designed to meet up, clink Margarita glasses, share notes and basically have an evening to remember! Adding into the pot of treasured bloggers we doled in a special treat - a completely curated, signature menu for 'DCCTipples' designed especially by the much-adored Chef Noah and his stellar team! 
Mingling & Mixing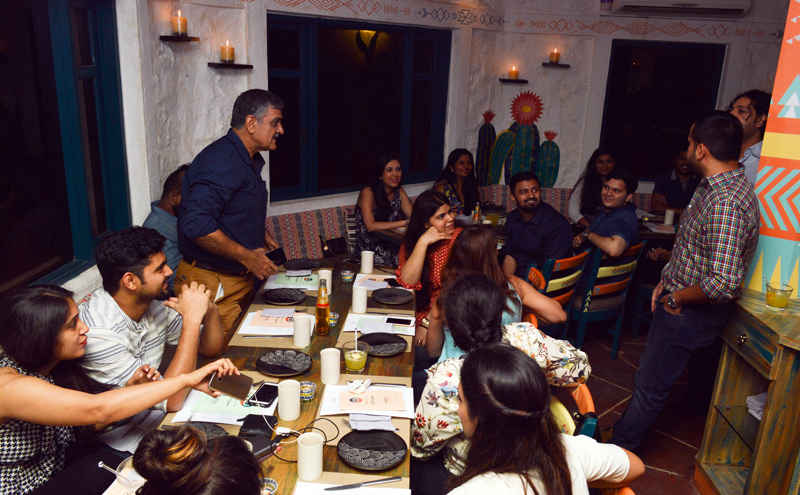 As each eager blogger came in, took stock of the surroundings and waved at familiar places, he/she took a seat at the sprawling table and was greeted with a cutely printed leaflet containing a 'Hey there!' message, along with a glimpse of the stupendous curated menu to be showcased for the evening!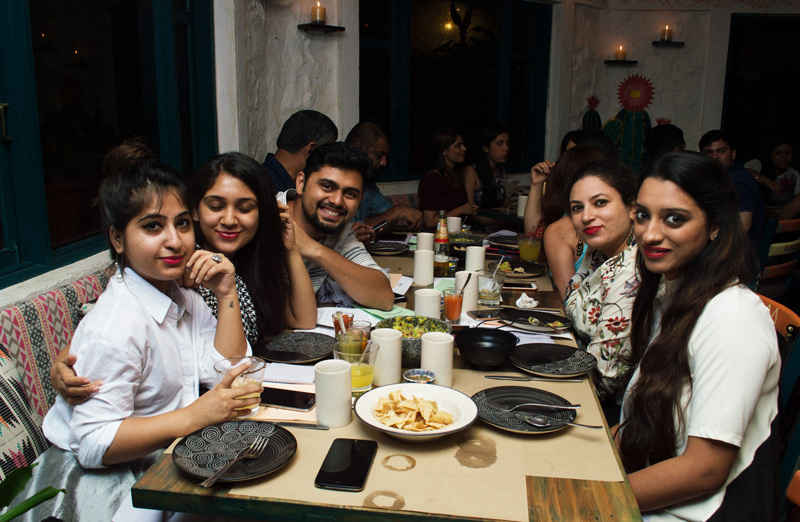 The bloggers then glugged down a few glasses of Arriba's Classic Margaritas and Cinnamon, Apple & Jalapeno cocktails whilst everybody around milled about and introduced themselves to welcoming hoots and good-natured calling out, making the evening a truly fun-filled one with the 'Who's Who' of Delhi's blogosphere *cocky grins*! 
Making Merry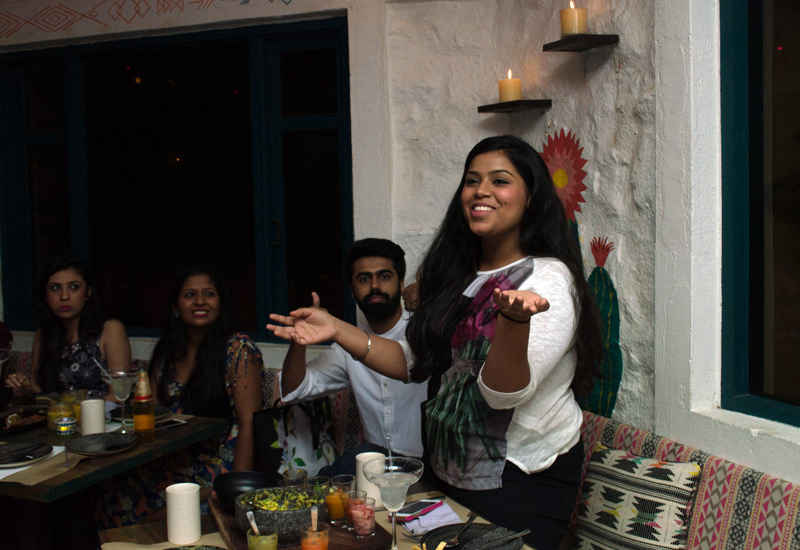 After we were done with the riotous round of introductions, the food flowed in! We started off with the Arriba Especiale Guacamole (the most delicious guacamole and tortilla chips we have ever tasted BTW), at which time the chefs actually came to our tables to personally hand-make the fresh guacamole with jalapenos, tomato, onion, cilantro and a host of other ingredients.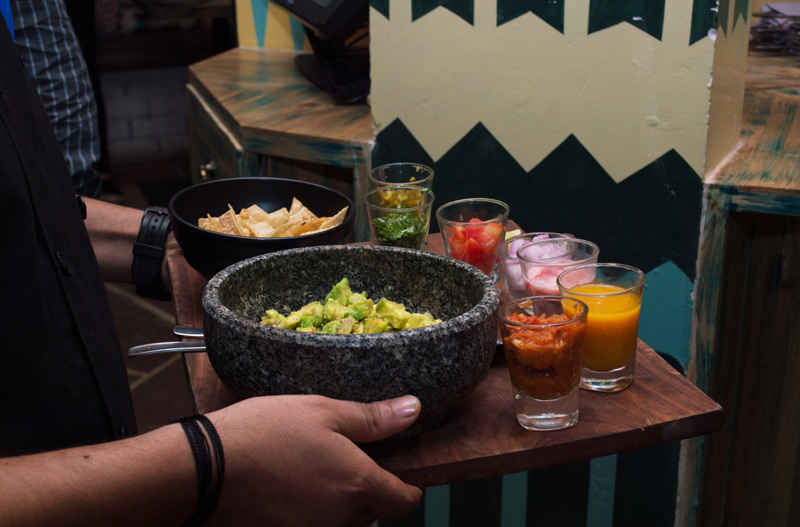 This was followed by a yummy Skinny Taco Salad consisting of corn, salsa, iceberg, guacamole, cheddar and crisp taco strips served in a mason jar.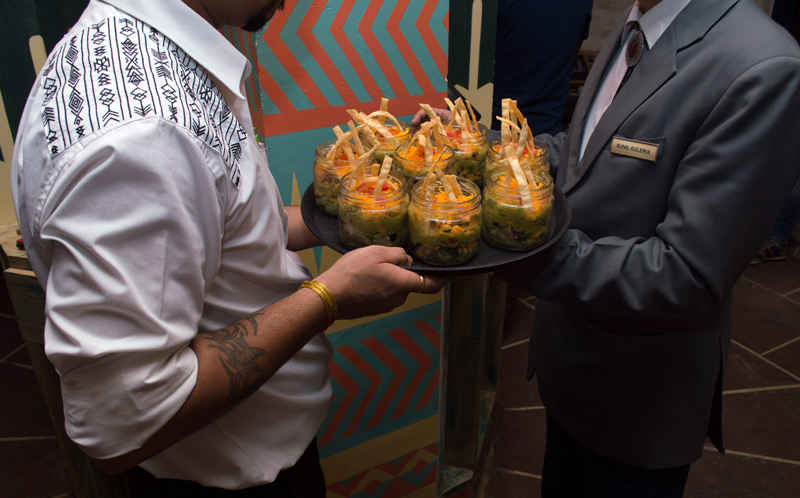 Our personal favorite was their Beer & Chipotle Lime Fish Taco Bites consisting of lettuce, guacamole, cilantro, lime & sour cream - summed up best as bite-sized little balls of foodie heaven!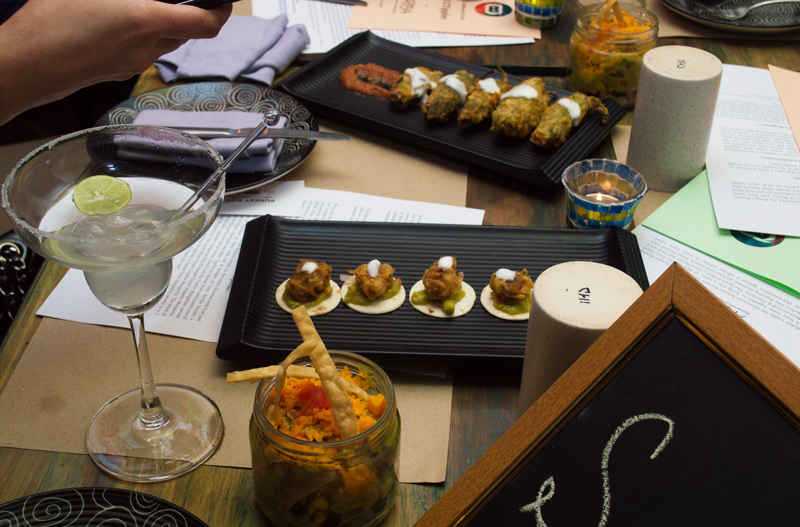 Another highlight of the evening was the Habanero Smoked Pork Skewers with pickled jalapenos and a hot chilli sauce! The chunky pork was absolutely juicy and melt-in-the-mouth - an amazing appetizer! 
This was followed by a lot more and being bloggers through and through, there were dozens of smartphones whipped all around taking gorgeous Snapchat videos and tons of pretty clicks (IG-ready, of course!)
Drinking Games!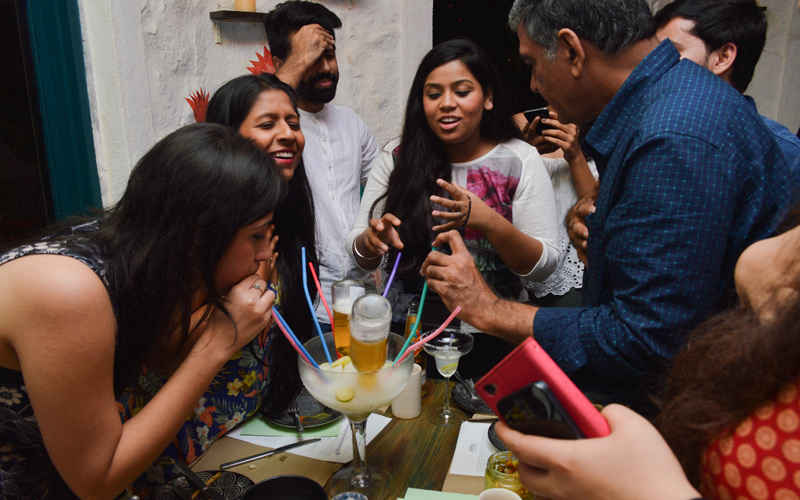 After we'd stuffed ourselves silly with the mouthwatering grub, it was time for a drinking game! This was when the Gigante Frosty Mexican Bulldog Margarita, consisting of 2 whole Corona pints upended in a colossal glass and filled to the brim with loads of ice and lime, were brought in and things got competitive! 
Some good-natured spluttering and coughing and long glugs later we emerged, good and buzzed and patting the victors on the back! The winning team (Team Winners ironically enough) was handed out awesome Privilege Cards that would be happily accepted at Arriba, Tabula Beach Cafe (yay!) and the Hungry Monkey.
Gobble Gobble Gobble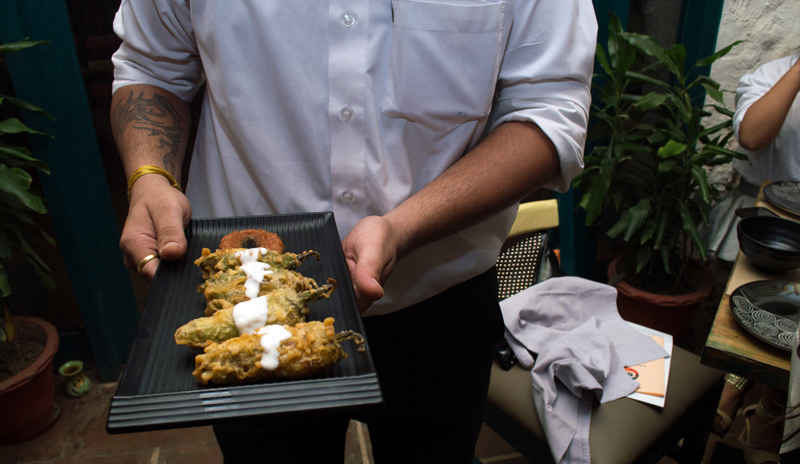 With the conversation flowing (just like the tequila), we then turned to the fabulous mains that Arriba proudly brought in! We were regaled with The Arriba Molcajete, a house specialty served in a volcanic stone mortar with loads of meat and lots of avocado, cheese and Salsa. 
Not one to stop just there, we were then presented with Sizzling Fajitas, where strips of succulent chicken were tossed with hot Mexican spices, and served with soft tortillas, lots of Salsa and a bowlful of Mexican rice.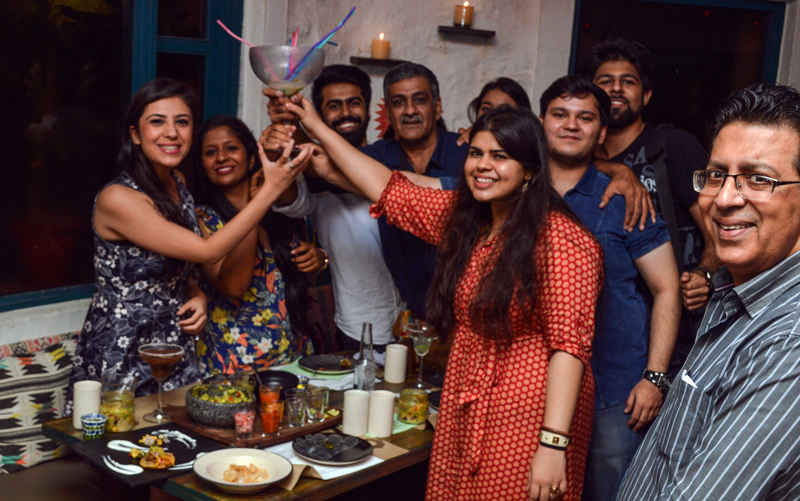 Needless to say, we were tripping on all the delicious food and had had ourselves a true-blue Mexican fiesta!
Lingering long after the last Margarita had been downed and the last morsel polished off, we renewed our bonds with long-standing friends and bloggers, and initiated new friendships and acquaintances! A #DCCTipple it was and a night to remember!
Location | Asiad Village, Siri Fort Complex
Browse Through More Pictures