Delhi
Dancer & Mughal Courtesan Who Later Married A British Soldier, Have You Seen Begum Samru Ki Haveli?
On one of the broader main roads of Chandni Chowk stands the Pearey Lal Building. On taking a left turn and walking a few steps ahead, you reach Bhagirath Place - the famous electronic goods complex. The word 'Palace' is only a misnomer for this arcade of makeshift stalls erected on, in, over, across and around what history has known as Begum Samru's Palace.
Begum Samru, As Recorded In The Gilded Pages Of History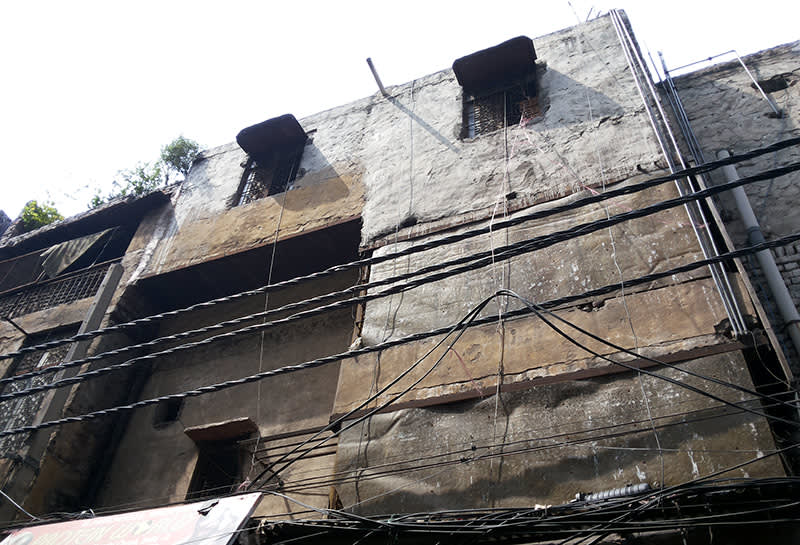 She was the dancing girl with a face, gait, voice and eyes well-known throughout the streets of Chandni Chowk, and the secret bedchambers of the Mughal court. For 14 years, she charmed her way through the heart and mind of a mercenary soldier called Walter Reinhardt Sombre, 45 years old when he first met Farzana (the Begum's maiden name). They started living together and got married in 1765.
What followed was a fairy tale story of her ascent to power, prestige and glory hitherto unknown to most women of her time, leave alone dancing women. After Reinhardt's death in 1776, his jagir passed to Farzana. As a variation to her late husband's adopted title, 'Sombre', she then came to be referred to as Begum Samru. Tales and details of her effective and efficient administration are legendary. 
Leading an extraordinarily dramatic life, she became the head of a mercenary army that passed on to her after Reinhardt's death, along with the estate of Sardhana. She had several paramours, and was mostly blatant about her sexuality, which caused her troops to turn mutinous when she eloped with a French lover. In 1781 she converted to Roman Catholicism and came to be called Joanna Nobilis. The age, time and cause of her death are heavily disputed.
Her Palace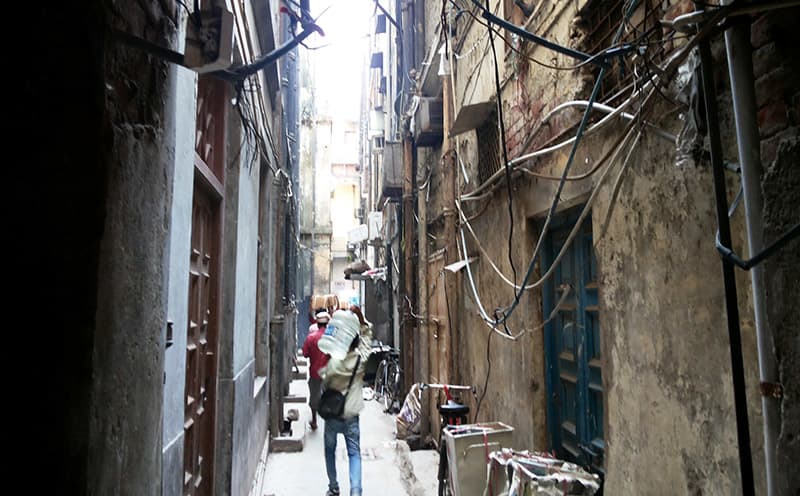 Begum Samru had several palaces - in Chandni Chowk, Sardhana and Gurgaon. Only the one at Sardhana remains today. The one in Chandni Chowk, famed to be the most enviably opulent, was built on Samru Bagh, a garden gifted to her by King Akbar Shah. 
Today, a portion of it is completely razed to the ground, while the remaining portion is transformed into unappetizing-looking electronics shops. According to historical data, her palace had nine fountains in lavishly laid lawns. It was an impressive four-storey structure of stone and marble. 
Because of European connections through her husband, it was a fine fusion of Greek, Roman, Corinthian and Mughal architecture. It was known for its long winding staircases, sprawling terraces and the many roshandaans. Though there are various grandiose accounts of what the palace used to look like, most of it is speculation and surmise. Very few verifiable eyewitness accounts remain.
Bhagirath Palace
Walking through the length and breadth of Bhagirath Palace, twice over, will yield no desirable results. A window here, a wall there, a part of a gate, a portion of a relatively wider road can only be related to the past by a strong force of imagination. Everything stands mutilated and transformed. Nothing resembles or reminds you of better days.
Out of all the other ravaged or razed monuments strewn across Old Delhi, this is the most depressing example of the negligence of the past. No trace of history holds you back, or makes you want to linger and escape onto a road trodden on by history itself.
If you ever find yourself in this part of Chandni Chowk, do keep a look-out for the abode of this daring woman!
Location | Begum Samru Ki Haveli - In Chandni Chowk