Delhi
A Black Domed Relic Of The Lodi Dynasty, Have You Ever Paid Attention To Kali Gumti In HKV?
Built during the Lodi dynasty in the 14th century, the Kali Gumti (the 'black tomb', though it does not contain any graves) lies in the midst of the thick flora and fauna of the green boundless Deer Park. The park, which is home to a variety of birds and animals, lies next to a swanky urban village in South Delhi - the Hauz Khas Village. The nearest metro station is the Green Park Metro Station which is 3.6 kms away. 
The green stretch doesn't fail to captivate people's attention with its historical, cultural and natural comeliness. The essence of the park is a mix of natural and man-made landscape, which is cherished by all.
Picture This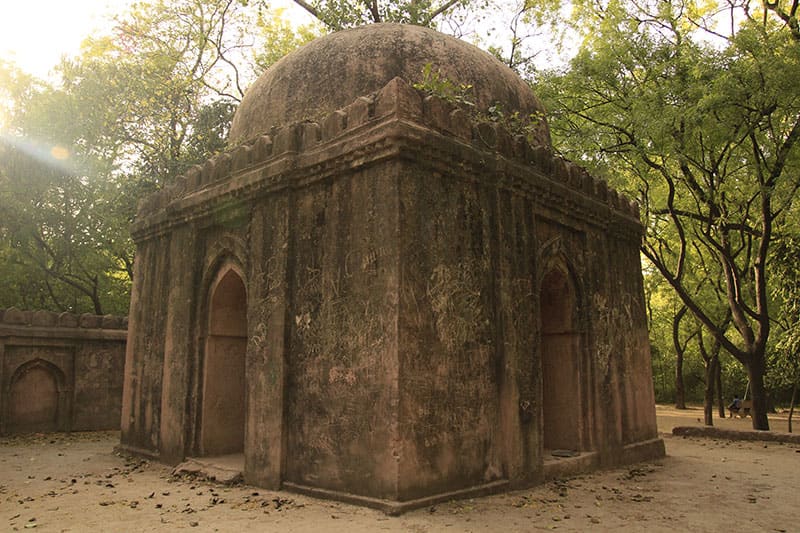 The two entrance gates lead to numerous pathways where each track leads to a hidden element of Delhi's diversity. The kacha track on the right hand side of the entrance gateway brings you to a playful panorama of badminton nets and a jogging track while the Kali Gumti rests peacefully in the background. The lush green Ashoka trees accompany the visitors throughout the long stretch.
The Tomb Itself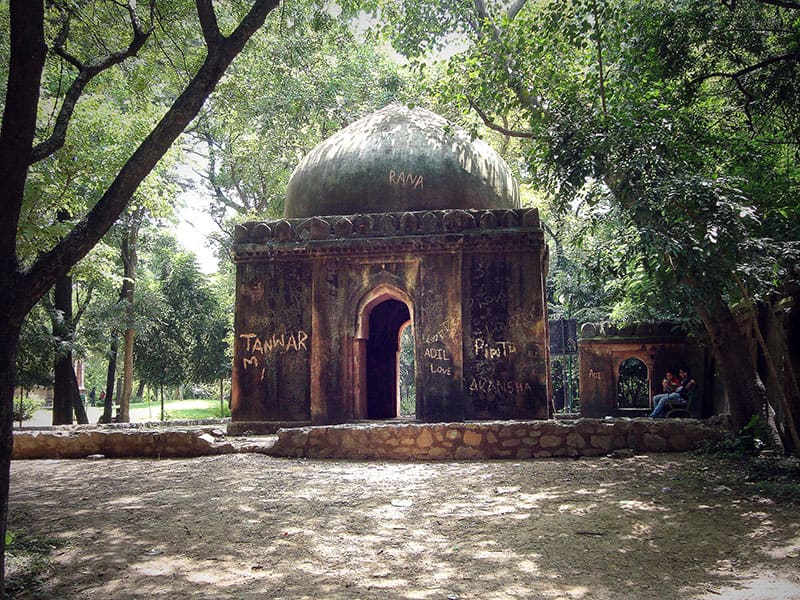 The proportions of the Gumti don't fail to represent the powerful reign of the Lodi era. The 30 cms stone plinth running all around the Gumti marks the boundary of the building. Unperturbed by human commotion, the tomb silently connects to nature and the surroundings.  The only source of light in the dome is the pishtaq (central arch) whereas all other arches decorating the façade and the fortification walls are blind. The blackness and the wild vegetation decorate the bare facades of the mortar wall in a pictorial manner. 
The half-existing wall mosque is a blend of different sizes of blind arches accompanied by bright-coloured heart shaped scribbling done by the locals. Arched kangooras (pattern created in the fortification wall to uphold canons for protection) spread on the semi existing wall, giving the raised area a sense of closure.
Nature Abounds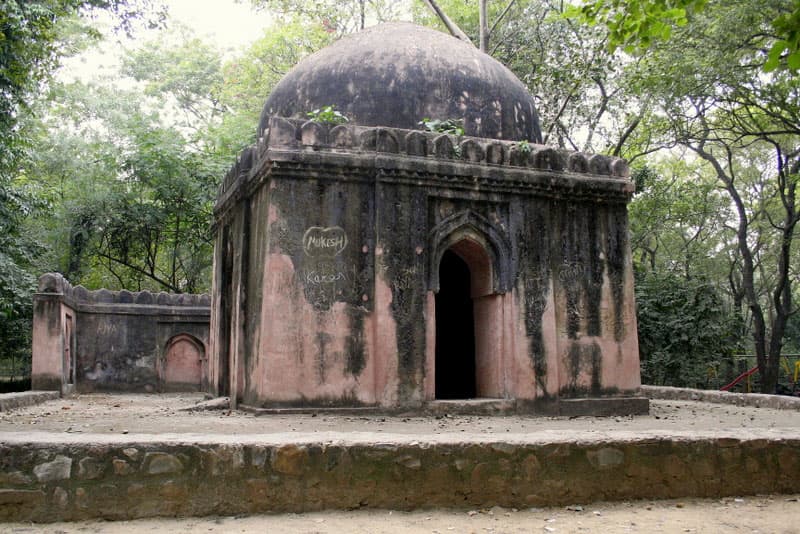 The surrounding trees form a canopy around the tomb, making the space denser and cooler than the rest of the park. The continuous chirping of a variety of migratory birds enhances the silence of the trees in the evenings. Grass mounds cover the surroundings along with colourful swings, the volleyball court and the seating spaces, which make the space more user friendly. Hence making this a perfect place to spend Delhi evenings in the lap of nature. 
It's a utopian experience where the Lodi tomb silhouettes compliment the present day human activities. The best time to visit the tomb is in the rainy season, when the forest is at its best, lush green, so make a plan, gather your gang and get cracking!
Location | Deer Park, Hauz Khas Village