Delhi
9 Things Including Sassy Flats, Doodle Badges & Notebooks To Score At The Quirk Bazaar @ H.O.P.
November is gonna be a month of complete fun because Delhi's Happiest Food Fest - Nescafé presents Horn OK Please co-powered by MAGGI and Uber Eats, is almost here and it's gonna be a LIT affair! And if you thought that this fest is gonna be all about food, then you definitely got it all wrong, people. This edition of H.O.P. will play host to an incredible Quirk Bazaar where you can shop for funky tees, phone covers, posters, badges, shoes, tote bags and more. We picked out a few things you HAVE to check out at the Quirk Bazaar while you're there, so scroll on!
1. Comfy, Cool Joggers From Feltin Clothing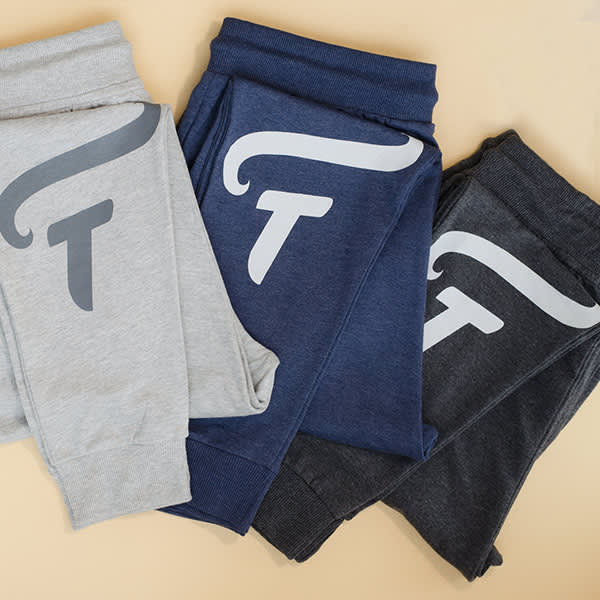 If athleisure apparel makes up most of your wardrobe, then you're gonna love Feltin! These guys are coming to Horn OK Please with their comfy and stylish joggers and t-shirts that are made with premium cotton fabrics and eco-friendly dyes. And our new found love for joggers is directing us straight to this stall. So, get that airport look right with these cool joggers from Feltin here at H.O.P.!  
Check Out Their FB Page | https://www.facebook.com/iamfeltin
2. Pretty, Slogan Debossed Footwear From PRESA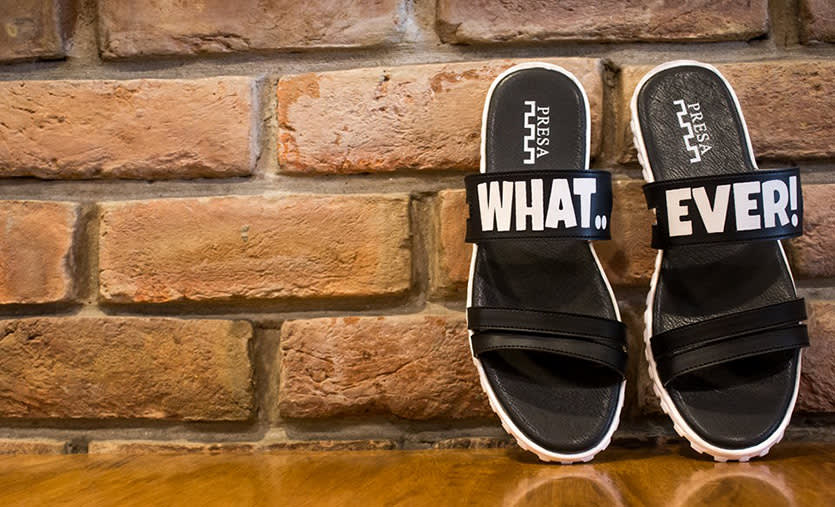 "I have too many shoes", said no girl EVER! And that's why you guys CANNOT miss out on PRESA's offerings at the Quirk Bazaar this time. These lovelies have pretty flats that are quirky, expressive and loud with catch phrases like 'Whatever', 'XOXO', 'IDK! IDC!', 'BLAH' and more printed on them. So, grab a pair (or 10) from their kickass collection and have a fun time shopping!
Check Out Their FB Page | https://www.facebook.com/presaflats/
3. Cutesy Wallets & Notebooks From The Candy Call Store + Notice Me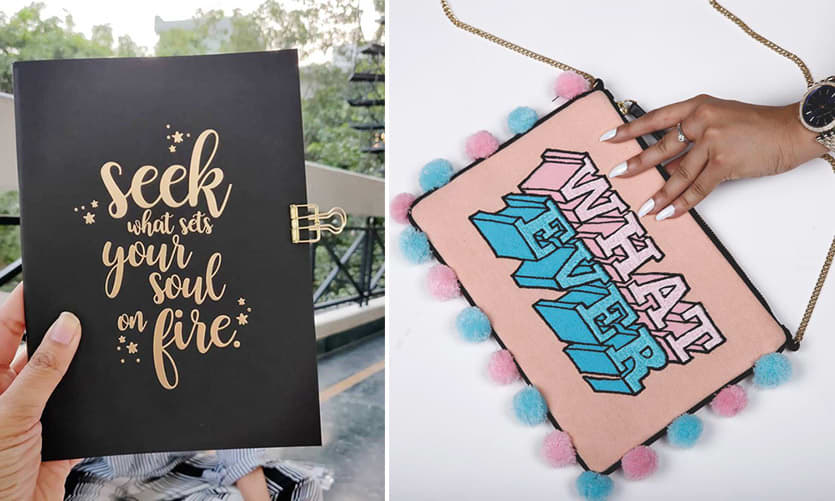 The Candy Call Store and Notice Me are coming together with their RAD collectibles to Horn OK Please and you can snap up their cheeky earrings, cutesy wallets, notebooks, posters and more. We can't wait to get our hands on their 'Bad Girls Club' earrings and 'Whatever' sling bag to get our OOTD game on point!
Check Out Candy Call Store's FB Page | https://www.facebook.com/thecandycallstore.29/
Skim Through Notice Me's Insta Feed | https://www.instagram.com/noticemeofficial/
4. Kickass Badges From Neha Doodles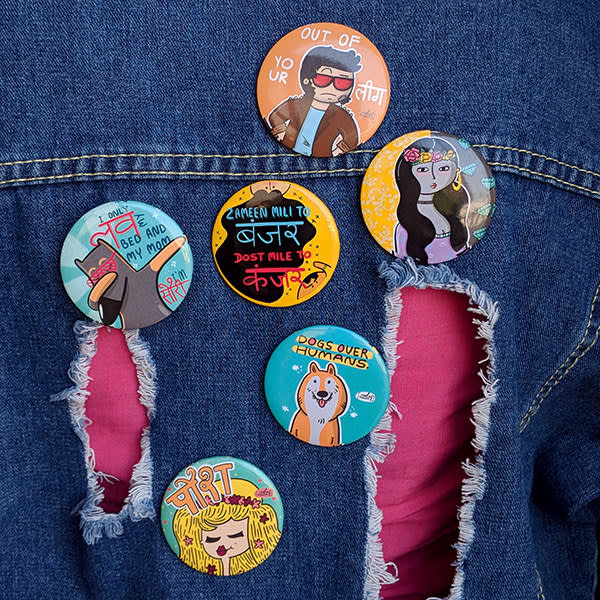 We really don't need to introduce this sweetheart to you all, do we? Neha Doodles has been blessing our Insta feeds with her amazing work and she's coming to H.O.P. with her kickass badges, notebooks, stickers, bookmarks, posters and more 'kaafi sahi' stuff. So, drop by her stall and get everything that your heart desires!
Check Out Their FB Page | https://www.facebook.com/neha.doodles/
5. Chic Jewellery From BelloFox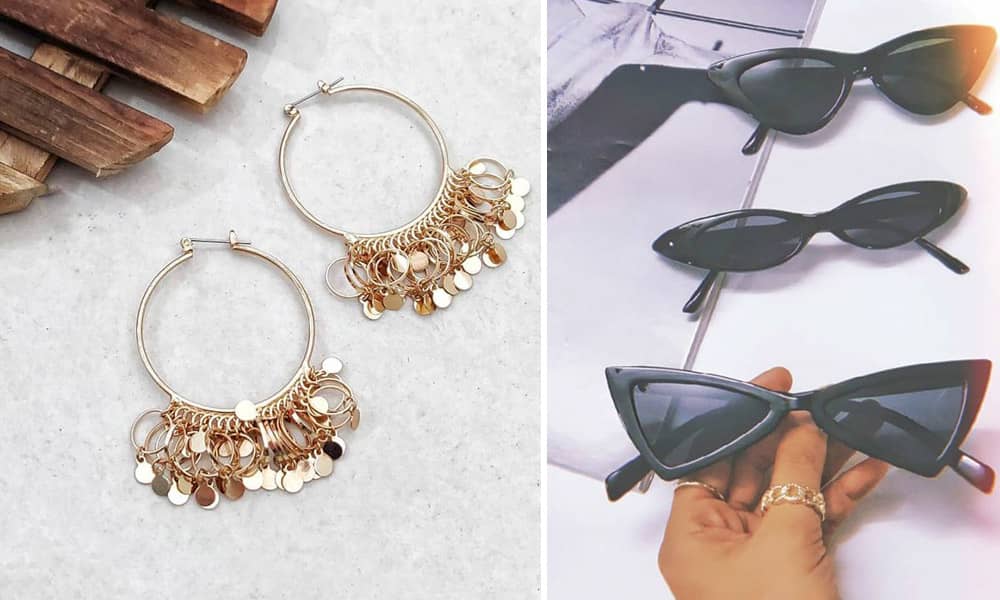 Accessories are every girl's BFF and can turn any basic outfit totally modish! And that's why we'd say you check out BelloFox's stall at the Quirk Bazaar for we bet you're gonna love it. These guys have chic earrings, chokers, swanky sunglasses, sling bags and more that'll add that oomph factor to your look!
Check Out Their FB Page | https://www.facebook.com/bellofoxindia/
6. Ah-Mazing Handmade Perfumes From Desi Western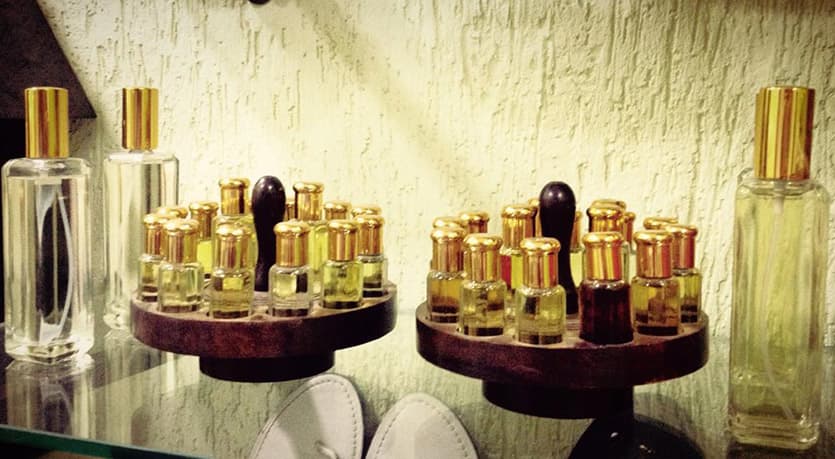 If you're a perfume buff, then you're gonna love this one for sure! Desi Western is known for their handmade perfumes, aroma diffusers and room fresheners and they're bringing their best collection to Horn OK Please 4.0. So, drop by their stall and add a new fragrance to your perfume collection from here!
Check Out Their FB Page | https://www.facebook.com/desiwesternperfumes/
7. Statement Earrings From Knick Knack Nook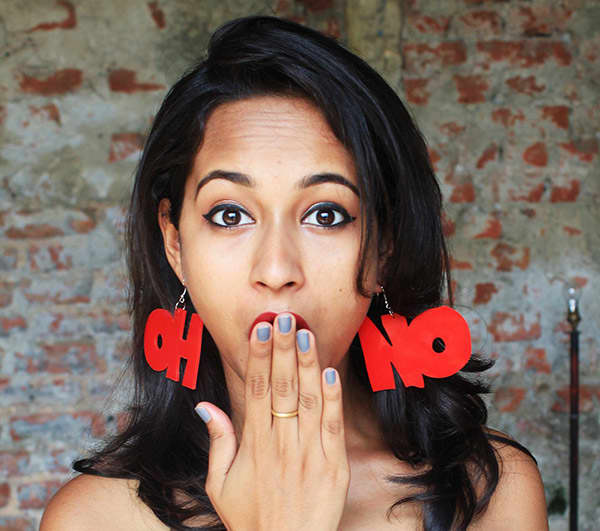 Seen those big, Boho chic earrings that all your favourite fashion bloggers have been spotted wearing? These peeps at Knick Knack Nook do just that! These lovelies have been giving us major accessory goals with their fun and totally hatke earrings, handbags, sling bags, chokers and long necklaces! Do you really need more reasons to head to their stall at H.O.P.?
Check Out Their FB Page | https://www.facebook.com/knickknacknook/
8. Funky Notebooks From Poster Hook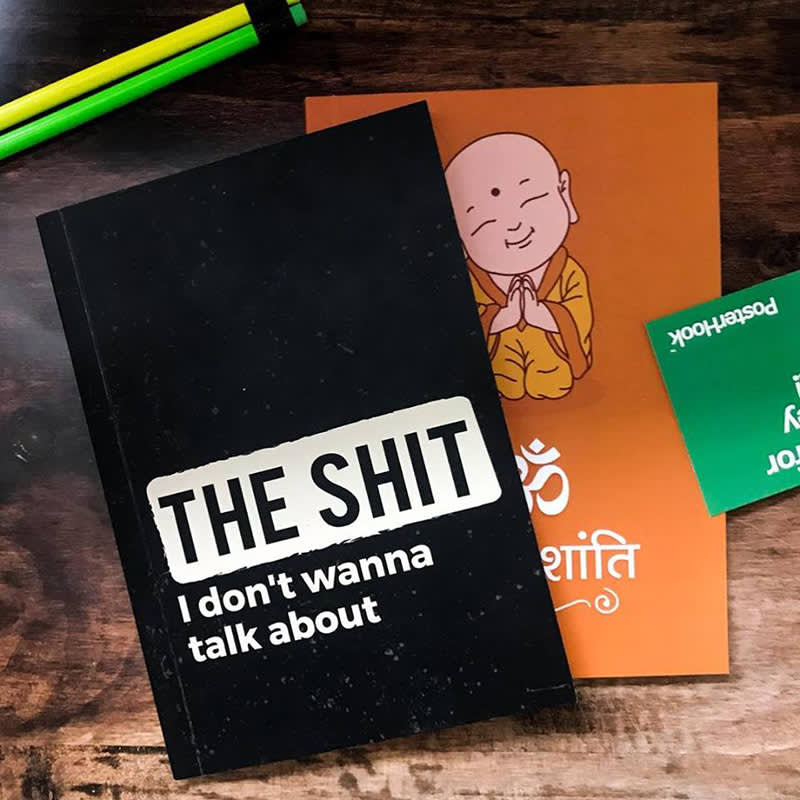 This fest is gonna be a paradise for all the stationery hoarders in the city. Bringing over a plethora of funky notebooks with funny quotes like 'Jitni Beizzati Utni Pakki Dosti' and 'The Shit I Don't Wanna To Talk About' printed on them, Poster Hook is something you totally cannot miss out on at the Quirk Bazaar. So, carry your opinions on badges, notebooks, posters and phone covers from Poster Hook at Horn OK Please!
Check Out Their FB Page | https://www.facebook.com/posterhook/
9. Sassy Quote-Printed Tees From PrintOctopus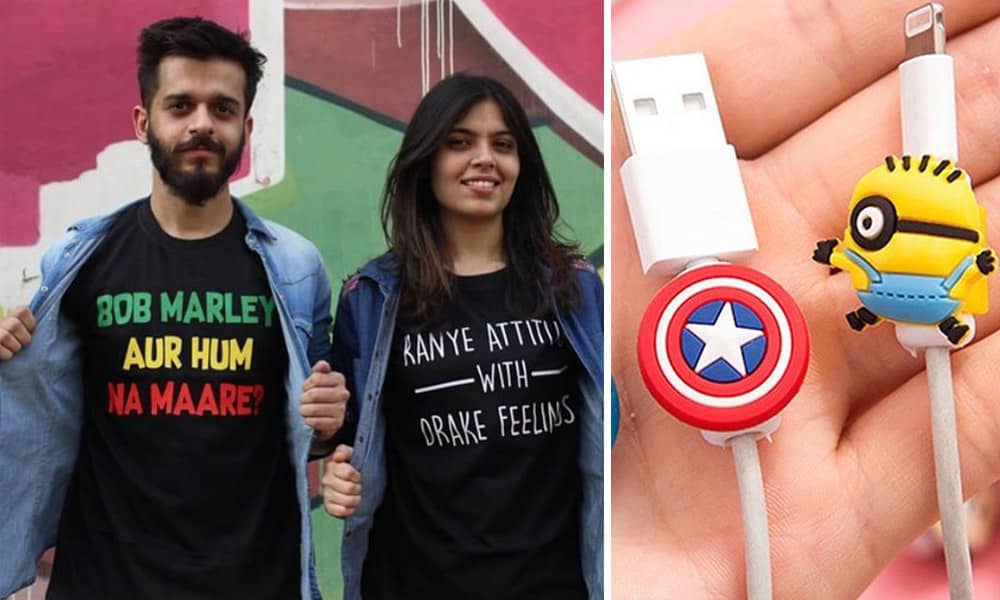 PrintOctopus is our go-to website to shop for the coolest tees and they are coming to the Quirk Bazaar at this fest - YAY! And if their cool ass t-shirts weren't enough to excite you, then you can also browse through their pin badges, pretty cable protectors, fridge magnets, bow ties, dreamcatchers and even lapel pins because they have it all!
Check Out Their FB Page | https://www.facebook.com/printoctopus/
We're sure all you shopaholics must be quite excited to check out this amazing bazaar at this fest now (broad smiles)! And for all the bhukkads out there, don't forget to demolish the yummy, sugar-loaded delicacies at the Dessert Lane, 100+ varieties of kebabs at the Kebab Gully and the RAD food trucks that are gonna be parked at the Food Truck Park! See you there, peeps!
When | Friday - Sunday, 16th - 18th November
Where | Gate No. 14, Jawaharlal Nehru Stadium
Timings | 12 Noon - 10 PM
Book Your Tickets Online Here | https://goo.gl/DGQm4o
RSVP On FB Here | https://www.facebook.com/events/245810259611541