Delhi
9 Tasty Snacks Starting @ Rs 10 That'll Make You Embark On A Winter Food Trail To Hanuman Mandir
We're hereby declaring Hanuman Mandir area in CP a foodie haven because this place is bustling with so many exciting options to munch on. This location embraces devotees and foodies alike and should be on the top of your must-visit list. We all know that winters are a bad time for fitness resolutions as the sweater season is meant to wolf down soul-satisfying food and hide our bellies beneath the layers (wink wink!). If you're wondering why we're hyping this destination for your next food trail, then scroll down to understand our emotions better!
1.  Kulhad Lassi @ An Unnamed Stall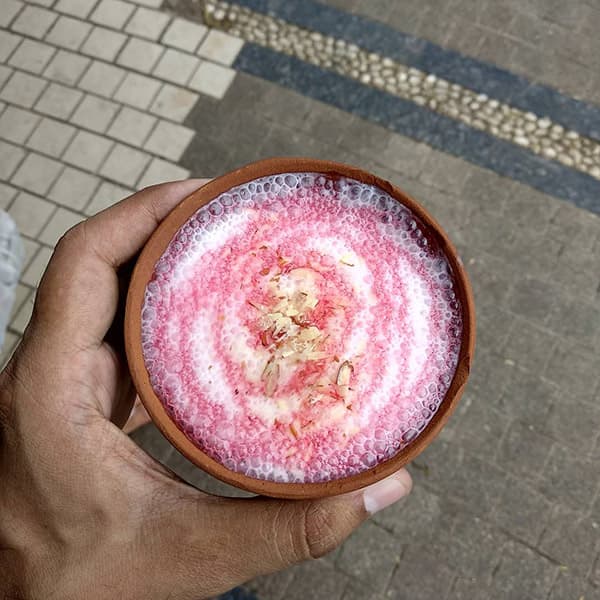 Picture Credits: maheshjoshi5691
If you think winters are going to stop us from gulping down chilled lassi, then be prepared to be proven wrong. Just like eating ice cream in winters is a thing, likewise, drinking lassi is most definitely a bandwagon you need to jump on. Served in a kulhad, which, by the way, makes everything taste much better, this frothy lassi is creamy in texture and the only drink we need to accompany our meals. We're already looking forward to wiping our lassi moustache and you should defo join us in doing so!
Where | Unnamed Stall - Hanuman Mandir Complex
Price | Rs 10
2. Khasta Kachori @ Kaku Kachori Wale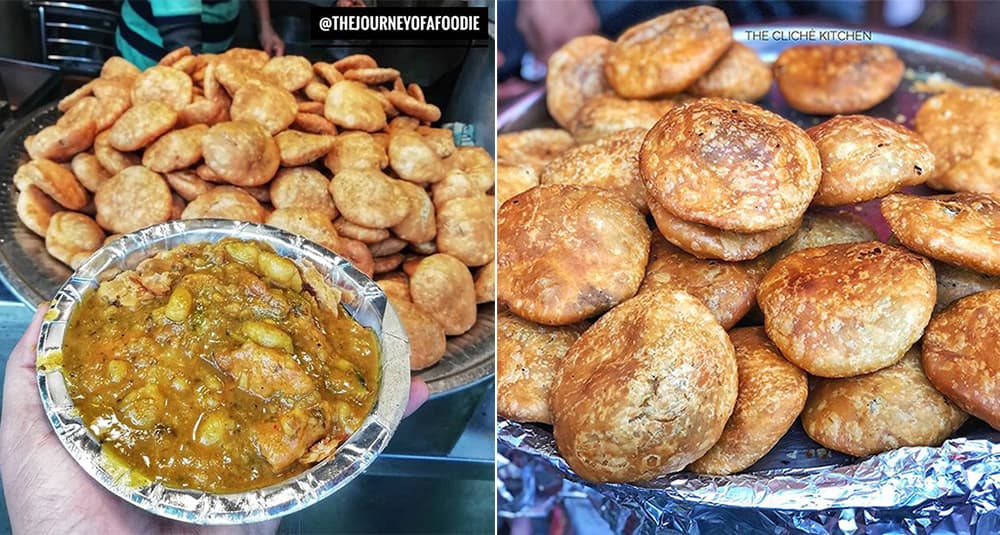 Left Picture Credits: thejourneyofafoodie | Right Picture Credits: theclichekitchen
Visiting Hanuman Mandir is synonymous with gorging on khasta kachoris. The entire area is dotted with numerous stalls selling these crispy pockets of deliciousness. These crunchy, golden brown kachoris are stuffed with beautifully spiced dal and potatoes. These kachoris are coupled with luscious aloo sabzi that kicks the taste of the dish several notches higher. This is the OG snack to munch on during winters and you must make the most of the last few winter days by grabbing a plate (or many) of this beauty here!
Where | Kaku Kachori Wale - Shop No 3, Hanuman Mandir Complex
Price | Rs 10 Onwards
3.  Litti Chokha @ An Unnamed Stall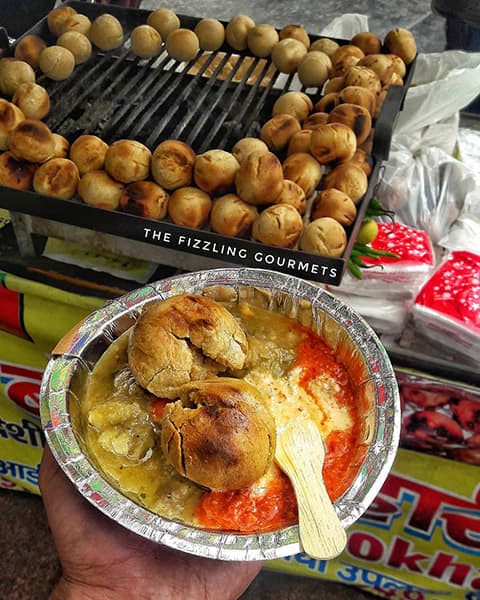 Picture Credits: thefizzlinggourmets
If you've never had Bihari food before, we think it's time you introduce your palates to the aromatic flavours of this cuisine. And fret not, authentic Bihari food is not very far from you. Litti choka is a rustic dish of whole wheat dough balls, stuffed with a spiced blend of sattu or roasted gram flour. These balls or littis are then roasted on hot charcoal, giving it a toasty flavour. Served with mashed potato or brinjal gravy and a dollop of ghee, this dish will be an explosion of unique flavours in your mouths!
Where | Unnamed Stall - Behind Hanuman Mandir
Price | Rs 30 
4. Paneer Stuffed Bread Pakode @ Kaku Kachori Wale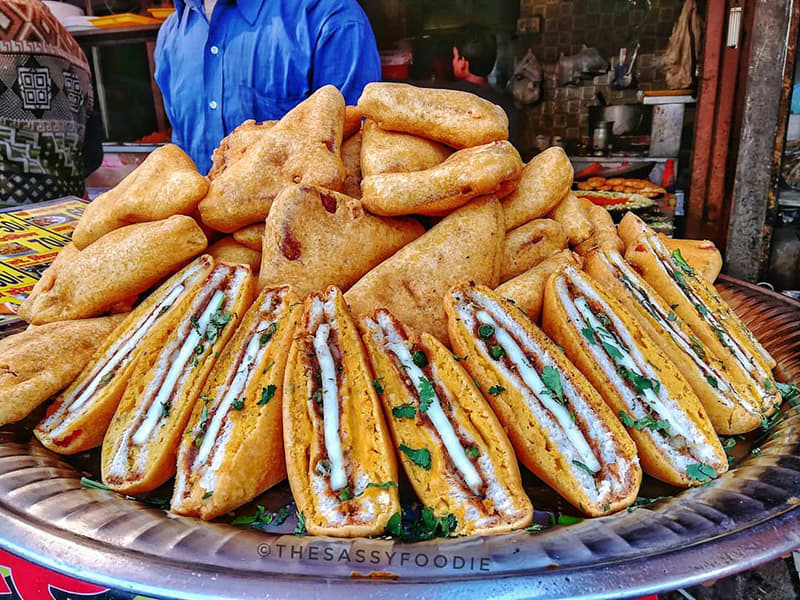 Picture Credits: the_sassy_foodie
We love bread pakode and we cannot lie. What we love even more are bread pakode that are stuffed with a generously thick layer of paneer. Fried till they're golden and crisp, these triangles are heartily stuffed and an evening snack you deserve to dig into on a wintery evening. If the sight of these bread pakode are making you drool too, then you need to chalk out a plan to visit Hanuman Mandir ASAP and munch on loads of 'em!
Where | Kaku Kachori Wale - Shop No 3, Hanuman Mandir Complex
5. Moonglet @ An Unnamed Stall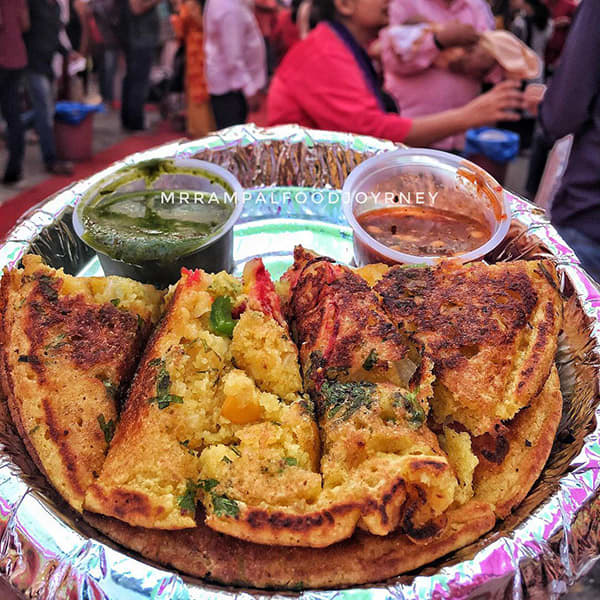 Picture Credits: mrrampalfoodjourney
It's a great time to be a vegetarian as now you can relish an omelette that is (hold your breaths) eggless! This moong dal chilla has the fluffy consistency of a waffle and is stuffed with a masala that's a mix of onions, tomatoes, capsicums and lots more. This desi pancake is overloaded to perfection and is crunchy and buttery at the same time. Served with bright tamarind and green chutneys, this innovative dish is going to become your new favourite!
Where | Unnamed Stall - Hanuman Mandir Complex
Price | Rs 50 Onwards
6. Papdi Chaat @ CP Food Corner
Picture Credits: the_sassy_foodie
No one does or loves chaat better than us Dilliwallahs and papdi chaat is one of our absolute faves. We've grown up munching on this quintessential street food and it's safe to say that we're still extremely fond of it. This dish is a flood of savoury, sweet and tangy flavours that is well contrasted with the crisp textures in the dish. Covered in a thick layer of yoghurt, this is a refreshing pick-me-up. You're definitely gonna wipe your plates clean, so make sure to savour every bite!
Where | CP Food Corner - Hanuman Mandir Complex
Price | Rs 60
7. Gujarati (Dabeli) Burger @ An Unnamed Stall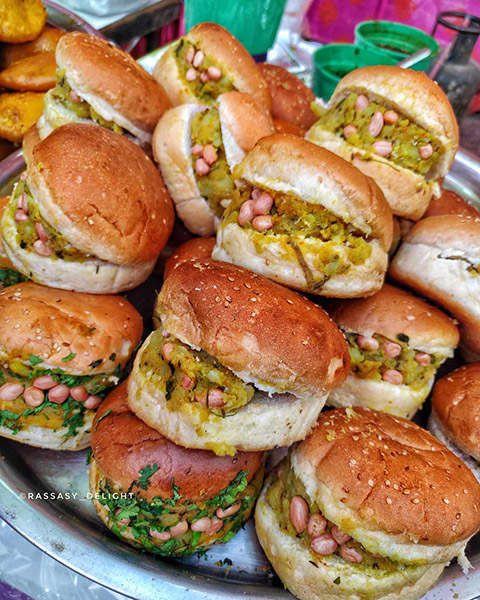 Picture Credits: rassasy_delight
This is our very own Gujju burger that can give McDonald's a run for its money. Popular street food of the Kutch region, dabeli is a spicy snack made with boiled potatoes and a whole lot of appetizing seasoning. The burger is made by putting a heapful of this tangy filling between a pav bun and is served alongside a medley of chutneys, diced onions, spicy peanuts and a handful of sev. This is the kind of balanced meal that we're talking about!
Where | Unnamed Stall - Hanuman Mandir Complex
8. Hot Kulchas @ Kulcha Junction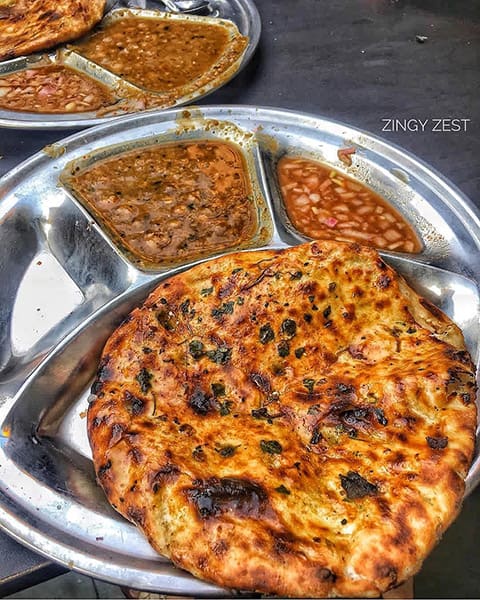 Picture Credits: zingyzest
If the sound of crispy kulchas is music to your ears, then you've got to visit Kulcha Junction that does scrumptious Amritsari Kulche. Their kulchas are overloaded with a hearty stuffing of potatoes, cauliflower, coriander, ginger and paneer. You can also tingle your visual senses with the chur chur naan, that will also be a treat for your taste buds. Served with steaming chole and zesty onion chutney, these crispy and warm treats are the way to our foodie hearts!
Where | Kulcha Junction - Shop No.6, Hanuman Road, Near Bangla Sahib Gurudwara
Price | Rs 60 Onwards
9.  Daulat Ki Chaat @ An Unnamed Stall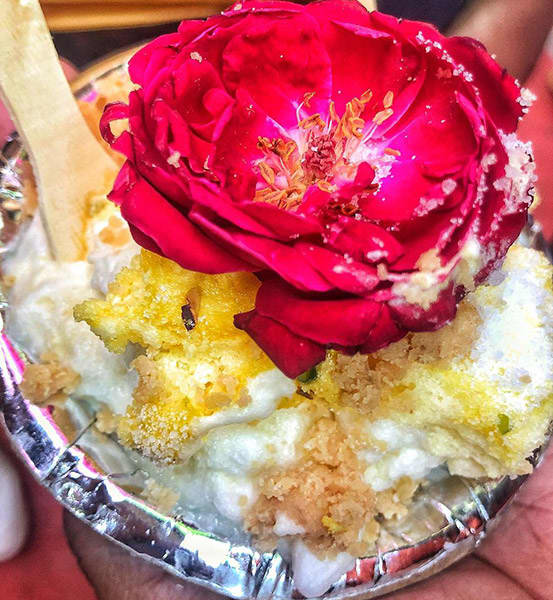 Picture Credits: bhukkhadbybirth
Daulat Ki Chaat has taken the desi foodie world by storm and we're living for it. Originating in the lanes of Old Delhi, this is a frothy and foamy treat that is as much a delight to look at as it is to devour. This cottony pile of churned milk is delicately scooped and topped off with sugar, almond flakes, cardamom and pistachios. Resembling a snowflake, this dessert will melt in your mouth and will transport you to cloud 9 of foodie heavens!
Where | Unnamed Stall - Near Hanuman Mandir
Price | Rs 30 Onwards
Winters will bid us farewell pretty soon so hurry up and gorge your hearts out on these wintery treats!
Where | Pracheen Hanuman Mandir - Baba Kharak Singh Road, Hanuman Road Area, CP