Delhi
9 Things Like Cheesy Chicken Seekh & Waffle Toast We Tried @ WAFL's New Outlet In GGN
Tucked in a corner of Galleria Market, WAFL recently made an entry in Gurgaon with a small and cozy new outlet. The décor of this place has been tastefully done with brick walls, a small bookshelf, a large couch and a couple of tables. It's the perfect place for late & lazy breakfasts or sweetening your palate after a long day at work. Here're a few of the delicacies we tried here!
1. Lemon Iced Tea

With mint leaves and a lemon slice swimming at the top, this Lemon Iced Tea looked refreshing even before we tasted it. It's zesty, thirst-quenching and perfect for cooling oneself down on a hot summer day!
Price | Rs 100
2. Oreo Burst Shake

A luscious and rich shake with loads of whipped cream at the top and generously sprinkled with little chunks of Oreo biscuits, is how we can primarily sum up this one. Dive a little deeper, and you'll s(l)ip into the smooth thickness of a shake clearly BURSTING with Oreo flavour. This viscous monster is bound to satisfy your sugar cravings and is for people who have a serious sweet tooth!
Price | Rs 140
3. Waffle & Eggs (Omelette) With Sausages

From their selection of 'All Day Breakfast', we had Waffle & Egg (Omelette) with Sausages. Crunchy buttered waffles, soft omelet, juicy chicken sausages and iceberg lettuce salad with vinaigrette dressing to cleanse the palate, this combo comes with the promise of a wholesome meal for one and an energetic kick-start to your day. Breakfast doesn't get better than this!
Price | Rs 240
4. Cheesy Chicken Seekh & Mint

This dish is an Indian rendition of the American corn dog, and comes with 2 corn dogs on a stick, WAFL-style, accompanied by a thick mint chutney. With its crunchy exterior and meaty interior, this is a delectable and filling snack. It's extremely handy, so there's no chance of spilling anything onto your clothes unless you're a messy eater!
Price | Rs 200
5. Grilled Chocolate Waffle Toast

Even though it was raining cats & dogs in Gurgaon, our taste buds had a little party of their own in the sticky month of July, thanks to this toothsome item. From the first bite to the last, the way the chocolate attacked our mouths was directly proportional to the way we attacked these lip smacking waffle toasts. These are MUST TRIES and probably the best thing on WAFL's spectacular menu.
Price | Rs 160
6. WAFL Pizza Pie - Spicy Paneer Tikka

This tastes exactly like a cheesy pizza and makes for a good side dish. It's crunchy, flavourful and doesn't disappoint a savoury-lover like us. There are three more flavors available, namely Ham & Cheese, Smoked Chicken & Peppers and Margarita, all of which deserve a try!
Price |  Rs 220
7. WAFL Sandwich - Grilled Chicken Burg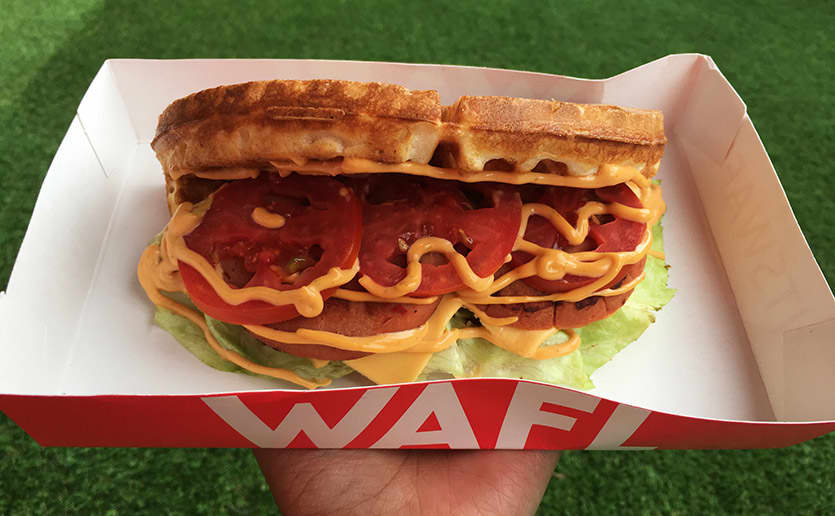 This is a monstrosity of a burger, but wrapped in a waffle instead of regular buns. Be prepared to take big bites. And by big bites, we mean not-suitable-for-dates kinda bites. Perfectly seasoned and dressed, these WAFL sandwiches are perfect for a filling luncheon!
Price | Rs 180
8. Hong Kong WAFL - Nutella & KitKat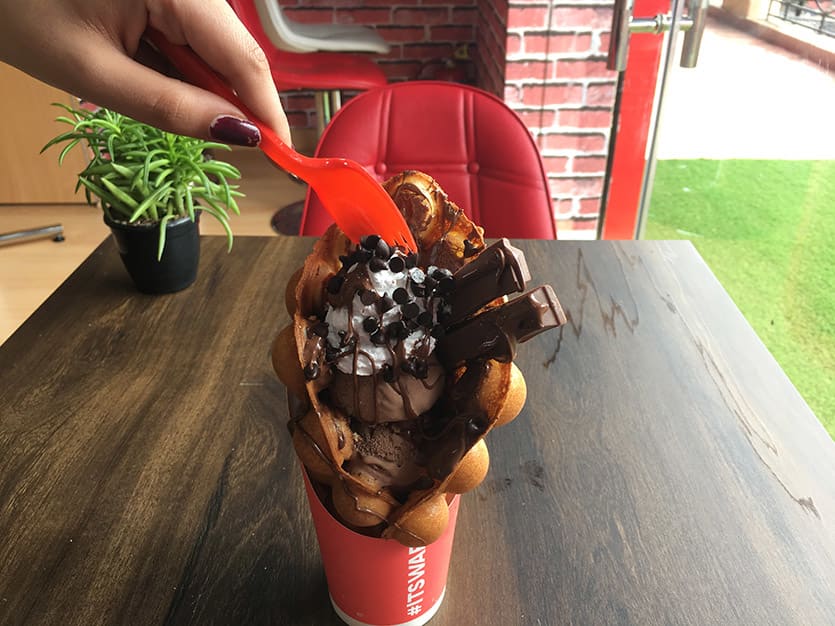 This is the King Kong of all waffles. With the crunchiness of waffles, combined with the softness of whipped cream and smooth ice-cream rolling around your tongue, it's a complete roller-coaster ride in your mouth. Don't worry about creating a mess, because you definitely will end up with a few stray drops of whipped cream or ice-cream on your clothes, no matter how careful you are!
Price | Rs 230
9. WAFL J-Tube - Vanilla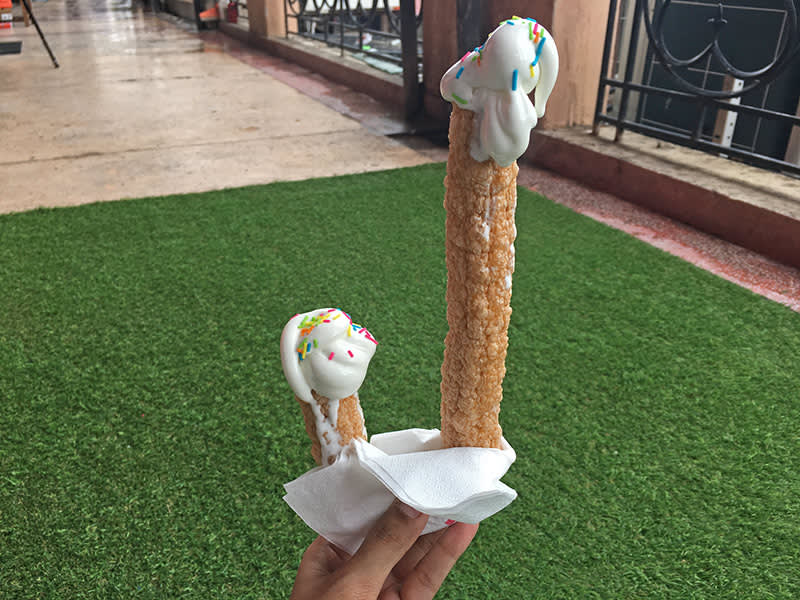 'Brain freeze! Brain freeze!' Those are the first thoughts that'll hit you when you take a bite of this snack. And then, nostalgia will sigh loudly somewhere in your heart. With its crunchy exterior and vanilla filled interiors, the J-Tube took us back to a time when we had vanilla or strawberry ice-creams in crisp wafer cones from a roadside vendor while returning home from school. The scrummy item was definitely a sweet trip down the memory lane!
Price | Rs 80
Drop by at WAFL and try their scrumptious sweet and savoury dishes. We can vouch for WAFL'S top-notch hygiene. Being inquisitive humans and wanting to see the insides of the kitchen, the WAFL team made us wear a hair net cap first. The servers were polite and the soft, rhythmic music enhances the overall vibe of the place. So defo come swing by!
Where | WAFL - SF-120, Galleria Market, DLF Phase IV, Gurgaon
Call Them | +91 9205 457 145
Timings | 11 AM - 11 PM
Meal For Two | Rs 500
Check Out Their FB Page | https://www.facebook.com/WAFL.India/ 
Scroll Through Their Insta Feed | https://www.instagram.com/wafl.india/
Go Through Their Website | www.wafl.in