Delhi
9 Quirky Items Like Surkh Mahi Ke Tukde @ More To Hog On @ This Awesome Culinary Event At The Lalit
Chef Ashish Sanyal from The Lalit, Bangalore, has come all the way to the Lalit, New Delhi to give all us Delhiites a taste of awesome. The Unified Flavours of India is an ongoing event at Baluchi, one of the restaurants at the five-star property and it'll take you on a culinary trail like no other. We made sure to drop by and here's everything we tried. Come, take a look!
1. Kharbooz Ki Tarawat
A cold soup with a dollop of yoghurt sitting in the centre, this homogenous and consistent musk melon juice proved to be a quite refreshing start to our lunch. Garnished with fresh basil leaves, this cold and fruity soup reminded us of our cool tropical vacay beaches and also worked as a palate cleanser for the lovely meal that was to follow!
Price | Rs 725
 2. Paya Pudine Ka Saar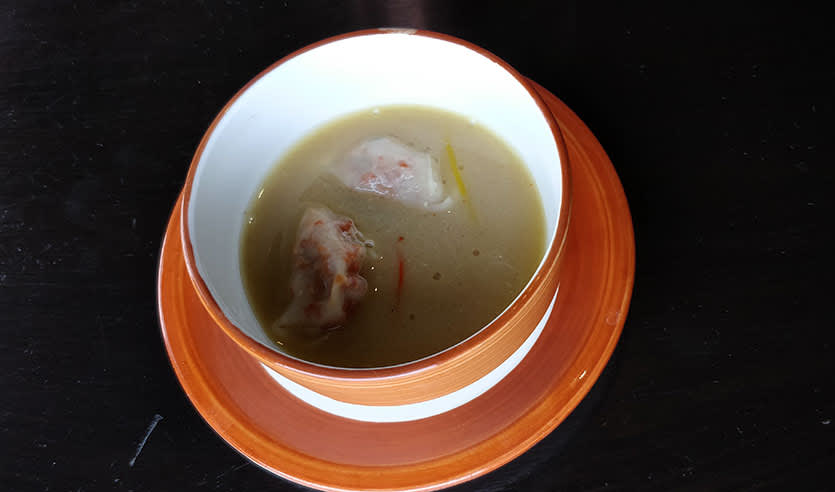 Paya soup is traditionally a healing soup, fixing bone injuries and fractures, but this fancy variant will make sure you feel the opposite of sick or injured. The fine texture of the soup and the keema dimsums that were swimming in it made for a perfect combination. Rich and delightfully flavourful, this hot bowl was nothing short of soul-warming!
Price | Rs 675
 3. Singhada Roast On Idli Toast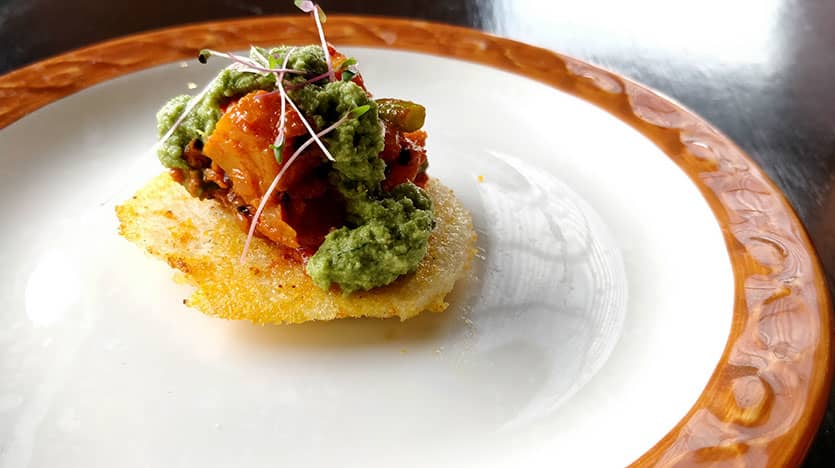 A truly unique dish, these small little idli toasts were the cutest. A surprising medley of water, chestnut and asparagus sitting atop a flat-ish crisp idli, dressed in a delicious green coconut chutney, this fresh recipe was every bit as scrumptious as it looked. An idli toast is definitely not something we could've thought of easily and really commend them for it!
Price | Rs 1,200
 4. Roti Mein Boti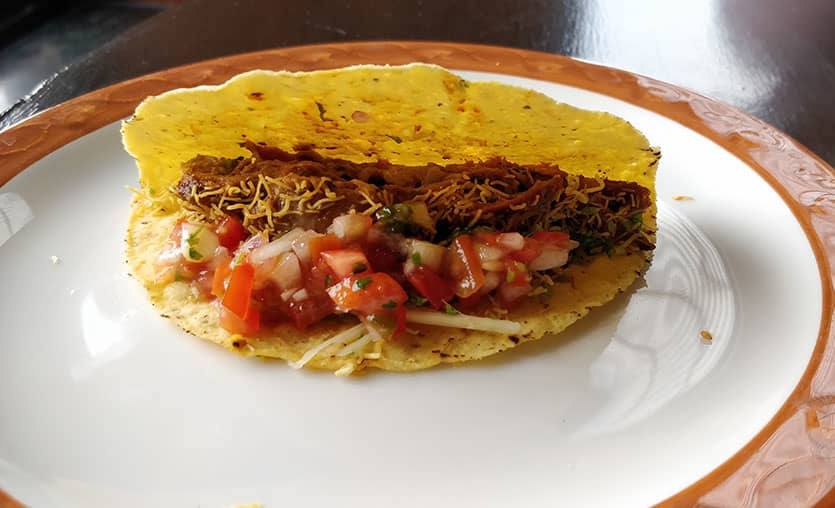 Taco shells stuffed with pulled raan and salsa, this appetizer delivered a great combination of flavours. The different tastes of the tangy salsa and meat raan went surprisingly well together and the stuffing was done so well, it ensured no spillover whatsoever (which is not easy to manage with an open taco shell). This one was a complete delight!
Price | Rs 1,500
 5. Scallop Paturi
Soft, delicious scallops seared with fresh mustard and served with a contrasting coconut sauce, this dish simply melted in our mouths. The fresh & strong mustard paste complemented the blandness of scallops so perfectly and the coconut sauce on the side just added another twist to the whole dish. Our taste buds thanked us for this flavour-medley!
Price | Rs 1,650
 6. Surkh Mahi Ke Tukde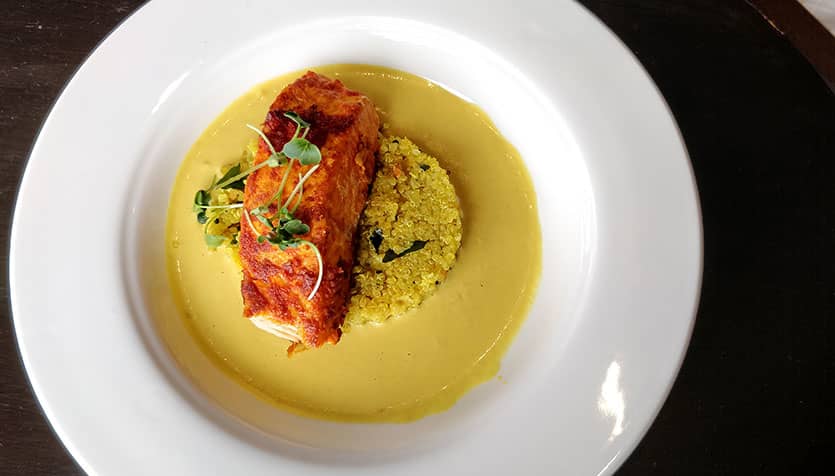 If you're fond of salmon, you'll surely love this dish. Imagine a lovely piece of meat atop a bed of lemon infused quinoa sitting in the centre of a bowl of moilee sauce and you've got yourself an entirely new version meen moilee (Kerala style fish curry). The coconutty curry was so good, we would've licked the bowl clean had the setting allowed it!
Price | Rs 2,100
 7. Palak Ke Naazuk Kofte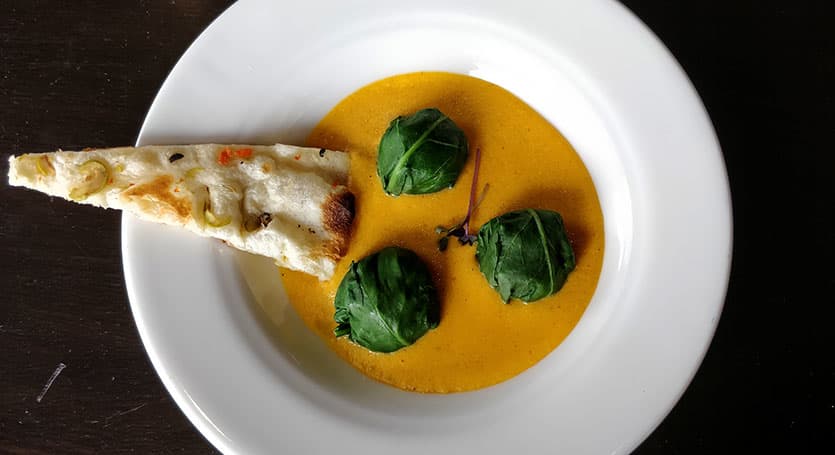 This dish is nothing like you'd expect palak ke kofte to be. Be it the spinach balls, their filling or the gravy, every part of this dish turned out to be a complete surprise. The kofte were not fried, they were actually wrapped in spinach leaves. The ricotta cheese and pine nut stuffing was another surprise. The gravy was made of corn, making the whole dish a pleasant and yummy surprise!
Price | Rs 1,200
8. Dakshini Chaap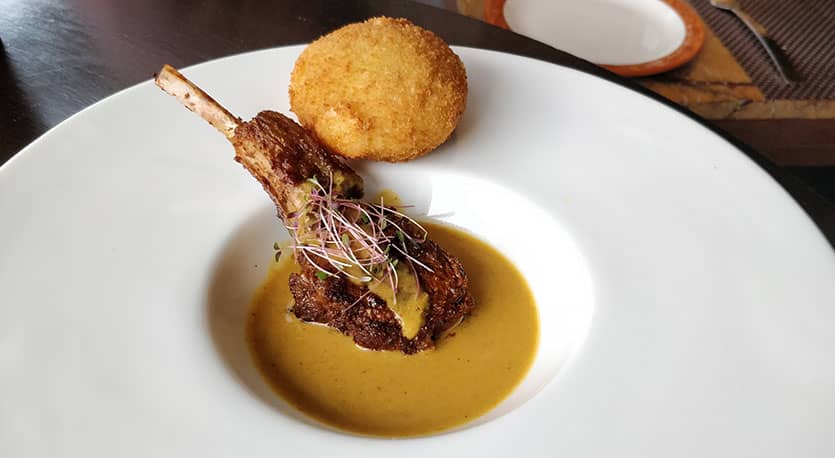 Chef Ashish Sanyal was in no mood to stop the surprises from coming. Succulent and soft lamb chops dipped in a sambhar curry served with a surprising fried lemon rice ball is not a combination we could've thought of in our wildest dreams. The way these three things went together is something you'll have to taste for yourself because there's no way we can do justice to the delicacy with words!
Price | Rs 1,600
9. Lassan Ki Kheer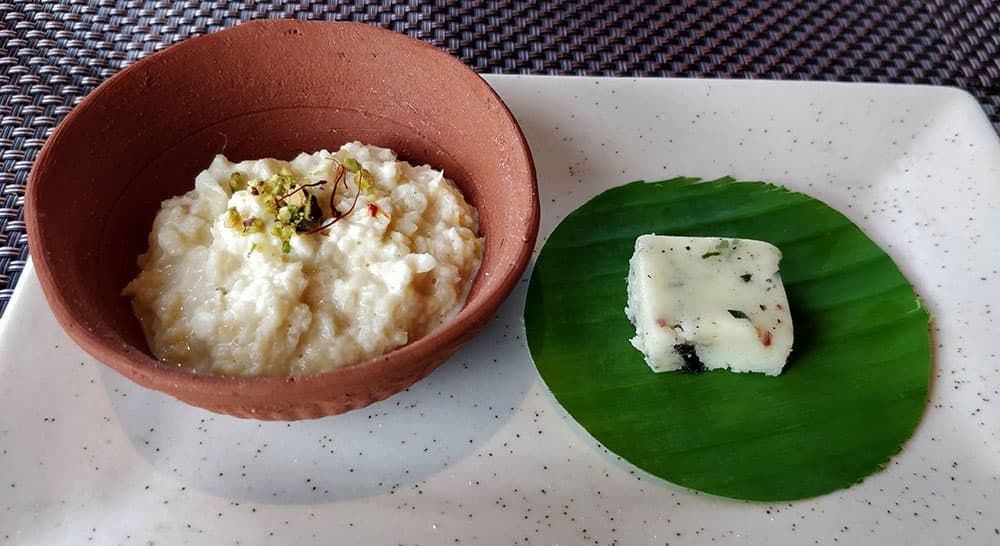 The final element of surprise was the garlic kheer (yes garlic!) served with a 'paan ka tukda' which was basically a paan infused barfi that we gobbled up in a single bite. Contrary to what you might be thinking, the kheer was actually good, making us look at garlic with much more love than ever before!
Price | Rs 850
The menu had a lot more dishes than the ones we tasted and we seriously wish we had more space in our bellies but based on everything we tried, we'll say, picking traditional Indian dishes and turning them into completely different, surprising ones is what Chef Sanyal has done in this unique menu specially curated by him and it is bound to leave you in awe!
On Till | Saturday, 22nd September
Where | Baluchi - The Lalit New Delhi, Barakhamba Road, Fire Brigade Lane, CP
Timings | 12 Noon - 3 PM (Lunch) & 7 - 11:30 PM (Dinner)
Call Them | +91 11 4444 7777
Check Out Their FB Page | https://www.facebook.com/BaluchiTheLalitNewDelhi/