Delhi
9 Places That Make Ashok Vihar's Deep Market The Perf Choice For An Epic Hogging Sesh
Disclaimer: Bearing in mind the current restrictions in the city and the world at large, we're tweaking our content policy and recommendations to focus more on staying indoors and exploring the digital world and all its wondrous offerings! Stay positive, keep hygiene levels up and don't fall prey to panic and misinformation.
Hola guys, we're about to drop some dope news for y'all. There's this incredible market in Ashok Vihar that goes by the name of Deep Market and trust us, when we say this, you better bookmark this sweet spot in your itineraries. Why, you ask? Because this market is dotted with many great choices where you can feast your hearts out with appetizing meals and snacks. Continue reading for a lip-smacking read!
1. The Master Bakers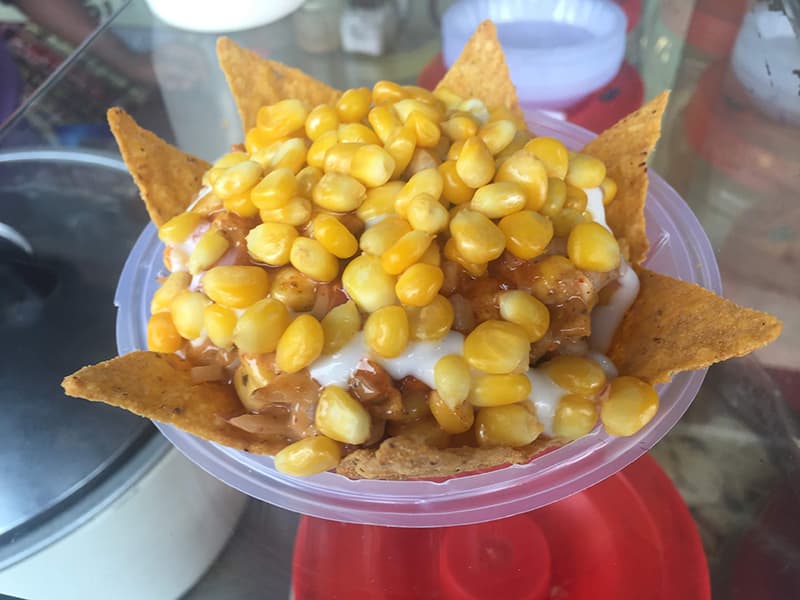 It's an undisputed fact that cheese makes everything taste a gazillion times better. The peeps at The Master Bakers whip up a tangy Nachos Corn Chaat that is a bombardment of flavours in the mouth. Each loaded bite is a punch of crispy, zesty, cheesy and superbly yummy flavour. Your hands are gonna get messy while devouring this beauty but it won't be a problem since you'd anyways want to lick your fingers clean!
Where | The Master Bakers - Central Market, Deep Cinema Road
Call Them | +91 9811 715 544
Timings | 9 AM - 10:15 PM
Meal For Two | Rs 350
Check Out Their FB Page | https://www.facebook.com/masterbakers.india/
2. Waff's Up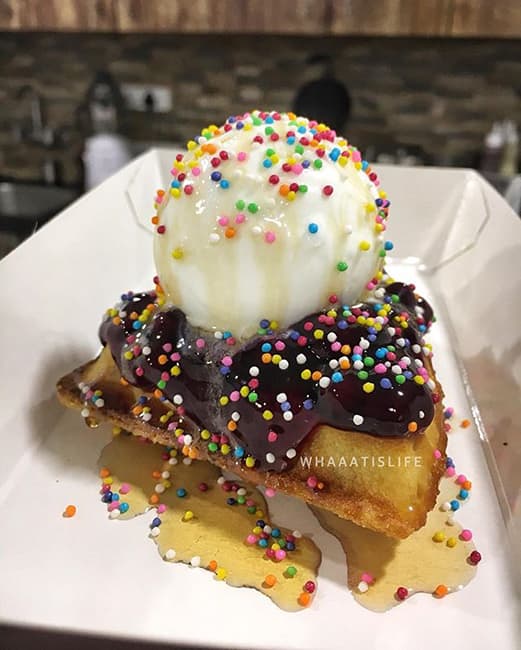 Picture Credits: whaaatislife
We can't fathom a time when the world wasn't blessed with the miracle of waffles. This place understands our feelings for waffles and makes us fall even harder in love with their creations. Their waffles are pretty as a picture but that won't stop you from demolishing 'em. Their Coffee Waffle disguises your daily fix of caffeine into a mouthwatering dessert. And if you don't have a sweet tooth, fret not for they've got you covered with a savoury Falafel Waffle!
Where | Waff's Up - Shop No 13A, Deep Enclave
Call Them | +91 11 4019 9370
TImings | 12 Noon - 12 Midnight
Meal For Two | Rs 250
Check Out Their FB Page | https://www.facebook.com/WaffsUp/
3. Niti Shakes & Ice Cream Hub
Picture credits: gourmetwomen
If you're always on the lookout for new spots to chill with your friends, while grabbing a snack or two, then you've just been blessed with this gem. This ice cream parlour has everything that goes into making a perf hangout nook. Their Punjabi Pasta is the post-work snack of your dreams and when paired with the thick Choco Peanut Crush Shake, is the level of content we wanna be each day. You've got to polish your meals with their decadent Nutella waffles topped with vanilla ice-cream and Hot Chocolate Fuge Brownie!
Where | Niti Shakes & Ice Cream Hub - Shop 112-A/1, Deep Enclave
Call Them | +91 11 2734 3434 &  +91 9266 151 514
Timings | 11 AM - 11 PM
Meal For Two | Rs 200
4. Bhai Ji Kachori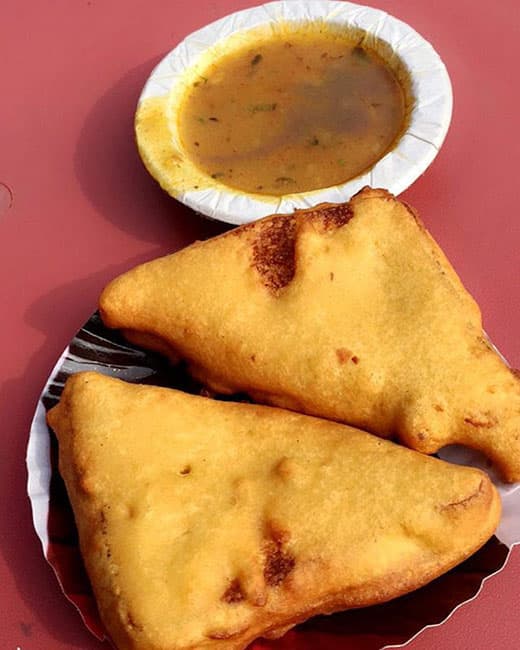 Picture Credits: culinarytripper
Do you know what keeps us warm in winters? The thought of munching on all things fried. There's something about the visual of dropping besan clad bread pakodas into the sizzling cauldron of oil. After being enveloped by oil on all sides, what comes out are golden pakodas and kachoris that are crisp on the outside and soft from within. We clearly lack the patience of letting things cool and always end up burning our tongues with these hot pockets of gold. But it's worth it!
Where | Bhai Ji Kachori - 5/6 Building, Shop No 26, Deep Cinema Road, Wazirpur Village
5. Master Fast Food Centre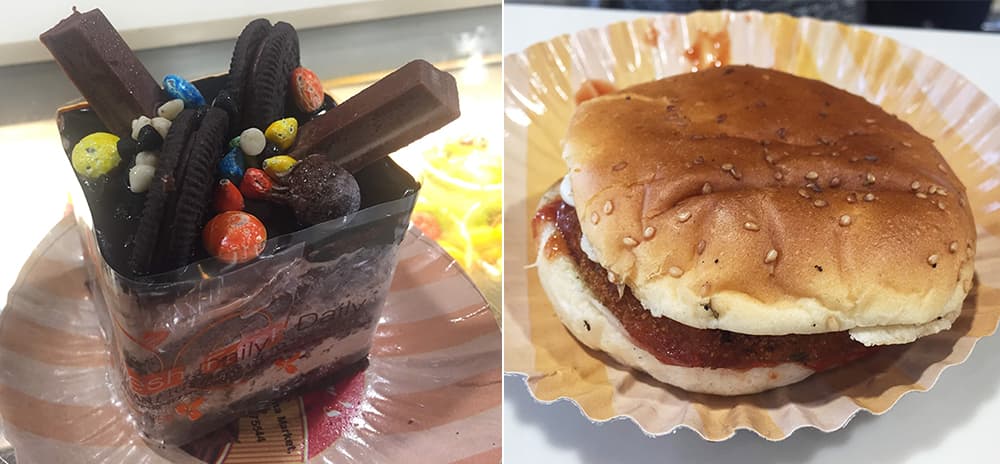 This joint is a serious crowd magnet and it's understandable because they've mastered their menu as a complete package to fill your tummies with loatsa yummies. Weekend trips to Deep Market are incomplete without gorging on their golgappe that have a bangin balance between tang and sweetness. Their Veg Burger and Orea Pastry always come to our rescue after a tiring day at work and makes us forget all about calories!
Where | Master Fast Food Centre - 8, Deep Cinema Complex
Call Them | +91 9811 715 544
Timings | 9 AM - 11 PM
Meal For Two | Rs 400
Check Out Their FB Page | https://www.facebook.com/Master-Fast-Food-Centre-444245709009811/
6. Mr.Crust Bakers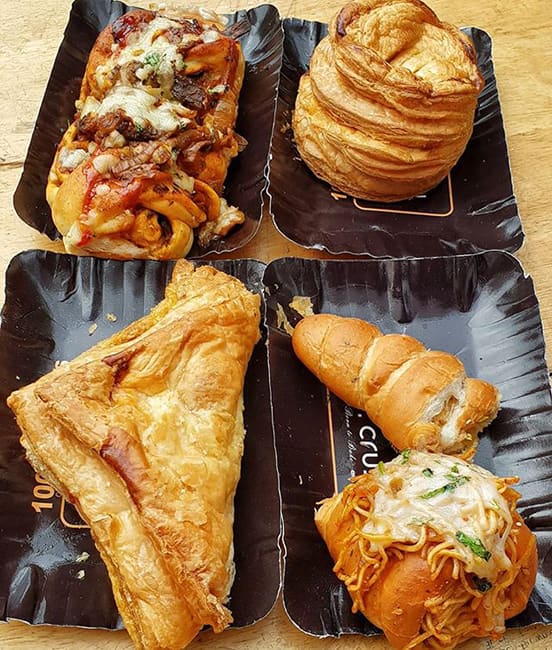 Picture Credits: foodiecouple_parvan
Do you guys remember all those childhood evenings when we use to look forward to biting into a flaky pastry? Mr.Crust Bakers will hit you with the nostalgia of the good old days with their assortment of crazy good patties and other treats. No more google searches about what to relish as your evening snacks as these patties have got you sorted. And if you're in the mood for an extra AF snack, then do try out their Mushroom Hot Plate which is overloaded with all things nice!
Where | Mr.Crust Bakers - Shop No KD-57A, Phase 1, Block KD, Wazirpur Village
Call Them | + 91 11 4010 9007
Timings | 10:30 AM - 10:30 PM
Meal For Two | Rs 450
Check Out Their FB Page | https://www.facebook.com/MrCrustBakers/
7. Vittoo Tikki Wala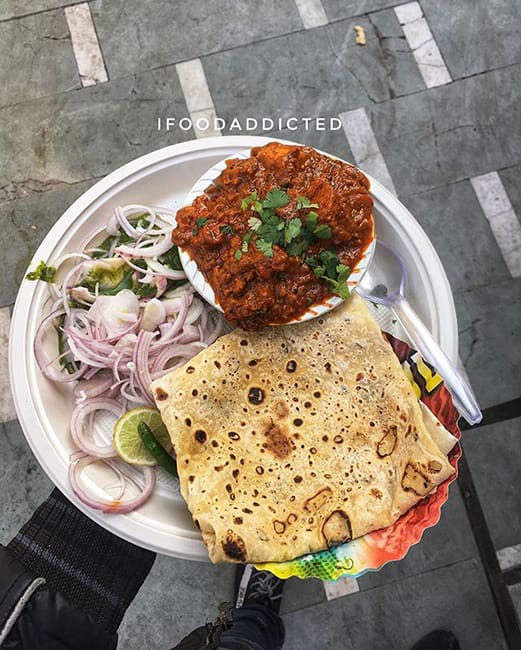 Picture Credits: ifoodaddicted
This one's for all those times when desi hunger pangs make your tummies growl. The rich colour in their Kathi Kabab is famous for making mouths water and we can vouch for it. Gathering a bite of this vibrant gravy within the folds of roomali roti will soon launch you into the happiest food coma of your lives. You're gonna be thinking about this dish for days to come and we won't be surprised if you're soon back for another plate!
Where | Vittoo Tikki Wala -  1, Ashok Vihar Phase I Road, Pocket B, Prema Kunj
Call Them | + 91 9312 308 663
8. Arjun Omelette's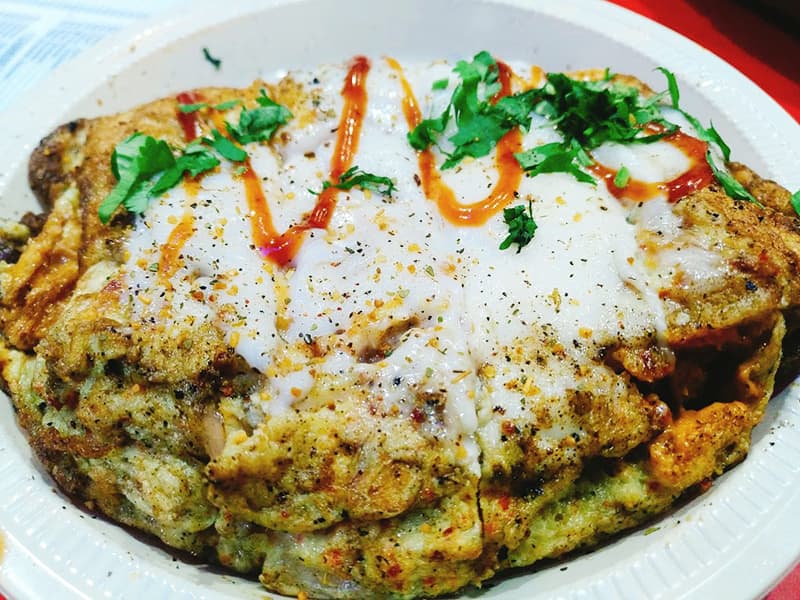 What we're about to say is really going to egg-cite you. This place does not 1, not 100 but a mind-blowing 231 varieties of omelette dishes and we are egg-static. We never thought there could be these many omelette varieties and are so happy that these guys have proved us wrong. If you've had it with the plain old scrambled eggs, you've got to try unbelievably egg-celent omelettes like Tara Rara Chicken Jalandhri, Gravy Dosa Omelette, Egg Tikka and 228 others!
Where | Arjun Omelette's - Deep Central Market
Call Them | +91 7210 180 839
Timings | 3 PM - 11:30 PM
Meal For Two | Rs 250
Check Out Their Website | http://arjunomelettes.in/
9. Sangam Chaat & Namkeen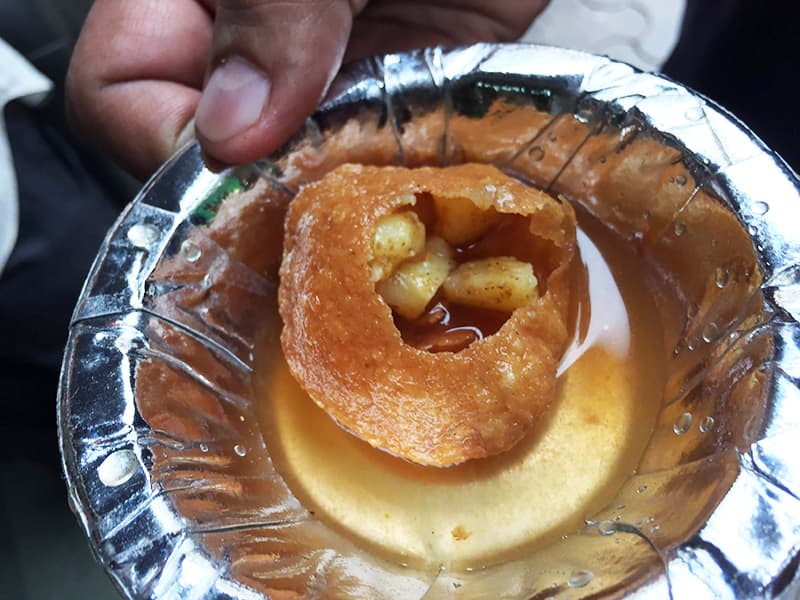 This one's a huge hit with the locals and that itself says a lot about this awesome place. If you like to hoard on namkeens of all kinds, this is the shop you gotta head to. They have a massive collection of namkeens of your liking. So whether you like spicy, or sweet or a mix of both, this is the one-stop-shop for all things crunchy and full of flavour. They also dish out golgappas so that you can satiate your appetites while you shop for these delicacies!
Where | Sangam Chaat & Namkeen - BA Block, Ashok Vihar Phase I Road
Call Now | +91 9873 333 685
Timings | 12 PM - 9 PM
We've sorted your weekend plans so gather your gang and hit these places up!