Delhi
9 Places In Delhi That Serve The Freshest, Fluffiest & Most Yummy Nutella Waffles EVER!
While cakes and ice creams will always be our go-to desserts, but nothing can beat our undying love for waffles! Maybe that's because scores of awesome waffle joints in the city are whipping up some drool-worthy Nutella waffles *drools*! Nutella with waffles is a never ending love affair and we definitely don't want it to end any time soon! And so here we've hunted down nine great places that serve THE most drool-worthy Nutella waffles:
1. Wafflesome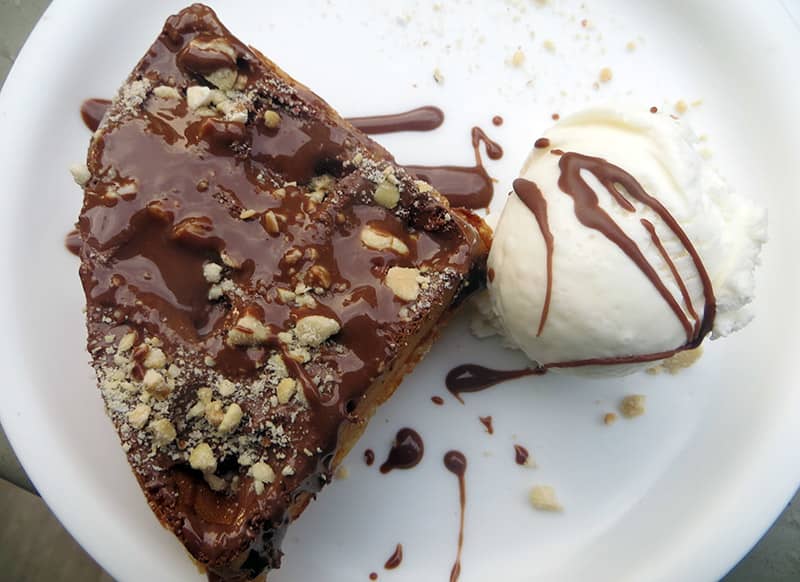 Serving a variety of waffles from Banana Toffee to Blueberry to the classic Maple Syrup, their waffles have sent all of Delhi in a tizzy - yes, they are THAT good, folks. But their Nutella Waffles are simply in another league when it comes Nutella-licious desserts *heart eyes*! Lighter than air waffles drizzled with Nutella, it's basically a sin to miss out on these.
Price | Rs 120 Onwards
Locations | M Block Market, GK I & Punjabi Bagh
2. Stop My Starvation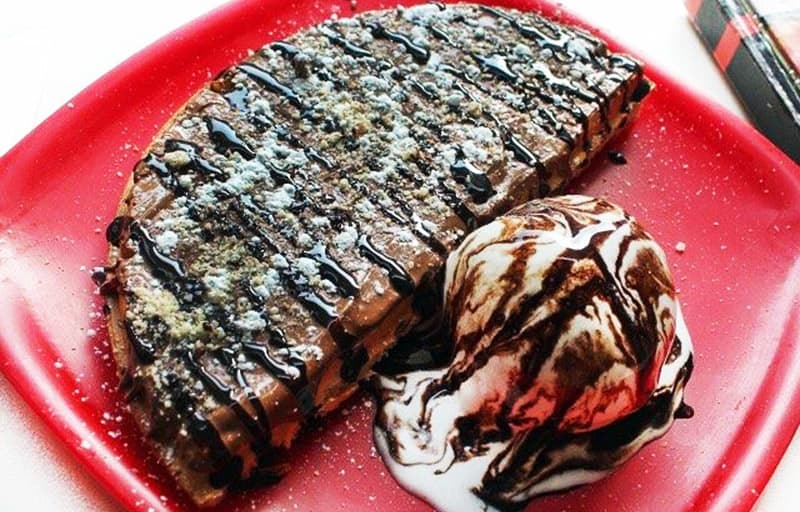 Well we've all heard about the Charlie's chocolate factory, but did you know about the Nutella factory?! Stop My Starvation is here to serve you their totally scrumptious Nutella Factory Waffles! We'll leave to imagine that oodles of Nutella they pour over these yummies. So don't wait and head on over for scrummy Nutella Waffles here y'all!
Price | Rs 130
Locations | Malviya Nagar & GK I
3. Wenger's Deli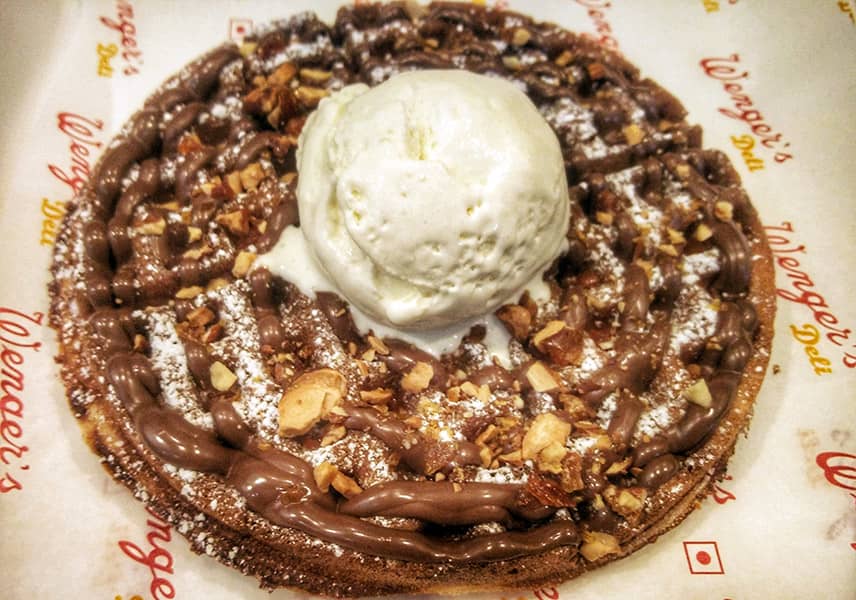 Being one of the best places for desserts and baked goods since forever, Wenger's Deli never fails to impress us with their waffles, and their Nutella Waffles in particular! Unlike other places, they serve a whole waffle with a scoop of ice cream and oodles of Nutella (obv) on top. We'll just see you there this Sunday then?!
Price | Rs 220
Location | A-18, Radial Road, Connaught Place
4. Drool Waffles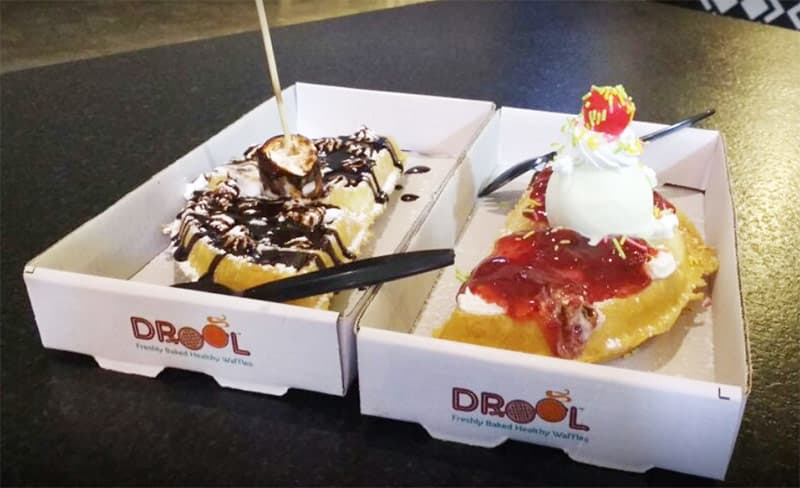 Picture Credits: Jisha Yohannan
Serving delectable Nutella Waffles, Drool Waffles runs true to their name! Scrumptious, freshly baked waffles with Nutella and crushed nuts sprinkled all over - these beauts are sure to make your day SO much better and chocolat-y! So drop by Drool Waffles and gorge on their delicious Nutella Waffles ASAP!
Price | Rs 249
Locations | Select Citywalk, Saket & Nehru Place
5. Just Waffling Around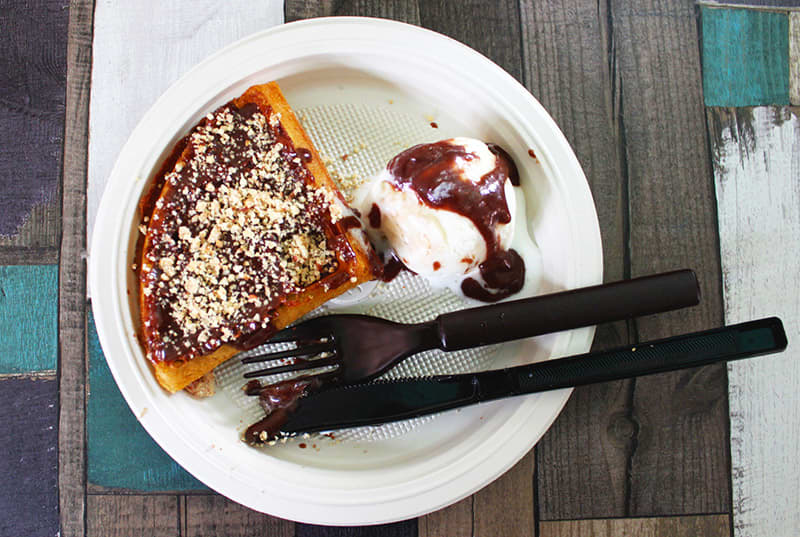 This relatively new waffle joint in Punjabi Bagh is all over the place (and our Insta feeds) with their waffles! While their Waffle Sundaes are the talk of the town, we're still hopelessly stuck on their Nutella Waffles because there's no such thing as too much Nutella. So head over and devour loads of toothsome Nutella Waffles here y'all!
Price | Rs 120 Onwards
Location | Shop 23, Club Road Market, Punjabi Market
6. Waffy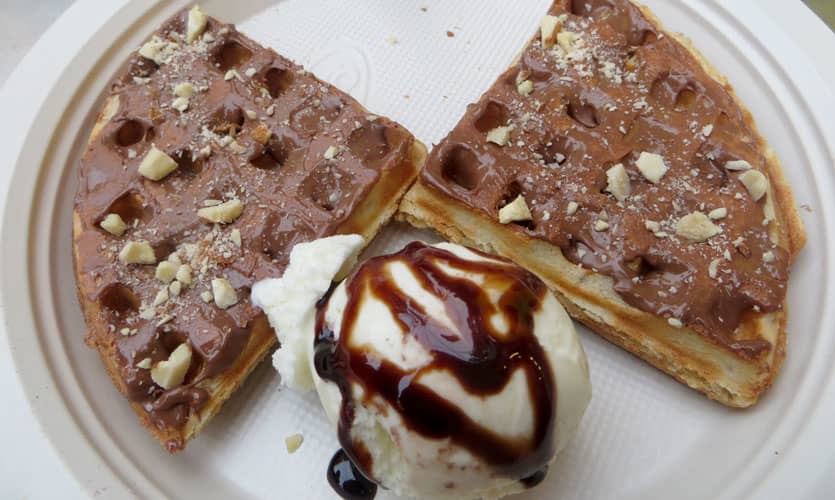 Tucked away in the M Block Market of GK I, Waffy is here to put all your Nutella waffle cravings to rest! Served with a creamy scoop of vanilla ice cream and sprinkled with crushed nuts, these waffles are drool worthy you guys! Also, these are eggless waffles, so all you vegetarians have no excuses! Go gorge on these delish waffles and enjoy the Nutella goodness!
Price | Rs 100 Onwards
Location | ME- 8, Opposite Affinity Salon, M Block Market, GK I
7. Waffles And Crepes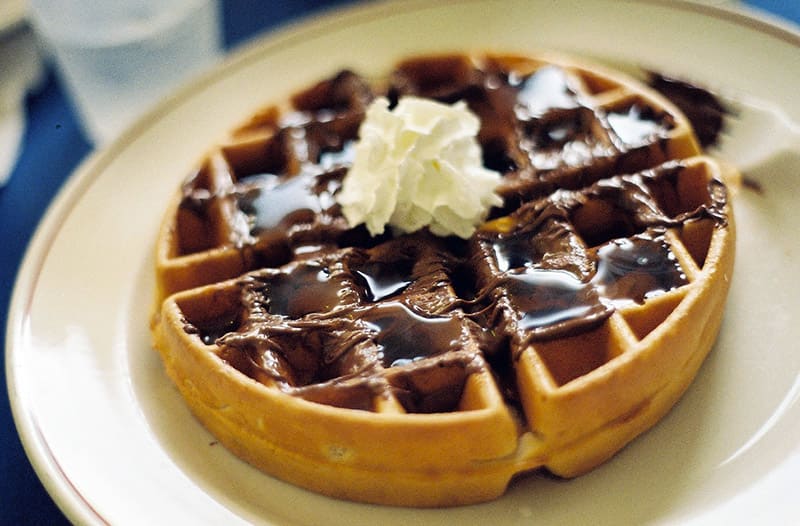 Picture Credits: Marquette LaForest
Well known for their crepes and waffles, Waffles And Crepes also serves luscious Nutella Waffles. They give you the heaven-sent option to create your own waffles so you can choose the toppings so hey, lots and lots of Nutella's up for grabs! Plus you can also choose your base from multigrain, chocolate and even Oreo. Come drop by sometime for some post-work indulgence!
Price | Varies Depending On Your Customization
Locations | Satya Niketan & Godavari Market, Sector 37, Noida
8. Waffle Chowk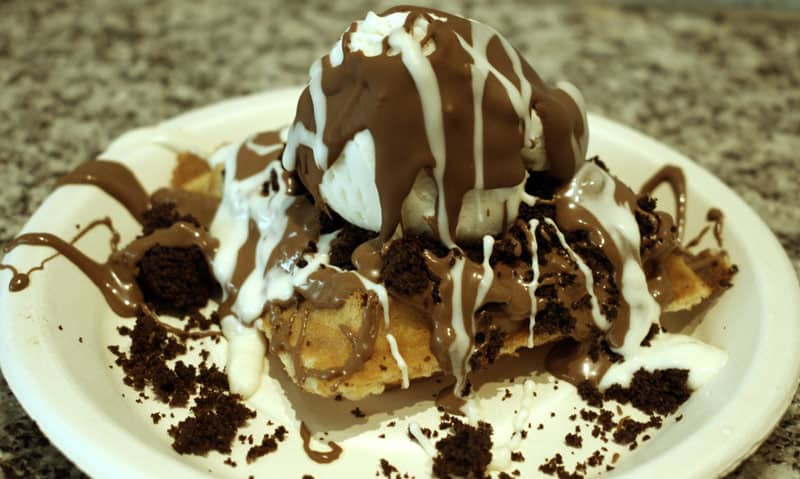 Waffle Chowk has been creating a buzz among all the waffle lovers in town and why the hell not?! But today we're gushing about their superlative Nutella Waffles in particular. Nutella paired with the seasonal fruit like mango, strawberry and banana, they serve truly mouth watering Nutella Waffles. See you there, hungry forks in hand?!
Price | Rs 200 Onwards
Locations | Sector 29, Gurgaon & Punjabi Bagh
9. Hashtag Waffles
Nutella always makes us go OMG and Hashtag Waffles sure understands us! So here they are serving Oh My God Nutella Waffles with crushed nuts and delish vanilla ice cream. Take a friend or if you don't wanna share, go solo - drop by Hashtag Waffles and enjoy your sinful plateful!
Price | Rs 99
Location | C-38/5, Mahdi Vihar, IP Extension
Already drooling? Head over to ALL these joints and devour the best Nutella waffles the city has to offer - scram!