Delhi
8 Pretty Instagram-Worthy Restaurants In Delhi That Should Be On Your Feed RN
Instagram - the beautiful portal that takes you to different locales - countries, cities, cafes and restaurants, while you're forced to sit through tortuous classes, office meetings and whatnot. So, yeah, Instagram is probably one of our most favourite, used and overused social media apps that we open and close at least a 100 times a day!
If you're wondering what we do while scrolling through our Insta feed, then here it is - check out picturesque food and the pretty restaurants that make us wanna travel all over the city, even if it's just to soak in the decor of the place and well, also to make our Insta feed more colourful! So we picked out these gorgeous restaurants in Delhi that don't just serve you stellar food but also beg to be Instagrammed, check 'em out! 
P.S. - Some of these places might still be closed due to the current scenario, so please check up on 'em before heading out! 
1. Soho Bistro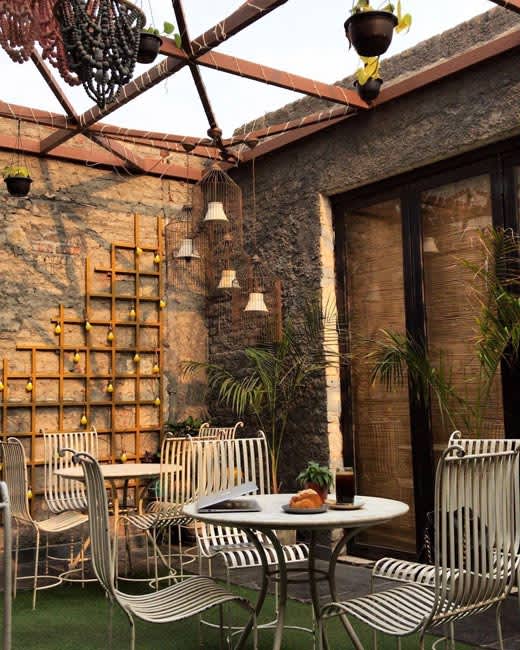 This one's THE best place to be for your #SundayBrunchGoals! Brick walls, floor seating, a super comfy outdoor seating area and a menu full of yummy food options, could we ask for anything more?! We're hopelessly in love with their easy-breezy and pretty outdoor decor, which is simple but still so eye-catching, so put this on your restaurants-to-check-out list, 'cause it's totally worth it!  
Where | Soho Bistro - Khasra 264, Ground Floor, Westend Marg, Saidulajab, Saket
Meal For Two | Rs 1,400
Call Them | +91 9999 966 242 & +91 9899 417 884
Check Out Their FB Page | https://www.facebook.com/sohobistrocafe/ 
2. Indian Accent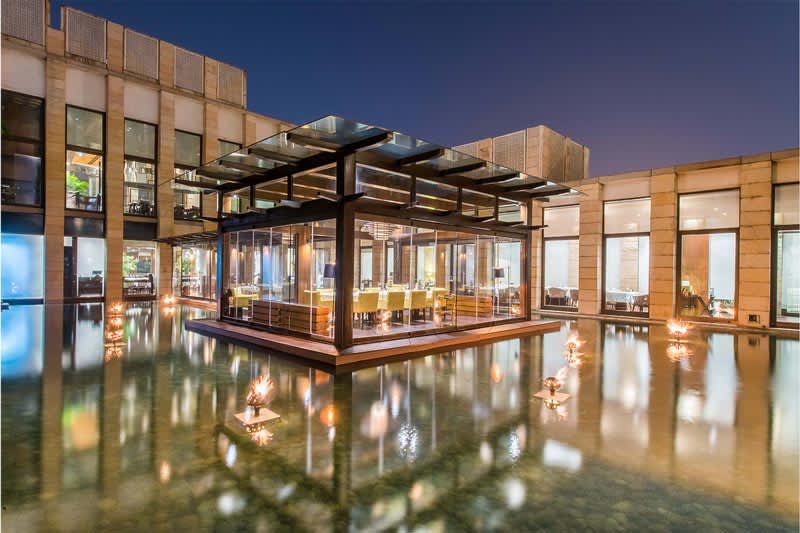 This plush restaurant sitting pretty all the way over at The Lodhi is perfect for your date nights. Everything from the lavish interiors to the glass walls, to the most beautiful lighting and the serene water body that surrounds it, will blow your mind, this we guarantee. This place is perfect for your Insta shenanigans *boomerangs galore await you here* so defo drop by, once the situation improves!
Where | Indian Accent - The Lodhi, Lodhi Rd, CGO Complex, Pragati Vihar
Meal For Two | Rs 5,000
Call Them | +91 98711 17968
Check Out Their FB Page | https://www.facebook.com/indianaccentrestaurant/?ref=page_internal
3. Lakhori - Haveli Dharampura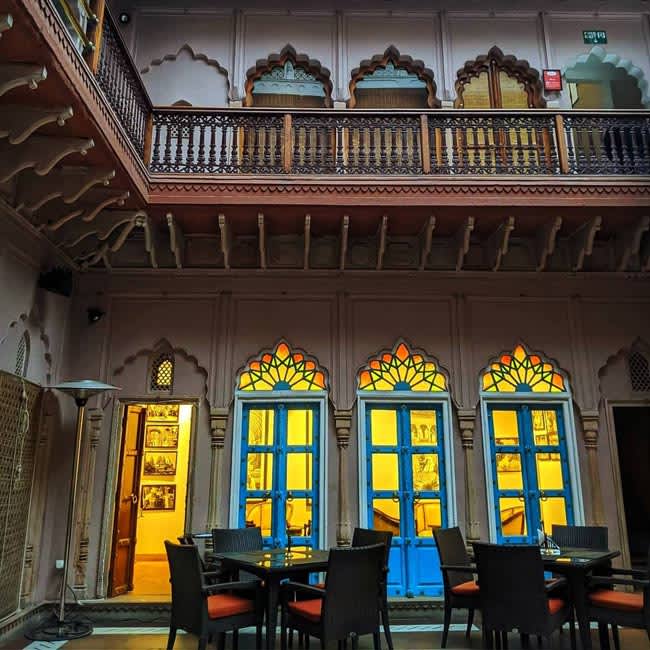 Picture Credits: itchyfeetgottatravel
Who says you gotta go all the way to Rajasthan to experience a real haveli and jharokhas? This centuries-old, not-so-little haveli smack in the middle of Chandni Chowk has the prettiest interiors, perfect for all your Instagram posts. This place has everything from haveli-like interiors to the beautiful Jama Masjid in the backdrop if you decide to eat at the rooftop, so head over right NOW to experience the luxe feel of dining like the Delhi Sultanate!
Where | Haveli Dharampura - 2293, Gali Guliyan, Near Jama Masjid, Chandni Chowk
Meal For Two | Rs 2,500
Call Them | +91 11 2326 1000
Check Out Their FB Page | https://www.facebook.com/HaveliDharampura/
4. Lavaash By Saby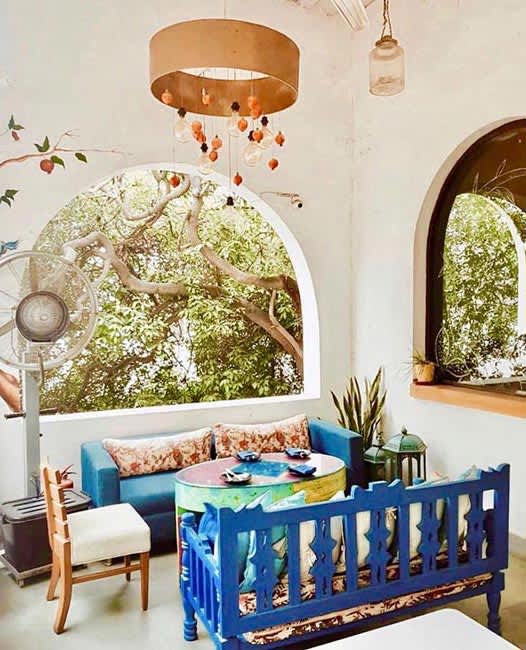 Picture Credits: whatshappening365
This place is bound to add that eclectic pop of colour to your Instagram page! They've got some really pretty and jaw-droppingly vivid interiors and decor that is sure to leave you floored. You can also head over to their beautiful rooftop and enjoy the balmy weather while gobbling up their yummy Armenian and Bengali fare while you click some perfectly candid Insta shots, so pop over soon! 
Where | Lavaash By Saby - H-5/1, Ambawatta One, Kalka Das Marg, Mehrauli
Meal For Two | Rs 4,000
Call Them | +91 7827 044 055
Check Out Their FB Page | https://www.facebook.com/lavaashbysaby/
5. JAMUN
The walls of this restaurant are painted in hues of purple, pink and ombre which are a pure treat for sore eyes! There's also a canopy filled with blooming bougainvillaea flowers, arched windows and cane furniture which defo adds to the vibe of this place. Each corner is as pretty as a picture, so trot over and get clickin' already!
Where | JAMUN - 17, Lodhi Colony Market
Meal For Two | Rs 1,500
Call Them | +91 9990 442 244
Check Out Their FB Page | https://www.facebook.com/eatjamun/?ref=page_internal
6. Plum By Bent Chair Delhi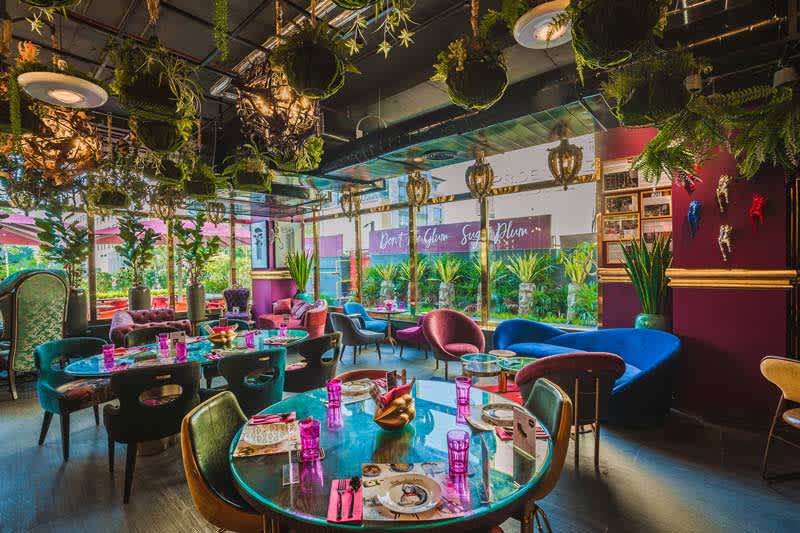 Now, we couldn't possibly compile this list without mentioning this gorgeously decked-up luxe restaurant tucked away in Aerocity! This place looks amazing, complete with lush greens, vibrant chairs, bright walls and dreamy lighting that is surely gonna make you go *wow*. Undoubtedly one of the prettiest restaurants in town, this one should definitely be on your list!
Where | Plum By Bent Chair Delhi - Worldmark 2, Aerocity, Indira Gandhi International Airport
Meal For Two | Rs 3,000
Call Them | +91 8448 787 354
Check Out Their FB Page | https://www.facebook.com/plumbybentchairdelhi/
7. Guftagu Cafe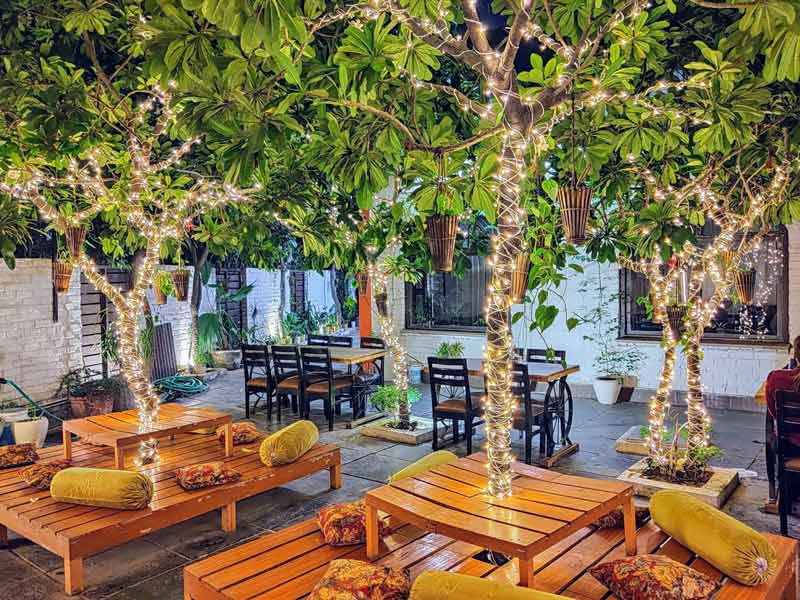 The very popular Guftagu Cafe in Gurgaon is adorned with magical fairy lights which, of course, makes the cafe absolutely LIT. Also, the rustic seating and well-manicured trees add to the elegance of this place, wherein every corner screams 'Insta-worthy'! Think we're exaggerating? Oh boy, then you've gotta see for yourselves what we're talking about!
Where | Guftagu Cafe - Opposite DLF City Court, Creator's Gurukul, Main Road, DLF Phase II, Opposite Pillar No 33 & 34, Main Road, Gurugram
Meal For Two | Rs 800
Call Them | +91 9310 022 110
Check Out Their FB Page | https://www.facebook.com/Guftagucafe/
8. Tera Vita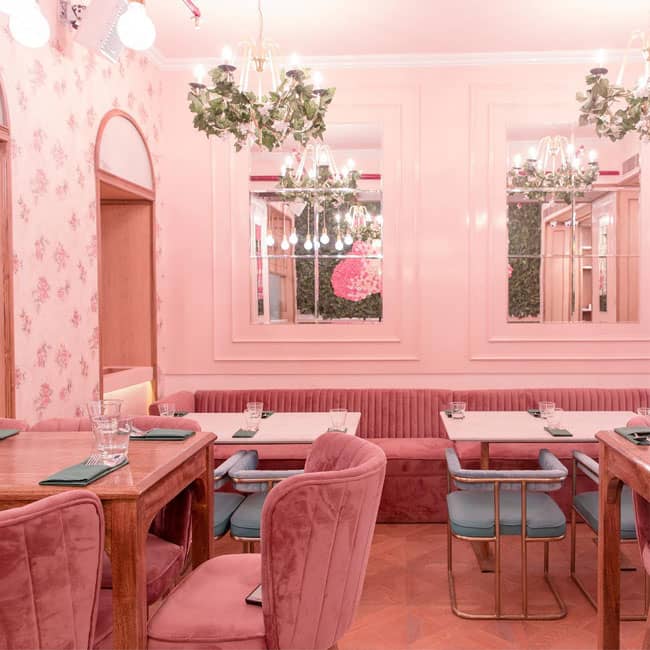 This pretty pink place has stunning mirrored walls, floral wallpaper, quirky wall art, ornate chandeliers and beautiful green hangings that seriously looks straight out of a fairytale. If nothing else, all your social media updates from this place are going to amp up your game - so scamper over with your bestie soon!
Where | Tera Vita - 11, 1st Floor, Khan Market
Meal For Two | Rs 1,500
Call Them | +91 9873 698 731
Check Out Their FB Page | https://www.facebook.com/TeraVitaDelhi/
For all you Insta influencers out there, we hope to have given you your next destinations to hop over and get clicked at! Go check them all out soon!