Delhi
9 Home Chefs That Will Deliver Everything from Food To Dips & Sauces To Your Doorstep
While we follow all these fantastic home chefs on Instagram, making their mouth-watering delicacies, we often wish we had those epic dips and sauces to recreate their art! You'd be glad to know some of these excellent home chefs often share their readymade sauces and dips, which we can shop from them! You can also order their scrummy & super-fresh dishes just with a few taps. Here's a list of all these home chefs and their best words that y'all must get a hold of! 
1. Ramano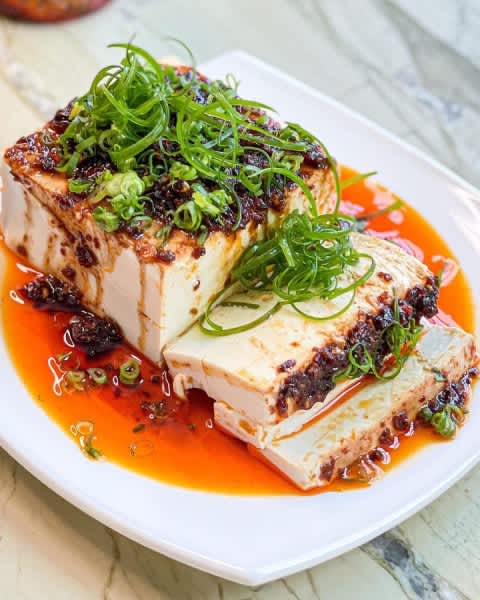 A lot of Ramano's delish recipes involve the use of chilli oils, which add a touch of magic and flavour to his scrummy food. These chilli oils are used with some of our absolute favourite dishes, including dumplings, noodles, and fried rice, and, to be honest, they go well with everything! Do you know the best part? They are available for sale, and that too in 4 different flavours - the OG chilli oil, Fiery OG, Black Bean, and Classic! They are also fresh and natural, 100% veg, with no MSG & preservatives, and can last for at least 6 months in the fridge, so order up right away!
DM To Order | https://www.instagram.com/ramanokram/
2. Cravings From Next Door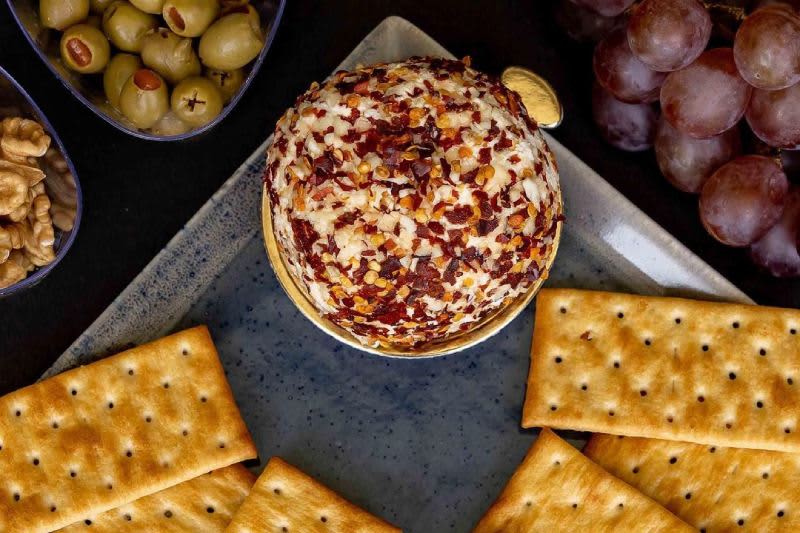 Picture Credits: photogreditor
Created jointly by 3 home chefs, Smita, Anchal, and Ashna, Cravings From Next Door has literally A LOT to offer! Not just dips, y'all can also order homemade cream cheese, fresh salads, fresh homemade bread, sweet jars and tea cakes! Some of the ah-mazing dips y'all can stock up on from here are - Roasted Bell Pepper Hummus, Tzatziki, Guacamole, a range of salsas, and so much more! Whatcha waiting for?
DM To Order | https://www.instagram.com/cravingsnextdoor/
3. Bloody Luvly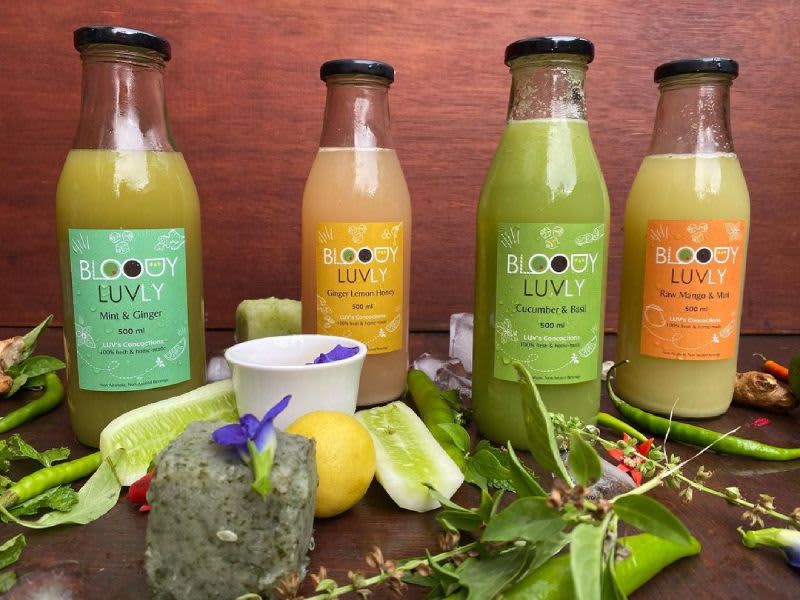 Who says that you need to go out to enjoy a glass of your favourite cocktails? Not as long as y'all order up from Bloody Luvly, by Luv! Craving to sip on some quirky and lovely cocktails? Just order these cool cocktail mixes from Bloody Luvly, and you're all set! You can order the OG Bloody Mary mixes in 4 flavours- Original, Jalapeno, Cumin, Green Chilli, or, you can also order the new mixes Raw Mango & Mint, Cucumber & Basil, Mint & Ginger, Ginger Lemon Honey- totes perfect for Delhi ki garmi! You can enjoy them straight up or convert them into a cocktail by adding vodka, gin, or white rum!
DM To Order | https://www.instagram.com/bloody.luvly/ 
4. SuRaBo By Radhika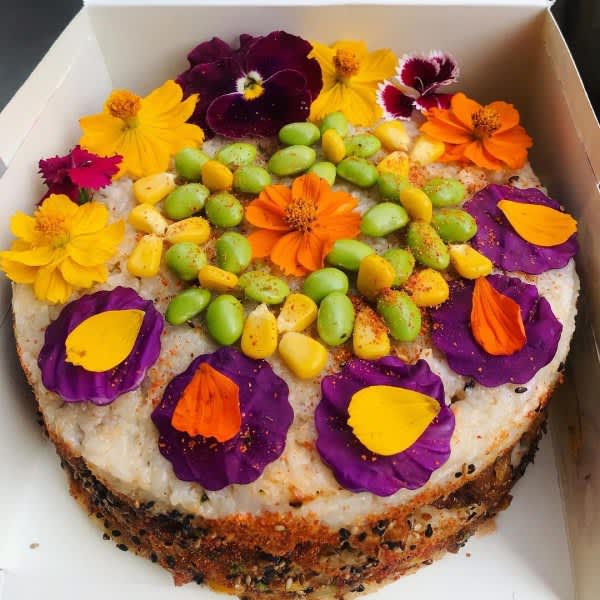 Surabo By Radhika is legit taking innovation to the next level, nay, even jumping a few levels and reaching the top! This 100% vegetarian home kitchen delivers one-of-a-kind Sushi Cakes & Cupcakes, breadless burgers called Burgs (Italian, Mexican, & Asian), Biang Biang Noodles, and Bubble Tea! The beautiful AF sushi cakes are a feast for the eyes and the mouth, and the burgs have buns made up of ramen, Hakka noodles, sushi rice, fried rice, spaghetti & Mexican rice! How cool! Which of these innovative dishes are you gonna order first?
DM To Order | https://www.instagram.com/surabobyradhika/
5. Angel's Kitchen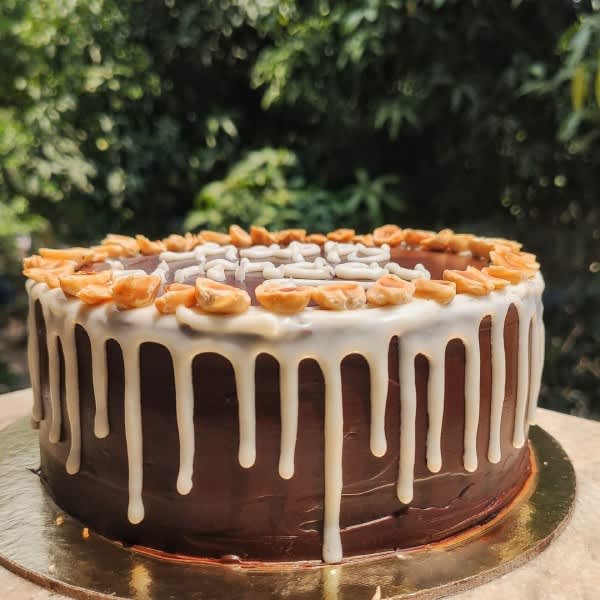 Here's one home chef for your sweet tooth and cake cravings! A home kitchen run by Angeline Joseph, a graduate of IHM Aurangabad, is our go-to (virtual) destination for pretty cakes! And also brownies, cheesecakes, fresh bread, cinnamon rolls, and so much more! Order up the best-selling Chocolate & Mixed Berry Cake, Tiramisu Cake, Oreo Brownies, Twix Cheesecake and more!
DM To Order | https://www.instagram.com/angelinecooks/
6. Boju's Kitchen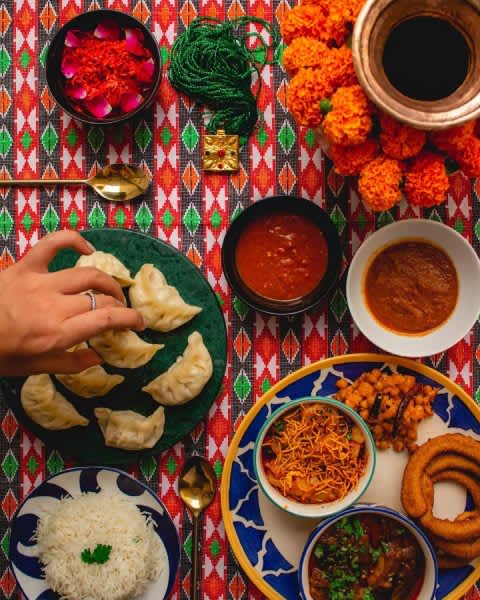 We can not talk about our favourite nani (Boju), who has been taking care of our momo cravings at home ever since the lockdown last year! Chitrangadha and her 83-year-old nani, hailing from Darjeeling originally, have been selling us delectable homemade momos with equally delectable momo chutneys or dips - the tomato and the peanut ones. Of course, momos are our one true love, and therefore, so is Boju's Kitchen! They sell the lip-smacking dips separately too.
DM To Order | https://www.instagram.com/bojuskitchen/
7. Not Just Chutney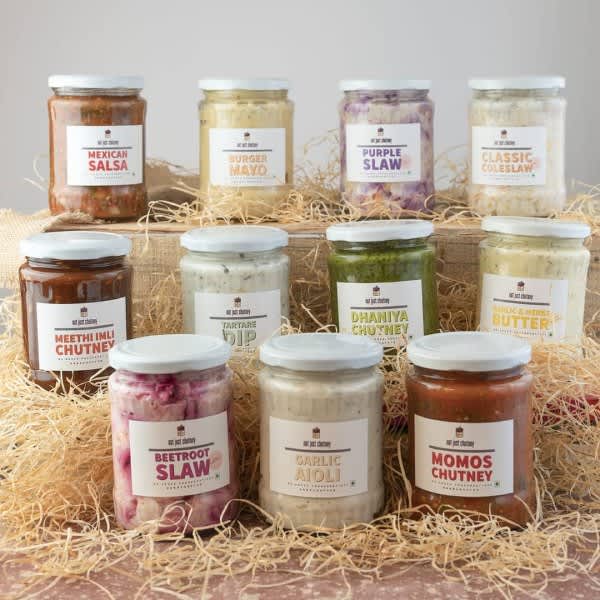 Well, their name is pretty self-explanatory. Not Just Chutney has all kinds of chutneys, dips, Garlic & Herbs Butter, Salsas, Slaws, and more! Y'all can order up and stock on a range of flavourful, homemade, and fresh dips & chutneys like the Momo Chutney, Dhaniya Chutney, Garlic Aoli, Burger Mayo, Tandoori Dip, Mexican Salsa, Meethi Imli Chutney. Which one of these are you ordering first?
DM To Order | https://www.instagram.com/notjustchutney/
8. Mattancherry Junction
One look at their feed will leave your mouth watering. Mattancherry Junction is bringing to the city a slice of hearty coastal food! Y'all can order up and gobble down their delightful and flavoursome Mums Prawn Curry, Kodaikanal Hilltop Hotel Chicken 65, Mutton Ghee Roast, Pork Vindaloo, Spiced Yogurt Chutney and more from here.
DM To Order | https://www.instagram.com/mattancherryjunction/
9. For The Love Of Quiche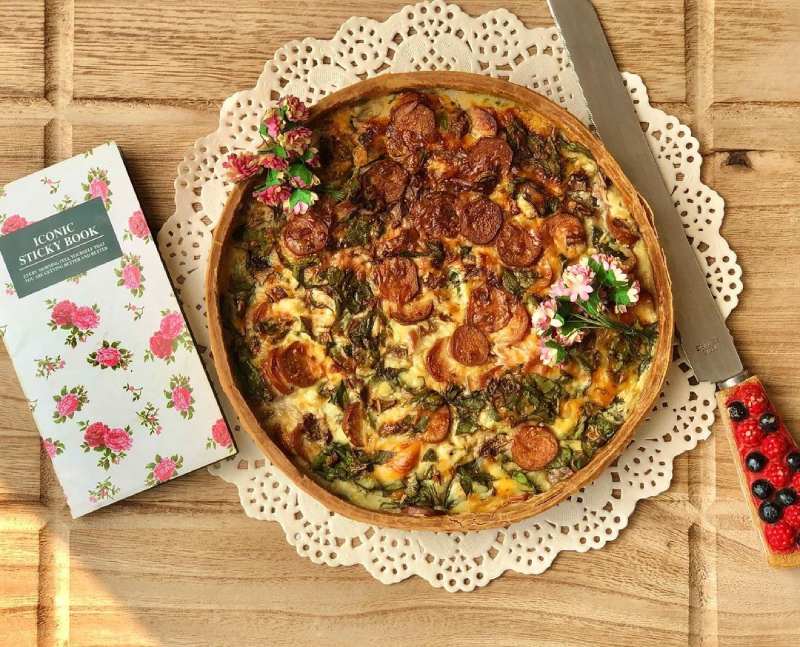 If you're a fan of the French savoury & cheesy tart loaded with a delectable filling, that is, quiches, this one is especially for you! So, the next time you have guests over and you wanna blow them away with a soul-satisfying and filling quiche, you can order up their quiches which come in several flavours like Chicken With Jalapeños Or Pesto, Egg Quiche With Mushrooms And Spinach, Pure Vegetarian Pesto, Mac & Cheese Quiche, and much more! 
DM To Order | https://www.instagram.com/for.theloveof.quiche2021/
So, go ahead and place your orders to get these delectable goodies delivered right to your homes!