Delhi
8 Places To Shop For Gorgeous Diwali Outfits Online Under Rs 2,000!
Disclaimer: Bearing in mind the current health crisis befalling the city and the world at large, we're tweaking our content policy and recommendations. Stay positive, keep hygiene levels up and don't fall prey to panic and misinformation.
We all know Diwali time equals to going on a festive shopping spree and splurging till our heart's content, don't we? Hopping from one shop to another, roaming around in malls, strolling down the colourful well-lit melas and buying pretty things that just scream Diwali. But the current health crisis has put a damper on our annual rituals and that's why we have selected some of the most trendy, unique, aesthetically beautiful clothes for you to amp your style and steal hearts at this year's Diwali celebrations. So, get ready to snag these awesome Diwali clothes w/o emptying your bank account, and they're delivering too! 
1.Block Print Kurta Set  From Libas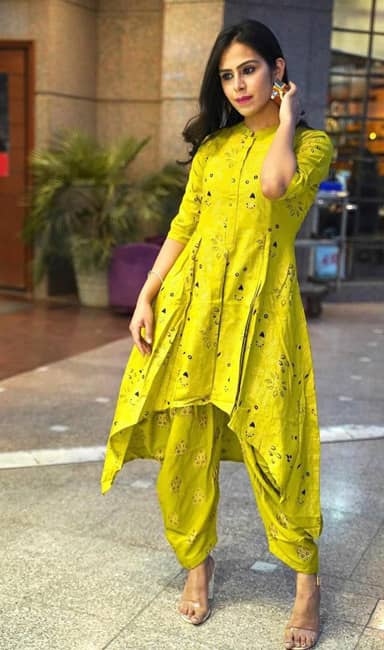 Picture Credits: miss.messy.muse/
As the festive season is right around the corner, it's time to click 'add to bag' again and again and fill our carts with glam ethnic clothes to celebrate festivities in a safe space with our families 'cause of the ongoing pandemic. Well, what's a better place to look for unique and sparkly apparels than Myntra, right? This stunning green & navy blue block print kurta with salwar is trendy, comfortable and made of pure cotton, making it a PERFECT addition to your Diwali collection! So, let the shopping begin! P.S. Myntra also has a great men's collection that you should defo check it out! 
Price | Rs 1,031 (On Discount)
Shop Online Here | https://bit.ly/2I1zqWW
2. Nehru Jacket From Fab India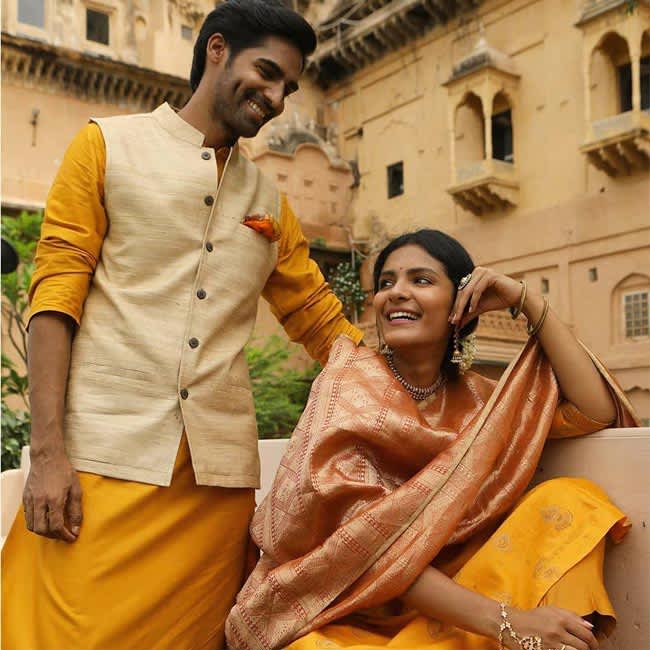 The uber-popular FabIndia is the ultimate destination for all things ethnic and as the favourite time of the year is approaching, yep you guessed it right, we couldn't miss checking out the widespread collection that they have to offer! From GORGEOUS collections like Rajwada and Malhar to salwars and churidars, they (literally) have it all! And since all shopping lists are about women's fashion, we thought about adding something for the gentlemen too! Their handcrafted and embroidered beige cotton Chinese collar Nehru jacket is chic, traditional and vibrant. So, go snag this gorgeous piece ASAP!
Price | Rs 1,090
Shop Online Here | https://bit.ly/3eqG1GM 
3. Maroon Top From Global Desi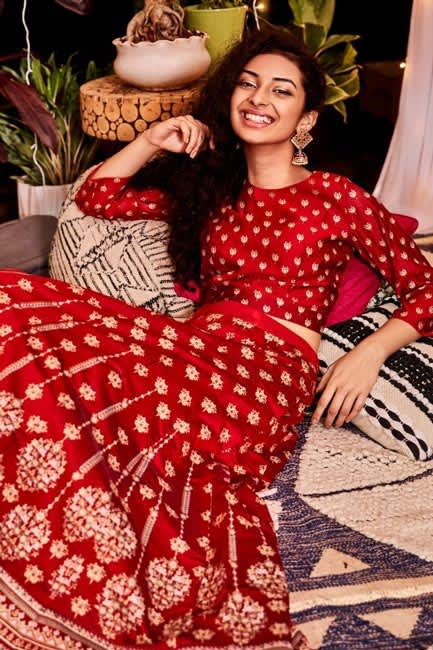 Global Desi is an India-inspired young, colourful, boho-chic brand with global appeal that prides itself on designing the finest-quality handcrafted ethnic-wear. The label is rooted in rich Indian traditions and fashioned for the contemporary Indian lifestyle. Their latest collection showcases the festive charm and is eco-friendly! *YAY* This breathtakingly comfortable and sustainable Maroon Top when paired with a matching skirt and a pair of statement earrings creates an effortlessly trendy look-  a SENSATIONAL ensemble that'll turn heads and make you feel confident and simply beautiful.
Price | Rs 1,799 
Shop Online Here | https://www.globaldesi.in/new-products/kurtas/mint-kurta-109757.html
4. Black Striped Kurta From Manyavar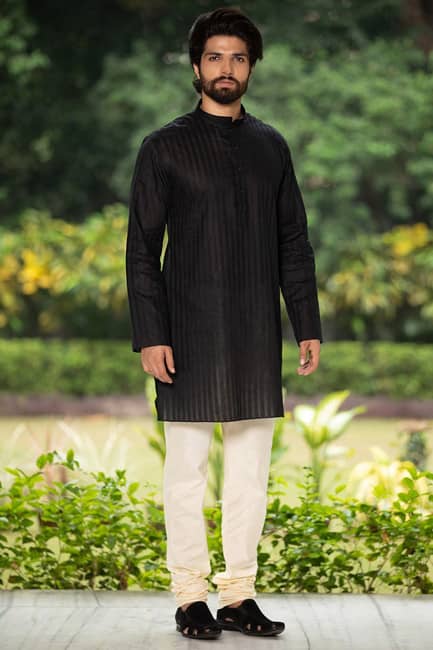 Catering to millennial India and the distinctive personalities it represents, this label is designed and curated to revamp men's ethnic wear, making Manyavar Mohey a one-stop-shop to access timeless and iconic styles that'll be sought-after by your relatives and cousins. With their elegant, effortless and edgy collection you cannot go wrong, folks, we assure ya! This Black Striped Kurta is a must-have and can be given an oomph factor with a Nehru jacket and some mojaris for a fabulous look.
Price | Rs 1,999
Shop Online Here | https://www.manyavar.com/Black-Striped-Kurta-MK30104-106 
5. Embellished Flared Kurta From W For Women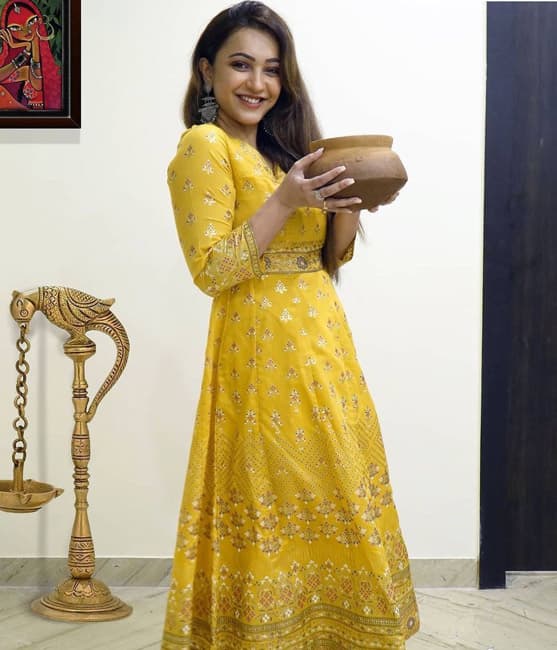 Well did you really think we would miss out on the crowd-fav Ajio? Our long-standing love affair with colours and fashion is something we take quite seriously. *dreamy-eyed* Ajio houses a vast collection of brands which offer versatile and individualistic clothing that are super comfortable, authentic and of top-notch quality for both men and women! This embellished flare kurta is from W for Women and is a blend of festive charm, contemporary design and ethnic flair. We have already added this to our wishlist, what about you?
Price | Rs 1,500 (On Discount) 
Shop Online Here | https://www.ajio.com/w-embellished-flared-kurta/p/440945635_yellow?utm_source=IGShopping&utm_medium=Social 
6. Grey Printed Kurta and Sharara Set From Anouk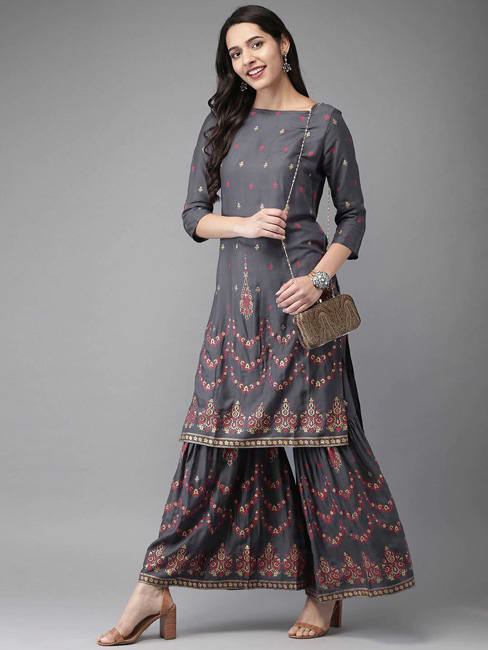 Myntra houses a vast variety of brands, and Anouk focuses on products with unique designs and thus, is known for their original and ethnic collections of jazzy silver jewellery, shararas and so much more! This crowd-pleasing grey printed kurta with sharara when matched with snazzy accessories and complementing footwear, will become an AMAZING fit for the festive season and beyond. So, get ready to shine!
Price | Rs 1,259 
Shop Online Here | https://www.myntra.com/kurta-sets/anouk/anouk-women-grey-printed-kurta-with-sharara/9186503/buy
7. Banarasi Saree From Mitera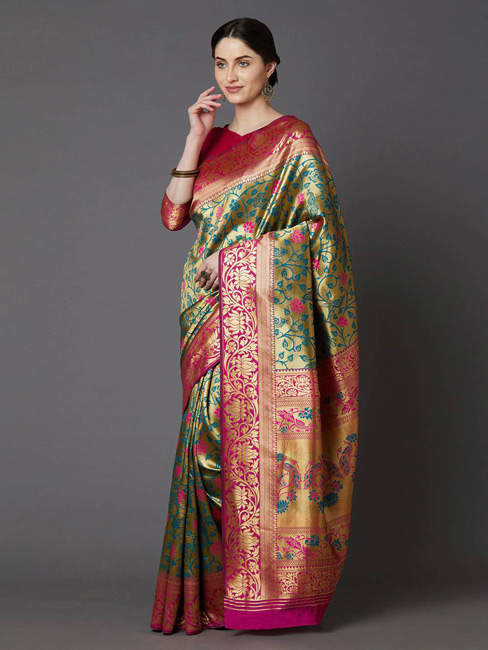 Shopping for Diwali is incomplete without adding a dazzling saree to your collection if you love sarees as much as we do! Myntra is a one-stop-shop for all your Diwali needs and this spectacular magenta Banarasi saree with an embroidered border from Mitera is all that you need for that perfect 'gram pic! After all, nothing can beat a saree. Myntra also houses a HUGE men's and kids' collection so your festive gifts are sorted fosho! Order away, y'all! 
Price | Rs 1,091 (On Discount)
Shop Online Here | https://www.myntra.com/sarees/mitera/mitera-magenta-silk-blend-woven-design-banarasi-saree/10430798/buy
8. Blue Rayon Embroidered Peplum Ethnic Top From Nykaa Fashion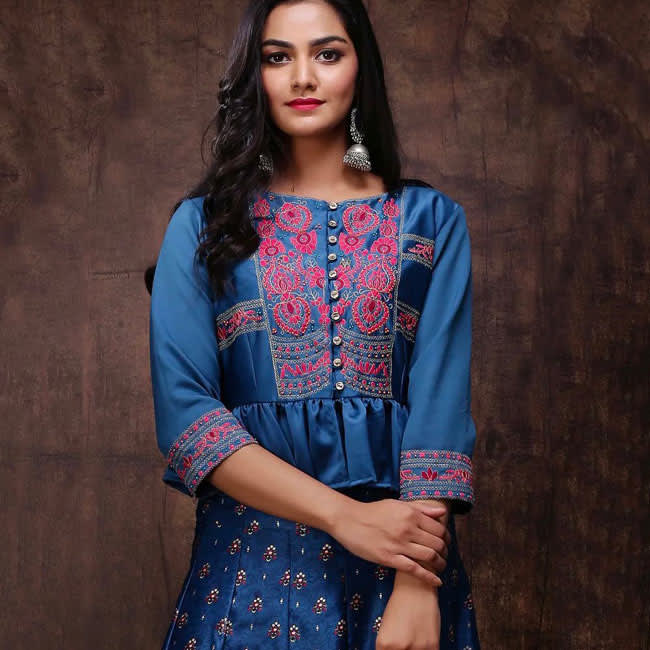 The USP of this brand is they believe in celebrating diversity and differences, which is at the core of what they do, peeps! We are loving their amazeballs collection and this one of a kind blue rayon embroidered peplum ethnic top with zari and beadwork is breezy, floral, and lively that'll defo make a bomb-ass Diwali outfit! PRO TIP: Pair it with swanky silver jewellery and badass high heels for the IDEAL attire! 
Price | Rs 666 (On Discount)
Shop Online Here | https://www.nykaafashion.com/juniper-blue-rayon-embroidered-peplum-ethnic-top/p/713477 
Check 'em out for the most modish and comfy traditional apparels and take your game up a notch as you add these breathtaking Indian clothing labels to your wardrobe!