Delhi
9 Delish Things Including Chicken Wings & Chocolate Fondue We Had For Brunch In DLF Place!
Winter ensures that our layers of fat are well-hidden under thick woollens, enabling us to eat even more freely than we already do! And so we made our way to DLF Place mall in Saket, happy and hungry, prepared to enjoy as many yummylicious dishes as possible across three of our favourite outlets - TGIF, Cafe Delhi Heights and Barcelos, and here's our top 9 fave things!
1. Vegetarian Platter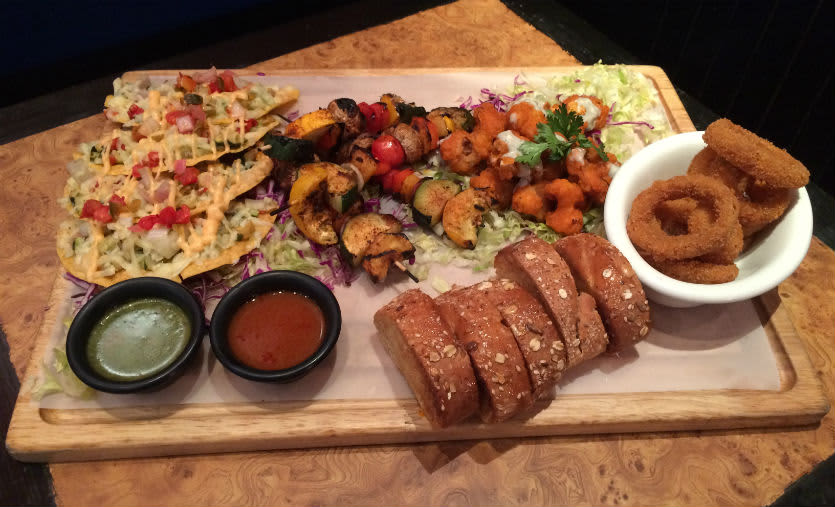 An absolute delight for vegetarians, this platter is the perfect sharing plate! With crispy onion rings, deliciously overloaded tacos, crunchy vegetable skewers, deep-fried cauliflower on a bed of purple cabbage, and slices of multigrain bread accompanied by two dips, this was a lot more than what we expected!
Price | Rs 875
Where | TGIF, 2nd Floor
2. All American Chicken Wings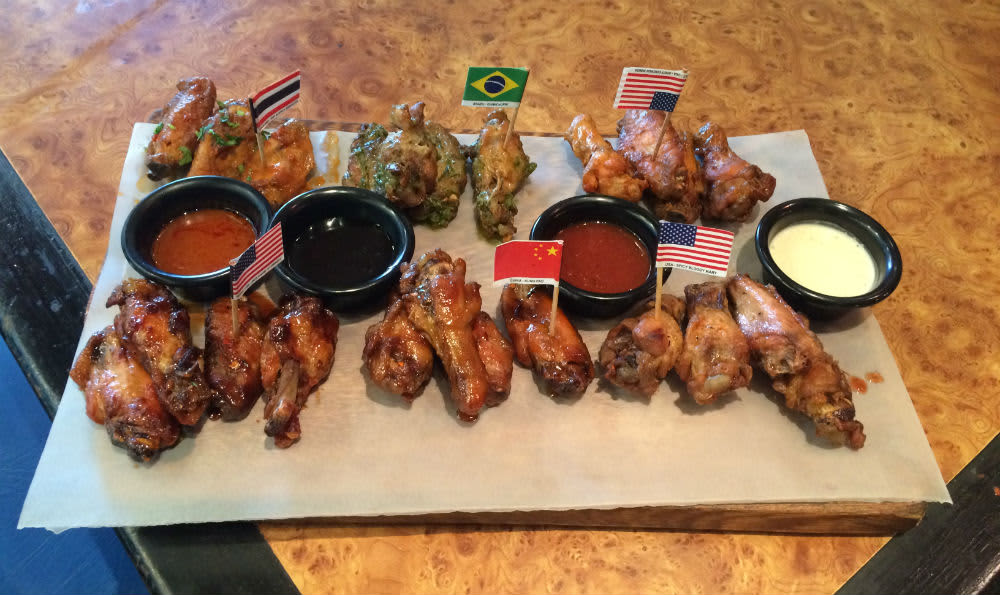 A platter with 4 of their best-selling Chicken Wings, this one is sure to fulfil all your kukkad cravings for a few days at least. Crispy, tender, juicy chicken wings done four ways – tossed in Ghost Pepper sauce; vodka Bloody Mary sauce; chipotle Tabasco with Jack Daniel's glaze; and Frank's RedHot sauce, accompanied by lip-smacking dips on the side - needless to say, we were in meaty heaven!
Price | Rs 805
Where | TGIF, 2nd Floor
3. Non-Veg Sliders – 4 Mini Veg Burgers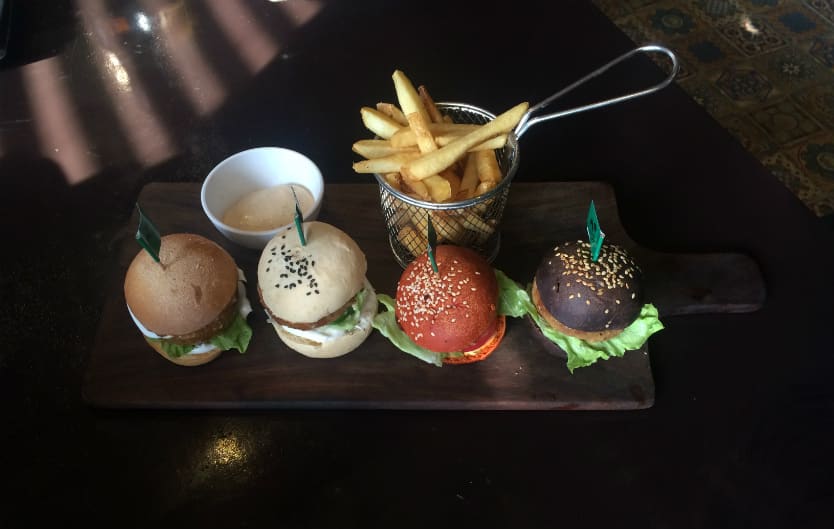 4 super adorable mini burgers, each with a different type of bun i.e. white, black, red, and classic, with a stuffing of a different type of mayo, jalapenos, salsa, lettuce and a choice of veggie patty or chicken or mutton, we didn't know which one to try first! Our favourite was the red bun burger though, let us know what yours is!
Price | Rs 520
Where | Barcelos, 2nd Floor
4. Loaded Veg. Nachos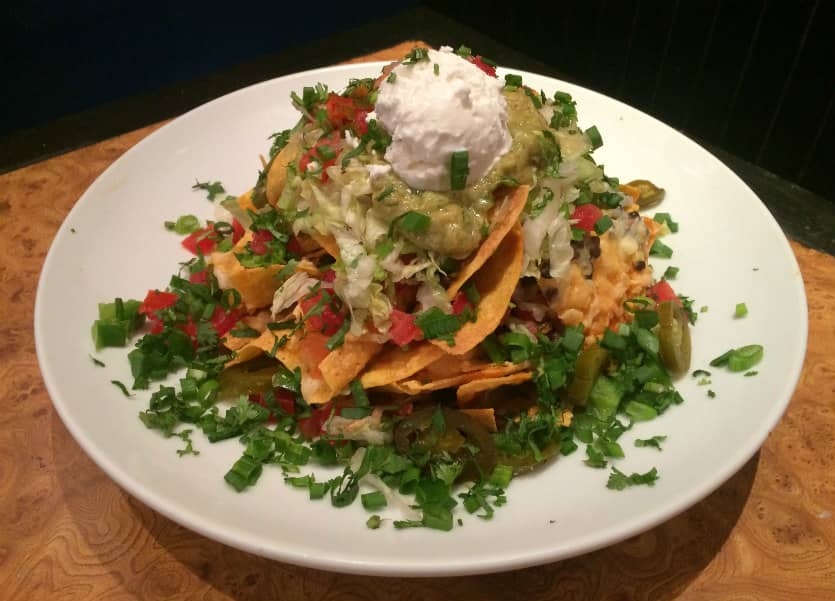 This huge plate of extremely overloaded nachos made us come to a unanimous decision that this is going to be our bar snack whenever we're drinking at TGIF's next! With generous amounts of jalapenos, lettuce, tomatoes, green capsicum, and topped with a big dollop of sour cream, we kept munching on these for a really, really long time!
Where | TGIF, 2nd Floor
5. Cheesy Chicken Espetada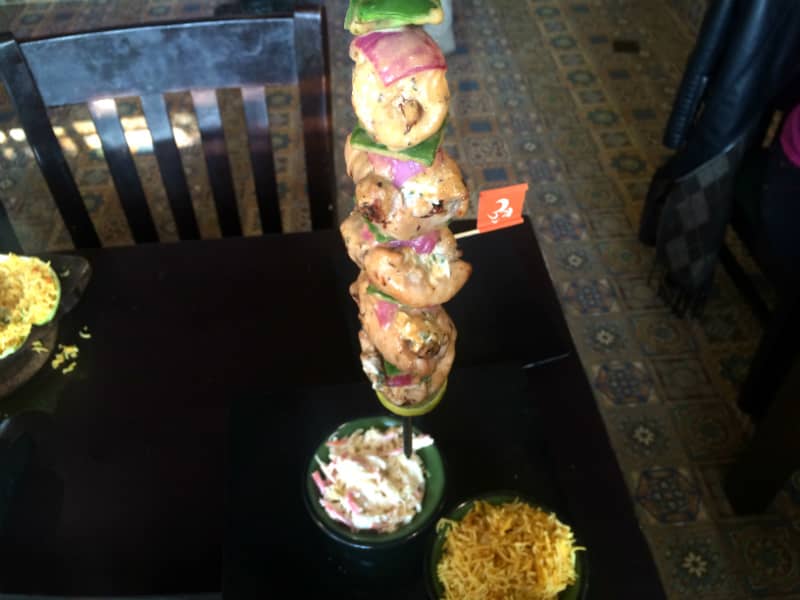 A hanging chicken appetizer with succulent chicken thighs and bell peppers, served with two sides of your choice, this dish is not just a treat for the taste buds but for the eyes as well. Stuffed with garlic, cheese and sundried tomatoes, their Chicken Espetada was quite filling and satisfying!
Price | Rs 525
Where | Barcelos, 2nd Floor
6. Peri Peri Paneer Sizzler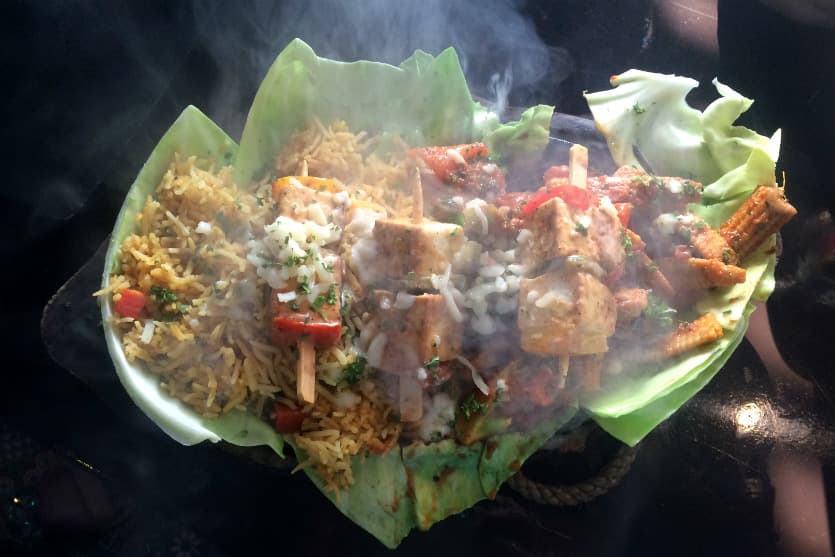 This sizzler is a complete meal for one! With a generous serving of rice, properly marinated paneer skewers, and super yummy baby corn tossed in a tangy sauce, this dish had us licking our fingers until every last morsel was polished off!
Price | Rs 425
Where | Barcelos, 2nd Floor
7. Tiramisu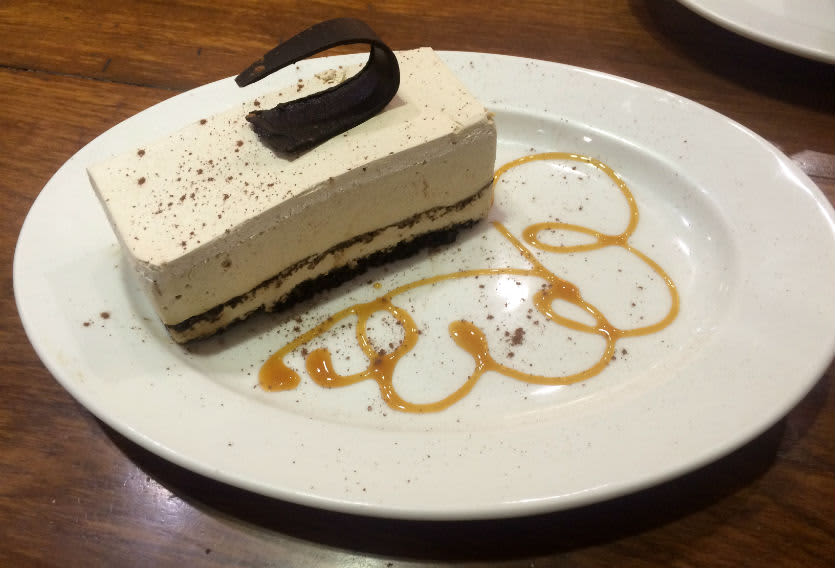 This melt-in-your-mouth pastry was the best way to start our dessert journey. We paired it with a classic cold coffee and felt gastronomic bliss! The texture of this pastry was super smooth and we'd gobbled it up before we even realized.
Price | Rs 330
Where | Café Delhi Heights, 1st Floor
8. Chocolate Fondue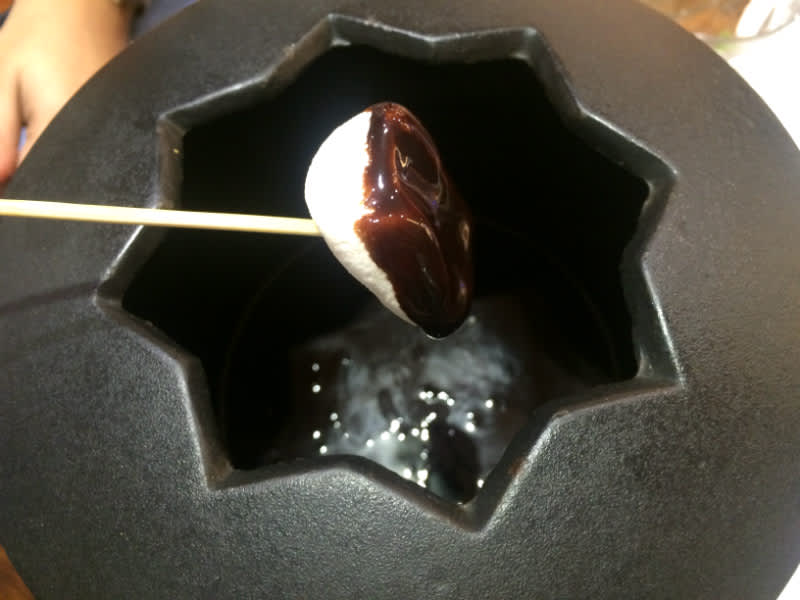 Hot, gooey, thick chocolate in a pot with pieces of banana muffins, and marshmallows to dip in, what more could one ask for, especially at the end of a day that involved devouring so many delectable dishes?!
Price | Rs 695
Where | Café Delhi Heights, 1st Floor
9. Banoffee Pie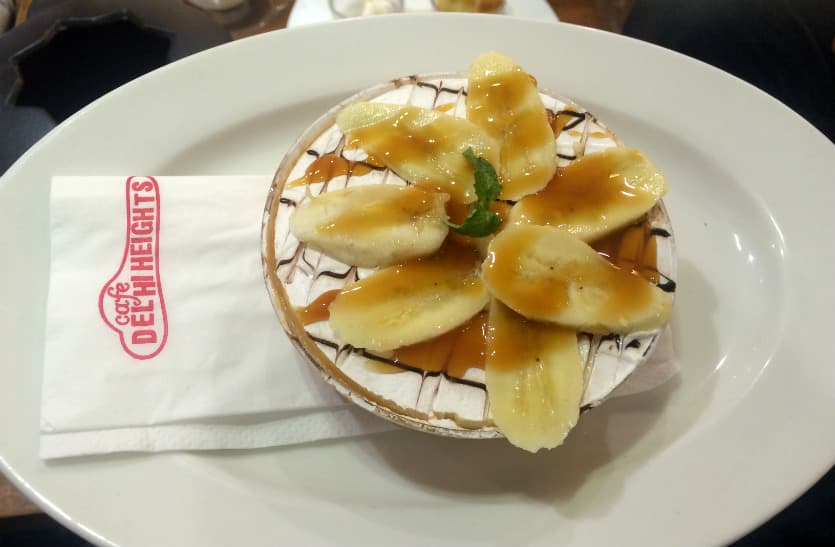 Decorated with cute little slices of bananas on top of a creamy layer, this Banoffee Pie looked so perfect, we almost didn't want to eat it, but then we couldn't hold back for too long and dug in with our every-hungry forks! With each layer of this dessert making us drool more and more, we finished it off in seconds!
Price | Rs 275
Where | Café Delhi Heights, 1st Floor
In the end, we'd like to say that our restaurant hopping spree was simply fantastic and we definitely put on a kilo or two, but how can we feel bad about something we enjoyed so much?! Seeya there!
Where | DLF Place, Saket