Delhi
7 Crazy Alternative Dining Experiences In India That Are Totally Worth Travelling For!
Disclaimer: Bearing in mind the current restrictions in the city and the world at large, we're tweaking our content policy and recommendations to focus more on staying indoors and exploring the digital world and all its wondrous offerings! Stay positive, keep hygiene levels up and don't fall prey to panic and misinformation.
If food is your bae and you can literally hop from one place to another just to gorge on yummy delicacies, then we say you pack your bags and book your tickets because these theme-based restaurants across India are proving to be great alternatives to the regular joe dining experience and we're so trying them all!
1. Ohri's, Hyderabad
If you thrive on the thrill of passing through the dark, mysterious and chilling caves (gufaas), then you'll defo like this restaurant in Hyderabad that's based on the same concept. The very entrance to the place will give you the #gufaafeels and once inside you'll love those dim lights and the walls adorned with plants and flowers!
Where | Ohri's - 5-9-30/16-20, Ohri's Cuisine Court, Basheerbagh, Hyderabad
Meal For Two | Rs 1,000
Timings | 12 Noon - 3:30 PM & 7 - 11 PM
Call Them | +91 4023 298 822
Check Out Their FB Page | https://www.facebook.com/Ohris/
2. UFO - The Revolving Restaurant, Mumbai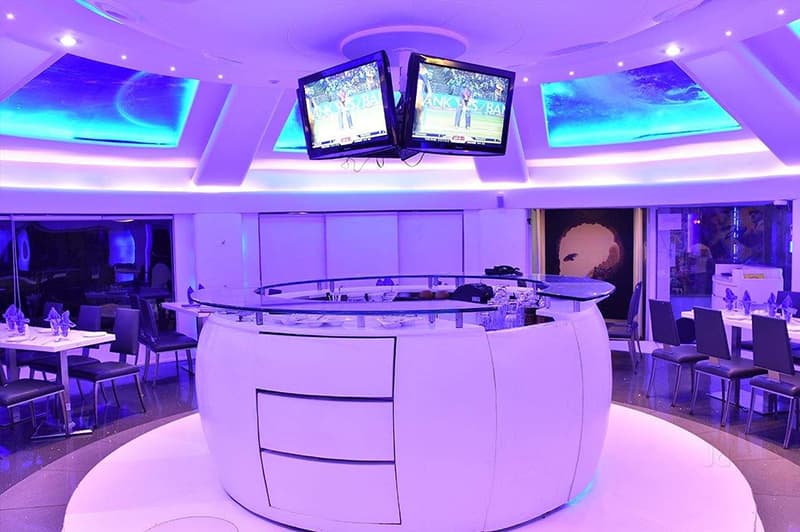 Picture Credits: xoxoday 
Mumbai is brimming with amazing cafes and restaurants to choose from but what caught our attention was this gorgeous looking revolving restaurant that goes by the name of UFO. And they do absolute justice to its title for they've designed the interiors of the place like that of a UFO, complete with white interiors, huge LED screens and blue lights. Head here and see this one for yourself!
Where | UFO - The Revolving Restaurant - 321-322, Dimple Arcade, Thakur Complex, Kandivali East, Mumbai
Meal For Two | Rs 1,500
Timings | 12 Noon - 1:30 AM
Call Them | +91 9136 044 010
Check Out Their FB Page | https://www.facebook.com/UFO-The-Revolving-Restaurant
3. FlyDining, Bangalore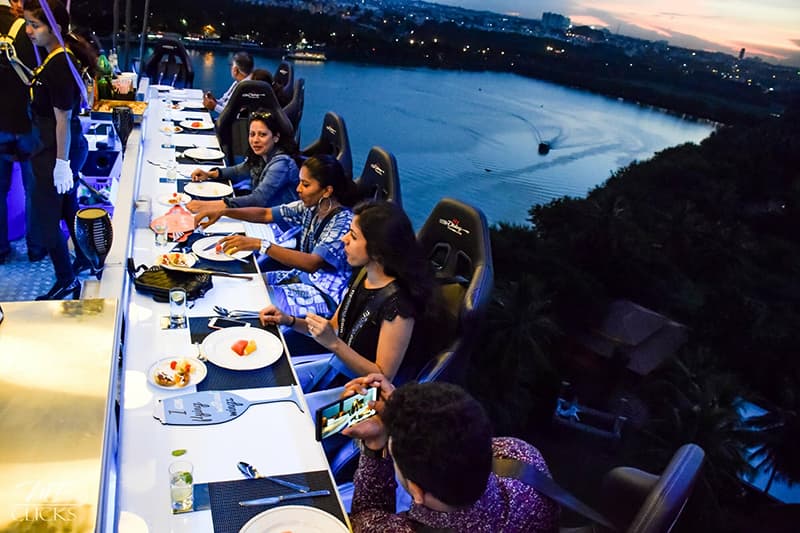 Just look at the picture and tell us that you didn't go AWWsome? We're sure you did because we still can't stop gawking. These guys have constructed a table in accordance with the German TUV with the help of 16 steel cables, a table of 4 tons that can be lifted up to a height 50 meters by a crane with the lifting capacity of 100 tons. It can accommodate 22 guests who can enjoy a dinner while being suspended in the sky, enjoying the live entertainment programs that these guys host. This is the coolest thing ever and we're already booking our tickets, what about you?
Where | FlyDining - House of Life, Nagavara, Near Manyata Tech Park, Nagawara, Bangalore
Meal For Two | Rs 14,000
Timings | 5 - 11 PM
Call Them | +91 8448 444 960
Check Out Their FB Page | https://www.facebook.com/flydining/
4. Chokhi Dhani, Jaipur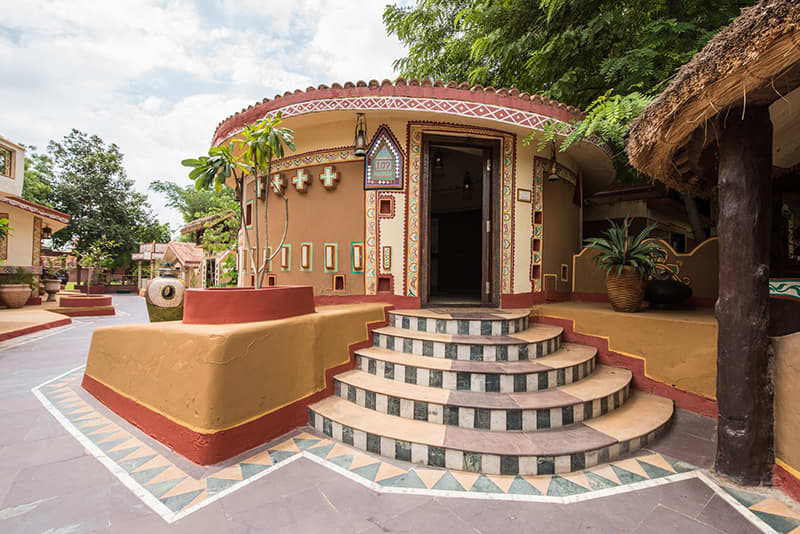 Chokhi Dhani reflects the Rajasthani culture in the most beautiful way possible. We absolutely love the miniature village-styled huts decor, paintings, Bani Thani art, wall decorations, evening performances by artists dressed up in traditional costumes. Their aim is to preserve the rich heritage and culture of Rajasthan by serving authentic Rajasthani food that'll make you lick your fingers. Equipped with modern facilities and comfort, Chokhi Dhani promises a complete experience and you should not miss out on this one!
Where | Chokhi Dhani - Chokhi Dhani Village Resort, 12 Mile, Tonk Road, Jaipur
Meal For Two | Rs 1,600
Timings | 5:30 - 11 PM
Call Them | +91 9982 322 220
Check Out Their FB Page | https://www.facebook.com/chokhidhaniofficial/
5. Kaidi Kitchen, Kolkata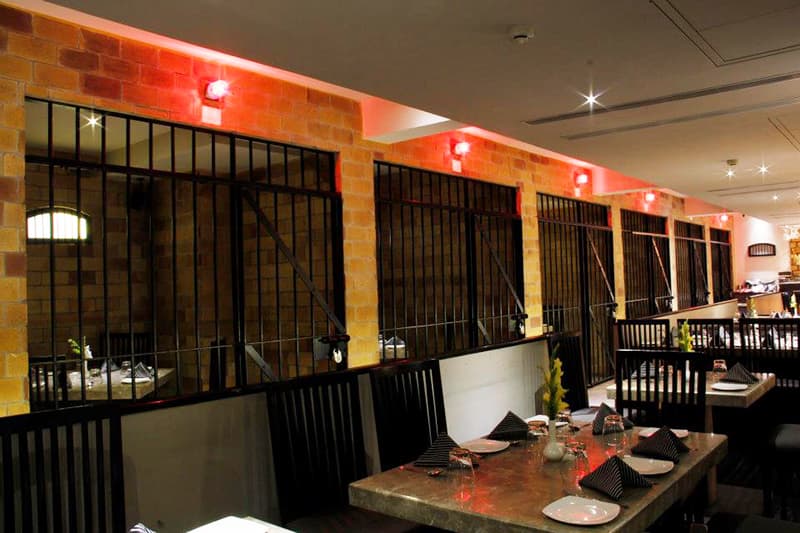 If you're a sucker for hatke experiences, then Kaidi Kitchen is one helluva option because this one is a prison-themed restaurant, no kidding. The entire place is built on the lines of prison life, with seating areas converted into cells and waiters dressed as prisoners. You'll literally be locked in the prisons because the gates are designed as bars and it sounds kinda interesting to us. What do you say?
Where | Kaidi Kitchen - 1st Floor, Usha Kiran Building, 12A, Camac Street, Kolkata
Meal For Two | Rs 1,300
Timings | 12 Noon - 11 PM
Call Them | +91 9163 948 888
Check Out Their FB Page | https://www.facebook.com/KaidiKitchen/
6. Hawai Adda, Ludhiana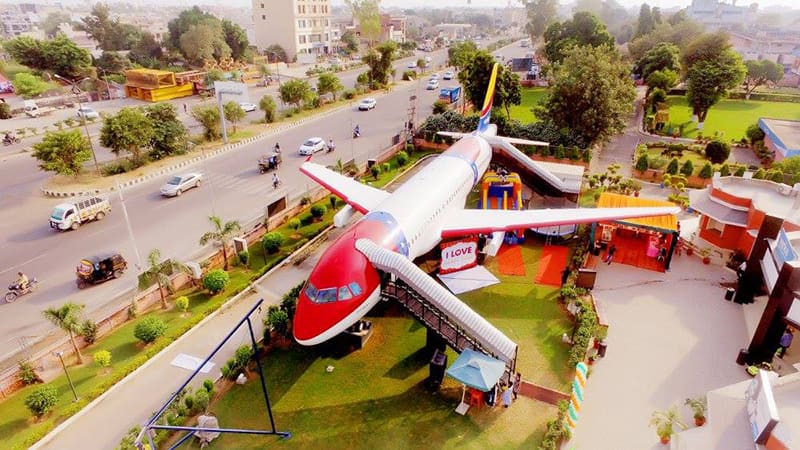 Just when we thought it couldn't get any better, we came across this crazy restaurant in Ludhiana that is actually an aeroplane. Yes, an Air India aircraft which was used by the Indian Air Force has been converted into a kickass restaurant and is called Hawai Adda. The seating area has been revamped into a classy dining experience where you can hog on Indian, European and Asian delicacies. So, head here and get yourself a window seat to enjoy the view outside while enjoying your food!
Where | Hawai Adda - Inside Verka Plant, Ferozpur Road, Aggar Nagar, Ludhiana
Meal For Two | Rs 1,500
Timings | 11 AM - 11:30 PM
Call Them | +91 11 1615 080 809
Check Out Their FB Page | https://www.facebook.com/hawaiaddaldh/
7. The Black Pearl, Bangalore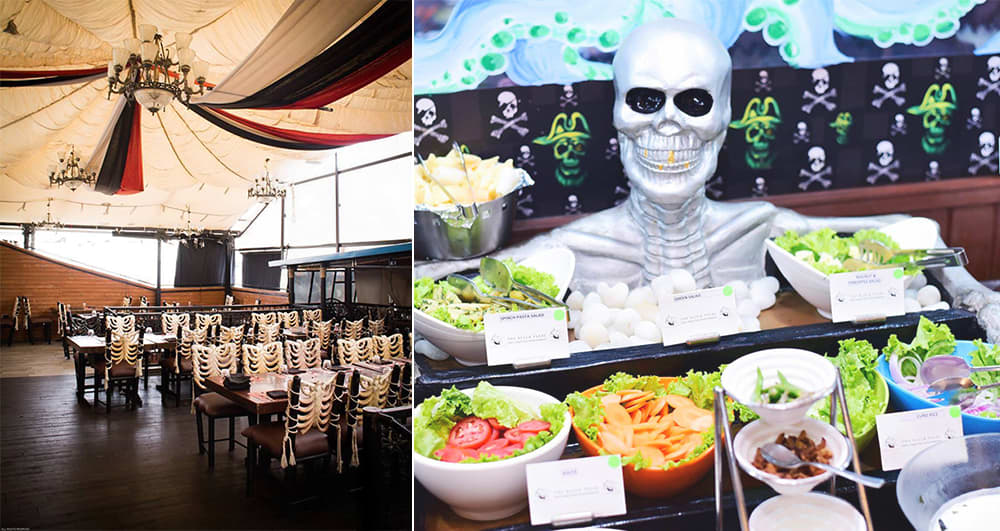 If you, like us, always wanted to be a part of the Pirates of the Caribbean movie series because of the amazing costumes and the spooky feels, then here's a pirate-themed restaurant just for you. Located in Bangalore, this one has everything from chairs with backrest shaped as human rib cages, wooden walls for the ship feels, to octopus hanging from the ceiling and food served with skulls. So, head here and be a part of this spookylicious voyage!
Where | The Black Pearl - Koramangala, 5th Block & Marathahalli, Bangalore
Meal For Two | Rs 1,500
Timings | 12 Noon - 4 PM & 6 PM - 12 Midnight
Call Them | +91 8049 653 069
Check Out Their FB Page | https://www.facebook.com/blackpearlbangalore/
So, where are you headed to first?