7 Best Places That Do Utterly Delish & Crispy Chur Chur Naan For Your Foodie Binge
Delhi in other words is also sometimes titled 'Punjabi Land' due to its close resemblance to Punjabi culture, Punjabi food and most of all - the large number of Punjabis who have migrated to Delhi and made it their home. One of the biggest gifts from the land of the rich to this city has definitely been the lip smacking chur chur naans. Chur chur naans have taken Delhi by storm and we couldn't help but make a list of some of the best places serving some crunchy, crackling and flavourful naans for y'all!
1. Sanjay Chur Chur Naan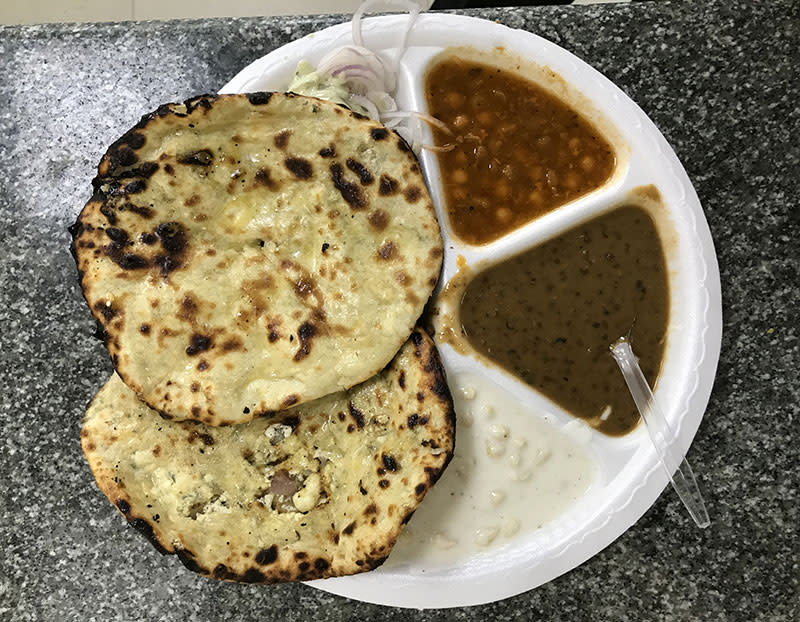 Many say commercialisation has hit this super famous place right in the gut but we still consider it a frontrunner for Delhi's best! It might be the extra oodles of butter, it might be the trust of hundreds who stop at this Moolchand eatery but Sanjay still has got this place running like a well-oiled machine. From Paneer Chur Chur Naan to Aloo Pyaaz to Mix, this guy has a huge menu and serves chola, dal makhani and raita to go with your naan!
Price | Rs 106 Onwards
Location | Sanjay Chur Chur Naan - 6-7, Moolchand Metro Station, Near, Vikram Vihar, Lajpat Nagar IV, Defence Colony
Call Them | +91 9205 052 938
Timings | 10 AM -11 PM
2. Mehak Food Corner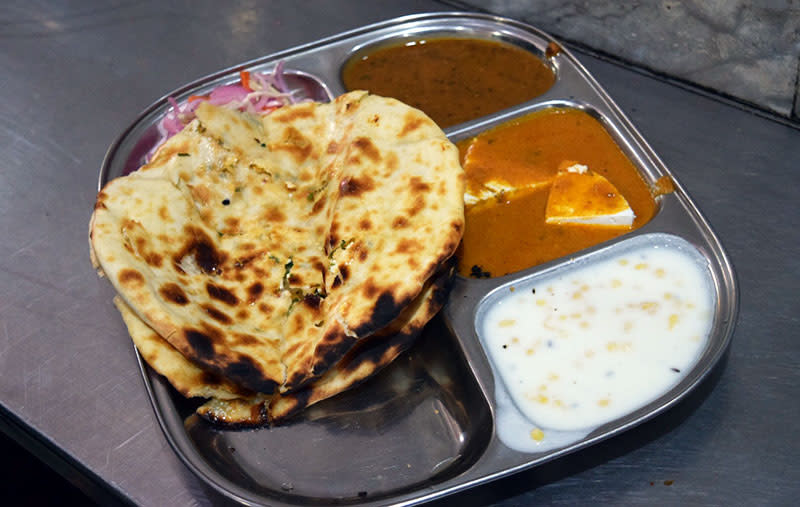 Many of you wouldn't have heard about this small shop located in the heart of Kalkaji, but we have and we already love it and are so eager to recommend this place to y'all! Mehak does all things Punjabi, from Chola Bhatura to samosa to a very special Chur Chur Naan Thaali! Their naans are perfectly roasted in the tandoor to crackling applause from hungry patrons like us. Their paneer filled naan comes with Dal Makhani, Shahi Paneer and raita *drooling already*!
Price | Rs 90
Location | Mehak Food Corner - A-105, Double Storey, Opposite HDFC Bank, Kalkaji
Call Them | +91 9871 209 998
Timings | 8 AM - 8 PM
3. Chawla De Mashoor Special Naan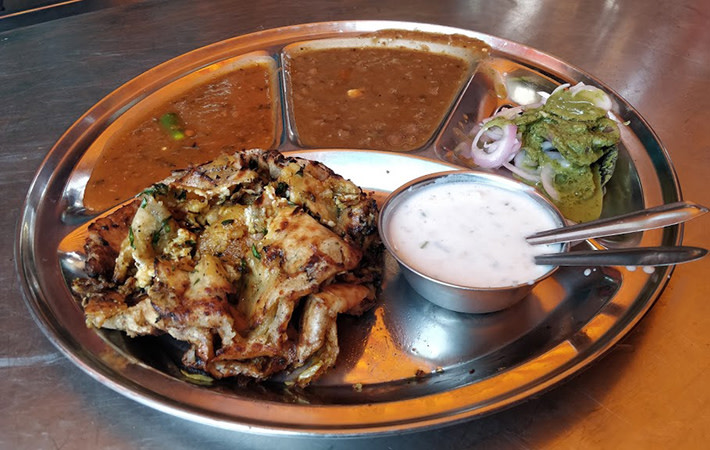 He is one of the oldest in the business, offering us an insight into what is the most authentic version of a chur chur naan. This small shop in the densely populated Paharganj was set up way back in 1986 and since then has doled out perfectly crunched up naans! Served along with dal, paneer, choley and raita, we bet you will never return disappointed from Chawla!
Price | Rs 100 Onwards
Location | Chawla De Mashoor Special Naan - 8955, Chowk Multani Dhanda, Paharganj
Call Them | +91 9540 023 223
Timings | 10 AM - 11 PM
4. Not Just Paranthas
Located in the high-end M Block Market of GK II, Not Just Paranthas is true to their name and does a chur chur version of their famous paranthas. Beautiful interiors, a good themed restaurant and lip smacking food is what this place is all about! A little heavy on the pocket but their parathas are well worth every penny. They're also available in non veg variants but you'll have to order the dal and raita as extra dishes to go along with it!
Price | Rs 295 Onwards
Location | Not Just Paranthas - GK II, MG Road & Cyber City
Call Them | +91 11 2922 3366
Timings | 12 PM - 12 AM
Check Out Their FB Page | https://www.facebook.com/notjustparanthasindia/
5. Raju Chur Chur Naan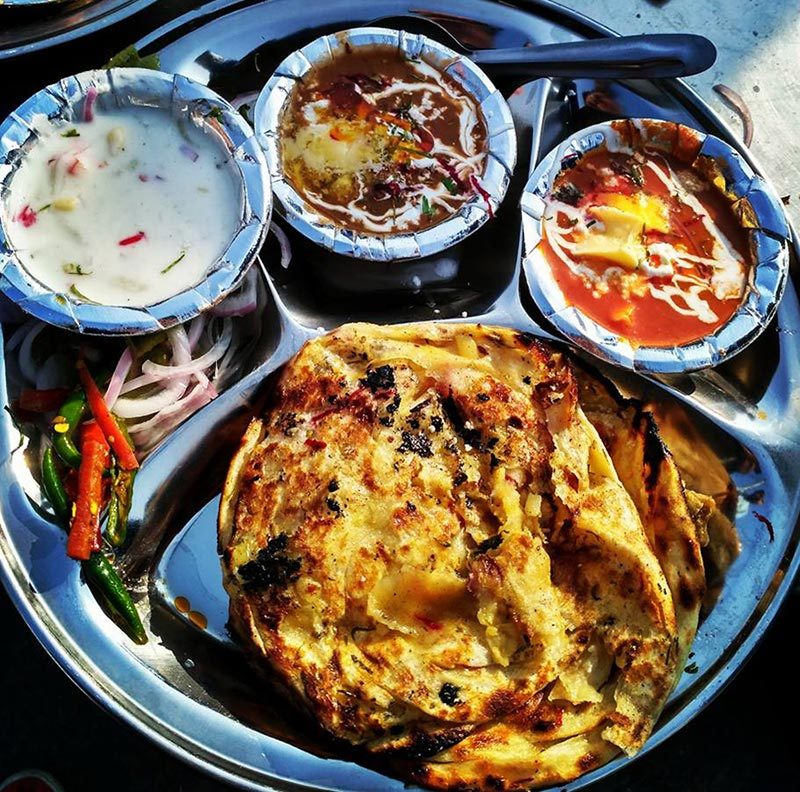 Picture Credits: Sumit Rathore
This guy attained fame only recently, but the entire foodie community seems to know him now and we do too! With just a roadside thela to his name, he prepares a wonderful and lip smacking Chur Chur Naan Thali in a tandoor right before you! He cracks the roasted naan, adds lots of butter, cashew, raisins, paneer and coriander before serving this treat to you! Dwarka does not seem too far now, does it?!
Price | Rs 120
Location | Raju Chur Chur Naan - 2, Sector 7, Extension, Pocket 4, Sector 12, Dwarka
Call Them | +91 9312 229 986
Timings | 9:30 AM - 4:30 PM
6. Pardeep Corner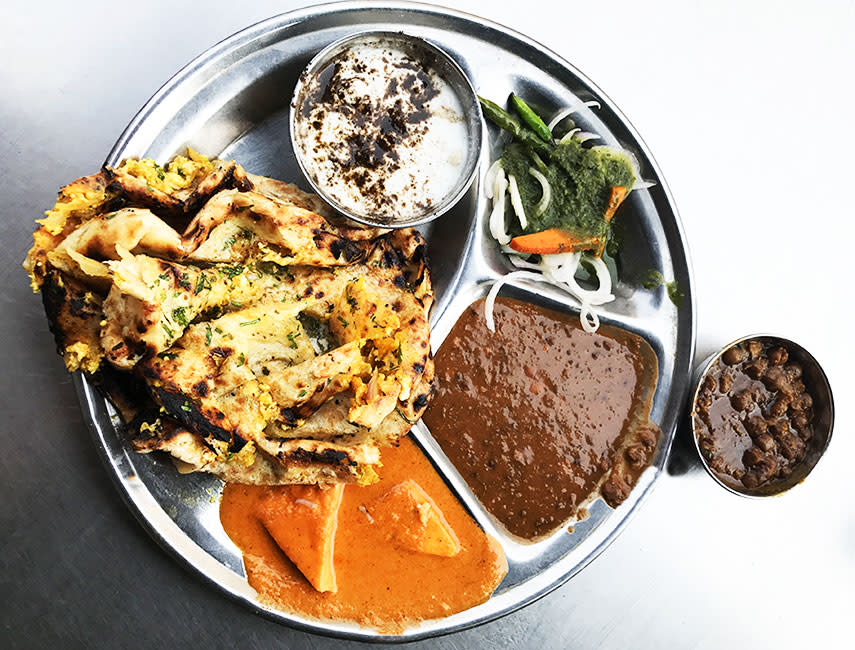 We had just completed our meal at Chawla in Paharganj when we saw this shop bang opposite. Turned out, this place also dishes up Amritsari chur chur naans! Registered to their name since 1972, this place won our hearts hands down! Amazing, crispy Chur Chur Naan served with an even better dish of Shahi Paneer, to die for chana, spicy dal and heavenly raita! Come swing by!
Price | Rs 100 Onwards
Location | Pardeep Corner - 9005, Chowk Multani Dhanda, Pahar Ganj
Call Them | +91 9868 752 476
Timings | 8:30 AM - 10:30 PM
7. Civil Lines Wala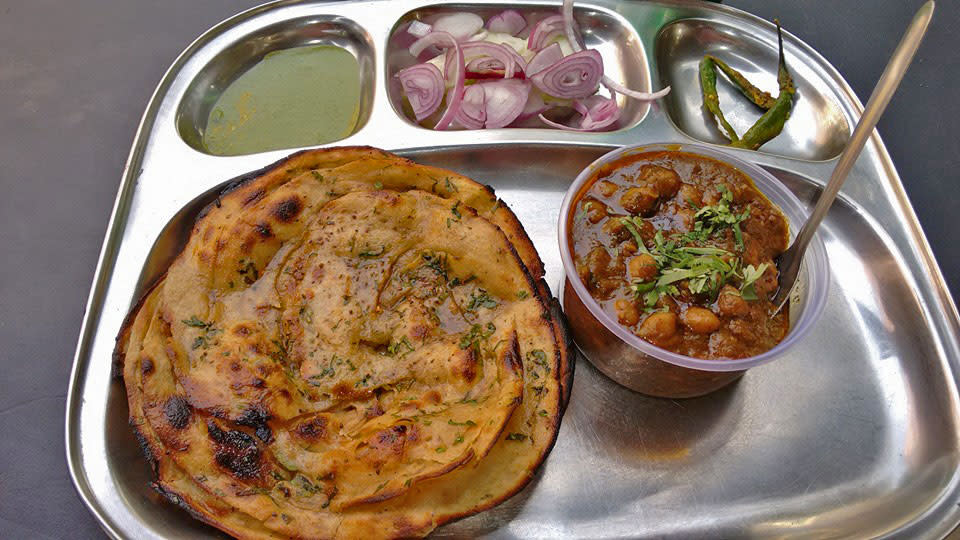 This city does not cease to surprise us! Every small stall seems to be better than the previous one and here's another great place called Civil Lines Wala! Serving since morning till late afternoon, this guy does some crispy tandoori preparations which have been loved, liked and adored by daily visitors to CLW and we definitely recommend their Chur Chur Aloo Thaali!
Price | Rs 170
Location | Civil Lines Wala - MG Road & Sec 15, Gurgaon
Call Them | +91 9910 177 676
Timings | 9 AM - 4 PM
Check Out Their FB Page | https://www.facebook.com/Civil-Line-Wala-538379809891614/
With such a complete list at your disposal, head on over to all of these places for your plateful of this yummy dish!