Delhi
7 Awesome Places In Kamla Nagar Where You Can Happily Eat Under 70 Bucks
If you remember your college days or are still going through that badass but broke AF phase of your life, then you know how important it is to know of places that serve amazing food at dirt cheap prices. Since we've always got your back, we put together a list of some awesome sauce places in Kamla Nagar where you can eat for less than 70 bucks - scroll on! 
P.S. - Some of these places might be closed due to the current scenario, so please check up on 'em before you head out!
1. Chole Bhature @ Chache Di Hatti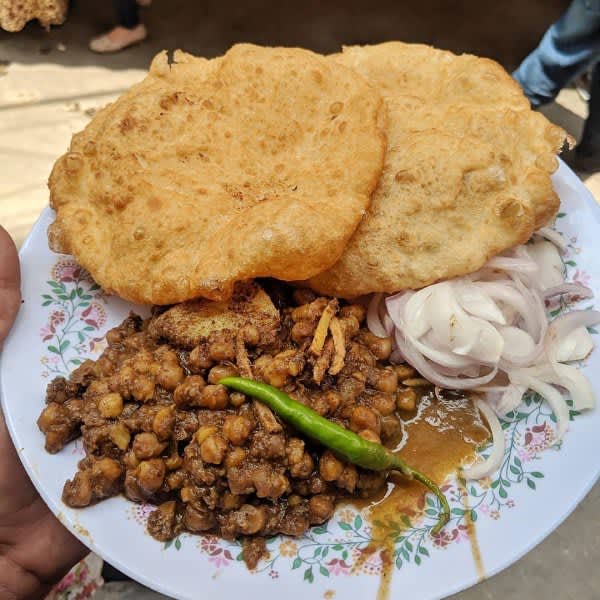 Picture Credits: dilsefoodie
This place has been around for AGES, and for many of us Dilli Wallas, Chache Di Hatti serves not just the tastiest Chole Bhature but also a generous dose of nostalgia. They always taste the same  - fluffy bhaturas, soft and extremely yummy chole served with onions and chutney. If you're a college student with too much enthusiasm and a tight wallet or are just a fan of this scrumptious Indian delicacy, you must head here. But hey, be an early bird because these babies sell out real quick!
Price | Rs 60
2. Egg Roll @ Chowringhee Lane
Picture Credits: thegrubartery
Tucked in a narrow back alley of Bungalow Road lies this hidden gem serving up some of the city's best rolls, and no we're not saying this just for the heck of it. Their Egg Roll is a favourite among regulars and for good reason! The fluffy omelette roll filled with noodles, veggies and a special sauce mix is exactly what heaven must taste like. There are a lot of soda shops and thelas nearby, so you can buy a lemon soda to pair with your roll. Awesome, right?!
Price | Rs 50
3. Chaat @ A Nameless Stall Between Kolhapur Road & Bungalow Road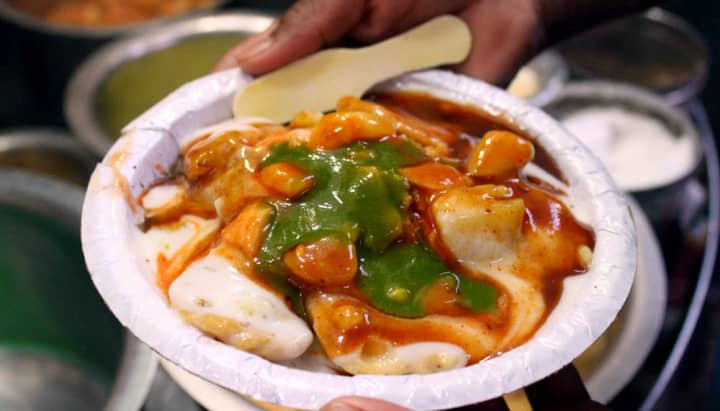 There's a legit 'chaat street' located between Bungalow Road and Kohlapur Road on the bada gol chakkar in Kamla Nagar. You can enjoy a wide range of delicious items here for a lot less than 100 bucks. There are around 8-10 vendors serving pav bhaji, gol gappas and chaat, kanji vada, bread pakoras, moong dal ladoos, paneer tikka, soya chaap and what not! To top it all, there's also a banta seller and chuski wala here, too. What else could you possibly ask for?!
Price | Rs 20 (Gol Gappas) & Rs 50 (Pav Bhaji)
4. Chole Kulche @ The Stall Near Dimpoos Cosmetics
We know you must have had this spicy, quick snack dozens of times, but the ones sold at this stall on bada gol chakkar are on another level altogether! Apart from being super yummy, they prove to be a respite from the hunger pangs people get while shopping at Kamla Nagar. And priced at Rs 30 a plate, these Chole Kulche don't even burn a hole in your pocket. Although you can customise the chole according to your taste, they tend to be a little on the spicy side, so there - you've been warned!
Price | Rs 30
5. Chaat @ Vaishnav Chaat Bhandar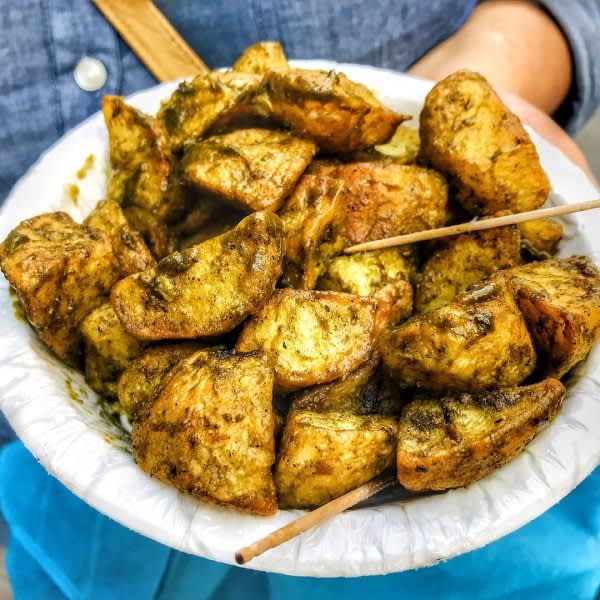 Picture Credits: simraa_khan_
True to its name, this place is actually a whole 'bhandar' serving delicious street food. This place is heaven for all the spicy food lovers out there. They have Gol Gappas, Chaat, Pav Bhaji, Kathi Kebabs, Aloo Chaat and what not. Just a heads up though - this joint gets pretty crowded during the weekends, especially at night. Also, finding parking in that narrow lane can be a pain, but trust us, the food is SO worth it!
Price | Rs 60 Each For Paneer Chilla & Aloo Tikki
6. Momos @ The Stall On Bungalow Road (Next To The Apple store)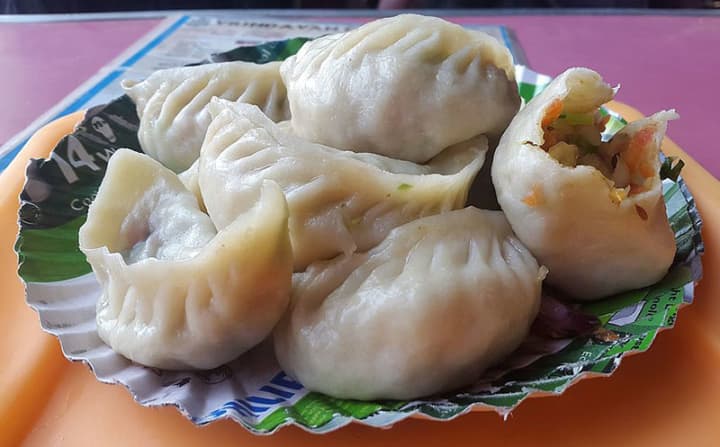 Ever experienced what indulgence tastes like? Well, it tastes like this - a tiny plate of momos, filled with lip-smacking fillings like veggies, paneer and chicken, steamed to perfection and served piping hot with a generous helping of spicy hot momos chutney and a dollop of mayonnaise. Just reading this has you drooling, right? Well, then you have to taste these and then you'll know exactly why we love them so much. Also, keep your bottle of water handy when having 'em because the chutney served here is devilishly spicy!
Price | Rs 40 (Veg) & Rs 50 (Chicken)
7. Burgers @ The Mini Shop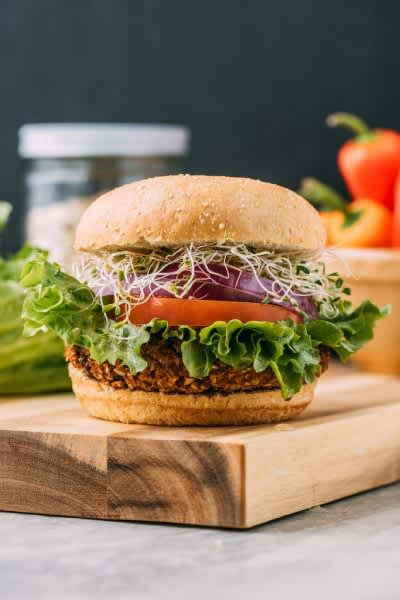 Many stores around this tiny hole-in-the-wall sized shop have opened and shut down with time, but Mini Shop stays put. And it's not just any other snack shop in a busy marketplace, this shop is legendary! It's been around for longer than we can imagine, serving stuffed kulchas, patties, cutlets, soft drinks and other handy snacks. 
The taste has evolved over time and become better, and so Mini Shop is still a favourite among college-goers and shoppers buzzing around Kamla Nagar yearning for a quick snack. It's located right at the beginning of Bungalow Road and hence very easy to spot, so you must drop by whenever in KNags!
Price | Rs 50 Onwards
So what are you waiting for? Head out for a fulfilling shopping and eating experience in Kamla Nagar once the current situation gets better!