Delhi
11 Affordable & Fun Date Ideas That Are Wayyy Better Than Just Eating At A Restaurant!
Hello, lovebirds! In the first happy flush of dating, things are always exciting, but after a while, it becomes a daunting task to zero down on that perfect date idea. So, to help you guys out, here's a list of some really kickass and pocket-friendly ideas that don't involve being cooped up in a restaurant trying to have a mundane conversation. Let's get crackin', fellas!
1. Scour The Lanes Of Lodhi Art District Together On Yulu Bikes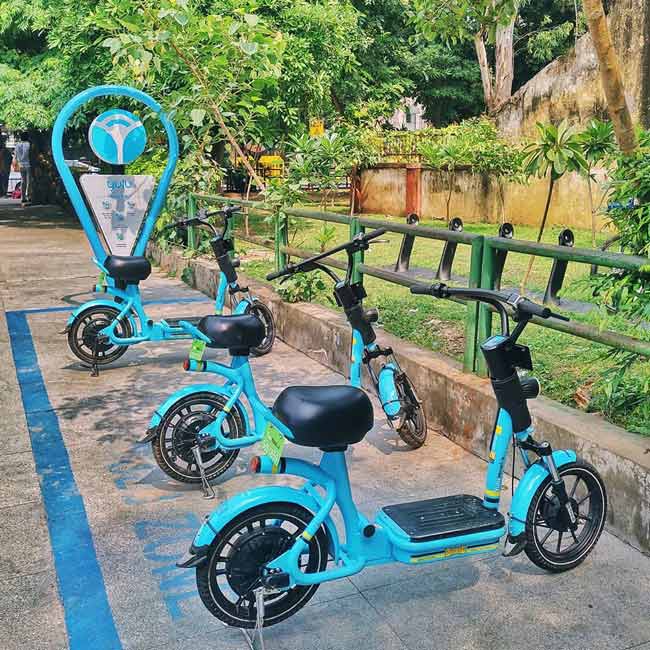 Saadi Dilli is a cornucopia of vibrant lanes and aesthetic places, there's no denying the fact. And Lodhi Art District is certainly one of those rare spots where you can breathe in the artistic soul of the city. The best bit? You can explore the lanes and admire the gorgeous graffiti on the walls over here on these electric bikes together. These are pretty affordable with a measly fare of Rs 60 for an hour and pick them up at Jor Bagh Metro Station, gate No. 1.
Where | Gate No. 1, Jor Bagh Metro Station
Price Per Hour | Rs 60
2. Go Monument Spotting At Mehrauli Archaeological Park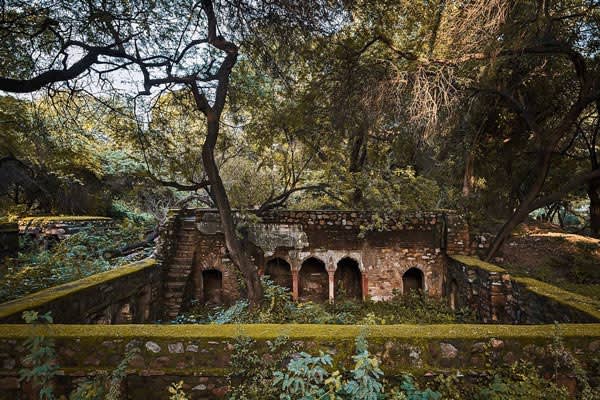 Picture Credits: kunal88del
Mehrauli Archaeological Park is a heritage site with a number of architectural gems that relay the story of a bygone era. The entry is free and is a great place to just walk around soaking in the much-needed vitamin D from the winter sun, while you marvel at the majestic archaeological wonders. Spread over 200 acres with roughly 100 monuments, it's a great way to learn more about the rich culture of the city with bae without digging major holes in your pockets. 
Where | Mehrauli Archaeological Park - Anuvrat Marg Opposite Qutub Minar Metro Station, Mehrauli
Timings | 5 AM - 6:30 PM
3. Explore The 7 Wonders Of The World Together At Waste To Wonders Park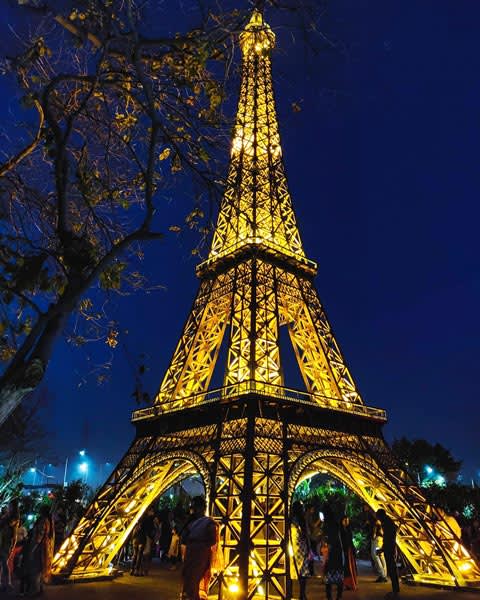 Picture Credits: maketheroadhome
Waste To Wonders Park in Delhi, as the name suggests, has a replica of all the dazzling 7 wonders of the world -  all made from waste materials. This place lives up to its name for a magical date experience with your bae while going easy on the pocket. From the Eiffel Tower to the Taj Mahal, they have all the icons of romance here. Head on over for a fun afternoon! P.S. The park is currently closed due to the pandemic, so you might wanna keep an eye on their website for further details.
Where | Waste To Wonders Park - Near Nizamuddin MS, Sarai Kale Khan
Timings | 11 AM - 11 PM (Closed on Mondays)
Entry | Rs 50 (For Adults) & Rs 25 (For Kids Aged Between 3-12 Years)
Here's Their Website | https://www.wastetowonderpark.com/ 
4. Go For A Romantic Boat Ride Around India Gate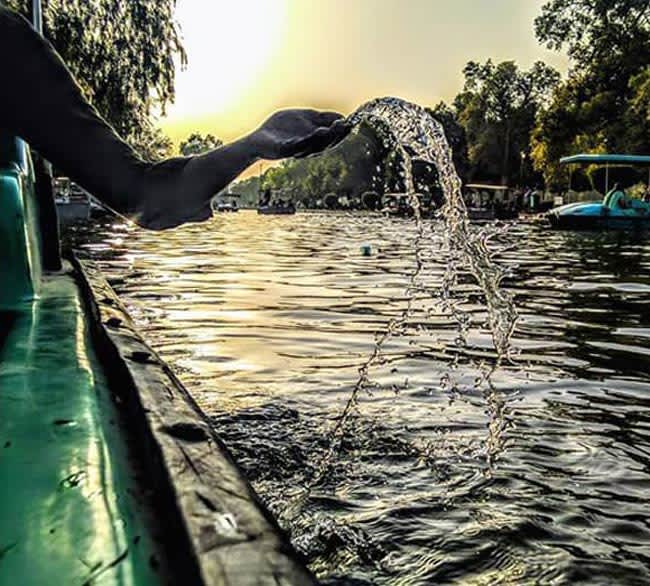 Picture Credits: faishal_hussain37
India Gate Lake, located right next to the majestic ode to our martyred soldiers, makes for a great destination to spend your date with your special one. Boating is probably that one out-of-the-box activity where you get to spend some quality time with the love of your life. Paddle around the lake while you chat and take in the serene view of the complex as the sun sets right in front of you!
Where | India Gate Boating Point, Rajpath 
Timings | 2 PM - 7 PM
Price | Rs 100 (30 minutes)
5. Maple Pods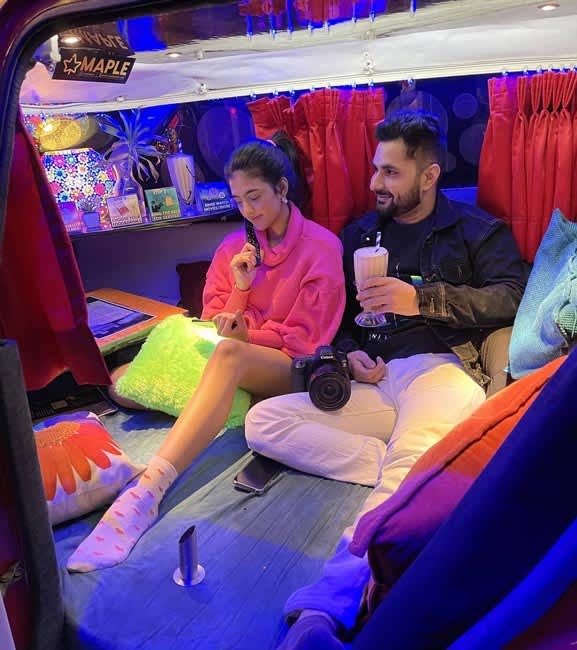 Maple Pods are the latest date trend in town! These unique AF pods, made using junk car shells, are apparently the next big thing. What makes them perfect for a date is that they are cosy, full of amenities like a screen, a relaxing couch/bed, food, and 100% privacy! Y'all can take bae here, and curl up on the couch watching your fave shows! That too, in a quirky Maple Pod! Sounds amazing, right? Book your slot ASAP 'cuz they get filled up pretty quickly!
Where | Maple Pods X The Nerdy Indian Cafe - Champa Gali, Westend Marg, Saidulajab, Sainik Farms
Price | Rs 1,000 Onwards
Call Them | +91 9310 326 189 
Book Your Visit Here | https://www.maplepods.com/
Check Out Their FB Page | https://www.facebook.com/maplepods/
6. Museum Of Illusions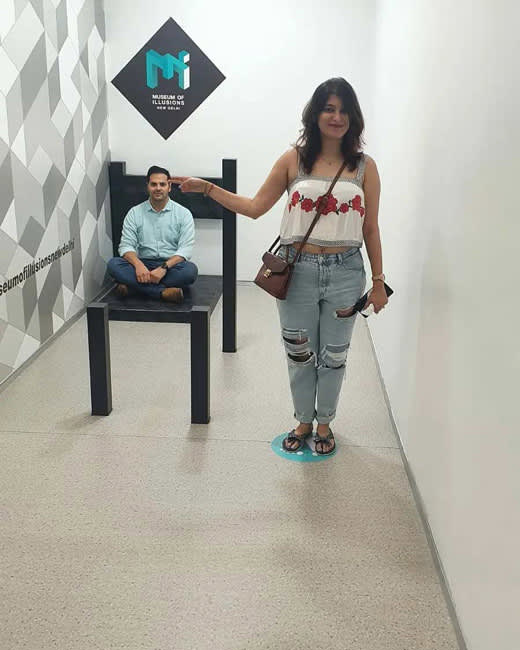 Picture Credits: aastha_ace
If you and your SO are up for some quirky fun, like visiting an anti-gravity room or a trippy vortex tunnel and getting a mind-boggling photoshoot too, Museum Of Illusions is something that you gotta check out ASAP! The museum is mind-bending and has 50 crazy exhibits that will trick your minds into creating some of the greatest illusions, all of which you can click and get clicked in! Whatta fun date, right?
Where | Museum Of Illusions - A 30-33, 1st Floor, A Block, Inner Circle, Connaught Place
Price | Rs 590 (Online Booking Offer)
Call Them | +91 11 4081 3301
Book Your Visit Here | https://museumofillusions.in/
Check Out Their FB Page | https://www.facebook.com/museumofillusions.newdelhi
7. Indulge In A Fun Photo Shoot At The Insta-Worthy Champa Gali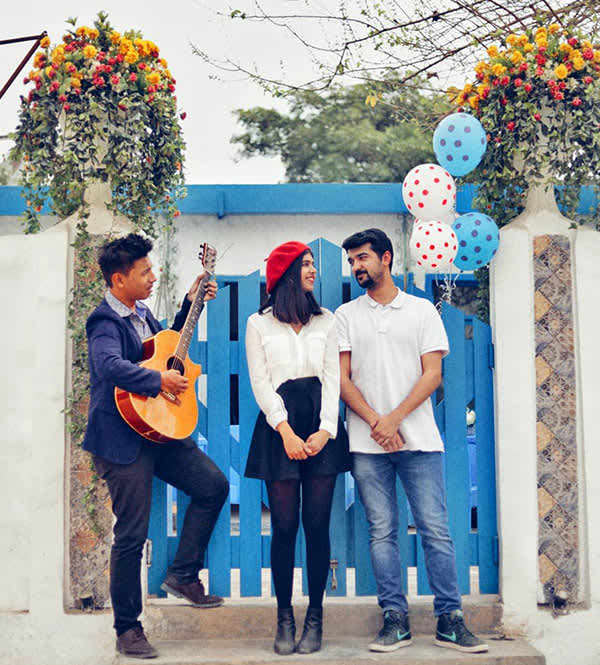 Picture Credits: sejalkumar1195
If there's one place in town that should totally find a place on your social media feeds, it has to be Champa Gali, hands down! This major fan favourite location is not only a hotspot for foodies but also a haven for shutterbugs. With quirky wall graffiti, dazzling fairy lights and stunning cafes - each more beautiful than the next, this is a great place to go for those mushy couple photoshoots to add to your diary of memories whilst acing your Insta game! 
Where | Champa Gali - Khasra 258, Lane Number 3, Westend Marg, Behind Kuldeep House, Saidulajab, Saket
8. Enjoy A Stroll Through The Garden Of Five Senses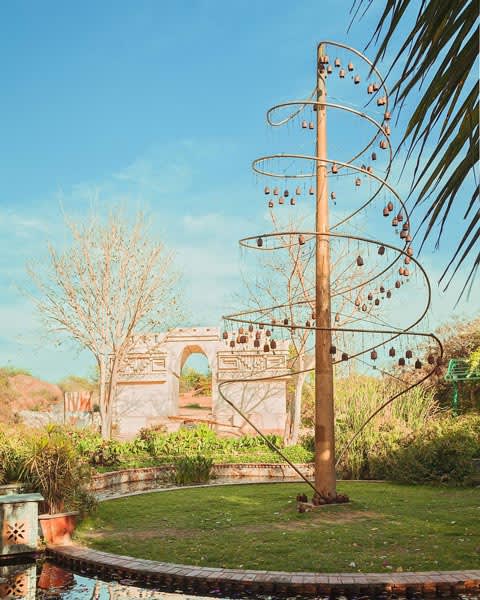 Picture Credits: kunal88del
The Garden Of Five Senses is one location that needs absolutely no introduction to you guys. The area has lush flora, street-food vendors and tranquil surrounding, that makes you feel like you're miles away from the maddening city crowds. The entry is pretty affordable at Rs 35, which is not bad at all! Doesn't it sound like a great way to connect with your love without having to worry about burning holes in your pocket?
Where | Garden Of Five Senses - Westend Marg, Saidulajab, Saiyad ul Ajaib, Saket
Entry | Rs 35
Call Them | +91 11 2953 6401
Timings | 9 AM - 7 PM
9. Go On A Delhi Darshan Spree On The Ho-Ho Bus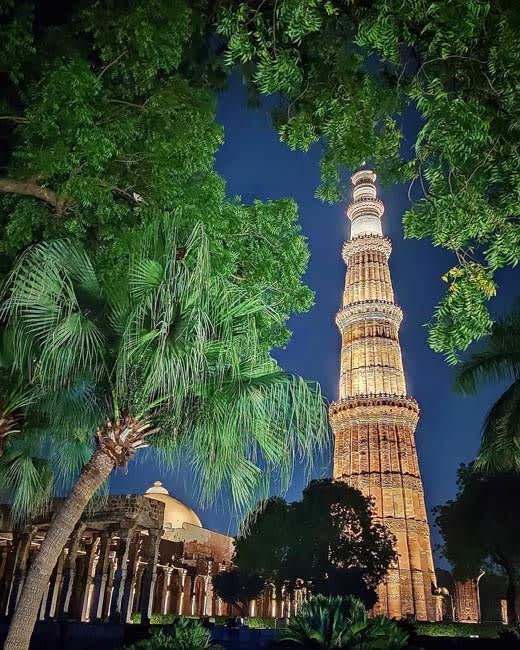 Picture Credits: yogesh.manhas
We've all seen those cute Ho-Ho (Hop On - Hop Off) buses, haven't we? But have you ever seen it from the perspective of a fantastic date idea? This is defo an interesting way to explore your city in a new light with your bae right next to you. Travel the city while you sit inside the comfy buses and marvel at the glorious heritage sites left behind by the great dynasties. And the fact that you get to spend the whole day together? Complete win-win!
Price Per Day Tour | Rs 499 
Timings | 7:30 AM - 7 PM
Book Your Spots Online Here | http://hohodelhi.com/
10. House Concert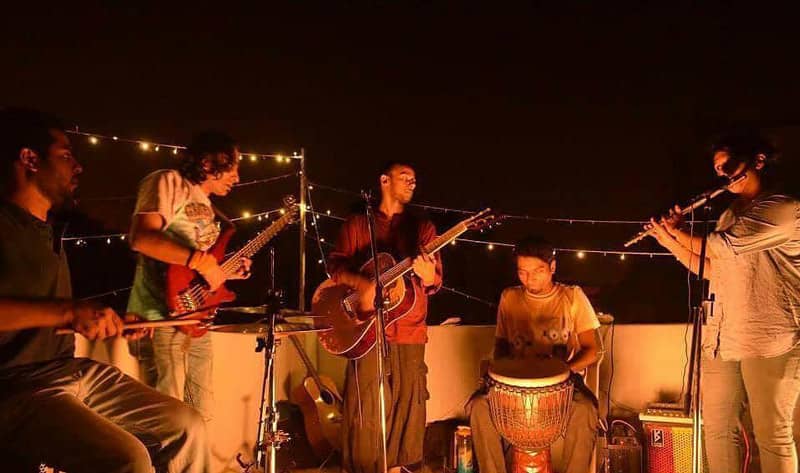 Picture Credits: theindianmusicdiaries
Now, if you can't go to a concert, why not bring the concert to your home?! We all agree that concerts rank as one of the best dates of all time- now imagine, if you could host a concert in the intimacy of your home! Yeah? Well, House Concert brings together a community of fans who experience together Indian artists at the intimacy of their homes! So, if you and bae have a shared love for music, you can open up your homes to host one such concert together!
To Host, Email Them Here | [email protected]
Check Out Their FB Page | https://www.facebook.com/HouseConcertFoundation
Skim Through Their Insta Feed | https://www.instagram.com/houseconcertin/
11. Catch The Water & Light Show At Akshardham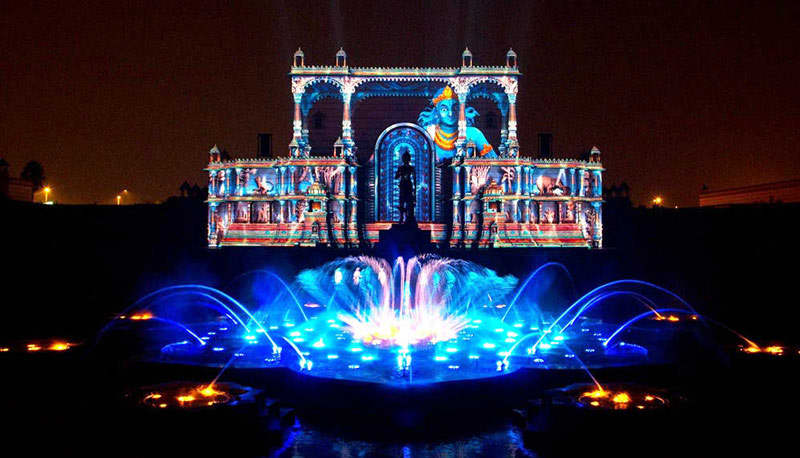 The Akshardham Temple complex has these spectacular water & light shows which are sure to light up your evening dates! This 24-min show uses audio, visuals and light effects to beautifully narrate stories from the Kena Upanishad. To top it off, they also have these multi-coloured lasers, video projectors, underwater flames, water jets and some mesmerising music that will ensure you guys have a fabulous date!
Where | Akshardham Temple - Noida Mor, Pandav Nagar
Entry | Rs 80 Onwards
Call Them | +91 11 4344 2344
Timings | 7 PM Onwards (Closed On Mondays)
Here's Their Website | https://akshardham.com/
Check Out Their FB Page | https://www.facebook.com/Akshardhammandir/ 
Now, with our master list of off-beat and unique ideas, all you have to do is gear up and ask your beloved out!