Delhi
8 Yummies Like Teriyaki Chicken Wings & Three Cheese Tart Y'All Must Wolf Down @ Eggspectation
Doing full justice to its name, this unique 24 hour open resto-café offers eclectic international fare, including a vast selection of egg specials. With windows overlooking the golfing greens and an interactive kitchen, the place is vibrant and flamboyant, both in terms of the décor and the food served here.
This baby project of Mr Enzo Renda began when he decided to bring the concept of devouring eggs the whole day in some form or the other to India. Since then, he has not looked back and nor has his venture. Styled with polished wooden floors, rugs, artifacts and natural fabric furnishings in soothing colours, this space instills a sense of calmness and serenity. With more than 30 varieties of egg-ilicious dishes prepared and served with finesse, this place has now taken up a mission to bridge the gap between the Yankee flavours and Indian palate by introducing their New York New York! Food festival, boasting of sandwiches, enchiladas, salads, appetizers and more, hence ensuring an experience of local cuisine in its most original form. Still in adulation of the place, we ended up gorging upon the following!
1. Three Cheese Wafer Tart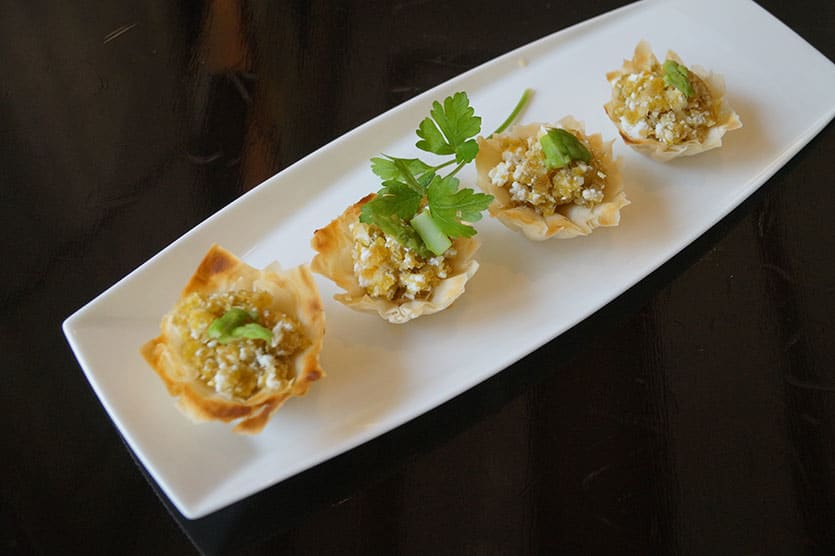 With a tart made up of paper thin crispy wafer, the toppings of this snack included three types of cheese crumbled and blended together in basic spices and finally served with a coriander leaf on top. The cheese melted in our mouths, leaving a hint of creaminess and the essence of salt lingering on. Light on the belly and full of intriguing flavours, this dish acted as the perfect starter to our dining experience!
2. Teriyaki Chicken Wings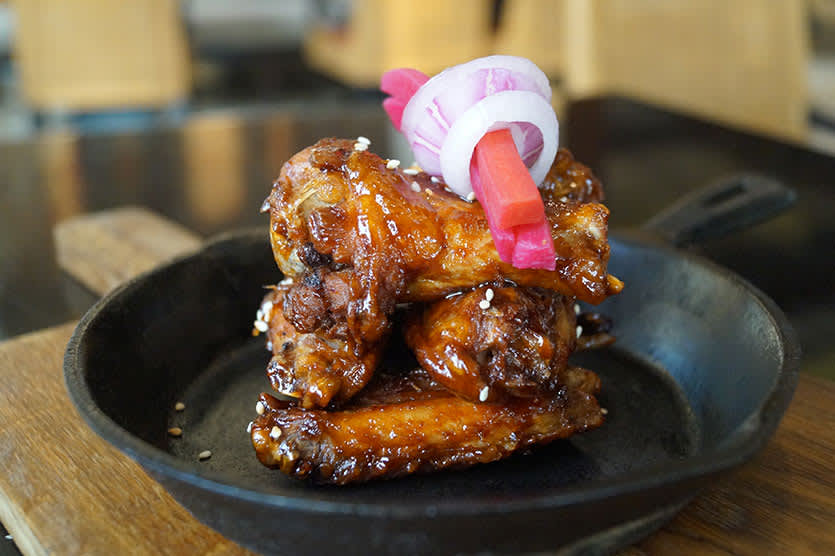 We got ecstatic just by the look of this one! We mean, it comprised succulent chicken wings, deep fried before being sautéed well in their patent homemade teriyaki sauce, served like a jenga puzzle and finally garnished with pickled onions and sesame seeds, how could we've not gotten excited? The chicken had developed a slight crisp, yet was mushy on the inside with the soul of the sauce being utterly imbibed into the meat. Despite being deep fried, we could hardly feel the oil and though the dish seemed spicy, it had an acquired taste with apt level of spiciness ensuring the essence of the ingredients used was not lost.
3. Mushroom And Cheese Croquettes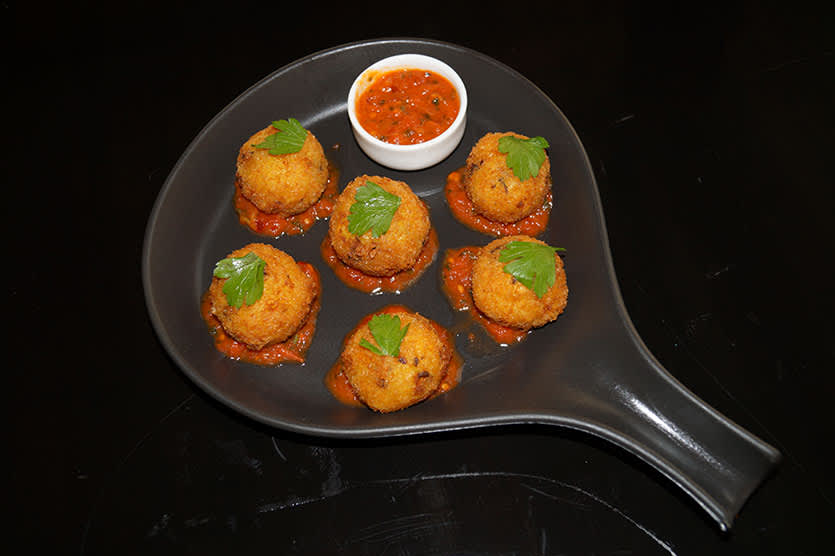 These pieces, seemingly literally trickled down from heaven, were arancini balls with a filling of minced mushroom and mozzarella cheese, served on a bed of spicy tomato sauce and garnished with a coriander leaf over every ball. They had astounding crusts with squishy stuffing and very subtle flavours that were complemented by the spicy tomato sauce. Yum yum!
4. Fish Tacos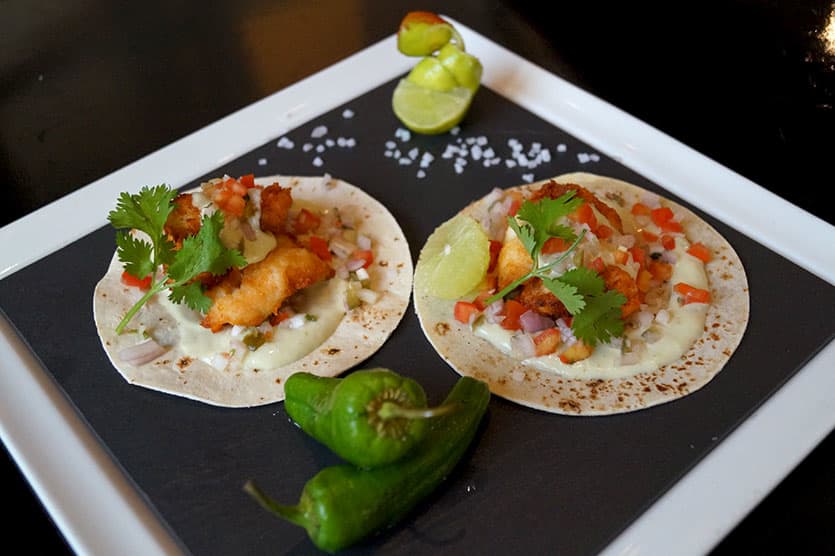 This one was the highlight of the evening where we were served an open taco with fried fish tikka on a bed of spicy jalapeno sauce along with diced onions & tomatoes and the garnishing  of coriander and pickled jalapenos. The bread had to be rolled with all the toppings and we could taste the real flavour of the taco everytime we took a wholesome bite. We gorged on this one post haste and were left wanting for more!
5. Veg Lasagne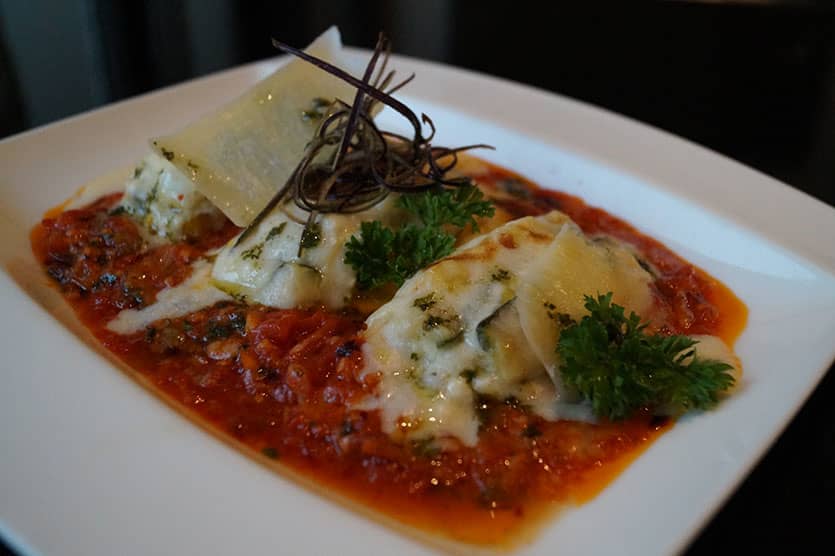 Preparing a good veg lasagne is a tough task and the chef here presented us one which was the epitome of perfection where on a bed of spicy tomato sauce we had veggies nicely tucked between lasagne sheets and topped with oodles of mozzarella and cheddar cheese and garnished with coriander and pesto sauce. The dish had a delectable taste where cheese and tomato puree acted as a catalyst in enhancing the overall flavour. It possessed an amazing texture and the aroma tempted and teased our taste buds to polish off this one in a jiffy!
6. Spicy Fried Chicken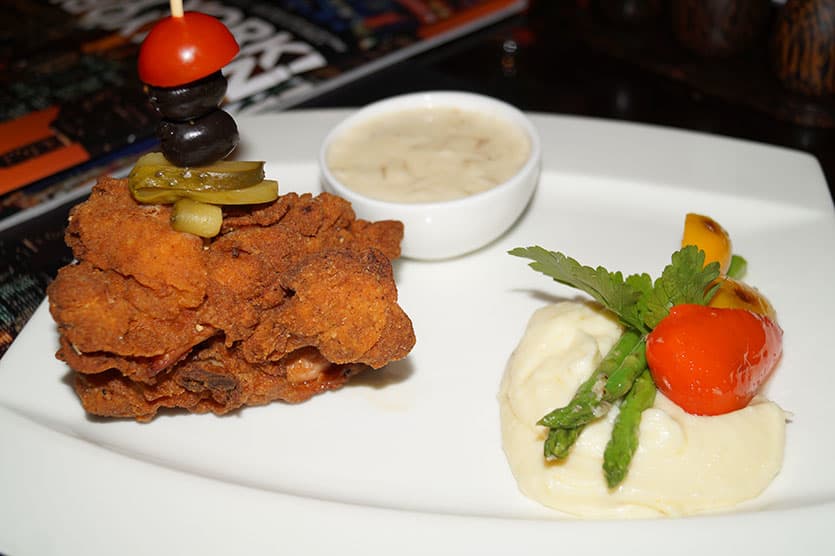 Despite being almost full, our hunger was aroused when we saw this item coming our way. We were served with tender chicken chunks coated with a super spicy paste and deep fried beautifully, marking a sizzling golden texture on the chicken and served with a portion of sautéed veggies on a bed of mashed potatoes and a warm dip. The chicken was tender & juicy and dipped in their warm dip tasted even better, making it a must have when here!
7. Blueberry Cheese Cake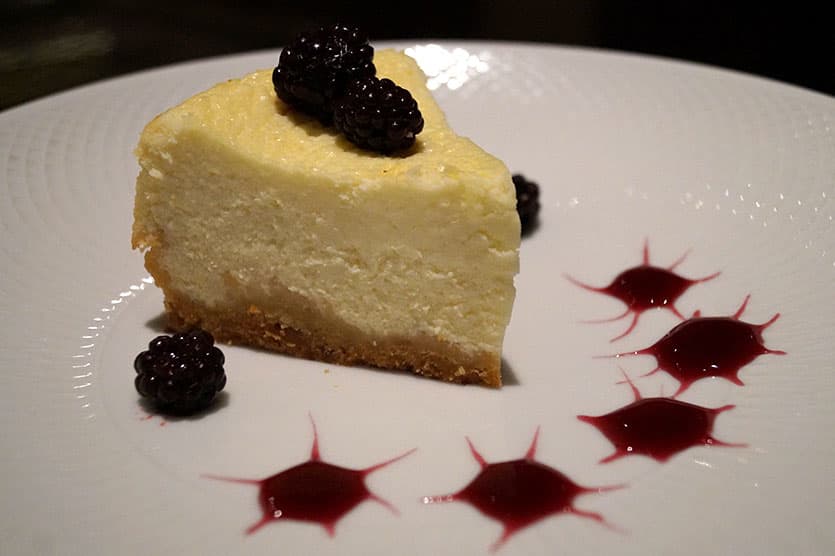 Despite being satiated to the core, we made space for this one where we were presented with this scrummy dessert comprising three layers, the base made of Graham crackers, the middle layer, being the thickest, was a mixture of soft, fresh and salted cream cheese and the top layer being an oxidized version of the crème topped with actual blueberries. The true essence of this dish was felt only when a scoop of all the three layers was taken at once. The salted clotted cream with the sweetness of blueberry and the crunch of the biscuit left us drooling!
8. Apple Pie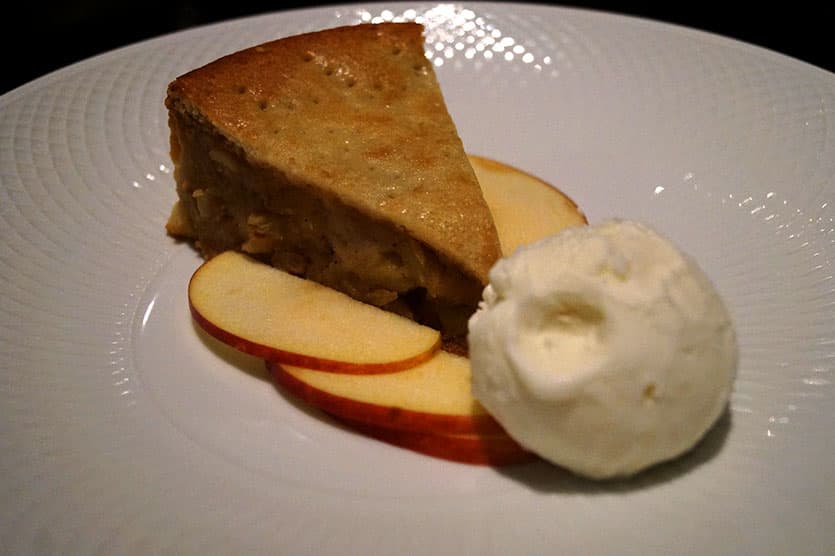 The next dessert that came our way was this fluffy and airy Apple Pie concocted with perfection that had the stuffing of finely minced apple, a generous pinch of ground nutmeg and a dash of fresh cinnamon. Served with diced apples and a dollop of vanilla ice cream, we now knew why it was such a hot seller. With apt sweetness and all ingredients in their right proportion, we loved this treat to the core!
Content all the way, we took a tour of this enormous and beauteous property where one can expect to have scrumptious food in their bellies, a lovely dining experience and memories of a lifetime to take home!
Where | Eggspectation - Jaypee Greens Golf & Spa Resort, G Block, Jaypee Greens, Greater Noida
Call Them | +91 1206 743 000 & +91 1202 324 720
Timings | 24*7
Meal For Two | Rs 3,000
RSVP On FB Here | https://www.facebook.com/events/1747665161998596
Check Out Their FB Page | https://www.facebook.com/EggspectationOfficial