Delhi
8 Things You Should DEFINITELY Do To Make The Most Of Your Diwali In Delhi!
Disclaimer: Bearing in mind the current health crisis befalling the city and the world at large, we're tweaking our content policy and recommendations. Stay positive, keep hygiene levels up and don't fall prey to panic and misinformation.
You know Diwali is around the corner when your local markets are all decked up with lights, you see sales, offers and discounts EVERYWHERE, your mom cleans up every possible corner of your home, there are tons of mithai and chocolates stocked up in your refrigerator and you can feel the overall festive vibe in the air (happy sighs)! And if this wasn't enough to get you in the Diwali mode, then scroll on because we've mapped out everything you need to do to make the most of the festival of lights in dilwalon ki Dilli! 
1. Visit The Legendary Blind School Mela
There is no way you have lived in Delhi and not heard of the legendary Blind School Mela that's hosted by The Blind Relief Association Delhi every year! You can get everything from handmade candles, diyas, paper items, cloth pouches and bags that are made by the visually impaired. There will also be pretty designer wear, cool home decor items, handicrafts and even a food court here. So don't forget to head over and have lots of fun! 
When | Friday - Thursday, 18th - 24th October
Timings | 10 AM - 8 PM
Where | Blind School Grounds - Near Oberoi Hotel, Lal Bahadur Shastri Marg, Lodhi Road
Here's What Went Down There Last Year | 5 Things That We Absolutely Loved About Last Year's Blind School Diwali Mela!
Also Check Out These Cool Melas In The City | 7 Popular Diwali Melas To Attend In 2018 For Boatloads Of Food, Diyas & Fun!
2. Get Delicious Mithai & Dry Fruits From Chandni Chowk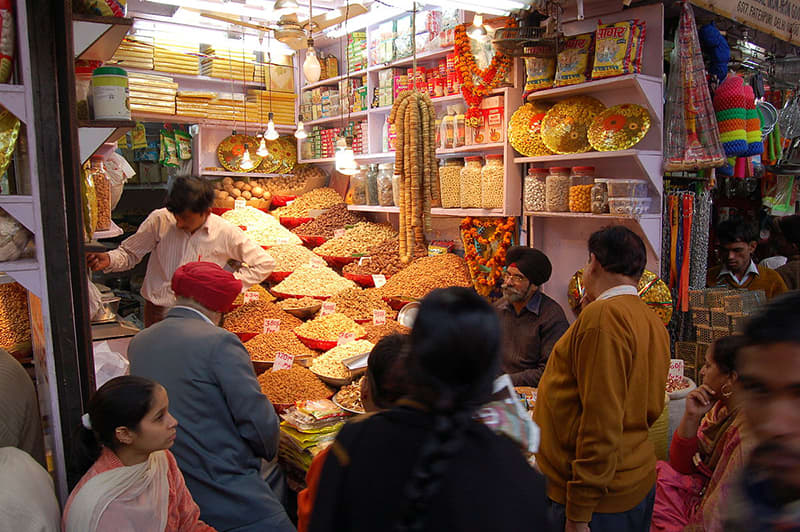 Sondesh from Annapurna Bhandar, Karachi Halwa from Chaina Ram Sindhi Confectioners, Ghiya Ki Barfi from Shyam Sweets - if these names are enough to get you drooling, then you surely are a Dilliwala! And since no Diwali is EVER complete without hogging on some delicious mithai and munching on dry fruits, we're sure you must be planning to head to Chandni Chowk soon. Because, hello, where else will you get dry fruits at wholesale prices (read - Khari Baoli) and sweetmeats from decades-old eateries?! So scamper over and indulge in all the delicacies!  
3. Shop For Pretty Diyas @ Sarojini Nagar Market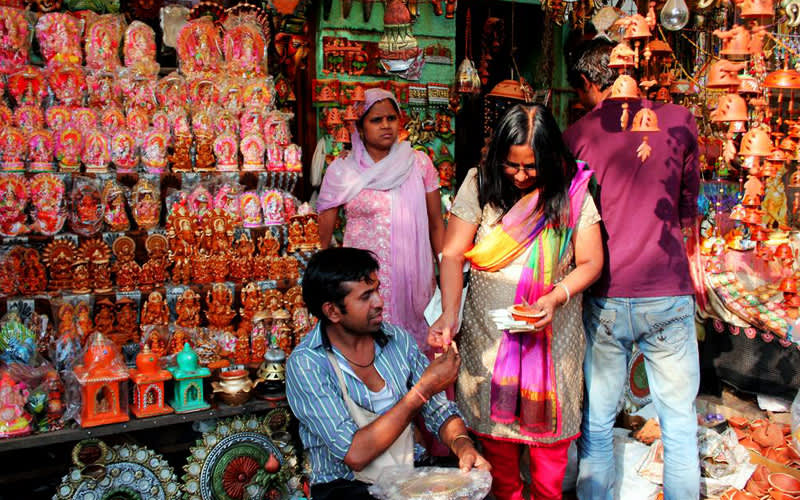 Picture Credits: showkatshafi
This has got to be one of the most amazing traditions associated with Diwali - lighting up the whole place with li'l diyas! And if you want to grab the prettiest, most colourful and traditional diyas and candles, then head straight to Sarojini Nagar Market right away. The huge variety here will leave you awestruck and definitely spoilt with choice. So go stock up on diyas ASAP, peeps!
4. Get New Ethnic Clothes From Lajpat Nagar/Dilli Haat To Rock That Ethnic Look At Diwali Parties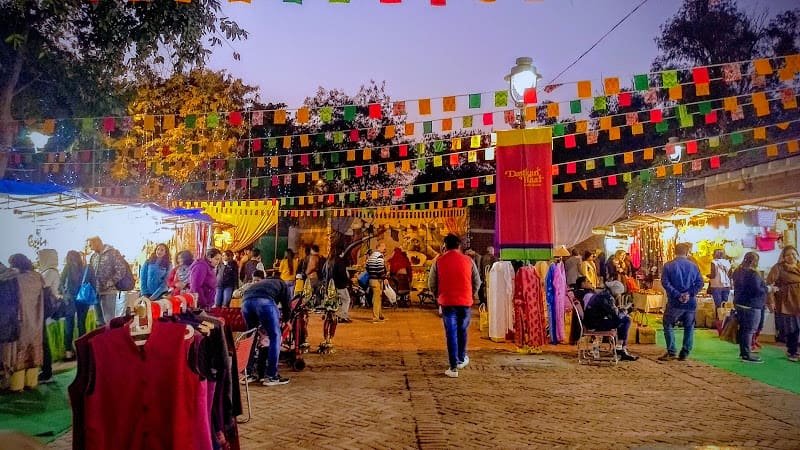 Jeans, dresses and skirts are all cool and comfortable BUT nothing beats the charm of good ol' suits and kurta pyjamas at Diwali parties, are we right or are we right? And if you have nothing to wear at the hundreds of get-togethers, cards parties and dinners that you're invited to, then it's time to go shopping at Dilli Haat, Lajpat Nagar, Sarojini Nagar or Janpath because every party needs a new outfit, people! So get, set, SHOP! 
5. Get Cool Diwali Hampers From Evergreen Sweet House, Green Park Market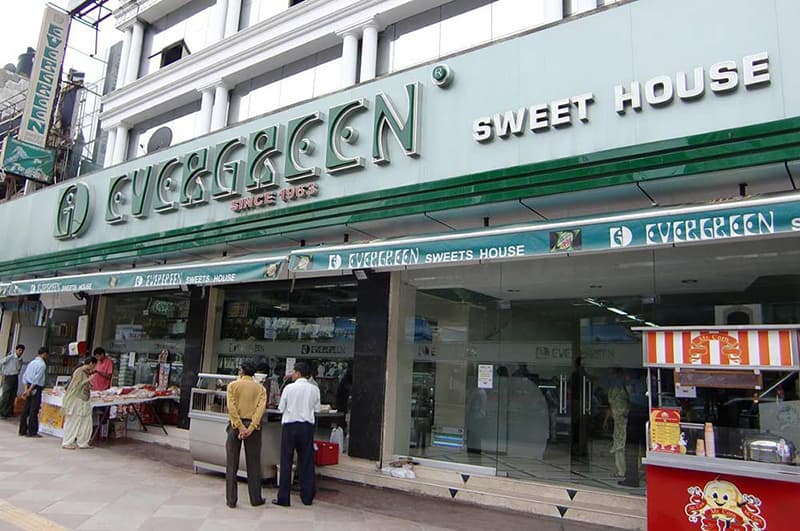 Now, Diwali is incomplete without getting some amazing gifts from our relatives, right? So, if you believe that everyone deserves yummy gifts on Diwali, then we'd say you need to head straight to Evergreen in Green Park! These guys make some really cool Diwali special hampers with their delicious sweets and dry fruits and you can even customise them according to your whims and fancies. So gift something good to your loved ones from this age-old sweet shop! 
Where | Evergreen Sweet House - Green Park & Punjabi Park 
Call Them | +91 11 4978 9325
Timings | 10 AM - 11 PM
6. Head To Bangla Sahib & Enjoy The Special Langar There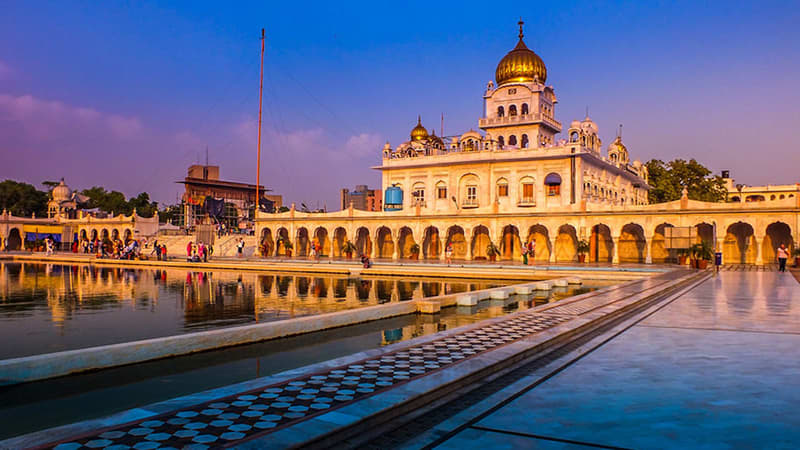 Langar at Bangla Sahib is always special but there's something even more awesome about the langar here on Diwali! The festival of lights coincides with Bandi Chhor Diwas, the day Guru Hargobind was freed from Mughal prison and reached Amritsar. The Sikh community in the city celebrates this joyous occasion by lighting up the entire gurudwara and serving delicious langar to all devotees! 
7. Shop At The Decked Up Malls In The City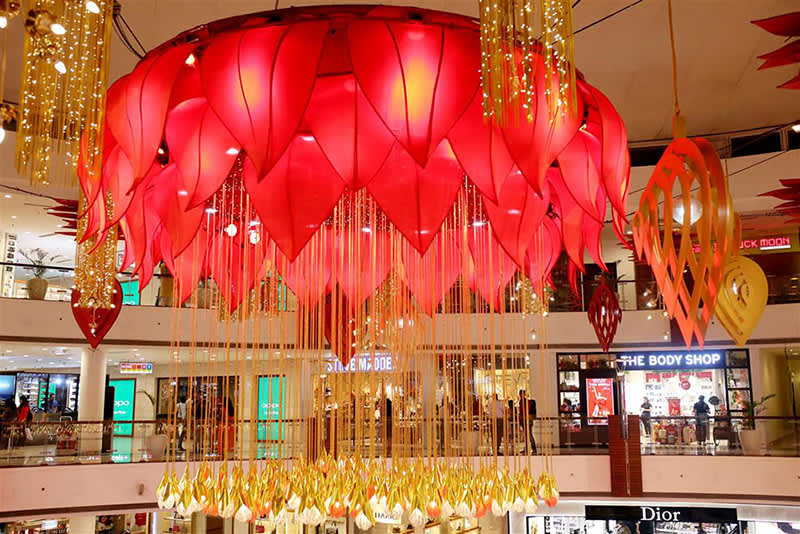 The Image Is From Select Citywalk
Shopping and Diwali are synonymous to each other and since this festival time comes with the most kickass deals and offers from the best brands, you just can't say no to all the ensuing shopping sprees. And adding to all them Diwali feels are the beautiful decorations that you see around the malls during this time. Be it Select CITYWALK, DLF Emporio, DLF Mall Of India, The Chanakya or even Ambience, you'll find big lights, colourful hangings and pretty props everywhere you look!
Check Out The Best Malls In The City | 9 Best Shopping Malls In Delhi Like Emporio & SELECT CITYWALK That Are The City's Shopping Havens
8. Get Pretty Lights To Decorate Your Homes From Bhagirath Palace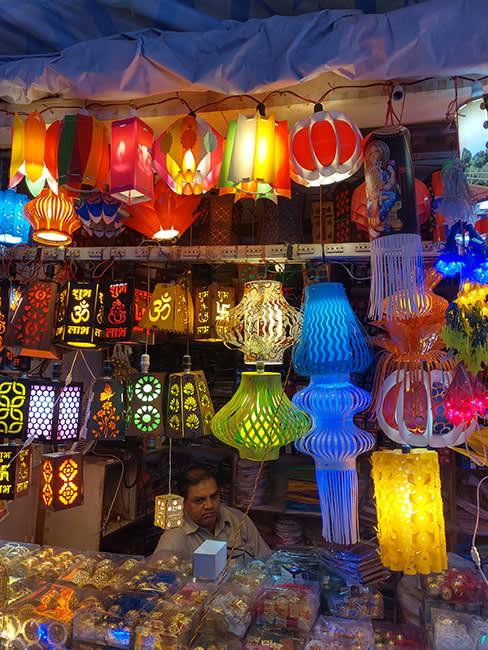 You really didn't think we'll forget the most important part of Diwali now, did you? Hanging gorgeous lights all around your home IS one the most important things during Diwali and if you want to get the best and the most unique ones, then you need to head to Asia's largest electrical market in Chandni Chowk at Bhagirath Palace right away! You can shop for anything from fairy lights to bright decorative ones to even handcrafted Turkish lights (heart eyes). So get ready to pretty up your homes with the lovely lights from here RN! 
Check Out These Amazing Shops While You're There | 6 Places Selling Shimmering Chandeliers, Stunning Turkish Lights & More In Bhagirath Palace
So what are you checking off this list today?