Delhi
8 Relatable Thoughts Every Delhiite Has Had While Travelling On The Metro Post Lockdown
Hello, fellow Delhizens! Y'all know that it's been some time since the metro trains were back on the tracks. And some of us have already started using the metro to commute. But travelling via what's otherwise known as the lifeline of the city has never felt stranger! And so, we went ahead and made a list of some relatable thoughts that may have crossed your minds when stepping into the metro station after the lockdown. Read on!
1. "Will The Coaches Still Be Crowded?!"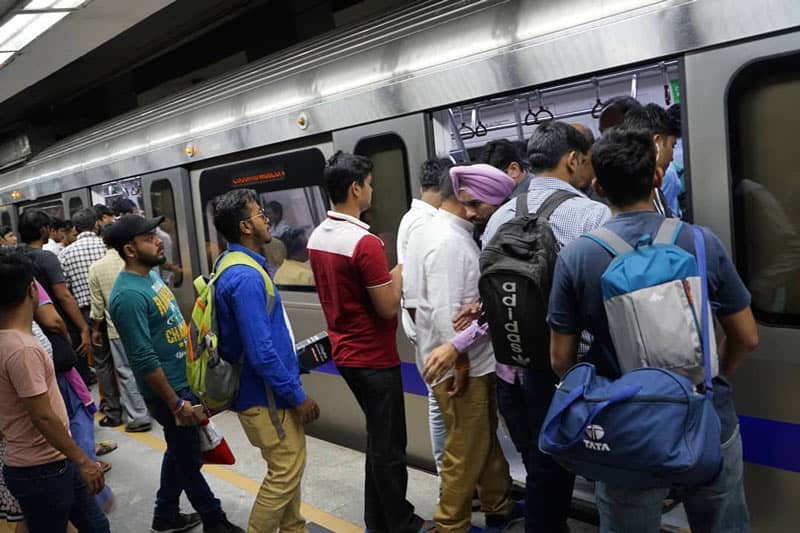 Picture Credits: officialdmrc
This might just be the first thought for all those of us who started travelling on the metro after a long spell, and rightly so! After all, those of you who have travelled via this lifeline know well that the coaches get hella crowded during peak hours with barely any space to stand. But even though that's just how the metro rolls in the city, to enter a crowded coach seems equivalent to walking into a train wreck in the current scenario *sigh*!
2. "Guess Being Aloof Is The New Cool!"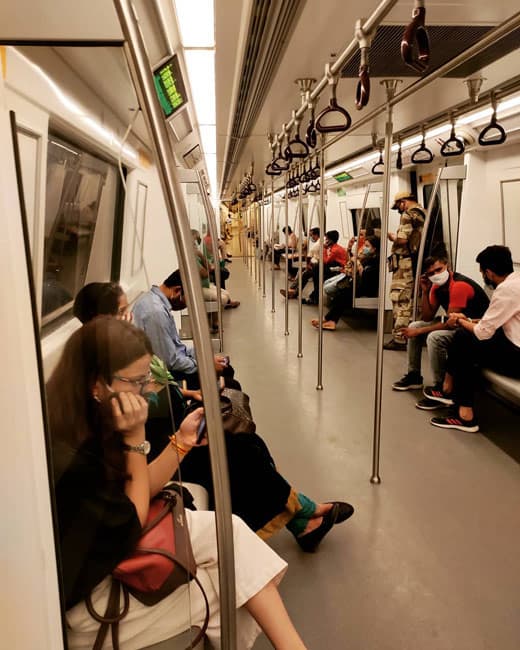 Picture Credits: mansi.digital
Let's admit it, we have all (well, most of us) been guilty of squeezing ourselves into that tiny little space on the metro seat when it's crowded AF, asking the person already sitting there to adjust a little. But, what with the new norms and trying to abide by social distancing, we guess leaving a safe *EMPTY* seat might just be the new way to deal. Yep, we'd rather stand at a distance!
3. "Mask? Check. Sanitiser? Check. Metro Card? Double Check!!"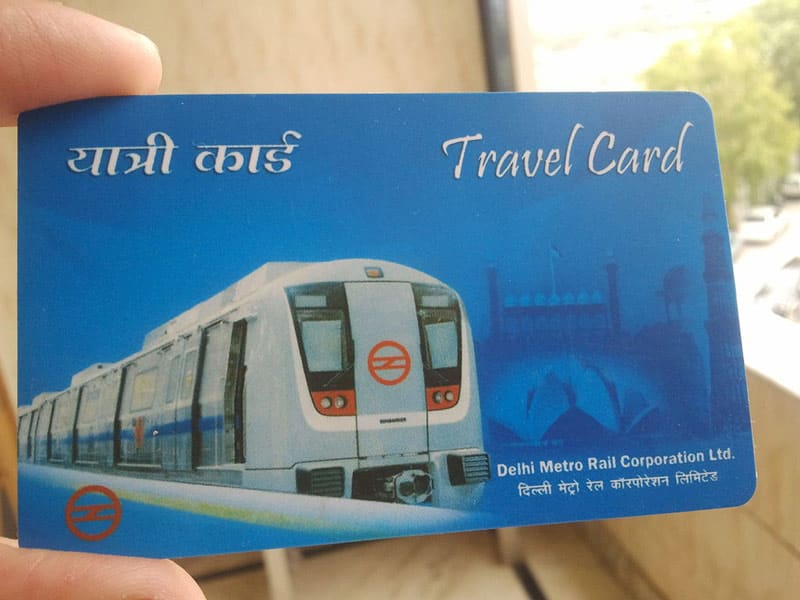 This Is A Representative Image
So, y'all must be aware that for now, you can travel only by using metro cards to avoid social interactions, right? Apart from wearing a mask and keeping ample sanitizer bottles in our backpack, we all make sure to check for the metro card 'cause travelling using a token is not an option as of right now. Make sure to carry your metro cards, people!
4. "It's Never Been So Nerve-Racking Walking Towards The Metro Station"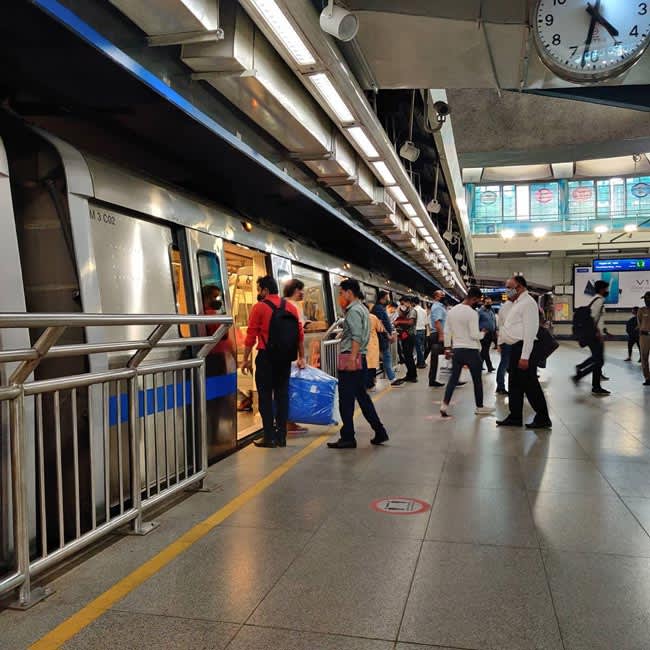 Picture Credits: vagabondajay
Remember how you'd probably plug in your fave playlist while you walked towards the metro station, lost in your own world? Yeah, well that seems like a thing from the distant past. No, we're not saying this applies to all of us, but for the anxious few, this walk towards the station feels absolutely nerve-racking as we keep running through different scenarios of crowded stations or having to stand close to other people in our minds. Talk about having to live a nightmare!
5. "Leaning On The Glass Frame? Naah, Guess We'll Avoid That Now."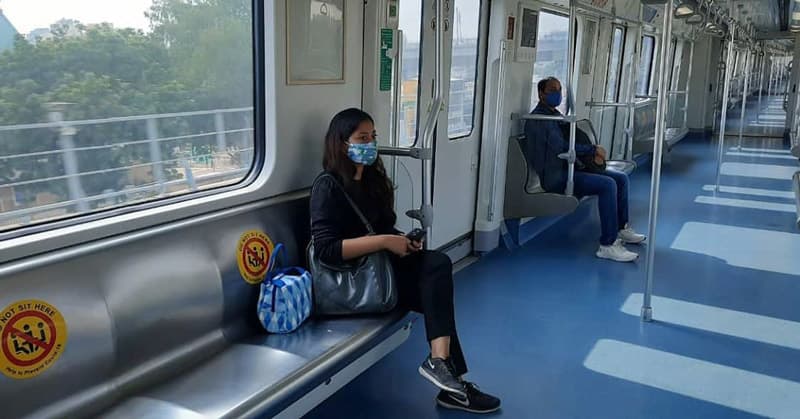 Picture Credits: officialdmrc
Okay, this is definitely something all of us have done, especially when it's a long AF journey and there's no place to sit. Don't judge us, it can get tiring to stand for 40 mins straight while trying not to fall on our face every time the train lurches forward. But now, maybe, we'll just have to rely on our balance (and luck) 'cause leaning against the glass frame that others have leant on, just isn't safe anymore.
6. "The Floor Is Lava, So We're Not Going To Sit On It FOSHO!"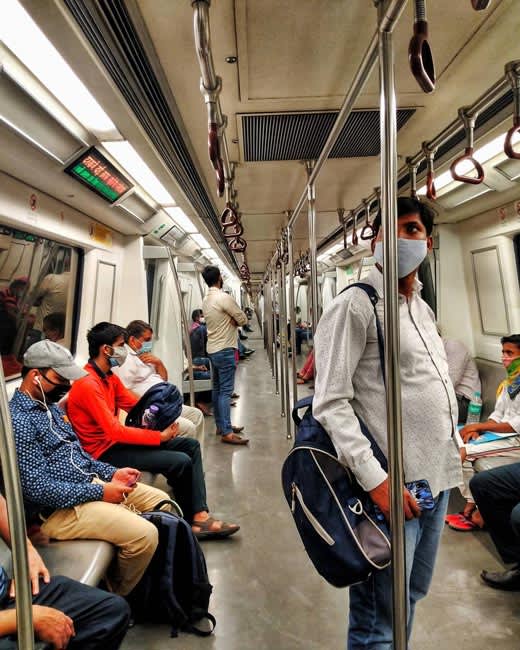 Before you go reminding us that it's not allowed anyway, we'll let you know that we're aware. But hey, it's not like it has stopped people from doing it before and even though it doesn't justify the violation, it's still a fact. Most of us have seen groups of people often sitting on the floor of the train, especially where two coaches join. But now, when we step onto the train, we can't help but hope that the current scenario will deter people from doing so, as it's not only tossing aside the whole idea of hygiene but it's also a nuisance for other people!  
7. "It Almost Feels Like Reuniting With A Long-Lost Lover."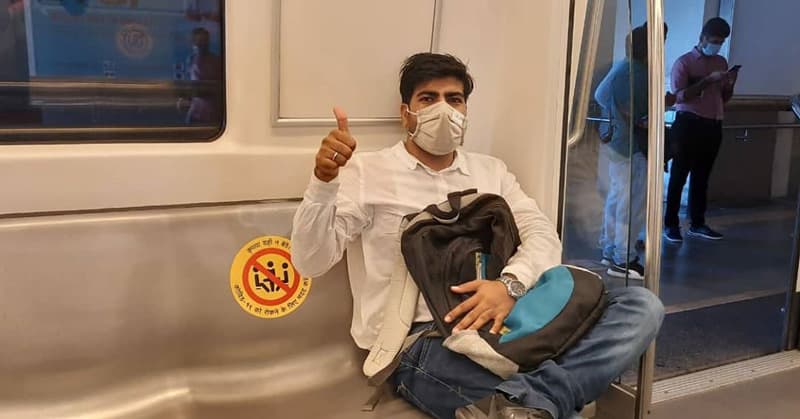 Picture Credits: officialdmrc
It's a rather weird thought, we get it! But folks, you just cannot deny that going back to using the metro for travelling purposes is almost like reuniting with a long-lost lover. The periodic pre-recorded station announcements feel like a lullaby and the cool air from the AC vent feels like a warm embrace. This mode of travel has etched itself in our hearts and yes, we did miss it during those long lockdown months!  
8. "Travelling By This Lifeline Of Delhi Has Never Felt This Strange Before!"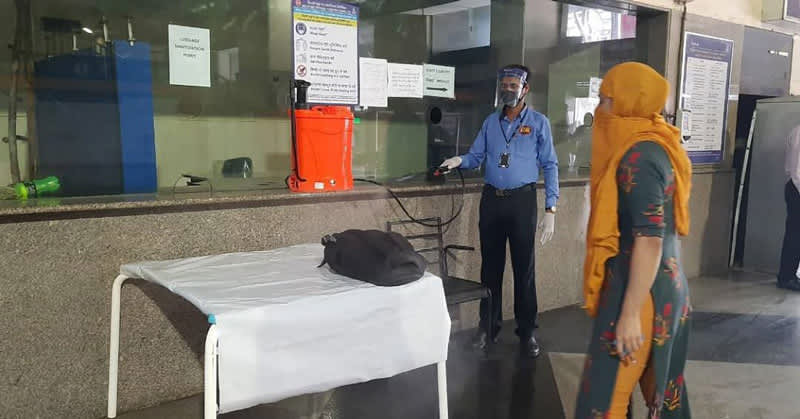 Picture Credits: officialdmrc
Though the metro is now up and running once again, we can't help but admit that it's not the same anymore. Travelling via metro now makes us feel kinda anxious for all the reasons that previously didn't even cross our minds. The entire experience has become strange on a whole new level. Think about it - how many of you would have stopped to think before sitting next to a person as long as you got a place to sit in a crowded coach? Not many, right? Well, that seems to have certainly changed since COVID-19 came into our lives.
So, these were some of the thoughts that may have crossed your minds when you decided to take that first ride post-lockdown. Let us know what else you guys were thinking before stepping into the metro station in the comments section below!