Delhi
14 RAD Diwali Gifting Ideas Under Rs 800 To Buy For Your Loved Ones Online!
Diwali, the festival of lights and joy is almost here, and we can't fret enough over the fact that we can't enjoy the festival to its fullest, no thanks to the pandemic. While you may not be able to mingle with your pals and fam, that won't stop you from sending your love and wishes to them by giving them Diwali gifts online, right? This year definitely has been a tough one, so light up the lives of your loved ones by gifting them these handpicked gifts that are light on your pockets too!
1. Peace Lily In Ceramic Pot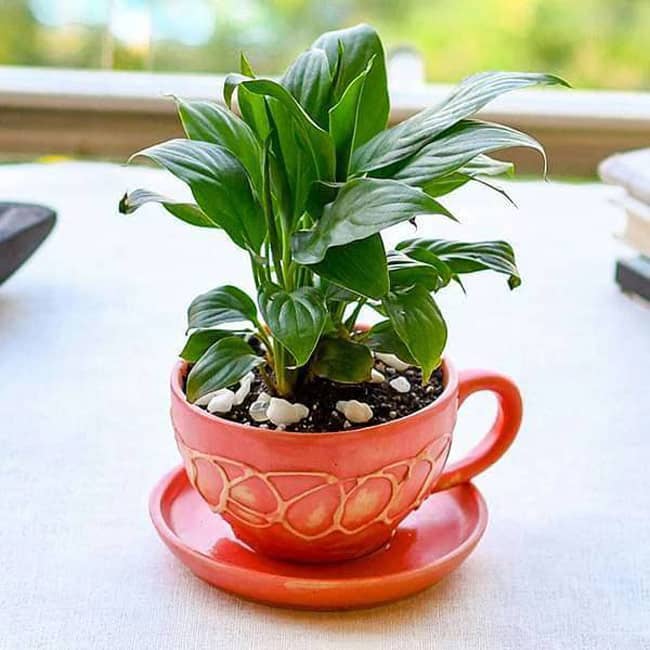 Plants make for beautiful gifts, adding aesthetics as well as a sense of serenity to your home. Peace Lily is one of the rare air purifying indoor plants that come along with flowers. While Diwali is the festival of lights, it brings along with it haze and smog. So, spread the message to your loved ones that you care about their well being by giving them a Peace Lily this festive season!
Price | Rs 749
Shop Online Here | https://bit.ly/3n3mXBx 
2. Organic Incense Stick Collection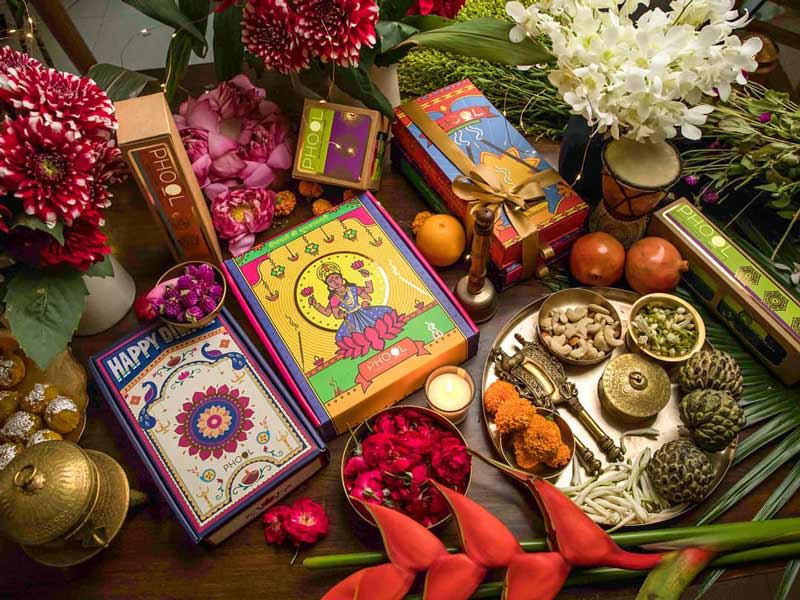 Hindu rituals usually mean the scent of incense sticks lurking in every breath you take. So, this Diwali, let your loved ones bask in naturally scented incense sticks by gifting them the Diwali collection of Phool, a beautiful initiative that is working on cleaning the river Ganges by recycling the sacred temple flowers. All their incense sticks and cones are made from flowers and hand-rolled by women. Coming along with a beautiful recycled gift box, the collection looks even better than it smells!
Price | Starting From Rs 340
Shop Online Here |  https://bit.ly/38hbklY
3. Mini Happiness Box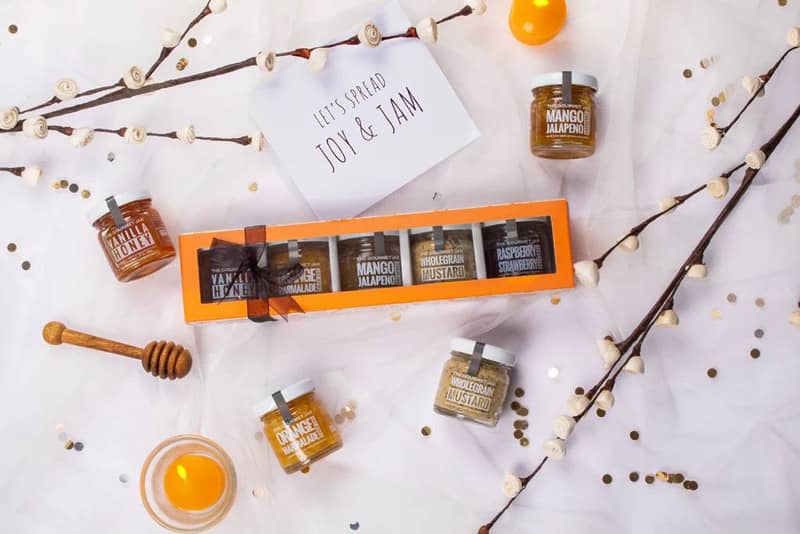 This cute combo from The Gourmet Jar proves that great gifts indeed come in small packets. Featuring the 5 best selling flavours of jam, these cute little jars are filled with loads of flavour and lots of love! The Gourmet Jam offers the best handmade jams with 100% pure & natural ingredients, and 0% preservatives & chemicals. Following a made-from-scratch, small-batch philosophy, each jar is ensured of the best flavours! 
Price | 400
Shop Online Here |  https://bit.ly/2I1iHDq
4. Harry Potter Music Box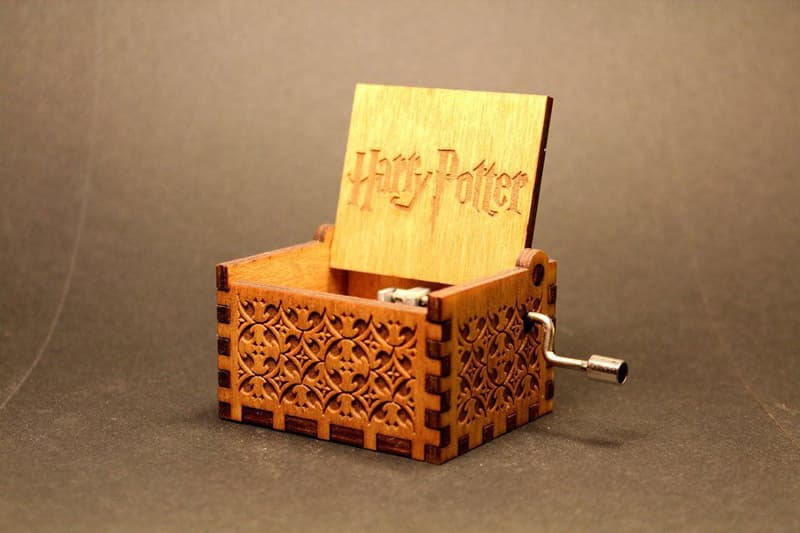 Attention, Potterheads! We all are gaga over the series, right? We have found just the thing that will pique your interest - a music box that plays the tune of the Harry Potter theme song. The soothing melody emanating from the tiny wooden box puts the mind at ease. So, gift your pals or fam this musical box and Alohomora their way into a melodious escape!
Price | Rs 599
Shop Online Here |  https://amzn.to/2I25QRy 
5. Gourmet Popcorn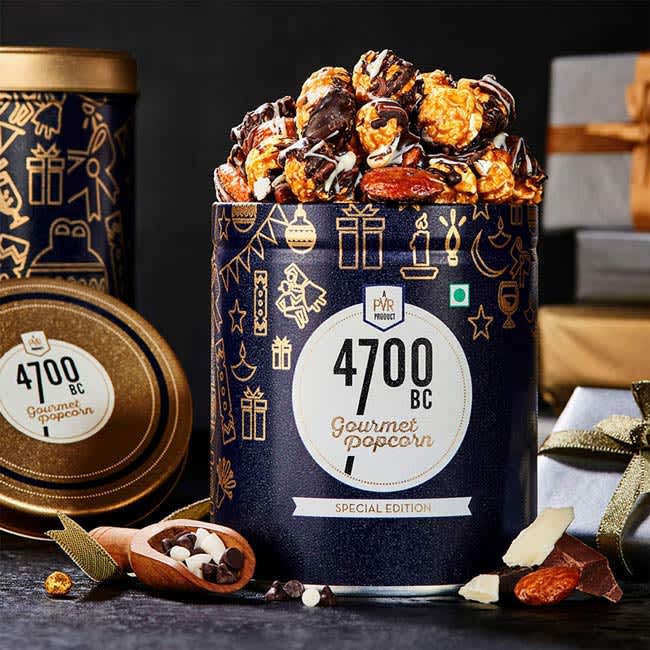 Gone are the days when butter popcorn was the only premium variety of the well loved snack we could munch at home. 4700BC brings to your home more than 20 exotic flavours of popcorn that you could never even think about. With the special festive combo, ensure that your loved ones munch on something different this Diwali while watching their favourite movie!
Price | Rs 509
Shop Online Here | https://www.amazon.in/4700BC-Gourmet-Popcorn-Combo-Flavours/dp/B074DYR8NF?ref_=ast_sto_dp  
6. Personalized Chocolate Box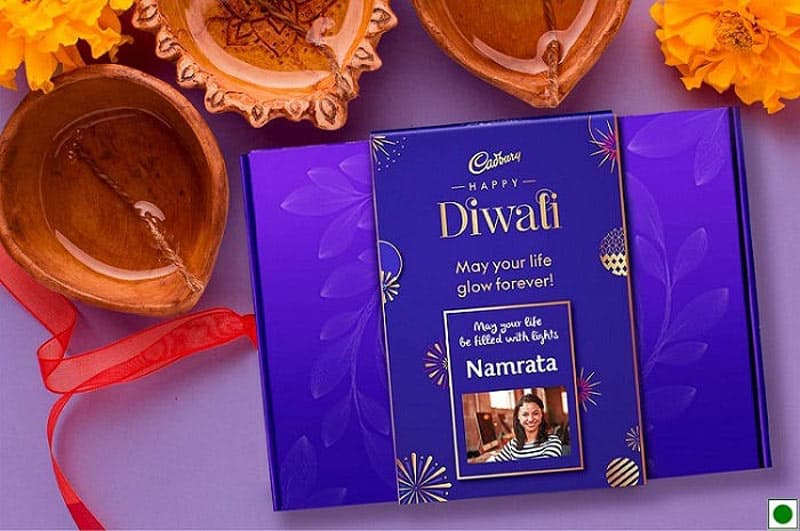 Gift your buddies their favourite Cadbury chocolates but with a personal twist. Cadbury comes out with amazing gifting options every festive season and this time they have outdone themselves by introducing the Diwali Special Flavours Box that comes with 6 exciting chocolate flavours, with a personalized note and a photograph of your buddy that you provide. Do check out their other premium gifting options too!
Price | Rs 650
Shop Online Here | https://www.cadburygifting.in/diwali-special-personalized-gift-pack.html 
7. Brownsalt Festive Gift Box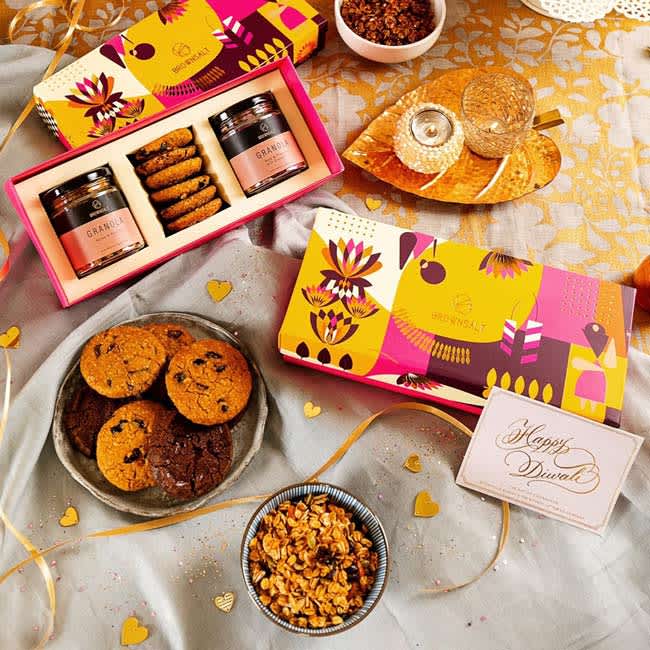 Gift your loved ones some baked goodness fresh from the ovens of Brownsalt Bakery through their special Festive Gift Box. Based in Mumbai,  Brownsalt is an artisan bakery that takes traditional healthy ingredients and gives them a modern taste edge. Their granolas and oatmeal cookies are to die for. The hamper comes with 2 cute granola jars and assorted cookies of your choice. They have several other Diwali special gift options too, so do check them out!
Price | Rs 750
Shop Online Here | https://brownsaltbakery.com/collections/gifting/products/festive-gift-box-medium-set-a 
8. Work From Home Snack Box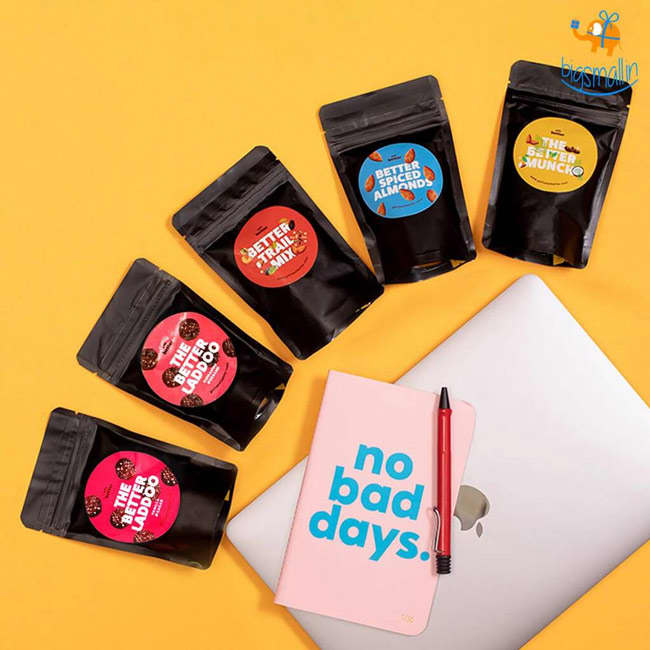 This year, almost all of our peers and relatives are working from home, and thus, binging is inevitable. But snacking doesn't always mean munching on the unhealthy, does it? So, make sure that your pals get healthy by giving them these 5 different gluten free snacks made using ingredients that are rich in nutrients, minerals, and antioxidants. Snack better, work better!
Price | Rs 625
Shop Online Here | https://www.bigsmall.in/products/work-from-home-snack-box 
9. Kulad & Kada
In these unprecedented times, make sure that your loved ones build a stronger immunity with this healthy hamper consisting immunity boosting Kadha, with a pair of ceramic Kulhad cups. Created with the right blend of ingredients - Cinnamon, Ajwain, Tulsi, Black Pepper and Cloves, just 1 tablespoon of kada in hot water will act as a shield of protection against diseases. Can you think of a better gift than this during a pandemic? Because we sure can't!
Price | Rs 495
Shop Online Here | https://bit.ly/36cHLjc 
10. Diwali Glitter Bomb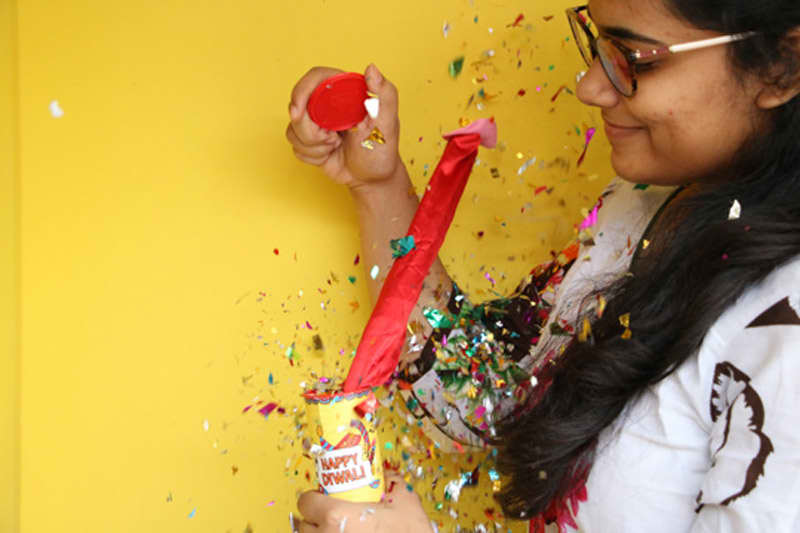 Here's a bomb that will make their Diwali a lot more sparkly and colorful. Now what's a celebration without some healthy pranks, huh? Hidden in a pretty box that greets them 'Happy Diwali', the glitter will spread all over them the moment they open it. So, why burst crackers when you have a blast with this colorful (and eco friendly) glitter bomb!
Price | Rs 390
Shop Online Here | https://www.oyehappy.com/all-surprises/diwali-glitter-bomb/ 
11. Mandarin Printed Coffee Mugs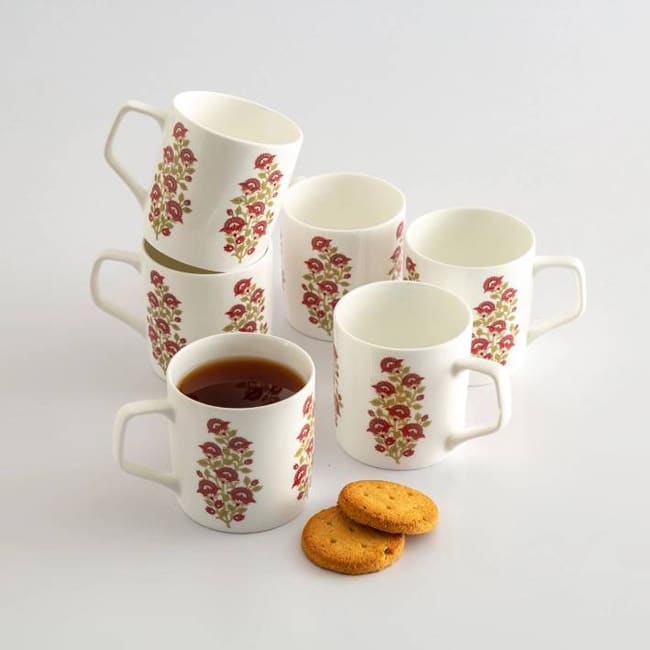 If they are caffeine junkies or tea lovers, we have got the perfect gift for you to give them - an elegant set of 6 Bone China coffee mugs. The simple yet aesthetic designs printed on the mugs are visually pleasing. This way, they will think of you everytime they have a cup of coffee!
Price | Rs 479
Shop Online Here | https://bit.ly/38kZXcK 
12. Personalized Fridge Magnets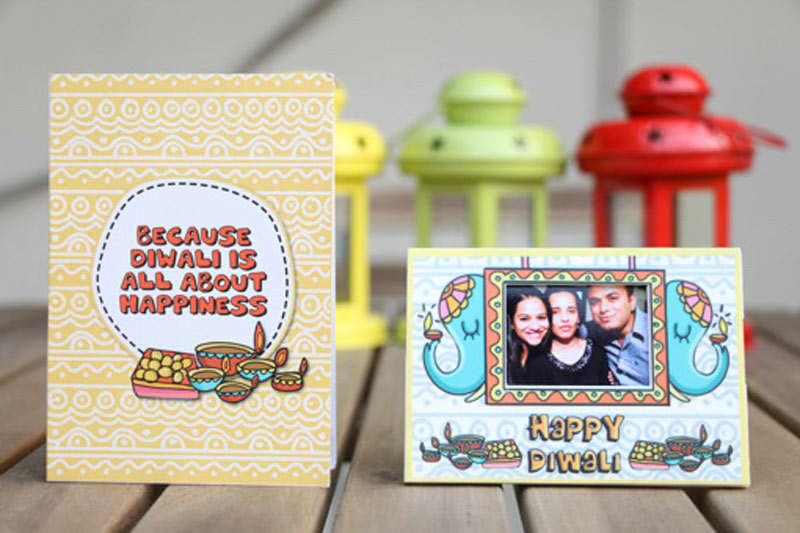 Turn your loved one's fridge into a carousel of memories this Diwali with a really unique magnet customised with your favourite photos. The best feature is that 4 pictures will be added so that they can change them whenever they want. So, browse through your gallery and select the best pictures!
Price | Rs 490
Shop Online Here | https://www.oyehappy.com/all-surprises/diwali-magnet/ 
13. Happy Mail Box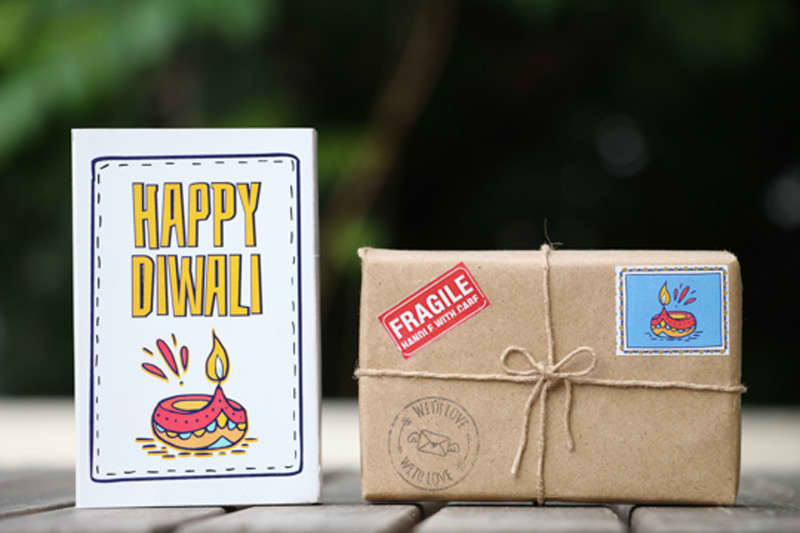 Surprise your loved ones with an adorable gift box with extremely creative handcrafted  goodies. The box includes a pouch of yummy milk chocolates along with 5 miniature postcards that come with cute little messages. A tiny diya ornament in a glass bottle also tags along with the box. 
Price | Rs 490 
Shop Online Here | https://www.oyehappy.com/all-surprises/mail-for-diwali/ 
14. A Pair Of Floating Diyas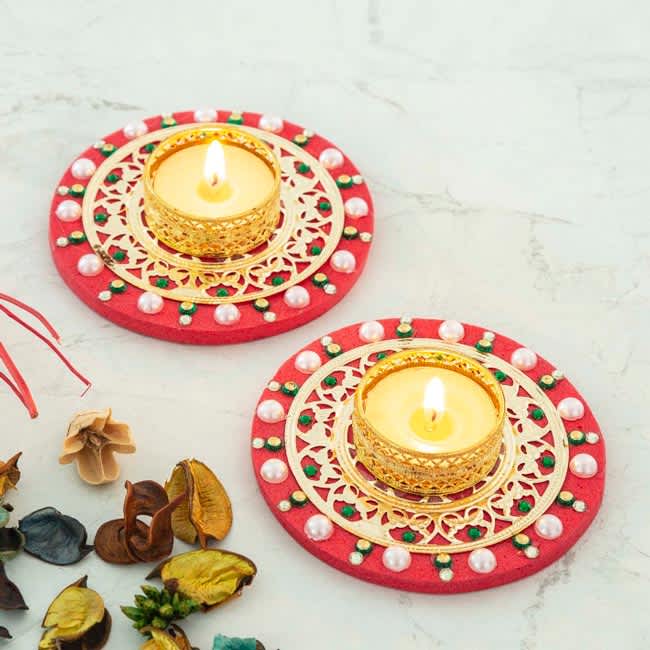 Home Centre brings to you a set of 2 aesthetically designed embellished diyas that look really cool when floating on water. The intricate detailing and a handcrafted design make them very attractive and elegant at the same time. Spread some light and joy in your loved one's home by giving them this beautiful pair of diyas.
Price | Rs 349
Shop Online Here | https://bit.ly/3l15l8F
.We hope you spread your love to your loved ones by giving them these beautiful  gifts!