Delhi
8 Places In West Delhi Where You & Your Squad Can Devour Delish Rolls For As Low As Rs 20
All those who hate maths in school end up loving it in college. Why, you ask? Because being a college kid forces you to make ends meet on a stringent budget thus constantly engaging you in a battle with those previously dreaded numbers. But we're here to make this war a little easier for we've scouted these amazing places in West Delhi that whip up mouthwatering rolls on the cheap. So let your calculators take a breather and relish on these juicy delights!
1. Rolls Point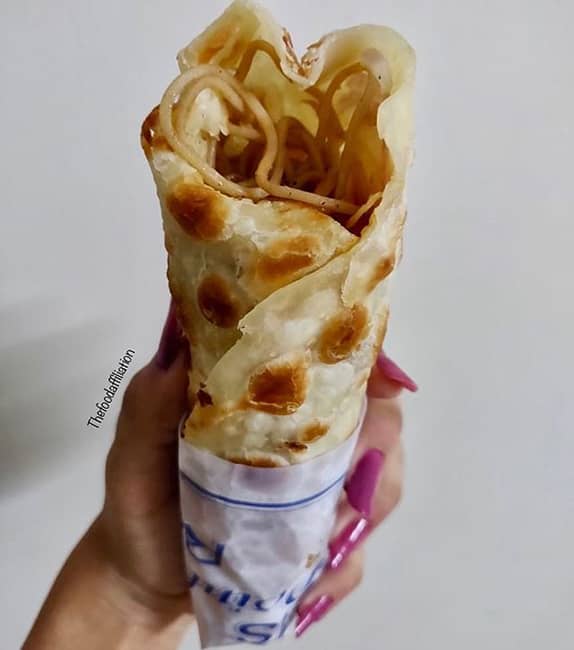 Picture Credits: thefoodaffiliation
This is a modest stall tucked in the alleys of Rajouri but what it lacks in grandeur, it more than makes up for in taste. None of the items on their menu costs more than 100 bucks and our minds have been blown. Their Chowmein Roll does not just sound interesting but is equally scrumptious to chomp on. They also whip up other toothsome options like Soya Chaap Roll, Egg Chicken Seekh Roll and Sweet Corn Roll and we say, you must try a new one each time you visit!
Where | Rolls Point - J 6/91A, Rajouri Garden
Price | Rs 20 Onwards
Timings | 2 - 10 PM
Call Them | +91 9891 929 225 & +91 8826 432 599
Check Out Their FB Page | https://www.facebook.com/Rolls-Point-497846526901695/
2. 34, Chowringhee Lane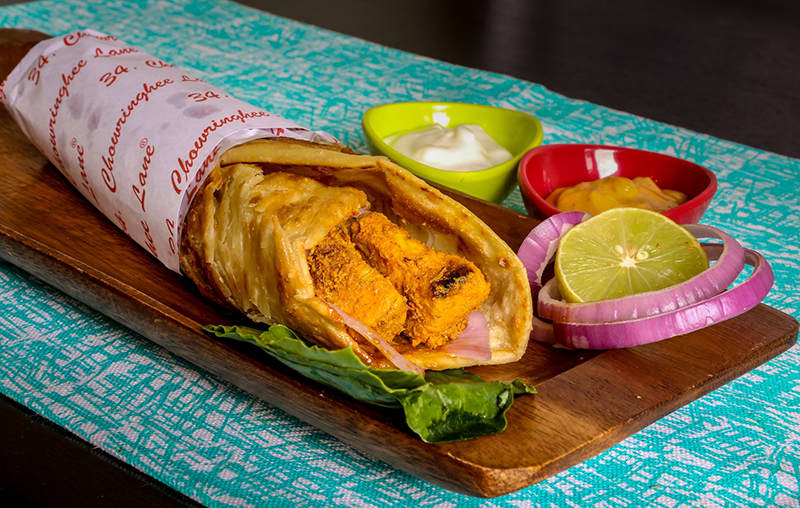 Chowringhee is the hallmark for tasty & pocket-friendly street food and we could not miss out on including it in our list. Their rolls are what come to our minds (and tummies) at the end of a busy day at college. Their Soya Malai Chaap Roll, Chilli Mushroom Roll and Chicken Seekh roll are generously packed with succulent fillings and doused in tantalizing sauces. The first bite of their juicy rolls is heavenly and the last bite always makes us order more!
Where | 34, Chowringhee Lane - G-37, Ground Floor, Westend Mall, Janakpuri
Price | Rs 50 Onwards
Timings | 11 AM - 10:30 PM
Call Them | +91 9718 835 353
Check Out Their FB Page | https://www.facebook.com/34chowringheelane/
3. Taste Drive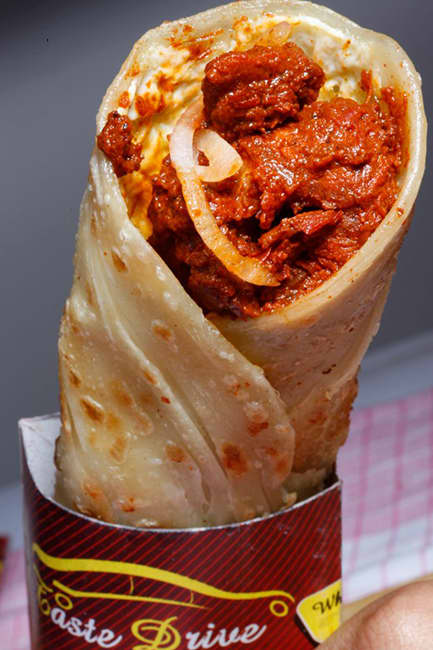 This takeaway joint does mouthwatering rolls that drive us totes crazy. There's something relaxing about parking our cars or bikes on the side and relishing their rolls, while the world goes by in front of us. They use lush veggies and hearty chunks of meat to prepare yummies like Mushroom D'Lite Roll, Chicken D'Lite Roll and lots more. We recommend pairing these crispy and succulent concoctions with a refreshing Masala Lemonade.  
Where | Taste Drive - J-93, Main Market, Rajouri Garden
Price | Rs 55 Onwards
Timings | 12 PM - 12 AM
Call Them | +91 8800 249 986
Check Out Their FB Page | https://www.facebook.com/TasteDrive/
4. Kati Roll Cottage
Picture Credits: teekhi_mircheee
Imagine this, you just got over a long day of lectures and want to erase the torture with some comfort food. If this is the story of your lives, then you must head over to Kati Roll Cottage with your gang and of course, extremely hungry tummies. Our mouths are watering just thinking about their loaded Chicken Malai Keema Roll, Mutton Seekh Kabab Roll and so many other beauties on their menu!
Where | Kati Roll Cottage - 26/1, Shop 4, Double Story, Ashok Nagar, Jail Road
Price | Rs 30 Onwards
Timings | 11:30 AM - 10:30 PM
Call Them | +91 9810 984 492 & +91 9810 982 246
Check Out Their FB Page | https://www.facebook.com/katirollcottage/  
5. Rolls Tiger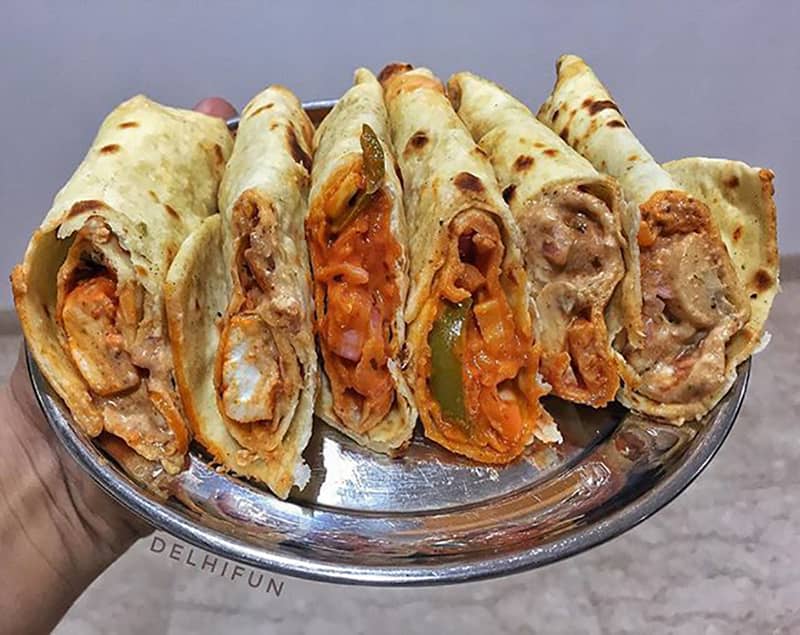 Picture Credits: delhifun
If hunger pangs are roaring at you in the wee hours of the night, you've got to check out this joint that does crazy good rolls and is open till 4 AM! What makes this place even more special is that they also make their rolls with whole wheat bread, making it a healthier option to munch on. Their menu is on a roll (pun intended) and will spoil you for choice. Their Potato Cheese Roll is filled with gooey goodness and their Pizza Roll Mini is the stuff our drool-worthy dreams!
Where | Rolls Tiger - J-6, Second Floor, Mukhram Garden, Chaukhandi Road, Near Raj Cinema, Tilak Nagar
Price | Rs 65 Onwards
Timings | 12:30 PM - 4 AM
Call Them | +91 9811 530 960
Check Out Their FB Page | https://www.facebook.com/nishanttyagirollstiger/
6. Little Chef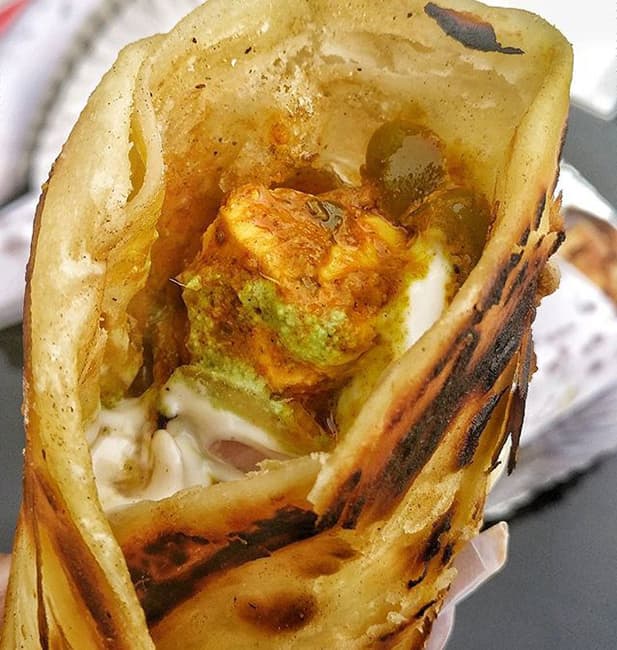 Picture Credits: agirlwithfork
Little Chef is a crowd fav for yummy treats that don't cost too of yo' money. Their Taka Tak Rolls like the Paneer Butter Masala Taka-Tak is an explosion of soulful flavours in your mouths. Their Lemon Chicken Rolls are tangy and infused with a fresh zesty taste. On top of all this awesomeness, you can wolf down any roll of your liking with a blast of cheese by just paying 30 bucks! If this deet makes you roll with happiness, you must chalk out a plan to visit this place ASAP!
Where | Little Chef - 8-A, Lotus Tower, Near Fire Station, Jwala Heri Road, Paschim Vihar
Price | Rs 30 Onwards
Timings | 11:30 AM - 11 PM
Call Them | +91 9711 817 218 & +91 9711 817 219
Check Out Their FB Page | https://www.facebook.com/littlechef.delhi/
7. Kathi Junction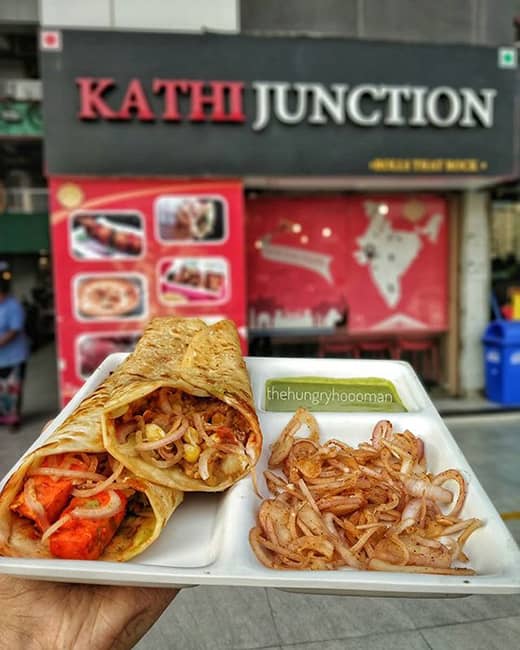 Picture Credits: thehungryhoooman
This is the place to hop over to for a delectable fix for your food cravings. Their Chicken Seekh Rolls, Mutton Seekh Rolls and Paneer Tikka Rolls are saturated with overflowing fillings and topped off with slices of tangy onion. Going here with your flock will soon become a ritual as you just won't be able to resist their tempting items. Their Jumbo Rolls combo is a great option for a fulfilling lunch that doesn't burn a hole in your wallets!
Where | Kathi Junction - Site 1, 611, Opposite Jetking, Vikaspuri
Price | Rs 40 Onwards
Timings | 11 AM - 10:30 PM
Call Them | +91 9818 740 984
8. Rolls Mania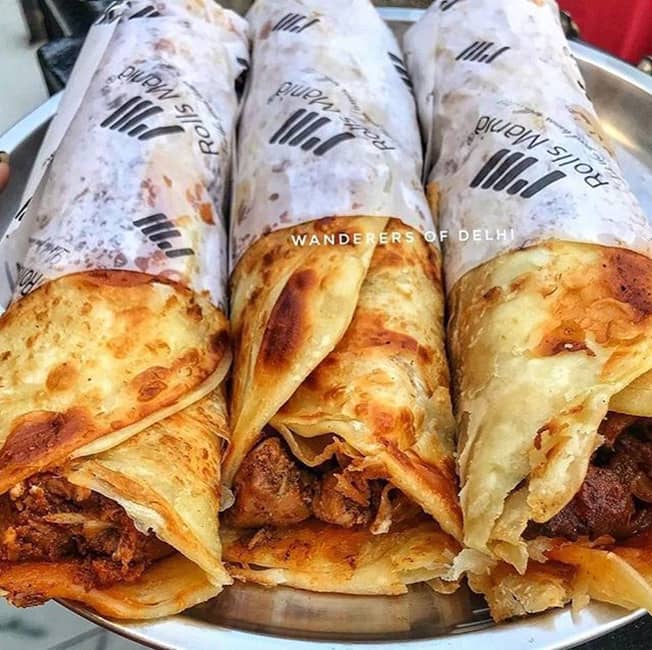 Credits: wanderersofdelhi
We see them rollin', we eatin'! Their menu promises to take you into the world of flavours and honestly, we want to sign up. Their rolls are overloaded with fresh veggies and succulent meat. Their Paneer Roll and Veg Kheema Roll are infused with truckloads of flavour with a fusion twist. They dress their offerings in delish condiments that ooze of zest. Food that makes us launch in a happy dance is our fave and Rolls Mania does exactly that!
Where | Rolls Mania - Shop No. 71, Old Rajinder Nagar Market
Price | Rs 50 Onwards
Timings | 11 AM - 11 PM
Call Them | +91 11 4045 3838 & +91 11 4045 4838
We've got you covered with these budget-friendly places that don't compromise on flavours. So grab your friends and get rollin'!