Delhi
Mind-Blowingly Tasty Dishes You Can Prolly Only Find In North Delhi
One of the reasons for Delhi's popularity is the never-ending variety of food found in this charming city, isn't that right, folks? The city is always brimming with a plethora of cuisines, distinctive flavours and innovative dishes that are not easily available anywhere and everywhere, so we've gone ahead and made a list of the best and most innovative dishes found in North Delhi, which you prolly won't find anywhere else. Read on, bookmark and hurry to try ALL of 'em!
1. Paneer Masala Cheese Maggi From Tom Uncle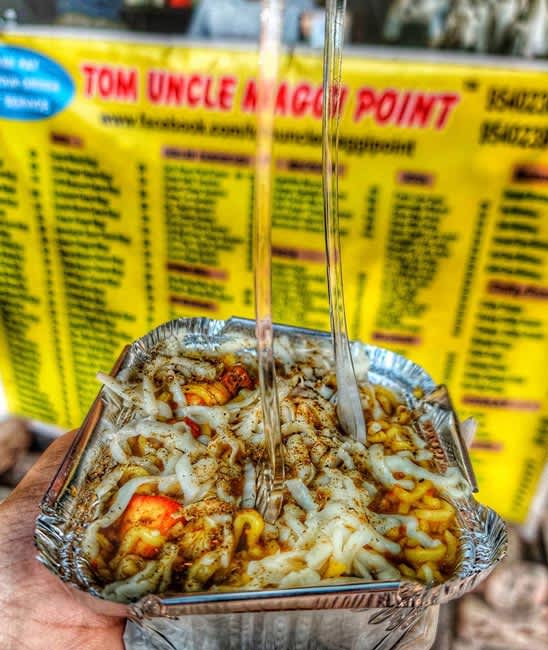 Picture Credits: foodie_moodie07
Maggi is our forever bae and nobody whips it up like our beloved Tom Uncle! This streetside stall offers more than 40+ varieties of Maggi, a range of sodas and pasta and macaroni options to gorge on! Uber-popular and situated in the heart of Delhi University, this place has been a foodie haven for students for as long we can remember. Need we say more? Scamper over and come fall in love with this joint! 
Where | Tom Uncle Maggi Point - Guru Tegh Bahadur Road, Near Ramjas College North Campus , Delhi University-GTB Nagar 
Call Them | +91 9540 239 777
Price | Rs 80
2. Shabhaley From Tee Dee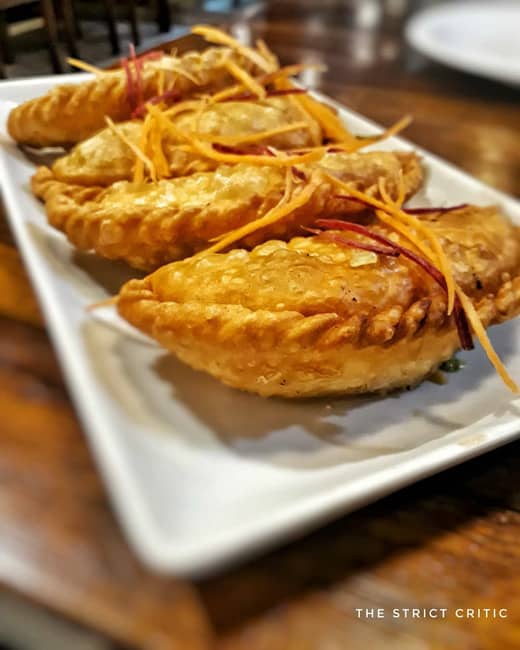 Picture Credits: thestrictcritic
Trying shabhaley or sha phaley was a eureka moment for us, fellas, and we are here to include you in our food lover's journey. Tee Dee is one place you are sure to satisfy your cravings for authentic Tibetan food, from delicacies like Laping to Thentuk, they (literally) have it all, but their Shabhaley more than comes up to snuff! 10/10 we legit recommend this particular delicacy, so make sure you try this one!
Where | Tee Dee- 32 - Aruna Nagar, Majnu Ka Tilla
Call Them | +91 11 2393 9414
Price | Rs 130 Onwards
3. Pizza-Style Momos From Wong's Kitchen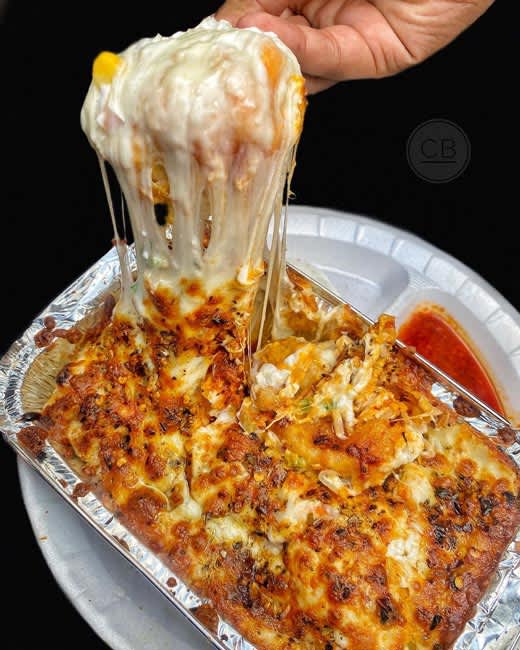 Picture Credits: chatore_broothers
We love momos and pizza will always be our BFF. But have you ever thought of mixing the two together? Well, the good folks at Wong's Kitchen did and boy, oh boy, we can't get enough of it! This soul-satisfying dish comes bursting with melted mozzarella, oodles of spices and flavourful ingredients *drooling*, and will defo give you the yummiest FOOD COMA you have ever experienced!
Where | Wong's Kitchen - Shop 31, CSC2, Sec 9, DDA Market, Rohini
Call Them | +91 8586 822 666
Price | Rs 320
Check Out Their FB Page | https://www.facebook.com/Wongs-Kitchen-109989136336521
4. Chole Bhature From Chache Di Hatti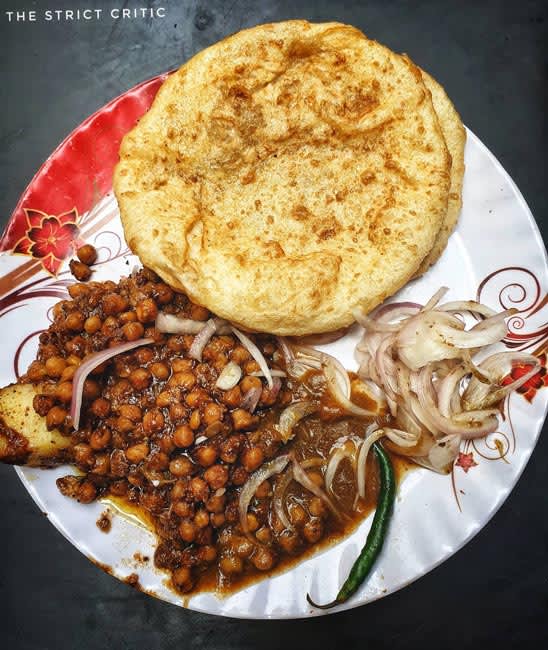 Picture Credits: thestrictcritic
We know weekend breakfasts are incomplete without a loaded plate of chole bhature with a heavy helping of spicy pickles and that's why we had to mention one of the oldest joints in North Delhi serving the BEST chole bhature in town! Nosh on these melt-in-your mouth bhature with relish-worthy chole and pickled vegetables and make a day of it by shopping at all the cutesy stores in Kamla Nagar! You're welcome!
Where | Chache Di Hatti - D-33, Block G, Bunglow Road, Kamla Nagar
Call Them | +91 9811 389 963
Price | Rs 60
5. 21" Tex Mex Godfather Pizza From Paparizza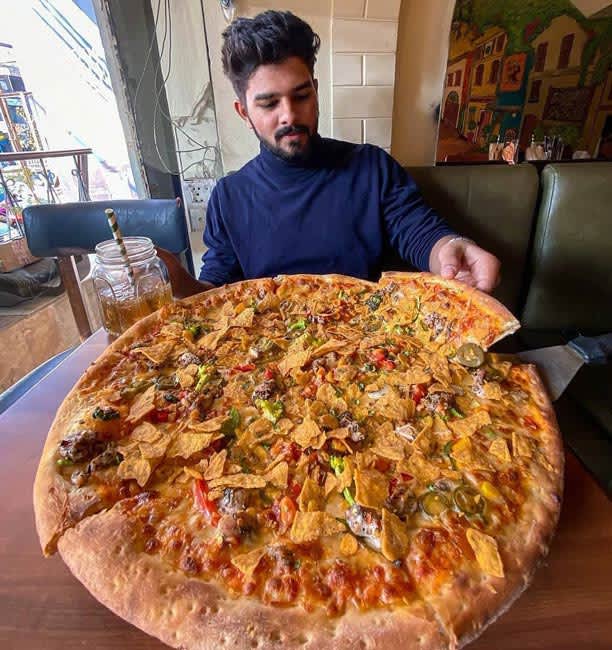 Picture Credits: sauravnagar_
As much as we love our pizza, us Dilliwallahs are always up for innovation, which is why we hunted down Paparizza, which is serving hatke pizzas for us to gorge on! Their HUGE Tex Mex is our latest obsession peeps, and for good reason too - it's woodfired, cheese-oozing, and topped with unique and different ingredients like NACHOS! Divided into two sections with different garnishes on both sides, this pizza will surpass all your foodie expectations! 
Where | Paparizza - 2520, Ground Floor, Hudson Lane, GTB Nagar
Call Them | +91 8178 585 024
Price | Rs 399 Onwards
Check Out Their FB Page | https://www.facebook.com/paparizzapizza
6. Dirty Burger From Uncle's Sip 'N' Bite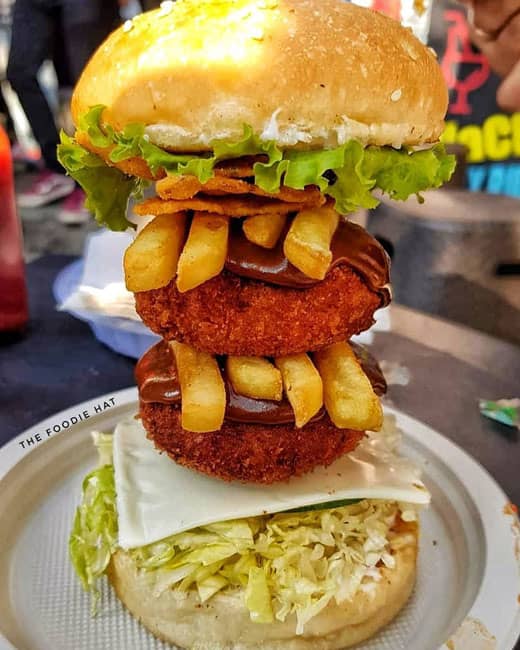 Picture Credits: thefoodiehat
This multi-tiered burger loaded with cheese will (literally) blow your mind, y'all! Uncle's Sip 'N' Bite's CRAZY and HUGE Dirty Burger is awesomesauce, as it's got an overload of two potato patties, nachos, fries, veggies and cheese smothered in BBQ sauce *OMG*. Trust us when we say that this gratifying and yummy delight is gonna give you serious #BhukkadGoals! Don't believe us? Go bite into this yummy burger and see for yourselves!
Where | Uncle's Sip 'N' Bite - Shop 5, A 75, Prashant Vihar, Sector 14, Rohini
Call Them | +91 11 4904 9479
Price | Rs 295
So what are you waiting for? Bookmark these bites ASAP 'cause you have got to gobble them up and don't forget to 'gram them, fellas!