Delhi
10 Markets In Delhi Where Y'All Can Score Affordable & Trendy Apparel For Men
Shopping is not just the ladies' game anymore for today's metrosexual men know how to clean up well and this summer season, get ready to look dashing and fly without spending much, lads. Hit up these rad markets in the city to snap up funky graphic tees, cheap denims, breezy khaki pants and lots more, basically, a wardrobe makeover without the overwhelming guilt of spent-too-much-on-clothes nagging at you!
1. Janpath
Picture Credits: Tarun chauhan
Janpath is a popular market among college folks when it comes to fashionable clothing and junk jewellery. However, it's not just an attraction for girls anymore. The market has a lot of options for men as well. From cool denims to graphic t-shirts, belts and shoes, they've got it all that too at really cheap prices. Put those bargaining skills to use and you can catch some great deals. You can score jackets and sweats too to make it through when there's a nip in the air.
Where | Janpath Market, Janpath Road, Janpath, CP
Timings | 10 AM - 8 PM
2. Karol Bagh Market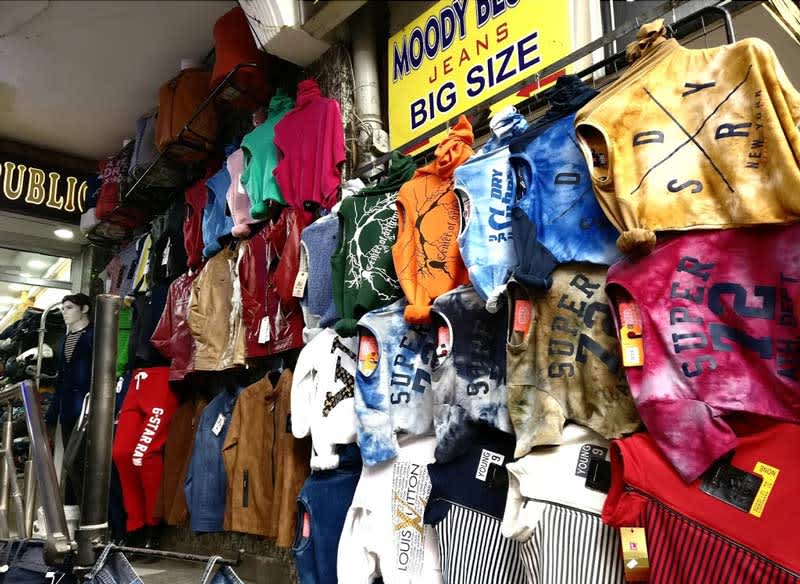 Picture Credits: Boss rebuplic
Karol Bagh Market, in Central Delhi, is one of the oldest markets and is uber famous for really affordable yet trendy clothing. The lanes of this market are packed with small shops where you can get polos for as low as Rs 200 and sweatshirts for Rs 300. The market has a huge variety of shoes, accessories, jackets, denims and everything you need for a modish wardrobe. It'll also satisfy the foodie in you as can lap up some delicious street food. Don't forget to check out the latest electronics in Gaffar while you're at it!
Where | Karol Bagh Market, Block 1, WEA, Karol Bagh
Timings | 10:30 AM - 8 PM
3. Palika Bazaar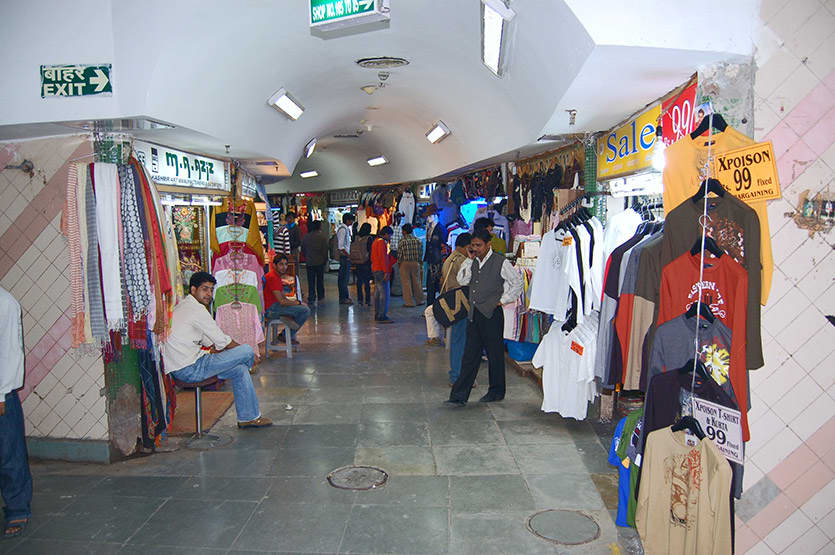 This underground shoppers' paradise feels like a world of its own. It's an air-conditioned shopping-hub, housing around 390 shops which makes it the perf place to score, amongst a gazillion other things, some great clothes at affordable prices. The range and variety you'll find here is pretty friggin' impressive given how many condemn the offerings here as defective goods. Although your bargaining game needs to be strong to shop here 'cause if you're eyeing that glow-in-the-dark tee that's priced at Rs 800, you can even negotiate it to be brought down to just 200 -wow. So hop over and this weekend and let that moolah fly!
Where | Palika Bazaar - CP
Timings | 10 AM - 6 PM
4. Sarojini Nagar Market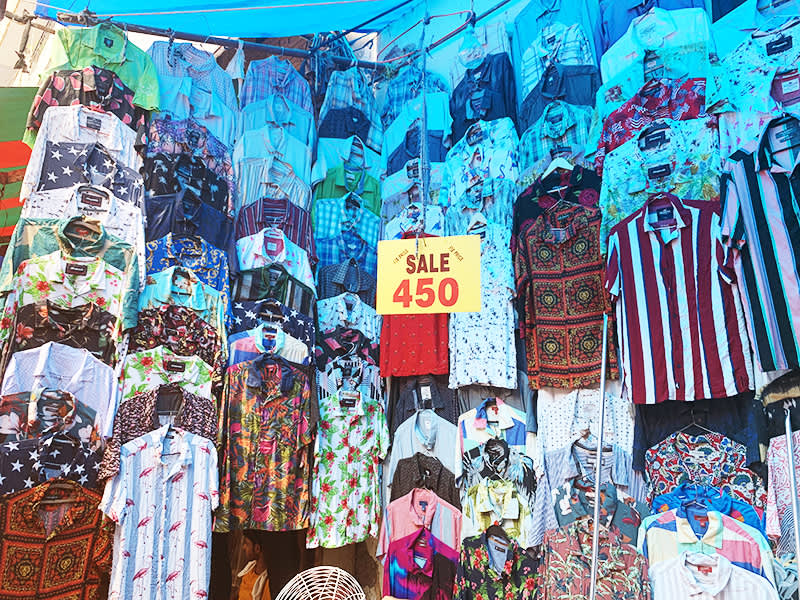 We feel, the phrase 'The sky's the limit' was meant for Sarojini Nagar. We mean can you think of any other place that offers such a mind-boggling variety of everything under the sun? This flea market is every Delhiite's go-to place, and quite deservingly so, for all sorts of fashion fixes. With jeans, tie-dyed t-shirts, khaki pants, button-ups, blazers and just about everything else available at throwaway prices, all the dudes in town must hijack this place with their squad to bring home some really cool & trendy wears!
Where | Sarojini Nagar Market - Sarojini Nagar
Timings | 10 AM - 9 PM
5. Central Market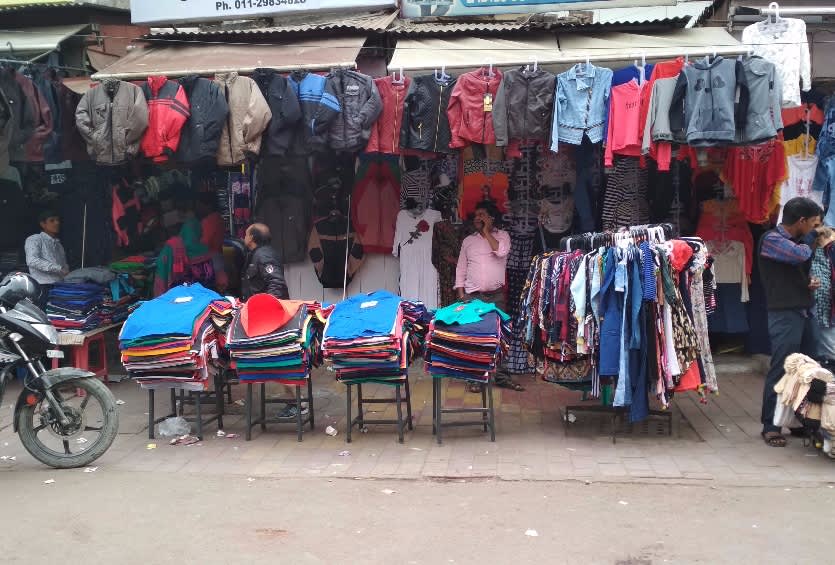 Your inner shopaholic will rise from the deep abyss every time you step a foot in the Central Market of Lajpat Nagar. Come prepared for a total wardrobe revamp to this market as this place is flooded with personalised boutiques for men's clothing to funky graphic tees from roadside stalls, so you gotta keep your eyes peeled. You'd find apparel in many designs and colours here so gear up to be spoilt with choice. The diversity of shops at this bazaar is insane and you just won't be able to get enough of it! 
Where | Central Market - Lajpat Nagar II, Lajpat Nagar
Timings | 10 AM - 9 PM
6. Atta Market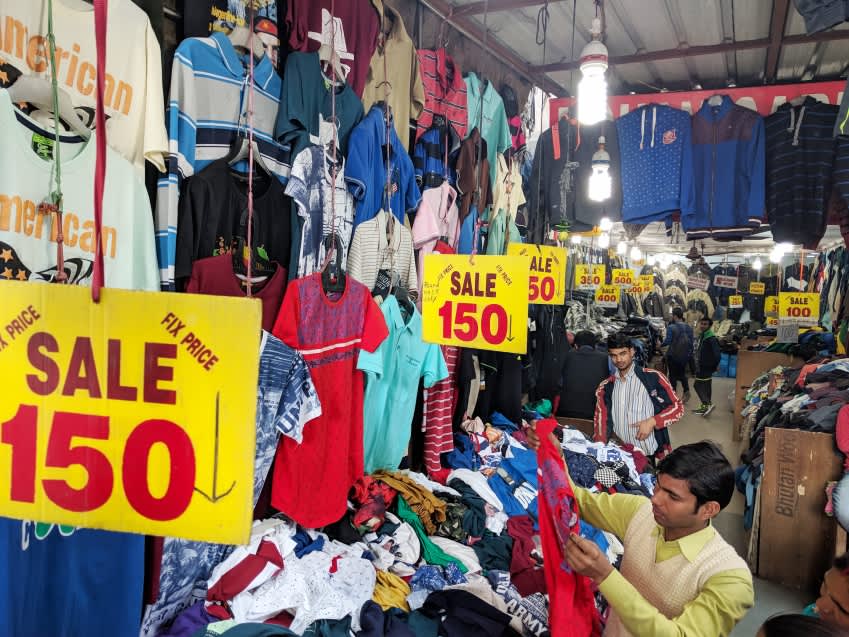 Located in sector 18 of Noida is famously known as Atta Market and is a haven for a good set of affordable attires from shops like New Look Collection, JMD Fashion Zone and many others. Eclectic shades of jeans, hoodies, shirts in innumerable fabrics and prints along with t-shirts with fun texts & cool graphics are in bulk here. You'd find stores with regular sales on clothes which start from flat Rs 150, unbelievable, right? But the only catch is - wear it or throw it, clothes once sold at these shops are never taken back! It might be a little far but when it gives you export surplus clothes, we're sure you'll be more than happy to make the trip!
Where | Atta Market - Sector 18, Noida
Timings | 10 AM - 9 PM
7. Chor Bazaar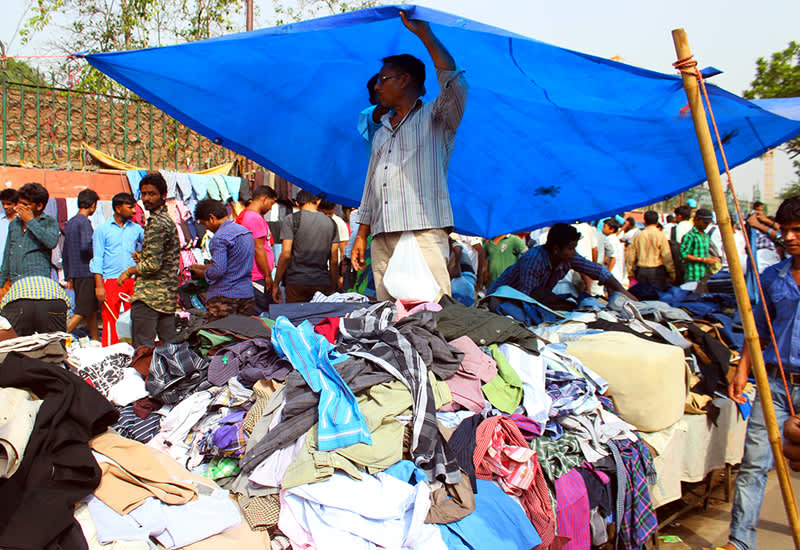 Chor Bazaar is one place where you can be surrounded by goods of every kind produced by virtually every manufacturer possible in the country, sometimes even outside. Located in the shopping hub of Old Delhi, just behind the historic Red Fort, near the Lajpat Rai Market, this flea market comes to life on Sunday mornings. You'll find almost all types of clothes here at really affordable prices that for a second you might forget that you're in Delhi even. The area has various styles of clothes in abundance with one famous store Prince Majestic that makes really dapper sherwanis and traditional Indian suits for men at such a low price that it's a steal rather!
Where | Chor Bazaar - Chandni Chowk, Behind Red Fort
Timings | Mon - 11 AM - 12 AM & Tues - Sat - 24 Hours Open & Sun - 6 PM - 12 AM
8. Mohan Singh Place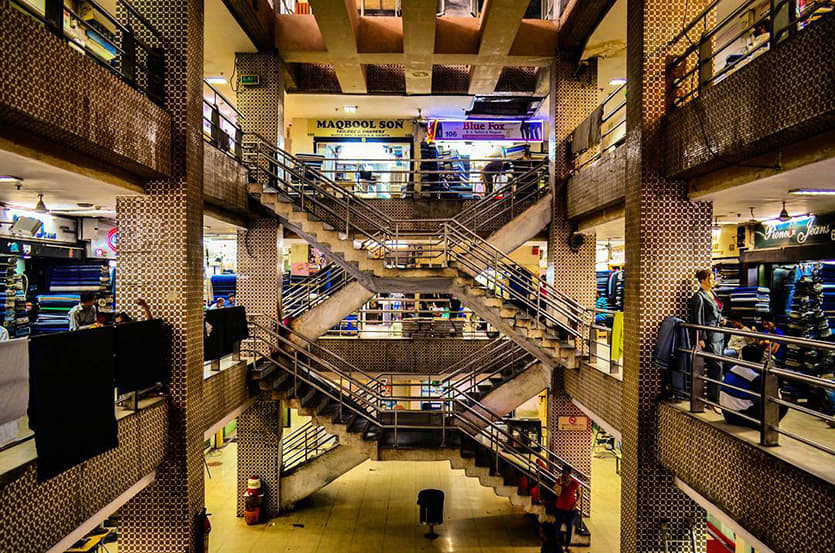 Picture Credits: akshatbahl
This area was probably the first realization of the shopping mall, as we know it today. Noted for customisable clothing for men since 1968, here you can get your suits, jeans, shirts, kurtas, trousers or literally anything you can think of customised. Everything is measured precisely & fitted to perfection. The clothes feel like a second skin when you wear them so we can boldly say that they have for sure win-over the custom clothing game. The best feature is that they have all kinds of fabric, you too can bring your own unique fabric and ask them to make a shirt out of it that accentuates all your toned muscles. It's high time guys, for you to get rid of your baggy tees & droopy pants and slide into more classy this summer. What say?
Where | Mohan Singh Place - Baba Kharak Singh Marg, Outer Circle, CP
Timings|  11 AM - 8:30 PM
9. Yashwant Place Commercial Shopping Complex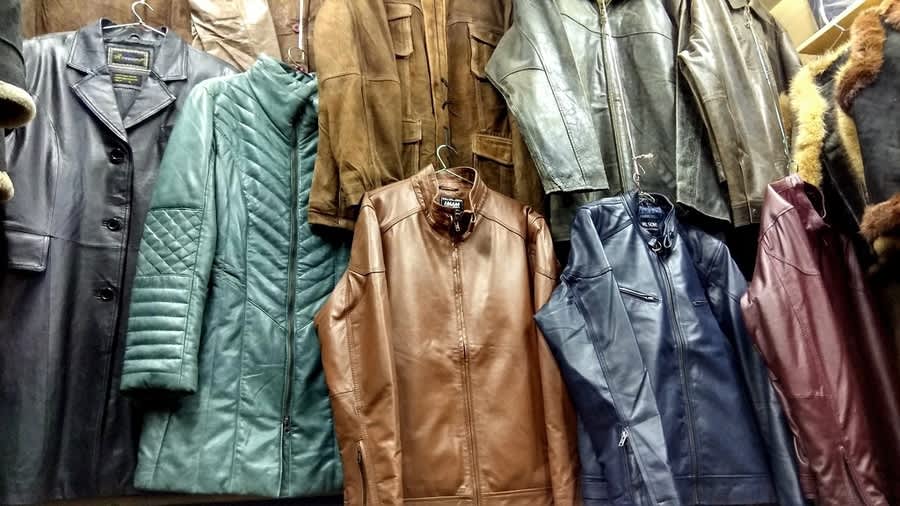 This under-discovered gem, nestled amidst the affluent suburbs of Chanakyapuri is full of stores that house every leather article at a rate so cheap and in such prime quality, it'll make you go nuts! You'll see a lot of foreigners, who come here to buy exceptional quality leather clothes, bags and other accessories. So come winters, head to this awesome complex for some cool leather jackets!
Where | Yashwant Place Commercial Complex - Opposite Post Office, Satya Marg, Chanakyapuri
Timings | 10 AM - 10 PM
10. Monastery Market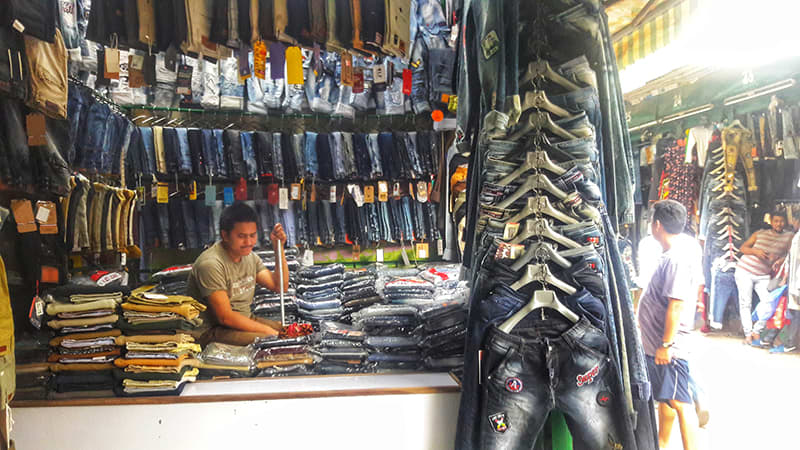 This market feels like a mini Tibet in the middle of our very own capital. Shopping here is a fun affair and there are plenty of options to choose from as there is a wide variety of clothes from shirts to t-shirts and denims, bags, belts, caps and even shoes that are available at very affordable rates. It's hip amongst college-goers & tourists even for its Tibetan charm. This market is famous for its woollen wear including pullovers, sweaters, cardigans and gloves.  Leather jackets are another item which compels people to come and shop!
Where | Monastery Market - Bela Road, Monastery Market, Ladakh Budh Vihar Colony, 
Timings |  9 AM - 9 PM
So, fellas, scoot to any of these fantastic markets and pick up your entire summer wardrobe without breaking the bank!