Delhi
11 Lesser-Known 'Non-Hotel Hotel' Neemrana Properties You Absolutely Have To Check Into!
Disclaimer: Bearing in mind the current restrictions in the city and the world at large, we're tweaking our content policy and recommendations to focus more on staying indoors and exploring the digital world and all its wondrous offerings! Stay positive, keep hygiene levels up and don't fall prey to panic and misinformation.
1. Neemrana Fort-Palace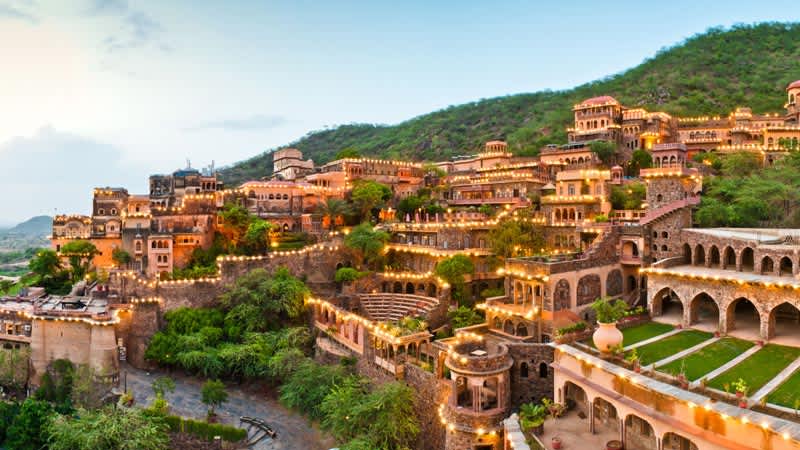 We know that this is not really lesser-known, for Neemrana has now become one of the most popular weekend road trip destinations for Delhi walas, but its huge popularity makes it a good place to start. This is the reason we trust Neemrana hotels, and this is also the reason that pushed us into making this list. Yes, dearest readers, this luxurious hotel off the Delhi-Jaipur highway is majestic and delightful, and it is also one of the oldest & best heritage resorts near Jaipur!
Where | Neemrana Fort-Palace 15th Century, Delhi-Jaipur Highway 122nd Milestone, Neemrana Fort Rd, Neemrana, Rajasthan
Tariff | Rs 4,250 Onwards 
Book Your Stay Here | https://www.neemranahotels.com/fort-palace-neemrana/
2. Hill Fort-Kesroli, Rajasthan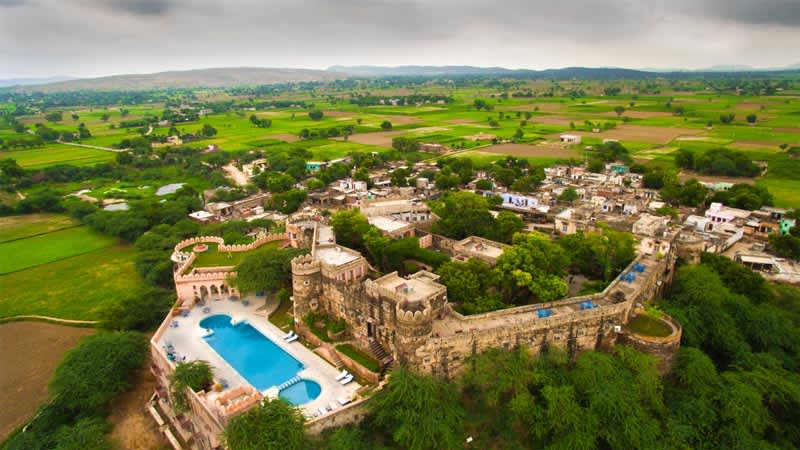 Another gem restored by the Neemrana Hotels, this is one of our favourites, thanks to its charming architecture hailing from the 14th century, and the utter beauty and (we are too speechless for words here) of its expansive landscape, arched verandahs and majestic turrets. 
There's nothing ordinary about this unbelievably charming fort, which has a rich history and a luxurious present! Book your stay NOW!
Where | Hill Fort Kesroli - Near M.I.A Post Office-Bahala, District Alwar, Kesroli
Tariff | Rs 3,330 Onwards
Book Your Stay Here | https://www.neemranahotels.com/hill-fort-kesroli-alwar-rajasthan/
3. Tijara Fort-Palace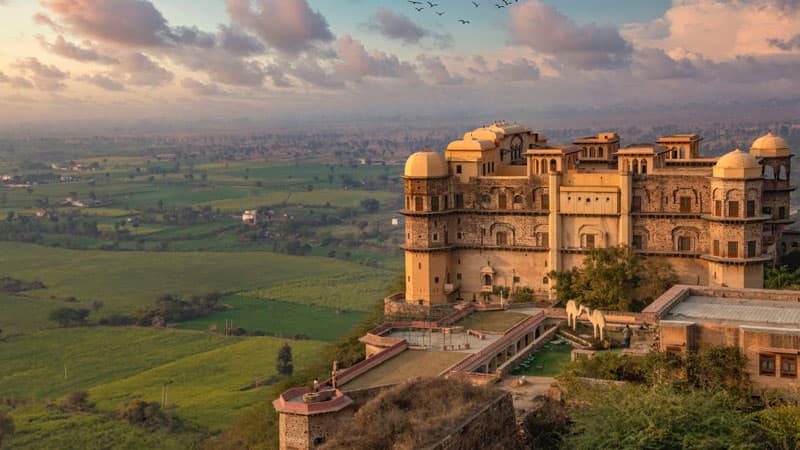 When it was featured on the Netflix series, The Big Day, as a destination for a fairytale wedding, we became enlightened to the charms of this epic place. An approximately 3 hours drive from Delhi, this fairytale fort palace boasts rooms decorated by India's finest artists, a sunken pool to relax and rejuvenate, seven terraced gardens with magnificent views, and flourishing trees encompassing the campus. The non-hotel hotel offers its visitors the fragrance of fresh greenery that is bound to refresh the senses and provide a soothing aura.
Where | Tijara Fort-Palace- Hasanpurmafi, Tijara, Rajasthan 
Tariff | Rs 6,374 Onwards
Book Your Stay Here | https://www.neemranahotels.com/tijara-fort-palace-alwar-rajasthan/
4. The Baradari Palace, Patiala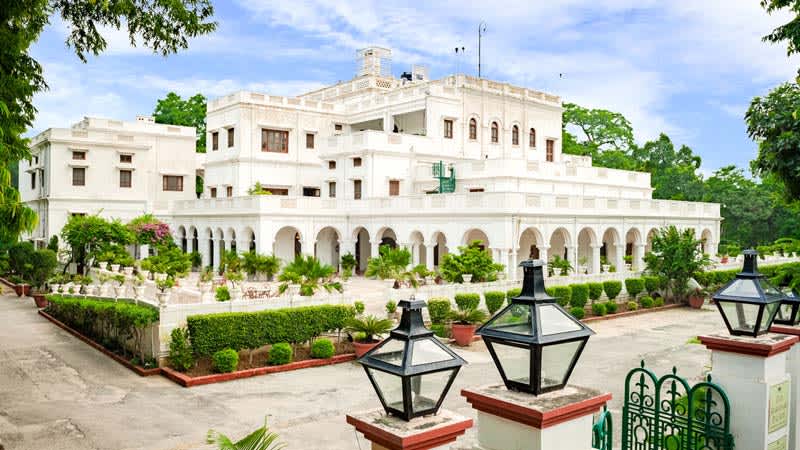 Since we Indians are super filmy and super serious about the films we love, there's no way we couldn't have included this heavenly palace in the middle of Patiala - the palace where Phillauri was shot! That's reason enough to visit RN, no questions asked! But if you still want more reasons to head to this sprawling garden palace, we'd ask you to go check out their gorgeous interiors! This architectural marvel oozes vibes of historical and royal magnificence, making it THE place to head to for a culturally rich, warm and happy trip! 
Where | The Baradari Palace - Baradari Rd, Baradari, Patiala, Punjab
Tariff | Rs 3,850 Onwards
Book Your Stay Here | https://www.neemranahotels.com/the-baradari-palace-patiala-punjab/
5. Neemrana's Glasshouse On The Ganges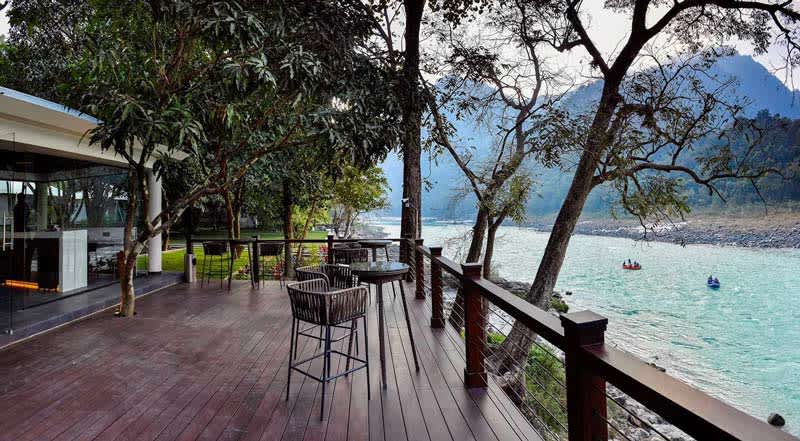 If you're looking for a Neemrana stay in the hills, they've got you covered! Neemrana's Glasshouse On The Ganges, in Rishikesh, is a magnificent hotel in the lap of the Himalayas. It's a magical natural spot set in a garden of tropical plants and is full of rare birds and butterflies. You can feel the music of the Ganges playing below, and the ten treetop rooms surrounded by the forests take you to another world, as the clouds float in and out to show you views of the Garhwal Himalayas. Their team organises white water rafting and trekking activities for you. You can also indulge in yoga, ask for an in-house barbeque, or a magical evening immersed in the famous "Ganga Aarti" at Rishikesh. Sounds heavenly, right?
Where | Neemrana's Glasshouse on The Ganges- Village Kalthar, Rishikesh-Badrinath Road, Shivpuri, Rishikesh
Tariff | Rs 11,800 Onwards
Book Your Stay Here | https://www.glasshouseontheganges.neemranahotels.com/
6. The Ramgarh Bungalows - 19th Century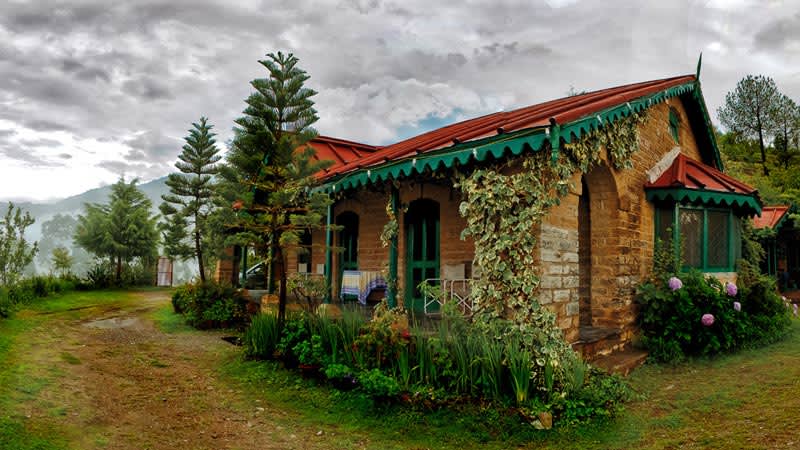 Neemrana's six cottages in Ramgarh are 19th-century colonial bungalows. The orchards adjacent to these bungalows hang with apricots, plums, peaches, pears and apples through the summer, making these non-hotel hotels by Neemrana very unique from the others in the area. You can escape the crowds because these bungalows are located in the Kumaon belt, approximately 35 km from other hotels in Nainital. Choose your favourite among The Old Bungalow, Vista Villa, Rose Cottage, The Writer's Bungalow, Ashok Vatika, and Cliff House.
Where | The Ramgarh Bungalows  - Ramgarh (Malla), Kumaon Hills District Nainital Uttarakhand 
Tariff | Rs 5,700 Onwards
Book Your Stay Here | https://www.neemranahotels.com/the-ramgarh-bungalows-kumaon-hills-nainital/
7. Deo Bagh, Gwalior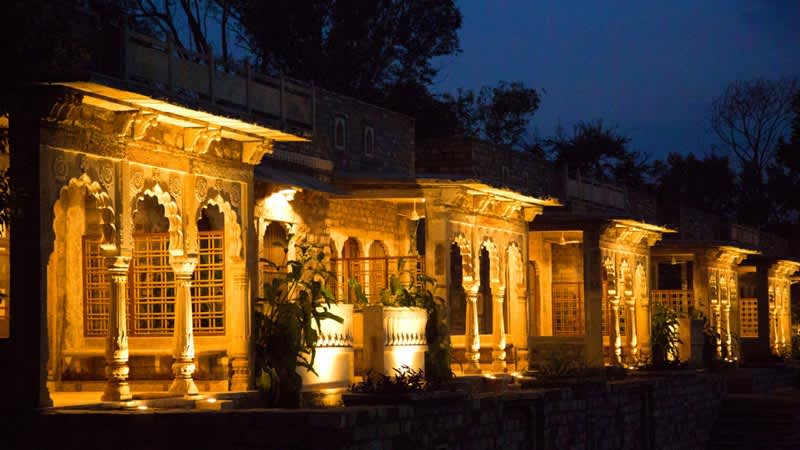 Neemrana's well-known for owning some of the most beautiful hotels ever, and this one looks more like a palace than anything else! Deo Bagh houses heritage and architecture in an altogether new way. 
Two 17th & 18th century Maratha Temples and one pavilion with 36 arched doors within the property is what makes Deo Bagh one of the most unique heritage hotels in India. They've got 15 rooms spread across 5 wings, facing Nau Bagh, a garden that's chequered into nine parts, and is the perfect spot to go relax at, so come on by for a splendid vacay!
Where | Jadhav Kothi, Opposite Janaktal, Agra - Mumbai Highway, Madhya Pradesh, Gwalior
Tariff | Rs 4,960 Onwards 
Book Your Stay Here | https://www.neemranahotels.com/deo-bagh-gwalior-madhya-pradesh/
8. Arco Iris, Curtorim, Goa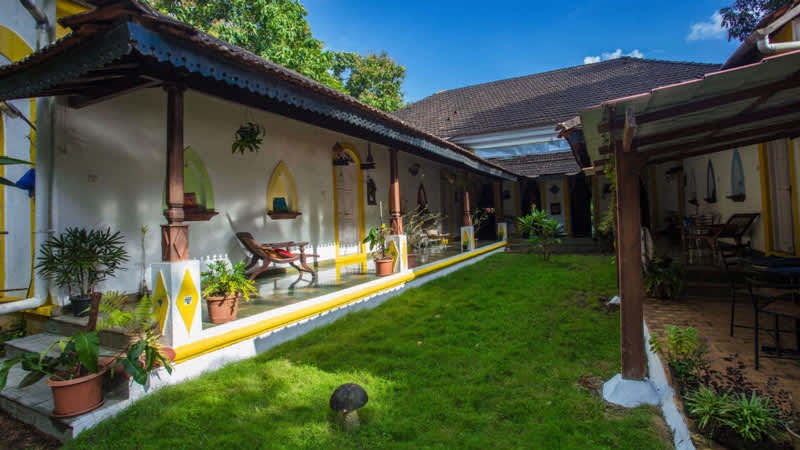 Located in Curtorim, a quiet part of South Goa, Arco Iris is a unique homestay, hosted by Bennita and Ganesh. Like all other Neemrana hotels, this one too has the luxury of an ideal location as it overlooks a seasonal lake and is in close proximity to the Zuari river. If you're looking for a relaxing & peaceful accommodation in Goa, and a break from all that partying and the hustle, this is an ideal place for you. A restored heritage bungalow and a charming yet noble stay, is this your cup of tea? 
Where | Arco Iris Boutique Homestay- House No 1384, Sinai Bagh, Near Carmel Chapel & High School, Curtorim, Goa
Book Your Stay Here | https://www.neemranahotels.com/arco-iris-curtorim-goa/
9. The Bungalow On The Beach, Tamil Nadu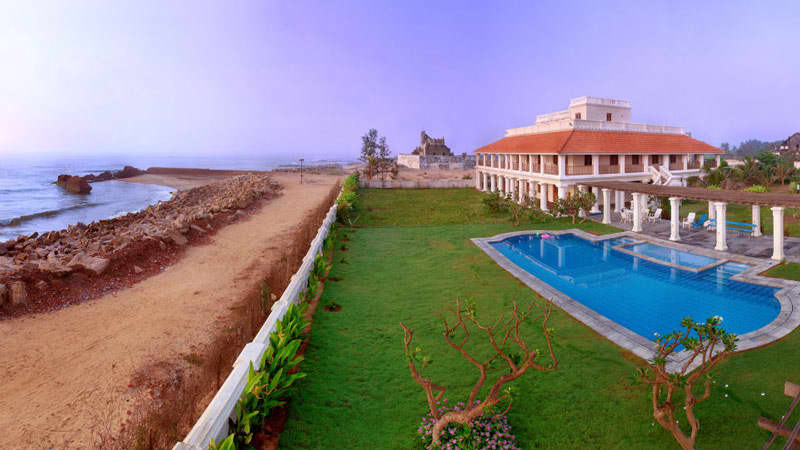 The Bungalow on The Beach is one beautiful honeymoon destination that all newly married couples would surely love lounging at. An early 14th century Pandya Temple on the left and a 17th century Danish Fort on the right is what makes this bungalow stand out from other Nagapattinam hotels. Stand in the verandah and gaze at the full east-facing sunrise, and it'll no doubt be one of the most beautiful things you've ever seen! They've got 8 rooms, each more beautiful than the other, some situated right next to the pool and others facing the garden and sea. Book a stay for a rejuvenating and enervating holiday!
Where | The Bungalow On The Beach- Kings St, Tharangambadi, Tamil Nadu 
Tariff | Rs 6,480 Onwards 
Book Your Stay Here | https://www.neemranahotels.com/the-bungalow-on-the-beach-tranquebar-tamil-nadu/
10.  The Tower House - Cochin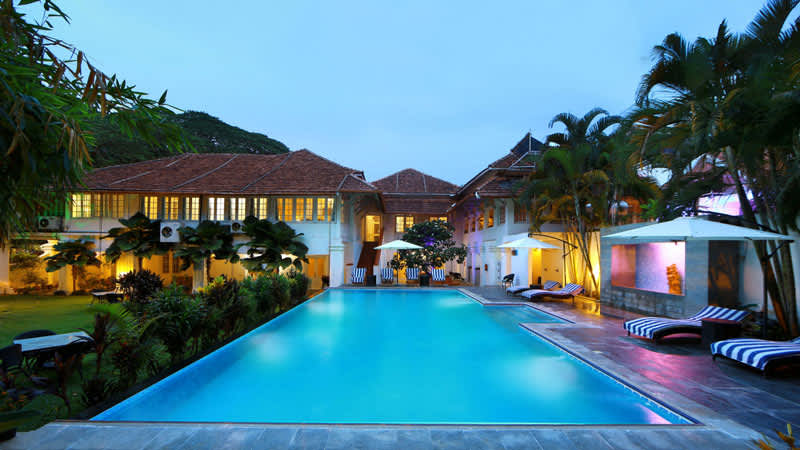 If you're looking for something unique and experiential, not to mention super luxurious, The Tower House is one of the best heritage hotels in Kochi for you, with a huge scoop of history. The Tower House sits facing the Chinese fishing nets, marking the spot of a 17th-century lighthouse. (therefore the name) Cannon-balls once fired out from its thick bastion walls. This distinctive hotel offers you a chance to discover the old world charm where, sailors, travellers, traders, planters feasted and danced under chandeliers, suspended from high wooden ceilings. Easily accessible from the airport, you should head over ASAP to relax and rejuvenate!
Where | The Tower House- 1/320, Tower Road, Vasco Da Gama Square, Fort cochin 
Tariff | Rs 3,400 Onwards 
Book Your Stay Here | https://www.neemranahotels.com/the-tower-house-cochin-kerala/
11. Wallwood Garden - 19th Century, Coonoor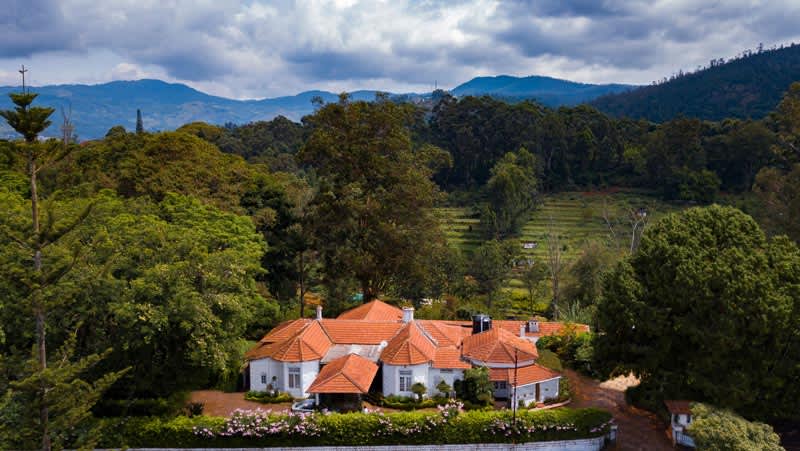 Wallwood Garden is a 19th-century Scottish-style, stately home that has been revitalised by Neemrana and is one of the most popular heritage hotels in Coonoor, near Ooty. This property is 2 hours from Coimbatore and was built over 100 years ago by a Scottish major general. It has its own prize-winning garden of the Nilgiris and is located 2 minutes from Sim's Park, one of India's most luxuriant botanical gardens, laid out in 1874. You can admire many old rare trees like the Rudraksh, Paperwood, Elephant Leg, and the Strawberry plan here while enjoying its old-world charm and a dollop of history and a taste of the past!
Where | Wallwood Garden- 58, Kotagiri Road Coonoor - 643101 Heritage Hotel near The Nilgiris, Tamil Nadu
Tariff | Rs 3,150 Onwards
Book Your Stay Here | https://www.neemranahotels.com/wallwood-garden-coonoor/
Follow Neemrana Hotels' Activity On FB Here | https://www.facebook.com/NeemranaHotels
With such beautiful non-hotel hotels, Neemrana has so much to offer - go check them out!