Delhi
8 Insta-Worthy Dishes That You've Gotta Get Your Hands On At Horn OK Please
Foodies, we have something super cool to tell ya. So, y'all already know that Horn OK Please, presented by MAGGI FUSIAN and co-powered by Fresca Juices & POLO - The Mint With The Hole, is coming back to the city this February, right? This fest is all set to make a comeback from 14th - 16th of February with TONS of yummies to sample, cool photo-ops, couple-friendly zones and oh-so-much more! But in this internet age, none of these mean anything unless you can show it off on your social media feeds, isn't it? So, here's a list of some of the totally Insta-worthy dishes that you've gotta sample and capture for that enviable feed at this fest.
1. Heart-Shaped Jalebis From Gulshan Dhaba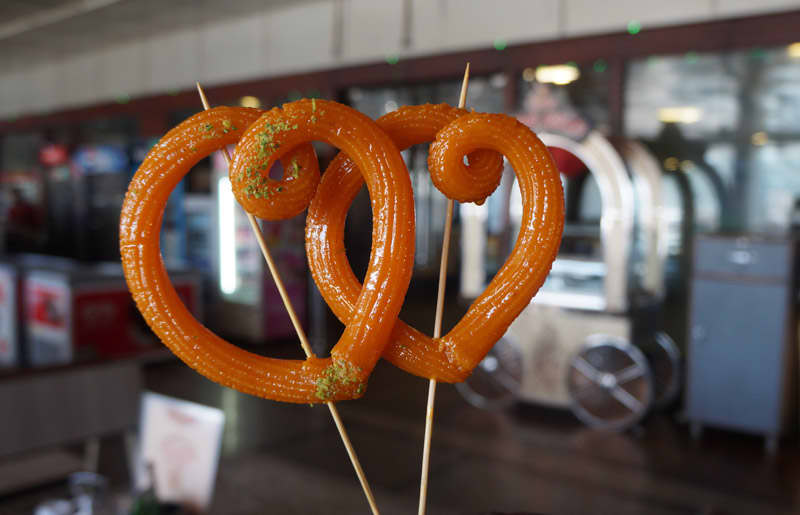 This fiesta is coming back for the V-Day edit so it's pretty obvious that there will be Valentine's Day themed dishes. One such delight that you'll find here are heart-shaped jalebis (wait, what?). Yep, these crispy and oh-so-sweet jalebis will be fashioned like a heart and we just can't wait to click that Insta-worthy shot. These will be available at Gulshan Dhaba which is coming to the fest all the way from Murthal - nice!
2. Popcorn Shake From Xero Degrees
Ever tried popcorn and shakes together? Well, then you can drop by the stall of Xero Degrees which will be dishing out the best of both worlds, by way of this zany shake. Yes, after you click that awesome pic to ace your social feed, you must definitely check out this stall. Paired up with piping hot yummies, this sounds like a great way to enjoy the fest!
3. Arabic Tongue Twister From Chicago Chimney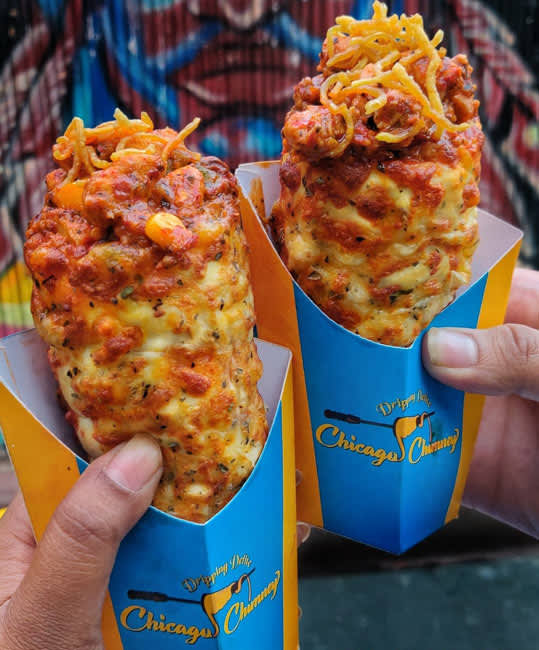 Picture Credits: rassasy_delight
Chimney cones are absolute love, aren't they?! Well, these folks will be present over here with their collection of the yummies. We can't wait to sample Arabic Tongue Twister which sounds totally offbeat and looks yummylicious AF. A perfect combo, ain't it?!
4. Floral Sangria From Daily Dose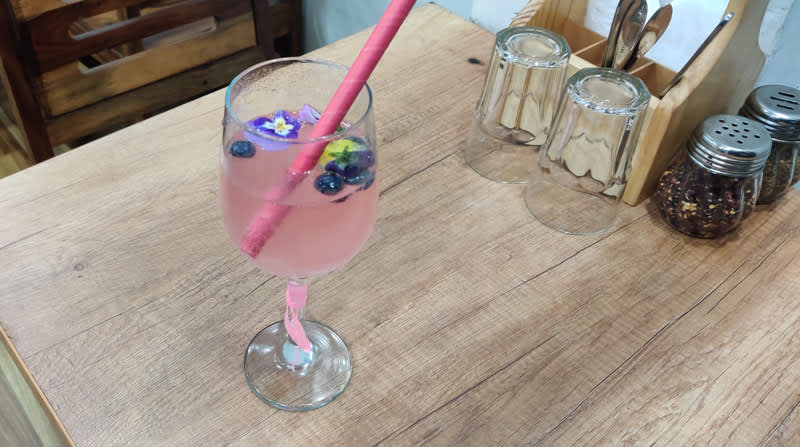 A food festival is always incomplete without some lip-smacking tipples, isn't it? Well, the folks at Daily Dose are all set to treat us with something totally offbeat called Floral Sangria which comes in a pretty pink colour in tune with the Valentine's Day theme. We just can't wait to sample this one fosho!
5. Heart-Shaped Naan Cha From Cafe Uncover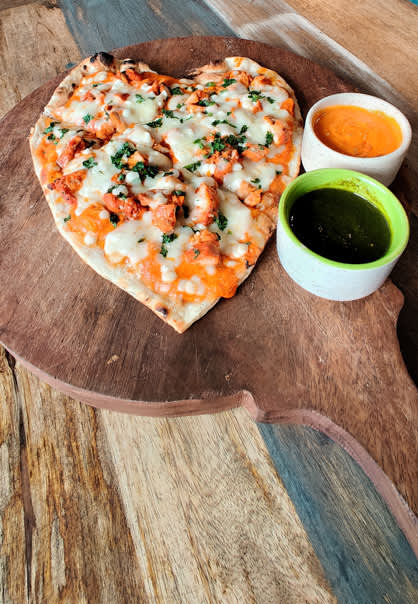 It's pretty mundane to eat naan with sabzi the old way, right? Well, the folks at Cafe Uncover certainly believe so and they will be stationed at the festival with their range of droolworthy Naan Cha that resembles a pizza. But this is actually your naan slathered with gravy and served with chutney - yum.
6. Horn Of Unicorn From Namaste Dilli
Sounds pretty quirky, doesn't it? Well, to clear out all confusion, they're serving this pretty dish which is basically your scoops of ice cream on top cake slice garnished with Little Hearts cookies. This sinful delight can be spotted at the stall of Namaste Dilli and is definitely something that should end up on your story highlights, are we right or are we right?
7. Heart-Shaped Pizza From Paparizza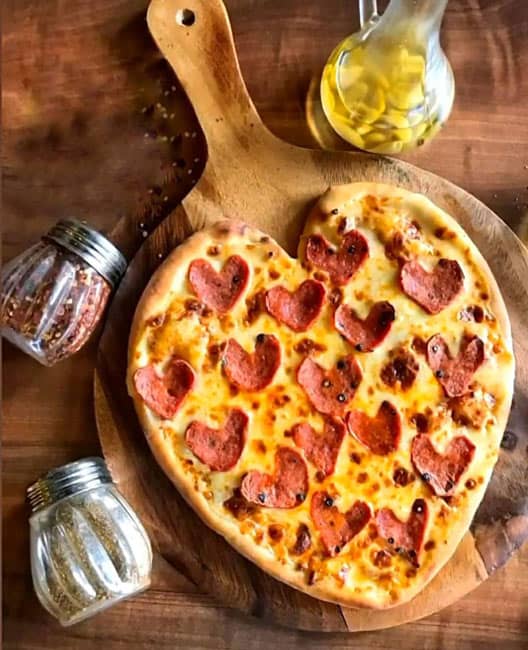 Paprizza is a cafe that's known for its delightful range of crazily loaded pizzas and we just can't wait to find out everything that they will be offering at Delhi's Happiest Food Festival. These folks will be present here with totally adorable Heart-Shaped Pizzas, that's not just super cute to look at, but also deserves a click!
8. Miniature Combo From Kennedy's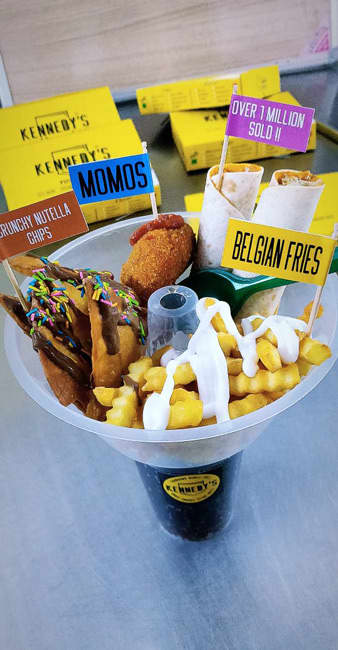 The peeps at Kennedy's are all set to spoil our foodie soul and how! Their stall will feature this really cool combo of fries, momos, rolls, Nutella chips and a beverage. It's the presentation of this ensemble that's making us go crazy because it's a dish that would be easy to walk around!
We've made a compilation of the coolest dishes that will ace your Insta game, are you ready with your cameras?! Tickets are now live so go grab yours NOW!
When | Friday - Sunday, 14th - 16th February
Where | Gate No.2, JLN Stadium
Entry | Rs 149 Onwards
Timings | 12 Noon - 10 PM
Book Your Tickets Online Here | https://www.nearbuy.com/delhi-ncr/horn-ok-please-food-truck-festival-pragati-vihar#events
RSVP On FB Here | https://www.facebook.com/events/586675582186475/