Delhi
8 Insanely Amazing Dishes You Need To Try In Old Delhi For A Supremely Happy Cheat Day
Disclaimer: Bearing in mind the current health crisis befalling the city and the world at large, we're tweaking our content policy and recommendations. Stay positive, keep hygiene levels up and don't fall prey to panic and misinformation.
Delhi is home to hordes of cool new eateries which do tons of experimental dishes, but the foodie heart of the city lies squarely within the old walled city we adoringly call 'Purani Dilli'! Those ancient alleyways are absolutely crammed with hole-in-the-wall joints dishing up yummies they have been perfecting for centuries (quite literally!). So tag along with us as we take you through a roundup of all the MOST amazing dishes you have to dig into when in Old Delhi. Scroll away and TRY not to drool, folks!
1. Sheermal Roti 
Picture Credits: kenzyskitchenkorner
A sweet flatbread made with milk and lots of dry fruits, Sheermal is no less than heaven on a plate, if you ask us, folks. Haji Nadeem in Old Delhi has been selling this delicacy for years and he is quite the pro! Standing in the crowded by-lanes of Jama Masjid, filling your tummy with this royal (but really inexpensive) dish, is the best way to take in the essence of purani Dilli!
Where | Haji Nadeem Shahi Sheermal - Shop No. 111, Jama Masjid, Matia Mahal Road, Bazar Matia Mahal, Kalan Mehal 
Price |  Rs 35
Timings | 10 AM - 12 AM
Call Them | +91 9927 526 428
2. Japani Samosa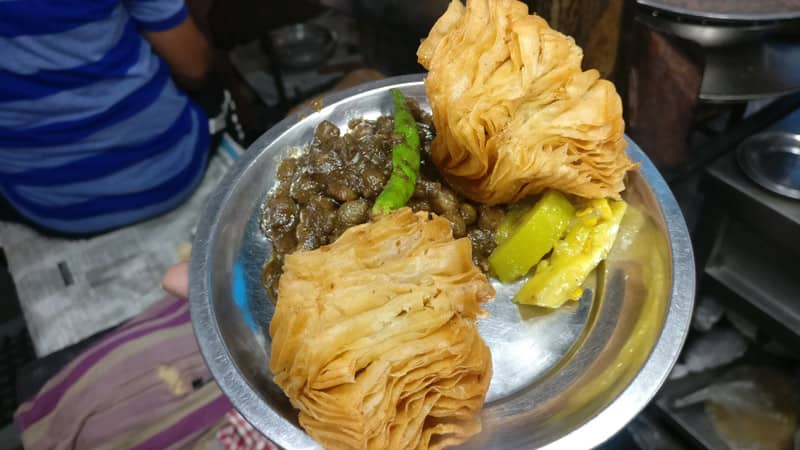 Samosas are the most loved snack of all time, especially for us Delhiites, and Manohar Japani Samose Walla gives this beloved dish a crispy twist. Their Japani Samosa is a layered flaky samosa, similar to a patty and is served hot with lots of chole and chutney. People who like all things crispy – you really can't miss out on this!
Where | Manohar Japani Samose Walla - Chandni Chowk, Bhagirath Palace, Chhippy Wada Indraprastha 
Price | Rs 60
Timings |  9 AM - 7:30 PM
3. Khurchan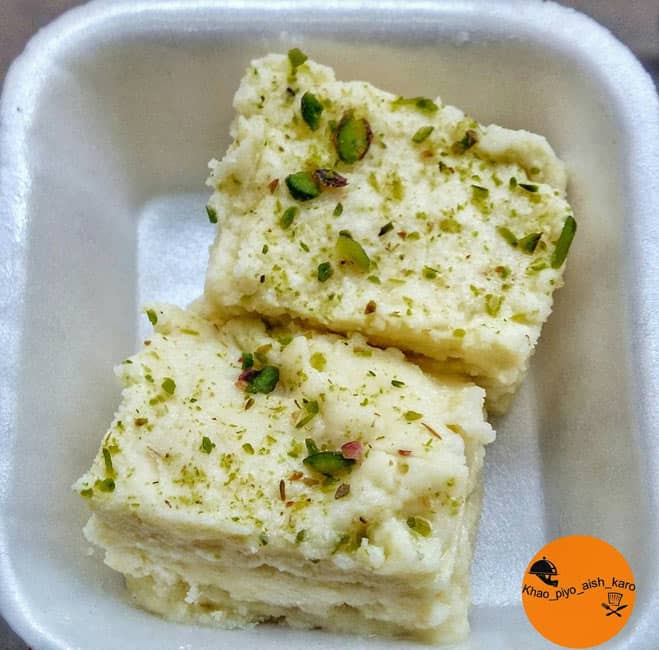 Picture Credits: khao_piyo_aish_karo
When milk is cooked slowly over low heat, it sticks to the kadhai and it is these milk scrapings that make the Khurchan at Hazari Lal Jain Khurchan Wale so special. This sweet dish has slowly disappeared from the foodie roadmap and is fairly difficult to find. Hazari Lal Jain is one of the few rare shops keeping this dish alive. This soft and subtly flavoured mithai is a must-have if you find yourself in this neck of the woods!
Where |  Hazari Lal Jain Khurchan Wale - 2225, Kinari Bazar Road, Kinari Bazar, Dharam Pura, Chandni Chowk
Price | Rs 35
Timings | 10 AM - 9:30 PM
Call Them | +91 11 2325 3992
4. Rabri Paratha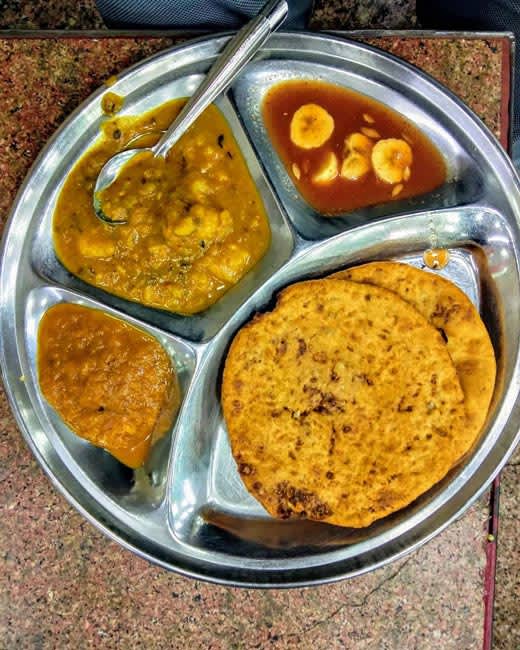 Picture Credits: delhi_eats
Purani Dilli is known for the Parathe Wale Gali, but how to find the best shop in that maze? Pt. Kanhaiyalal & Durga Prasad Parathe Wale sell the best deep-fried parathas with a side of achaar, Sitafal Sabzi, Aloo Matar Sabzi, Imli Banana Chutney, and, for good measure, some Green Mint Chutney. The varieties here are endless and their Rabri Paratha is a must-try when you land up here!
Where | Pt. Kanhaiyalal & Durga Parshad Dixit Parathe Wale - Shop no 36, Paranthe Wali Gali, Katra Lehswan, Chandni Chowk
Price | Rs 80
Timings | 8 AM - 10:30 PM
5. Stuffed Anaar Kulfi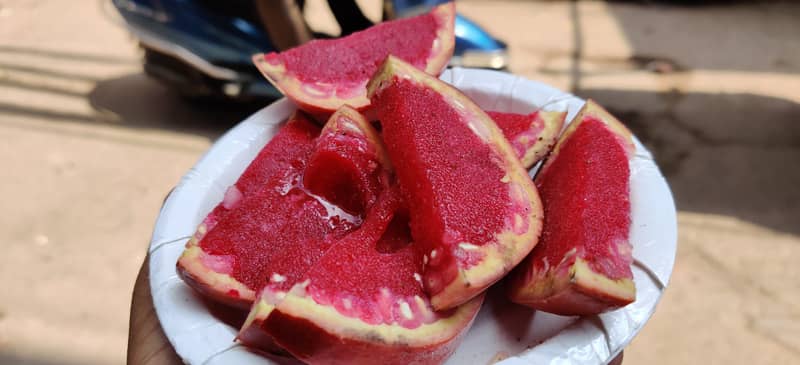 Ever eaten kulfi right out of a pomegranate peel? Kuremal serves the most Insta-aesthetic fruit kulfis one can imagine! He manages to keep the fruit's original flavour intact in his kulfis with fruit bits in each bite! When you pop by here, defo try his Jamun Kulfi as well. It's no wonder he's been selling kulfis at the same place for more than 30 years! 
Where | Kuremal Mohanlal Kulfi Walla - 526, Kucha Pati Ram, Bazar Sita Ram, Near Chawri Bazar Metro Station, Chawri Bazar
Price | Rs 250
Timings | 9 AM - 11:30 PM
Call Them | +91 9810 540 106
6. Mutton Burra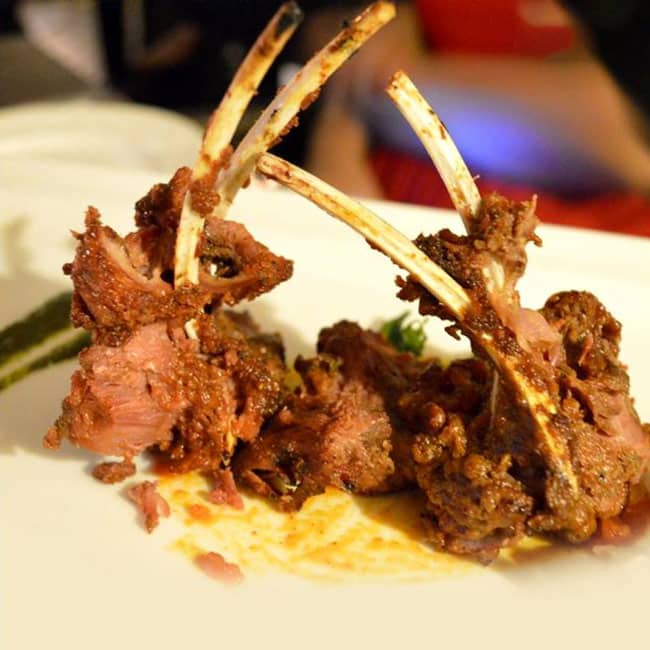 An authentic burra is one dish you'd have to really work hard to find. Unlike other places, Karim's gives the mutton the appropriate time to be cooked slowly in a tandoor which reflects in the authenticity of its taste. It has a soft texture and is well balanced on the spices. Trust us when we say this, you won't find a Mutton Burra like this elsewhere in the city!
Where | Karim's Hotel - 16, Urdu Bazar Road In Front of Jama Masjid Gate No.1, Gali Bhairo Wali, Kababiyan
Price | Rs 330
Timings | 9 AM - 1 AM
Call Them | +91 11 2326 4981
Check Out Their FB Page | https://www.facebook.com/karimhoteldelhi 
7. Kanji Wada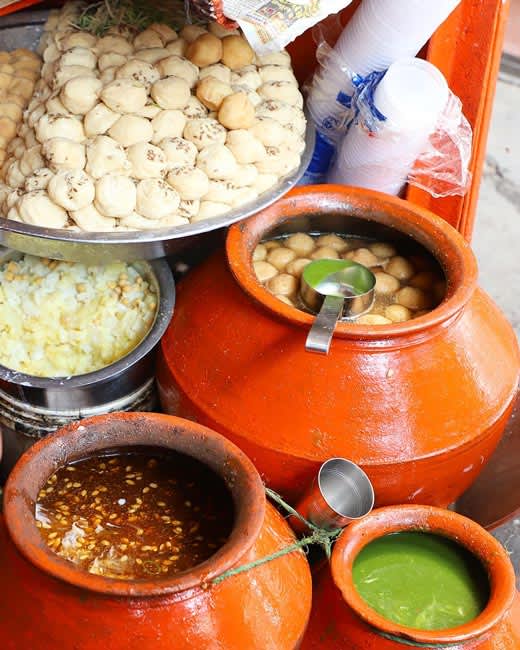 Picture Credits: india_eat_mania
Kanji vada in Delhi is synonymous with Shri Shyam Kanji Corner! This summer drink is not only lip-smacking but also very healthy and good for your digestive tract. This shop has been in place for many years now, with two generations serving Kanji Vadas. Shri Shyam Kanji Corner has definitely perfected the recipe and brings to you only the very best flavours!
Where | Shri Shyam Kanji Corner - Dariba Kalan Road, Dariba Kalan, Chandni Chowk
Price | Rs 30
Call Them | +91 9811 035 388
8. Jalebi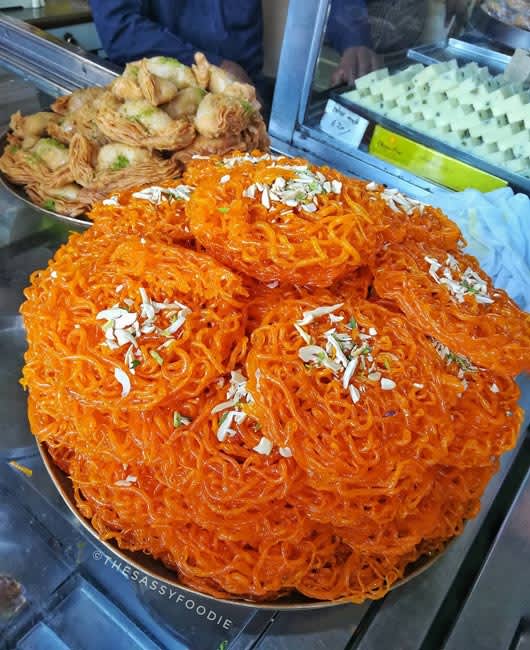 Picture Credits: the_sassy_foodie
This Jalebi would be the most unique kind of jalebi you've ever tried! Chaina Ram is so famous that their Jalebi is completely sold out almost every day. Its unique shape has garnered a lot of fans over the years and we are one of them. The next time you drop by this shop, make sure to get some packed for the ride back too!
Where | Chaina Ram Sindhi Confectioners - 6499, Ground Floor, Fateh Puri Chowk, Chandni Chowk, Near Axis Bank
Price | Rs 280 For 250 gms
Timings | 8 AM - 8 PM
Call Them | +91 11 2395 0747
Don't worry, all the walking you'll do to reach these shops will help you burn all those calories! Happy gorging!