Delhi
8 Insane & Absolutely Delectable Looking Mumbai Dessert Trends That Need To Come To Delhi ASAP
Disclaimer: Bearing in mind the current health crisis befalling the city and the world at large, we're tweaking our content policy and recommendations. Stay positive, keep hygiene levels up and don't fall prey to panic and misinformation.
Let's start by clarifying one thing - we Delhiwalas hate it when we're compared to Mumbaikars, like is there really any comparison? (#NoteTheSarcasm). Their and our worlds are poles apart and frankly the only thing we really envy other than the Marine Drive, Chowpatty and Sea Link are the desserts found there.
If you really ever open your Instagram and check out the kind of desserts these guys have, you'd want to be on the next flight to Mumbai to try them out for yourselves, no kidding! So here are 8 dessert trends discovered in Mumbai that we wish make their way to Delhi ASAP!
1. Cutting Chai Dessert @ Elementaria Bakery Cafe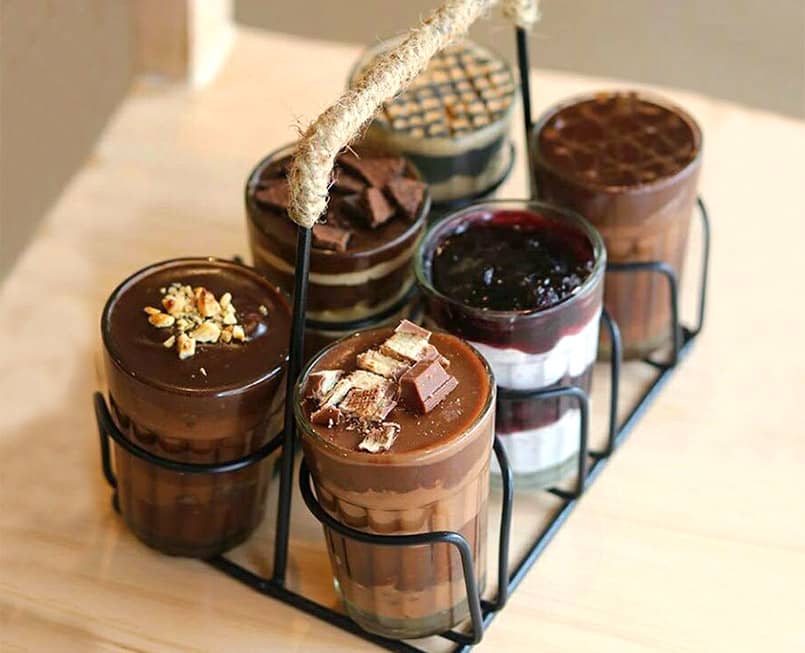 A cutting chai can make even the worst of days better AND if these chai glasses are filled with chocolate then it becomes the BEST thing in the world! Don't believe us? Well then you gotta try the Cutting Chai Dessert at Elementaria Bakery Cafe. Available in flavours like Nutella, Chai Masala, Mocha, Kit Kat, Dark Chocolate and Bourbon, we can't wait to get our hands on this one when we head to Mumbai or if they ever decide to come to Delhi!
Where | Elementaria Bakery Cafe - Bandra Kurla Complex, Lower Parel & Matunga East
Price | Rs 400
Check Out Their FB Page | https://www.facebook.com/elementariabakerycafe/
2. Nutella Well Cake @ The Boston Cupcakery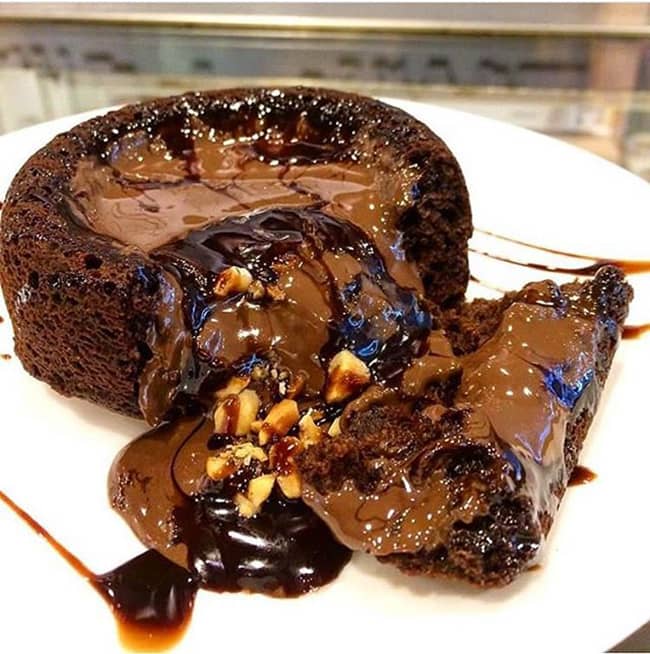 Picture Credits: foodmaniacindia
Nutella is bae and this drool-worthy Nutella Well Cake from The Boston Cupcakery is giving us some major #DessertGoals! Gooey and loaded with Nutella and chocolate syrup, this cake is something no chocolate lover can miss out on. Dear Boston Cupcakery, please come to Delhi soon for we want to sink our teeth in this amazing cake!   
Where | The Boston Cupcakery - Andheri West, Thane West & Goregaon West
Price | Rs 250
Check Out Their FB Page | https://www.facebook.com/thebostoncupcakery/
3. Nachos With Cream Cheese & White Chocolate @ The Pancake Story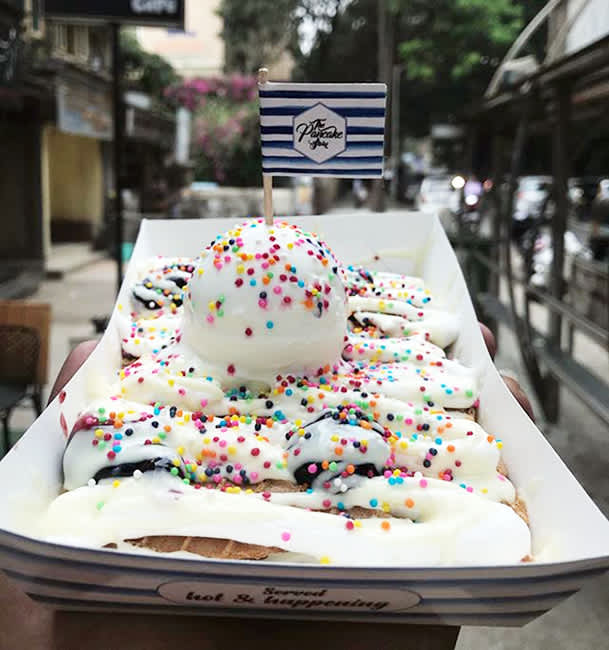 Picture Credits: theedibletales
If you thought that nachos were a savoury delight, then let the lovely peeps of The Pancake Story prove you wrong! These guys have a seperate section called Dessert Nachos on their menu and it has options like Berry N Cream Cheese Nachos and even Chocolate Bomb Nachos and we can't wait to have them here in Delhi *here's hoping*.
Where | The Pancake Story - Pali Hill, Andheri West, Juhu & Other Outlets   
Price | Rs 220
Check Out Their FB Page | https://www.facebook.com/ThePancakeStory/
4. Loaded Chocolate Toast @ Ashok Sandwich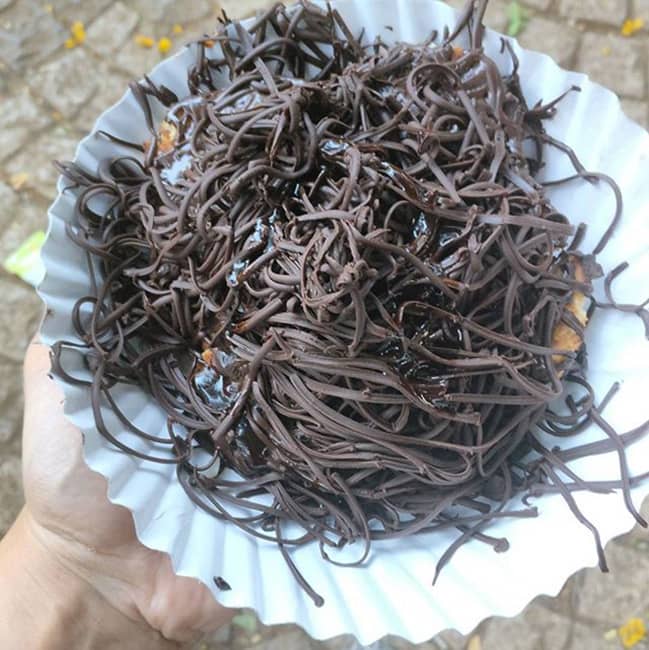 Picture Credits: 1teaspoonlove
Toast is one thing that can beat all your hunger pangs at any point of the day. Period. And the Chocolate Toast at Ashok Sandwich is a chocolate-y haven that's gonna soothe your sweet-toothed souls! These guys cover your plain ol' toast with lots of chocolate shavings and oodles of chocolate sauces; we're legit jealous of Mumbaikars right about now!
Where | Ashok Sandwich - Five Gardens, Matunga  
5. The Midas Touch @ Trench By The Chocolate Room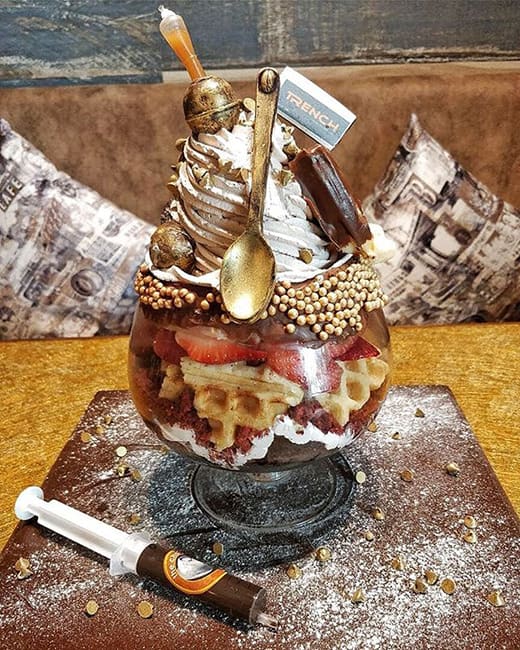 Picture Credits: thefoodtalesmumbai
Take a moment and just appreciate this beauty, people! Aptly called The Midas Touch, this huge dessert at Trench is a delight to the eyes and is loaded with waffles, brownies, strawberries, ice cream and loads of chocolate. We're sure it tastes as amazing as it looks and we just hope we can have something like this in Delhi soon (fingers crossed)!
Where | Trench - Shop 1,2,3 & 4, Hilton Apartment, Opposite Elco Arcade, Hill Road, Bandra West
Price | Rs 999
Check Out Their FB Page | https://www.facebook.com/trenchmumbai/
6. Coffee Churros @ Bombay Churros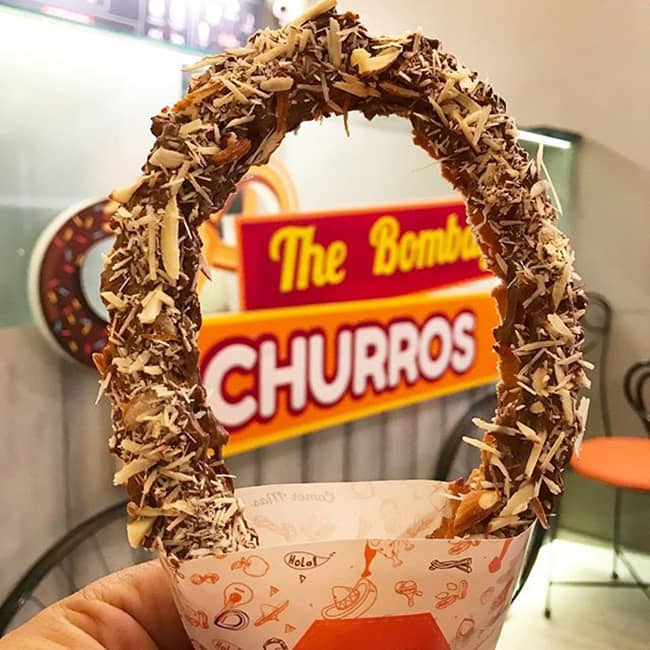 Picture Credits: foodieandmoody
'Do you want some coffee?' - that's the most beautiful question anyone can ask you, right? And if you're nodding your heads, then you're gonna love this place. Bombay Churros in Mumbai does Coffee Churros with almonds all around it and man, does it look dreamy! Crispy churros in coffee flavour, now that's something we need in Delhi!
Where | The Bombay Churros  - Carter Road, Bandra West & Oshiwara, Andheri West
Price | Rs 140
Check Out Their FB Page | https://www.facebook.com/thebombaychurros/
7. Caramel Donut @ The Rolling Pin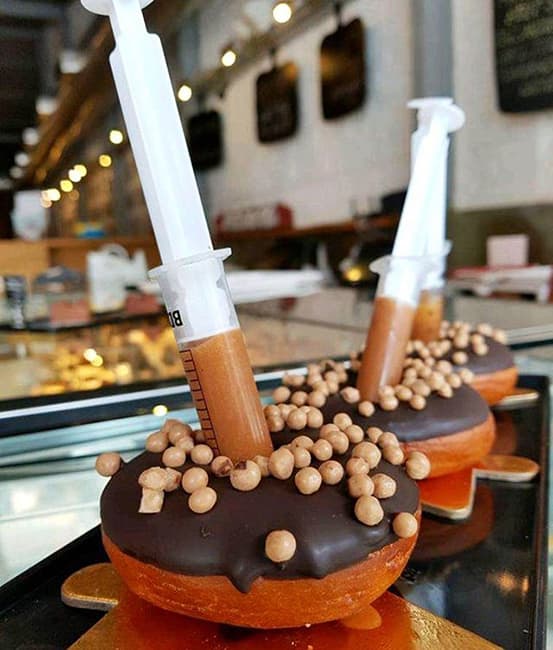 Picture Credits: the_foodiechick
Donuts are the best desserts ever, no questions asked but Caramel Donuts are actually heart eyes! And these ones with syringes from The Rolling Pin are actually filled with caramel that you can inject over the super chocolatey donuts! We'd be happy to move to Mumbai just for this. *starts packing*!
Where | The Rolling Pin - 12, Janta Industrial Estate, Senapati Bapat Road, Lower Parel
Price | Rs 70
Check Out Their FB Page | https://www.facebook.com/TRPBAKERY/
8. Cheesecake On A Stick @ Your Sugar Story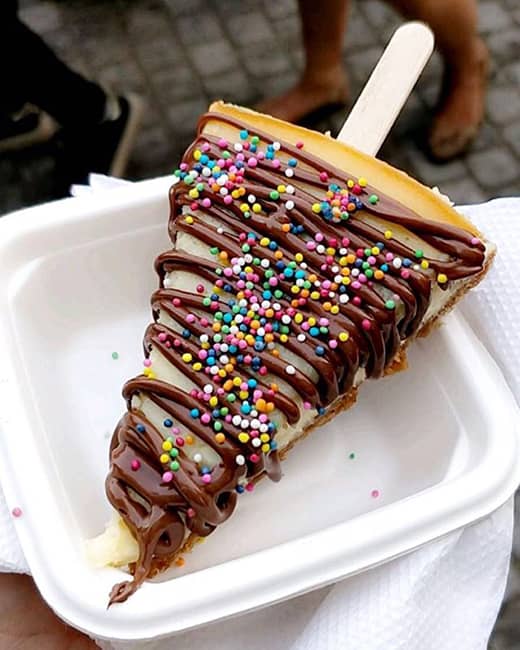 Picture Credits: letmeeatdessert_
Cheesecake is love and if you get to eat that yumminess on a stick with chocolate toppings and pretty sprinkles, what more could you want from life?! Your Sugar Story is a home bakery that delivers these delish cakes right at your doorstep and we have just one question - when are you guys coming to Delhi?!
Where | Your Sugar Story - Kumkum Villa, 16th Road, Pali Hill, Bandra West
Price | Rs 220 Onwards
Check Out Their FB Page | https://www.facebook.com/yoursugarstory/
As much as we love our city, this round surely goes to Mumbai (wipes away the drool)!