Delhi
8 Food Joints In & Around Subhash Nagar That'll Deliver Piping Hot Grub Right To Your Doorstep
Hola, foodies from West Delhi! Are you bored of sitting put at home but still feel too lazy to cook? We've come up with a fix for your problems for whenever the hunger monster starts roaring in your bellies. Peruse through this list of amazing eateries in and around Subhash Nagar that'll bring delish food options right to your doorstep!
1. Slay Coffee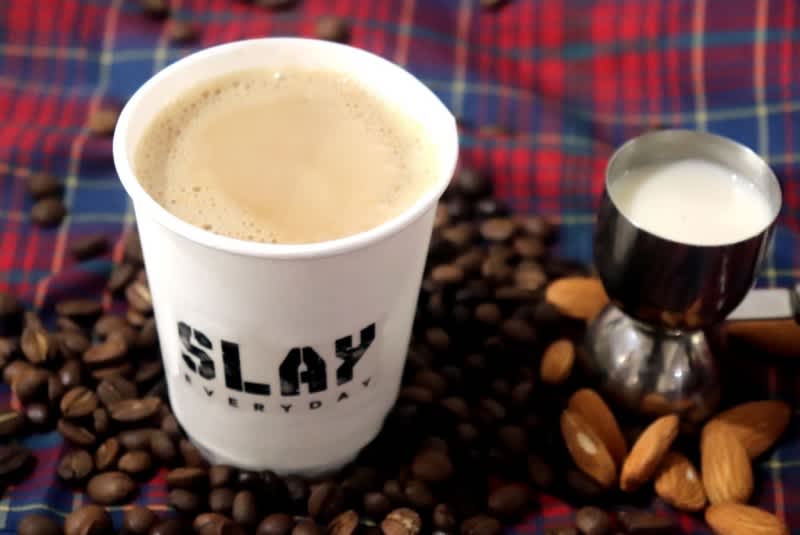 Are you a coffeeholic whose bodily function refuse to operate without the mandatory dose of caffeine in their system? Here's a place to kickstart your day with a cup of coffee to take away all the laziness and prep you for the day ahead! Their offerings are strong enough to freshen you up. Try out their Smooth Irish Creme Latte, Rose Cold Cofffee, Iced Peppermint Mocha, The Wrong Turn, The Graveyard and other equally great options. They deliver till 2 AM, so when you have an assignment or a presentation due next morning, don't forget to keep yourself energised by ordering from here!
Timings | 9 - 2 AM
Call Them | +91 11 4158 7726
Meal For Two | Rs 300
Check Out Their FB Page | https://www.facebook.com/DrinkSlayCoffee/
2. The Mughal Trail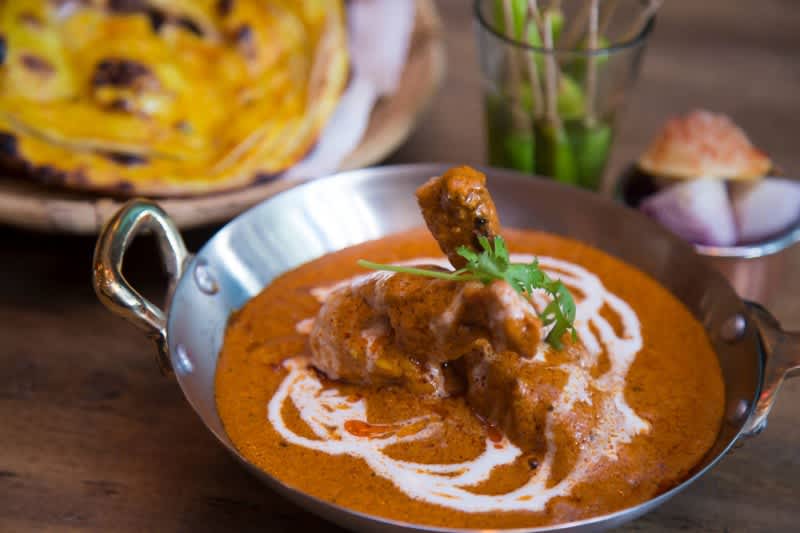 The name of this delivery-only joint explains it all! Give them a call to devour the Mughlai flavours of North India from The Mughal Trail. They have a variety of kebabs & gravy-based dishes to choose from. As you binge-watch that interesting series, demolish Multani Paneer Tikka, TMT Chicken Tikka & Jama Masjid Ki HariMirch Biryani off their awesome menu till as late as 5AM, how cool is that?
Timings | 12 Noon - 5 AM
Call Them | +91 11 4561 2113
Meal For Two | Rs 500
Check Out Their FB Page | https://www.facebook.com/themughaltrail/
3. Behrouz Biryani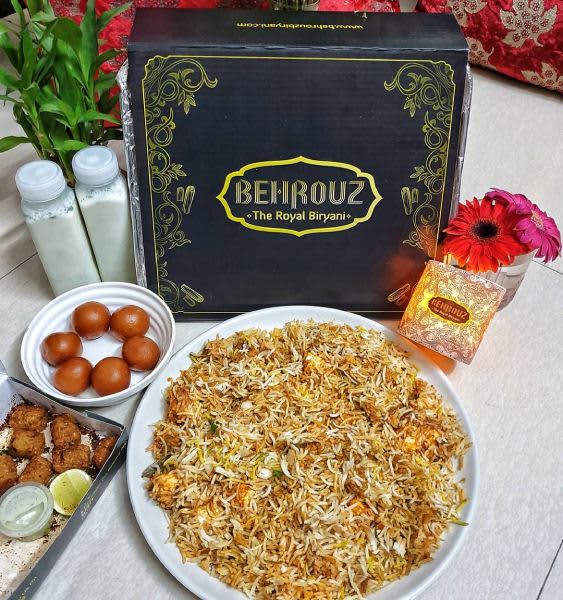 Picture Credits: foodiecouple_parvan
Even if you're living under a rock, you'll definitely know about this place 'cause there's no way you're a biryani lover if you haven't ordered from here. With around 50 outlets all over the city, their offerings are something we just can't bring ourselves to say no to! Give their Lazeez Bhuna Murgh Biryani, Keema Gosht Biryani, Falafel-E-Khaas Zaikedaar Paneer Biryani and Murgh Makhani Kefta Biryani a shot and you'll understand what the hype is all about!
Timings | 10 - 1 AM
Call Them | +91 9152 987 595
Meal For Two | Rs 700
Check Out Their FB Page | https://www.facebook.com/BehrouzBiryani/
4. Brooklyn Pizza Co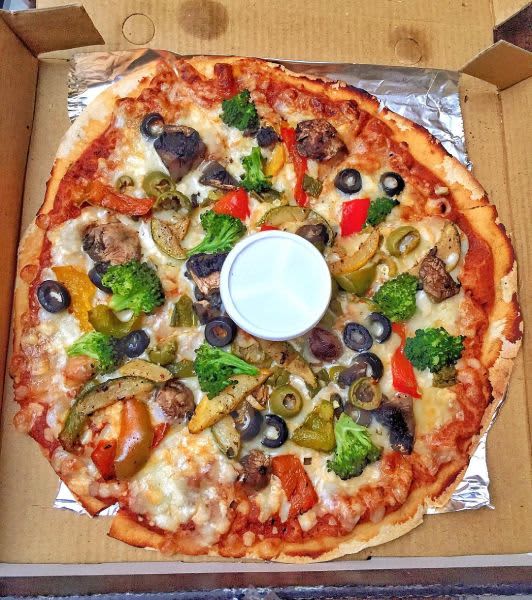 Picture Credits: delicious_veggy
A list of places to eat cannot be complete without a place serving cheese-oozing pizzas! In West Delhi, Brooklyn Pizza Co does the needful of satisfying us all with one of the best pizzas served in town. Handmade base, with spicy sauces and overloaded with toppings & cheese, can it get any better? Relish Dirty Cuban, Oink Oink, Dragon Breath, Bohemian Fantasy and Havana Nights till the ungodly hour of 5 in the morning while watching your fave movie!
Timings | 6 PM - 5 AM
Call Them | +91 9871 128 983
Meal For Two | Rs 600
Check Out Their FB Page | https://www.facebook.com/Brooklyn-Pizza-Co-143077006406887/
5. Jack & Rose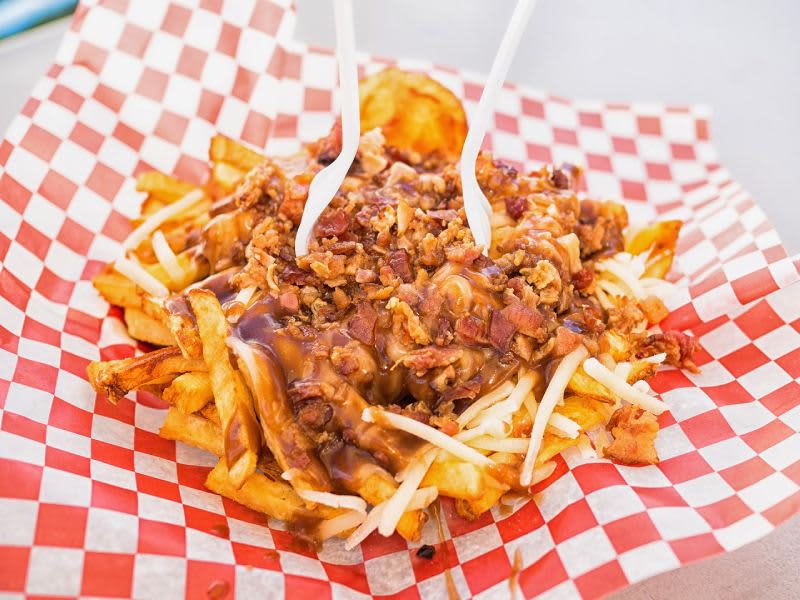 This Is A Representative Image
With a menu so mind-bogglingly vast, you can order yourself everything from snacks like rolls, fries, sandwiches, burgers, nachos and scads more to a full-fledged North Indian or Chinese meal to satiate your taste buds. Adding spice to our regular momos, these guys do 18 varieties of this beloved dish including Cocktail, Schezwan and Kurkure Momos - wow! We simply can't wait to wolf down their Butter Chicken Fries, Ultimate Cheese Burger, Fried Chicken Biryani, Chicken Tikka Maggi and ChocoMint Jazz Shake. And the best part is that these folks stay open till the witching hour of 4 AM so their incredible delights will keep you company the next time you're pulling an all-nighter!
Timings | 6 PM - 4 AM
Call Them | +91 7210 010 005
Meal For Two | Rs 500
6. Eat.fit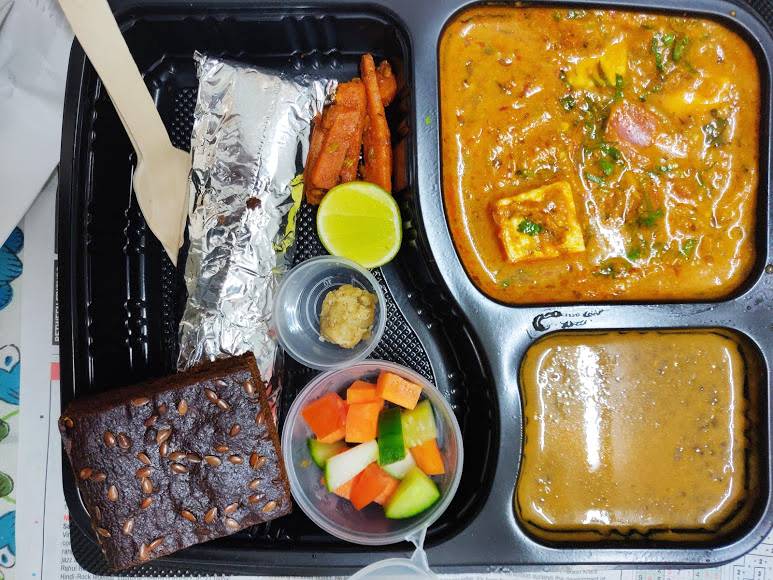 Picture Credits: Abhinay Gupta
For all the fitness freaks, we have something for you as well. Eat.fit's menu offers a variety of healthy options which are high in protein, low on fats as well as carbs with mild spices & oil. Attack Sumac Chicken Fattoush Salad, Nawabi Paneer Tikka Biryani & Pista Kheer from their menu. They also have keto-friendly options to choose from and we couldn't be happier!
Timings | 11 AM - 10:30 PM
Call Them | +91 7048 917 195
Meal For Two | Rs 400
7. Faasos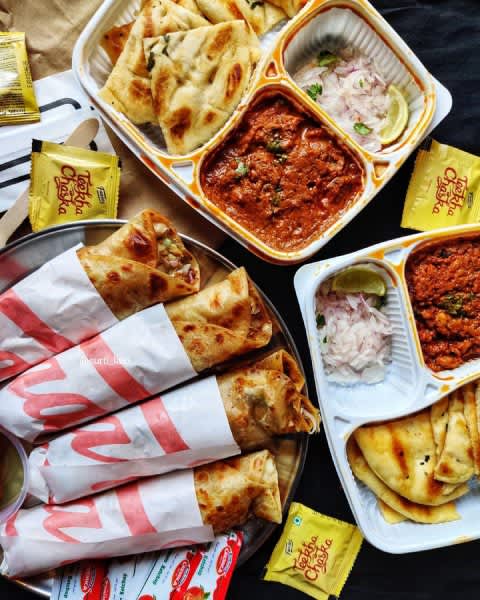 Picture Credits: surti_lalo
Famous for their supremely stuffed and filling rolls, Faasos is a go-to place for the majority of us when it comes to grabbing a quick bite. Apart from rolls, they also serve biryani, North Indian Cuisine & wraps. Bite into Mutton Bhuna Rice Feast, Jumbo Falafel Salsa Wrap & Double Cheese Meatball Wrap as you read through that nail-biting thriller tucked inside the covers at home. And they order till 2 AM so all the more reason to order up!
Timings | 9 - 2 AM
Call Them | +91 9152 987 642
Meal For Two | Rs 550
Check Out Their FB Page | https://www.facebook.com/Faasos/
8. Burger Singh
Picture Credits: rinkicooks
Do typical burgers not satisfy your taste buds? Do you crave for some desi touch of spices to your burgers? Burger Singh is here to do the needful. They'll Punjabify your burgers and take 'em to another level. They've got some funky options like Jatt Putt Chicken Burger, United States of Punjab Chicken Burger, Keema Pav Burger, Udta Punjab 2.0 and Bunty Pappeh Da Aloo. But the showstopper has got to be the Juicy Lucy Kaur Burger with cheese oozing out!
Timings | 11 - 4 AM
Call Them | +91 8767 121 212
Meal For Two | Rs 400
Check Out Their FB Page | https://www.facebook.com/BurgerSinghIndia/
So, which place are you ringing up first? Beause being caged inside your home doesn't mean your taste buds have to be too!