Delhi
8 Comical Things Like Playing Ludo, Makeshift Seats & Makeup Sessions Spotted On The Delhi Metro!
Delhi metro is undoubtedly the best gift ever to a city that's always in a rush and choking in traffic, and we totes love DMRC for it. But, in addition to metros being an essential part of our daily routines now, they've also become a great source of entertainment for us. How, you ask? We say check this list of the most hilarious and funny things that you can only spot in Delhi Metros and you'll know what we mean! 
1. Facing Difficulty In Finding A Seat? Why Not Carry Your Own!
Picture Credits: Life in a delhi metro its funny
Yes, finding a seat in the metro is perhaps the toughest thing in the world and NO, we're not exaggerating one bit! With millions of people hopping in and out all the time, it gets pretty crazy in there! But we understand that your tired legs want what they want, and if they want a place to sit, how about carrying your own jugaadu version of it?
2. Taking Power Naps Like You're @ Home Sweet Home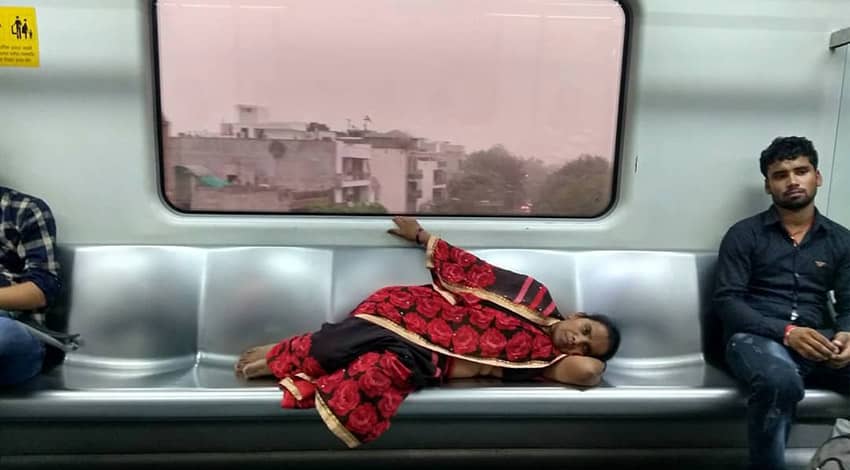 Picture Credits: yourtravillerbuddy
If you're a regular on the metro, this would be a common sight for you! And, there are many categories of people and ways of sleeping on the metro - kids use their bags as pillows, men use their partners shoulder and legends consider the entire metro as their bed and sleep anywhere, quite literally #thuglife!
3. Watching Live Makeup Tutorials In The Metro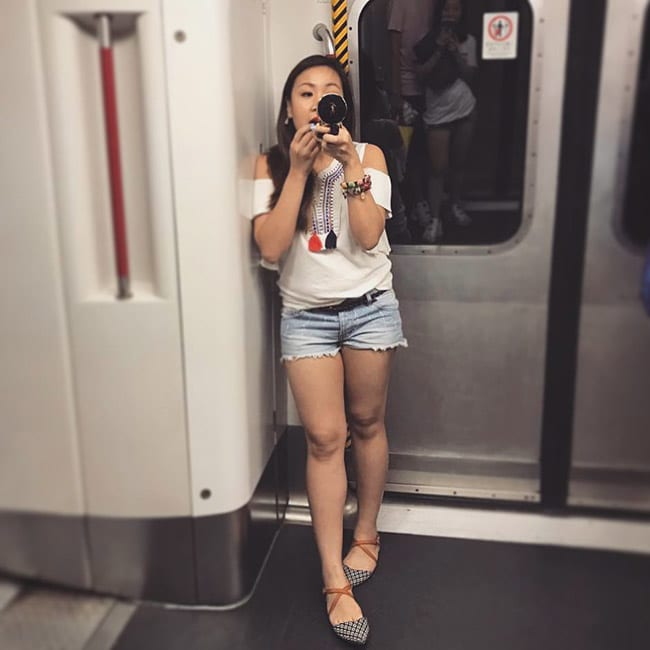 Picture Credits: iampolala
Oh, this one's prolly the funniest of them all and can be witnessed in the ladies coach quite often. While you may find it difficult to even take a sip from your bottle of water without spilling it, some super talented women can literally do their entire makeup, from putting on eyeshadow to kajal and even winged eyeliners on the shaky tracks, effortlessly!
4. Boredom Hitting Hard? How About A Game Of Ludo!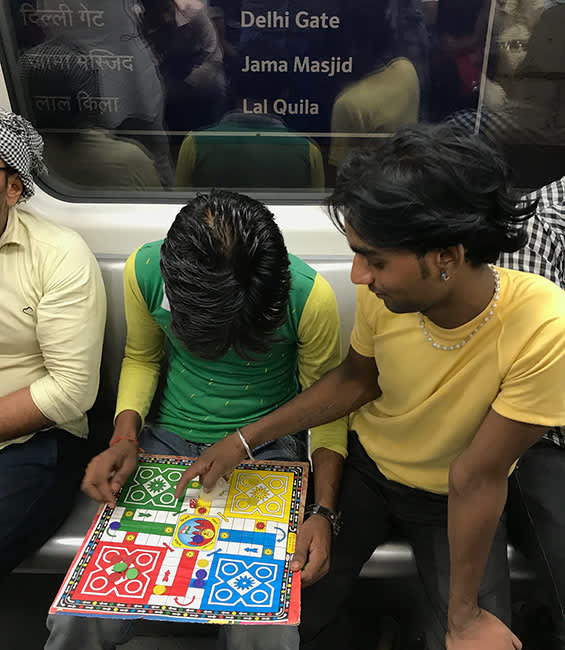 Picture Credits: jatinadhlakha
Metro rides may be comforting, but they can also get a li'l boring, especially if you've too many stations to cover. So, the first thought that comes to your mind is maybe plugging in your earphones, reading a book or maybe calling a friend, right? Nope! Not always. Delhi peeps have taken fighting boredom to another level, 'cause people have literally been spotted playing ludo in a MOVING train. Let's just hope the pieces stay where they belong!   
5. Chillin' Like A Boss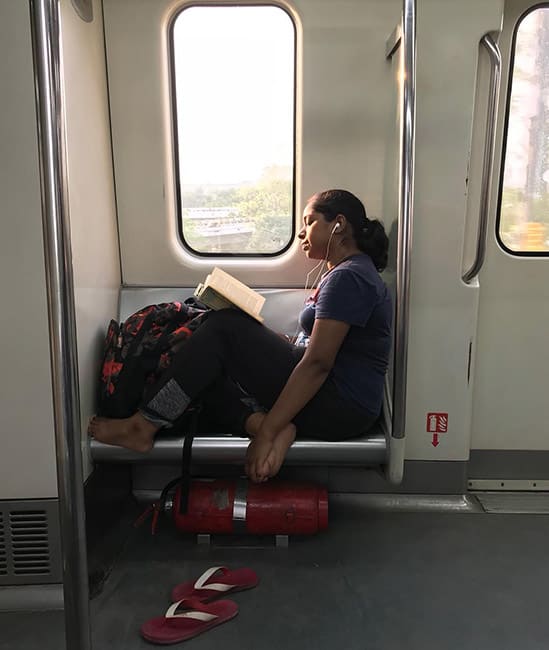 Picture Credits: jatinadhlakha
To some, metro rides can be extremely exhausting and tedious, but for others it's simply their time to relax and chill. Take a ride on Sundays, and you'd defo come across these 'chillin-like-a-boss kinda peeps who totes enjoy their metro rides, with a book in hand, earphones plugged in, a cuppa coffee in hand (that's what they wish for) and enough seat to curl up and enjoy their ride. Full paisa vasool haina? 
6. Wearing Shades Inside The Metro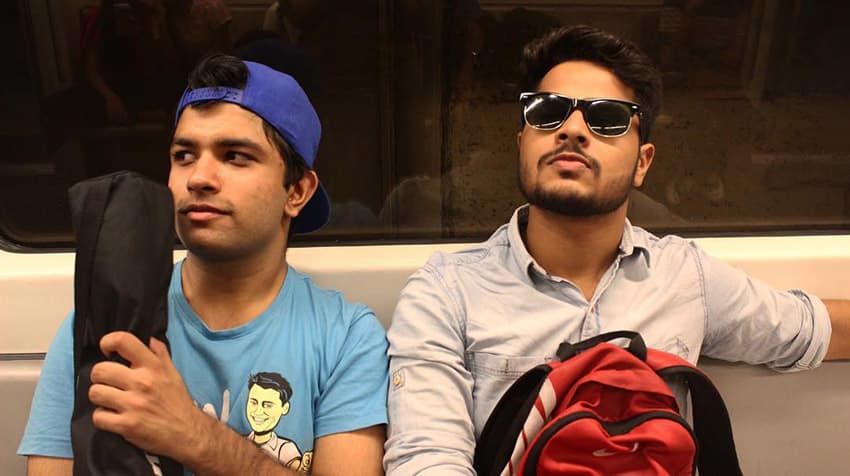 Picture Credits: sharmajikaputr
We understand that it's summer and really hot outside, but dude ,once you're in the metro, you gotta take off those shades, 'cause the sun ain't shining' inside! But, swag bhi to koi cheez hoti hai yaar!
7. Peeking Into Other People's Phones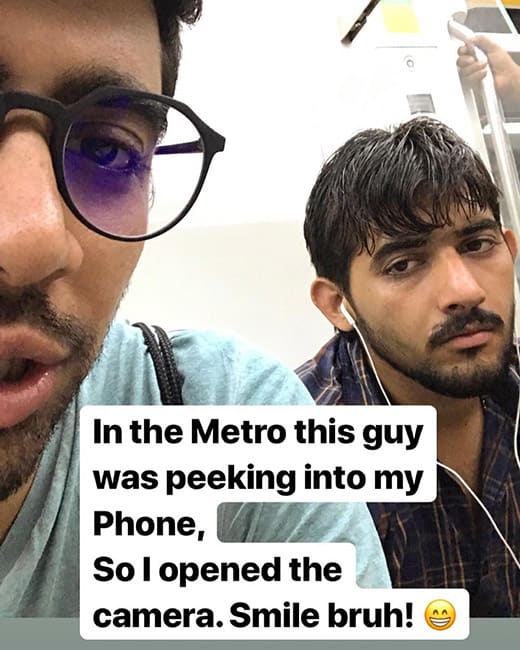 Picture Credits: samitgambhir
Seems like peeking into thy neighbour's phone is a Delhiites' favourite pastime, which, truth be told, can be annoying as hell but here, this person demonstrates how it can also be a hilarious! Something you should definitely try the next time you find someone peeping into your phone.
8. Exclaiming "But First, Let Me Take A Selfie"!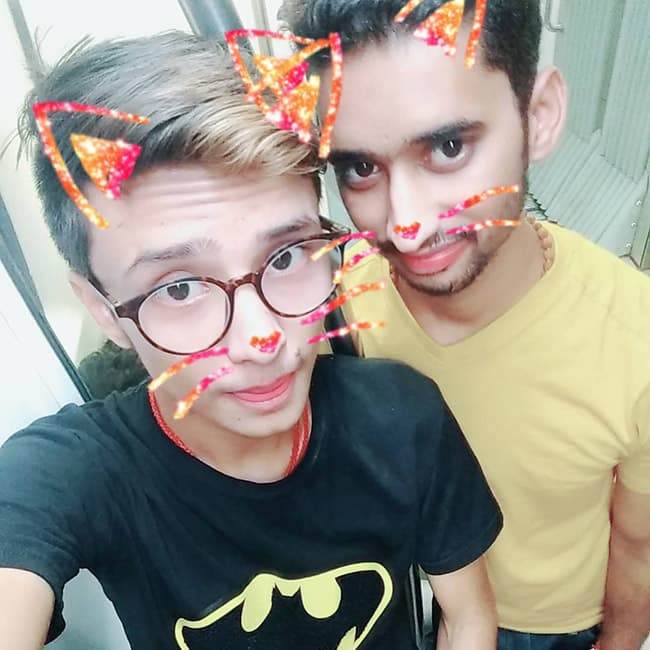 Picture Credits: _rajputshubham_
Taking a selfie is an art, an art that only a lucky few possess. Add to that Snapchat filters and you'll be entertained for the rest of your ride, along with the ones who're watching you perfect that shot! 
So, these are the hilarious incidents that we've managed to witness on our metro rides, do you have any more in mind? Let us know in the comment section below!