Delhi
8 Awesome Things To Defo Check Out @ The New Delhi World Book Fair 2019
The best thing about books is that they let you travel without moving a smidge. If bookstores are your candy shops then the 27th edition of the New Delhi World Book Fair is the place to head to right away. Every year this fair takes up a theme to focus on and explore various aspects of an area of intellectual activity having some pronounced social relevance.
This year the theme is focused on 'Readers With Special Needs", with emphasis on the reading needs of children with special needs. An exclusive exhibition of Braille books, audio books, integrated print-Braille books and many other things in keeping with the theme were a major highlight. On a sunny winter morning, we dropped by to see what all the fuss was about and to save you some exercise, we've listed out the must check out things at the book fair this time around. Read up!
1. Authors Corner
World Book Fair 2019 has a little something they called the Authors Corner, where visitors get to interact with some well-known authors, as well as, buy their novels. Every day of the fair is dedicated to an author, who shares their experiences, insights and journey.
We got a chance to have a candid chat with Mr. Rajiv Ranjan Prasad who told us about his journey to being an author and what ideas and happening inspired him to be a part of this community and how his childhood desire of penning his thoughts became a reality. He was courteous enough to read out excerpts from his book, Lal Andhera for us.
2. China Book Center Stall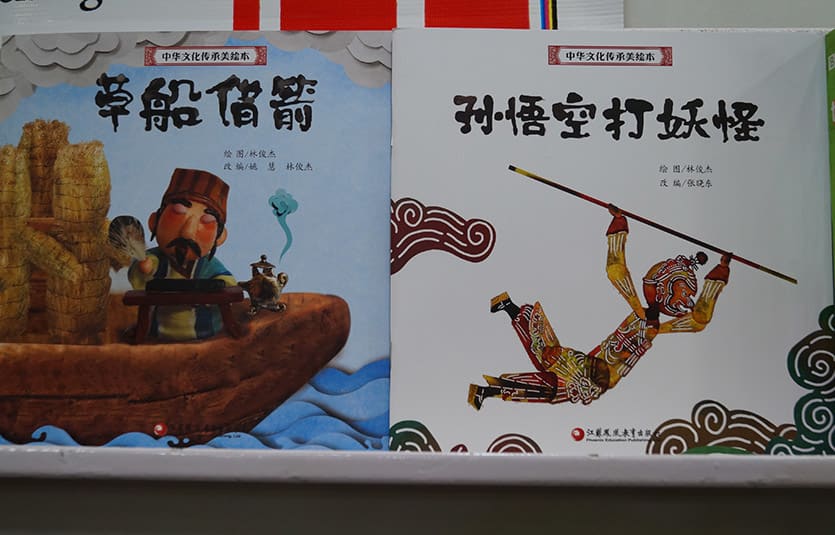 One of the first kiosks that grabbed our attention was this one where all genre of books in English, Cantonese and Mandarin were available for kids and teenagers. Ranging from Chetan Bhagat to some of the finest classics from China were available. The stall had also arranged for a translator-cum-helper who would help you decide and assess which one to buy and understand the language. With a major part dedicated to the Chinese language, they also displayed books in Spanish and French. Thumbs up to China Book Center for this!
3. Navrang Printers Stall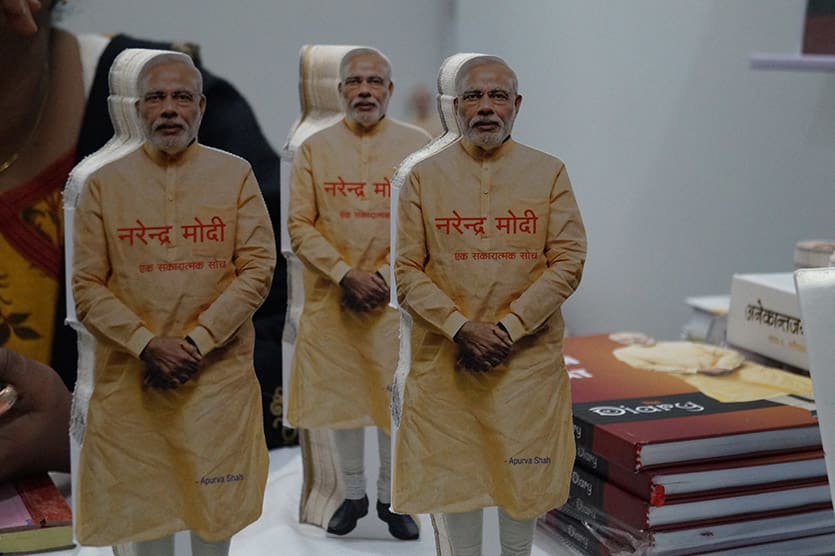 Inspired by the most versatile personality, Mr Narendra Modi, this stall displayed diaries, bookmarks and sayings of Modiji in a book that was cut-out of his caricature. The highlight of this one was the book published by them that contained the teachings of Modiji, which weighed exactly as much as him, had the exact number of pages as his age, and even the height of the book was exactly that of our Prime Minister. The book is at display only but one may buy the miniature version of the book at the stall.
4. Dev Innovator Stall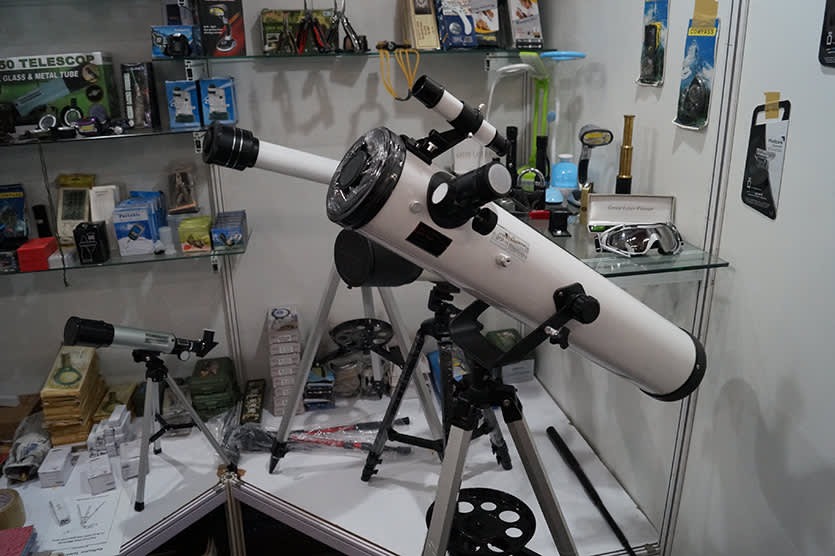 The crowd that was gathered around this stall took our notice which made us visit this one. We loved the fact that how parents have become aware and enlighten their kids towards things which can turn out helpful in their future and this kiosk was selling exactly the same items. This stall had multiple kinds of binoculars, Swiss knives for self-defence, telescopes of all sizes, compasses, brain games, puzzles, laser lights, magnifying glasses, table clocks, prisms, hourglass etc. and what not. On top of that, a person from the counter was explaining how to make the most out of every item they were selling. They also had various miniature versions of magnifying glasses and using the basics of science, they demonstrated how to use them in different situations. Science has never been more fun, to be honest!
5. NBT India Stall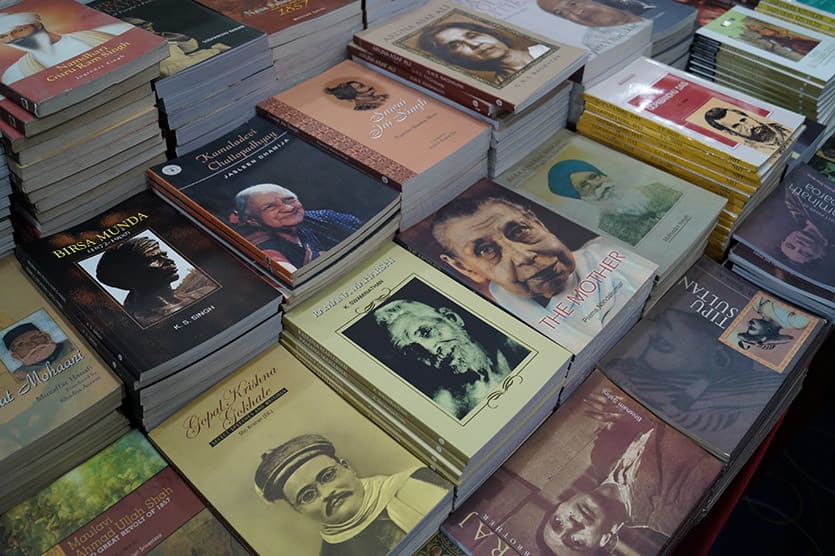 We were in awe of this stall which had almost every genre known to mankind in its kitty. Ranging from books in Hindi for kids to classics for the bibliophile, this outlet had them all. We loved how a special section of the kiosk was dedicated for children with special needs and had attendants who were patiently and nicely dealing with the parents as well as the kids in the store. They had books in Braille language too which formed a centre of attraction for many. Good going NBT!
6. Oxford Store Stall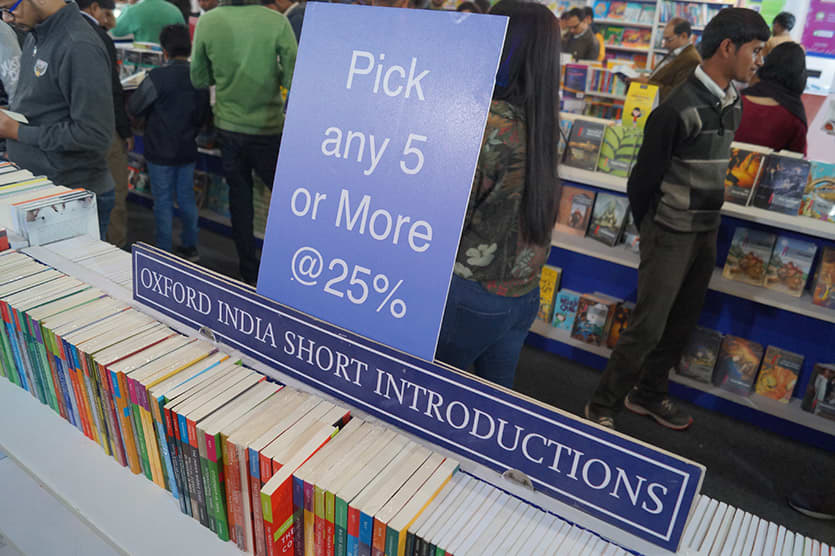 One of the elite stores at the fair was this one with possessed books from various sections including short books, new authors publications, self-help, classics, fiction, kids section etc. For kids, they also had various competitions at regular intervals throughout the day keeping its visitors involved at all times. We loved the quantum of discounts and offers available at this outlet literally forcing us to splurge on the books available here!
7. Simon & Schuster India Stall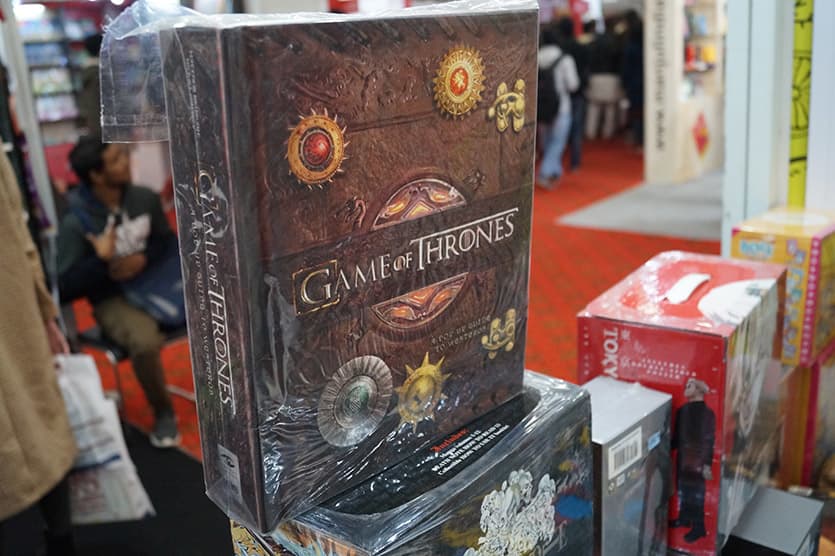 This stall had the attention of every animation lover that entered the venue. To the surprise to many, they had a wide collection of mangas aka Japanese animated comics and the followers present there were ecstatic to find their missing volumes to complete their collections. Dragon Ball Z, Pokemon and Death Note were some of the most sought-after names. Apart from mangas, they also displayed self-help books and other comic books comprising of Batman and Robin, Game of Thrones etc!
8. Penguin Store Stall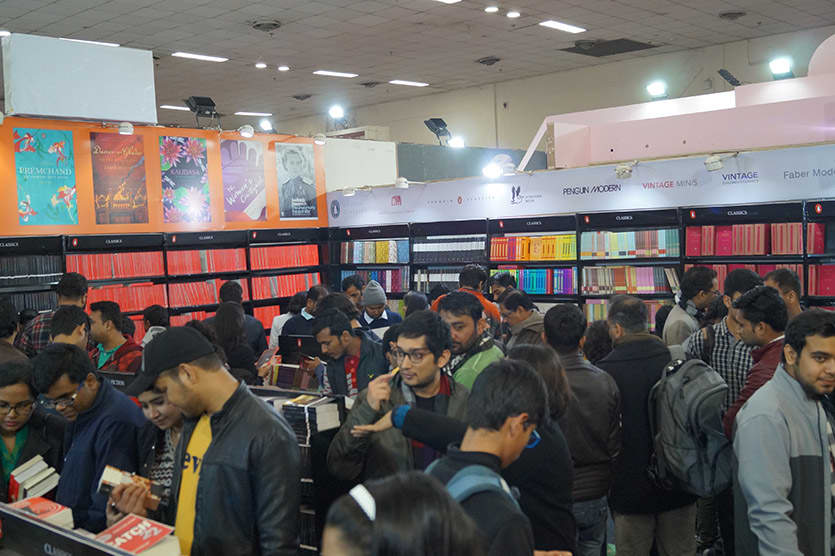 Capturing a major portion of the floor area was the Penguin Store which flaunted the classics and the international authors on its shelves with a series of discounts available based on the quantum of purchase. Keeping the theme of the fair in consideration they also dedicated a portion of the store for books on topics like autism, anger management for kids, psychological issues in children, eating habits etc. Though the books were meant for kids, we saw a maximum number of parents enquiring and making purchases for the same!
All in all, we liked how the theme was not completely ignored and were actually jumping with joy at all the variety and diversity of books showcased here despite the space constraint. The fair started on the 5th of January and will go on till the 13th, so take some time out and head on over!
On Till | Sunday, 13th January
Where | New Delhi World Book Fair 2019 - Pragati Maidan, Mathura Road
Entry | Rs 20 (Adults) & Rs 10 (Kids)
Timings | 11 AM - 8 PM
RSVP On FB Here | https://www.facebook.com/events/1209616842528375/ 
Check Out Their FB Page | https://www.facebook.com/NewDelhiWorldBookFair
Scroll Through More Images Of The Cool Offerings Here!