Delhi
8 Awesome Things Every Delhiite Should Do For The Best Winter Ever!
Dilli Ki Sardi has its own magic. Be it the cosy winter sun that lets you take the perfect sun-kissed pics or the chilly wind that freezes your spine, it's all an experience in itself. To make things a bit more interesting, we have a little something for you - a list of 8 freaking awesome things you have GOT to do this winter to have the best time ever! From foodies to adrenaline junkies, from explorers to soul searchers, there's something for everyone. Let's take a quick look, shall we?
1. Witness A Magical Sunrise Amidst Migratory Birds While Boating At Yamuna Ghat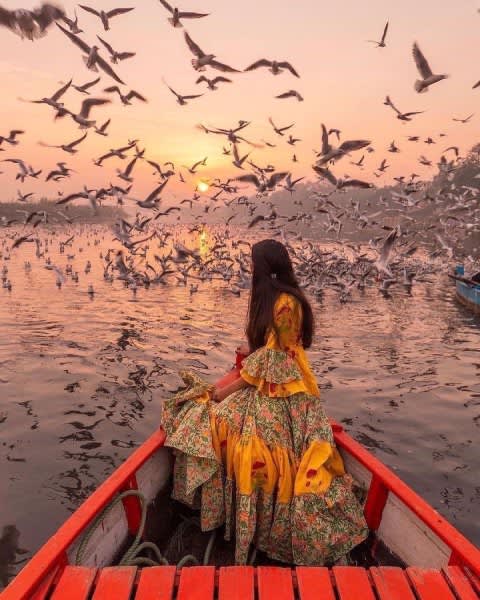 Picture Credits: suvarnaarora
Winter is when migratory birds flock the bird sanctuaries of Delhi. The early morning sight at Yamuna Ghat, located near Kashmiri Gate, is ethereal with thousands of seagulls flying all around you, creating a loud cacophony that feels like a symphony to the ears. Witnessing the sunrise amidst all this is a sight to behold. And if this isn't enough to entice you, you can always hop on a boat and go for a boat ride in the fog-laden river. Since the sun rises late during winters, the ghat is easily accessible by metro through Chandini Chowk, as well as Kashmiri Gate metro stations. It goes without saying that this also makes for an absolutely magical date, doesn't it?! 
Where | Yamuna Ghat, Kashmiri Gate
2. Go On A Leisurely Picnic Under The Sun At Sunder Nursery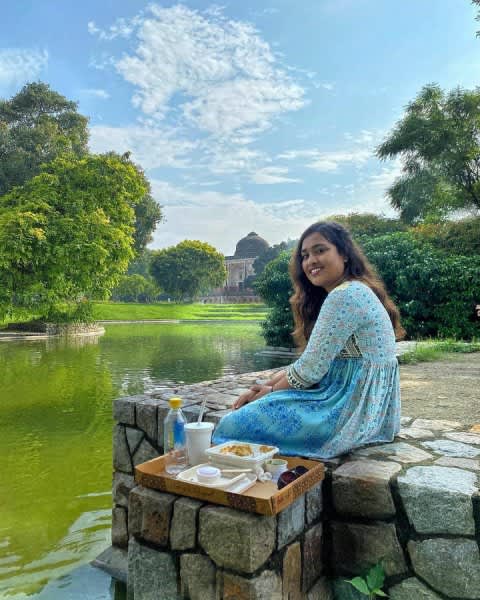 Picture Credits: arohi0912
Basking under the warmth of the winter sun on the lush green grass of Sunder Nursery, while the birds chirp in the background has always been a favourite pastime of Delhi folks. Be it a family picnic or a date with bae, you can't go wrong with the laid back charm of the monuments and the lake here. For all the readers out there, it's the best place to get lost in a different world while getting sun-kissed. All in all, it's the perfect place to just laze around for a day, no?
Where |  Sunder Nursery - Bharat Scouts & Guides Marg, Opposite Humayun Tomb Park, Nizamuddin, National Zoological Park
3. Go On A Gastronomic Ride Through The Lanes Of Delhi 6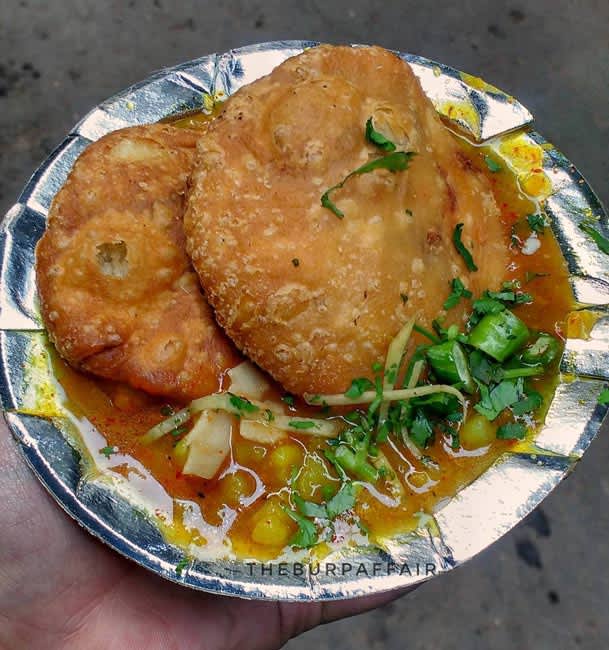 Picture Credits: theburpaffair
Saying that Purani Dilli is every foodie's paradise is a gross understatement. It's a trail that makes your taste buds attain nirvana. The succulent Kebabs of Qureshi and the exotic Kormas of Karim's, Al Jawahar, or for that matter, any eatery at Matia Mahal Road is enough for you to experience an eye-rolling foodgasm. But wait, who said it's all meat? Purani Dilli ki world famous chaat, chole bhature, and our favourite, JB Kachauri Wala are all waiting for you to feast upon them! Don't forget to get your hands on the Daulat Ki Chaat - it's a winter speciality! We suggest that you end your day with Cool Point's Shahi Tukda - it's the most refreshing dessert you are gonna have!
4. Experience A Royal Stay At The Heritage Hill Top Hotels Of Neemrana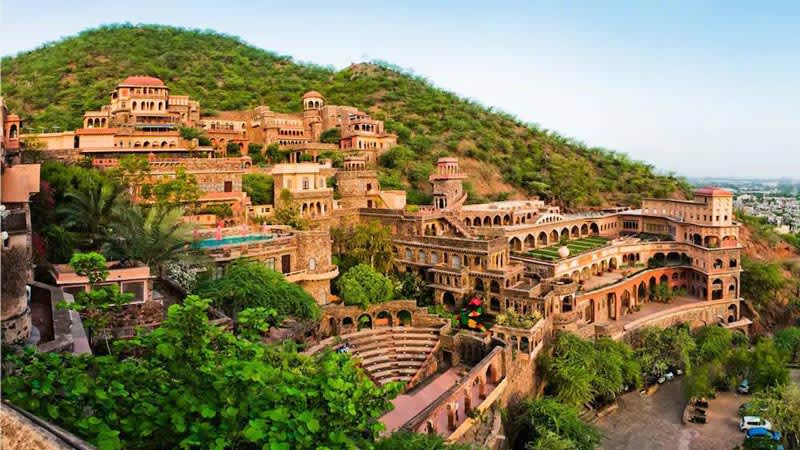 The Neemrana Group has revolutionised what it means to stay at a heritage hotel. Their hotels, or historic forts we should call them, symbolise a new blend of restoration, rebuilding, and revitalization of ruined architectural wonders and offer a unique experience to those willing to travel back in time to live like an aristocrat of Medieval India. Count yourself lucky, for three majestic hill forts managed by Neemrana Hotels is located just a little over 100 km from Delhi - the Tijara Fort Palace, Neemrana Fort Palace and Hill Fort, Kesroli. So what are you waiting for?! Hit the road, ASAP! 
Where | Neemrana Fort Palace - 122nd Milestone, Jaipur Expy, Neemrana & Other Heritage Hotels 
Distance From Delhi | 120 Km 
Here's Their Website | https://www.neemranahotels.com/ 
5. Visit These Ethereal Lakes Around The City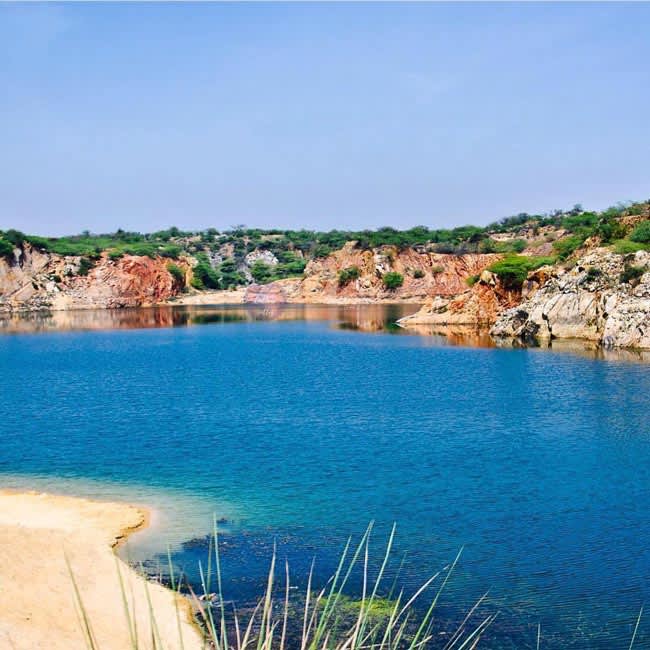 Picture Credits: delhigram
What if we tell you Delhiites that you no longer need to pack your bags to go to Nainital every time you wish for a serene lakeside trip? Yes, you heard us right. Saddi Dilli has a few hidden lakes that have gained a huge fan following in recent times. While the Damdama Lake near Sohna has always been popular amongst the adrenaline seekers of Delhi, the hidden lakes of Asola Bhatti Wildlife Sanctuary near the Tughlaqabad Fort are still unknown to many. Amidst a patch of dense forest and wilderness lies the Bhardwaj Lake and various neighbouring water bodies, collectively known as the Death Valley of Faridabad. The name may sound spooky but the beauty of the lakes, thanks to their crystal clear water and the cliffs that surround them, is unparalleled. Since the location is quite off the road, we suggest you go there with your whole gang! 
Distance From Delhi | 50 Km To Damdama Lake & 35 Km To Bhardwaj Lake
6. Go Camping @ Dhauj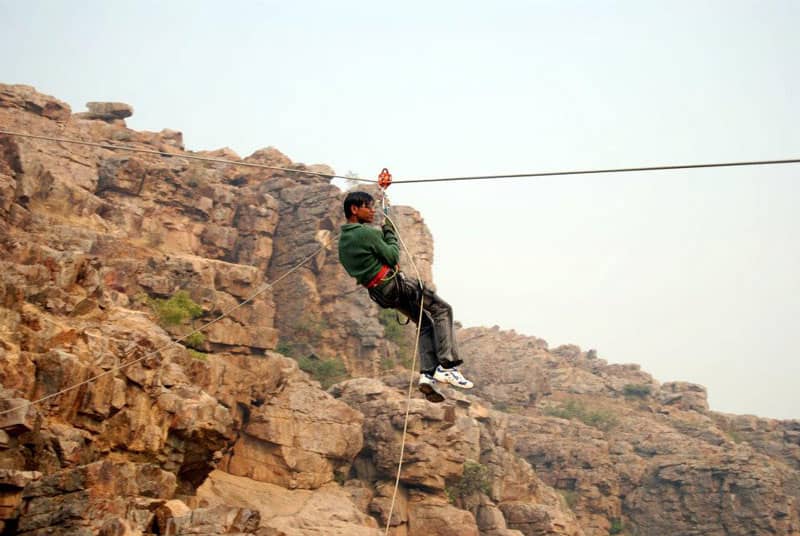 Nestled deep amidst the Aravali Hills, Camp Wild is the perfect retreat for those who love to spend time in the laps of nature, but with a dash of adrenaline. The steep gorge facing the camp makes a beautiful backdrop, as you climb and trek through it. They have all kinds of adventure sports - rock climbing, rappelling, flying fox, etc. Be it a school trip or a corporate one, they really excel in team-building sessions. Oh, and did we mention their camping and tent stays? So this winter, spend a night under a sky full of stars!
Where | Camp Wild - Dhauj Bandh, Near Silakhari Village, Faridabad
Timings | 24 Hours Open
Call Them | +91 8448 445 051
Check Out Their FB Page | https://www.facebook.com/campwilddhauj  
Here's Their Website | https://www.campwilddhauj.in/ 
7. Quench Those Hunger Pangs @ Murthal Dhabas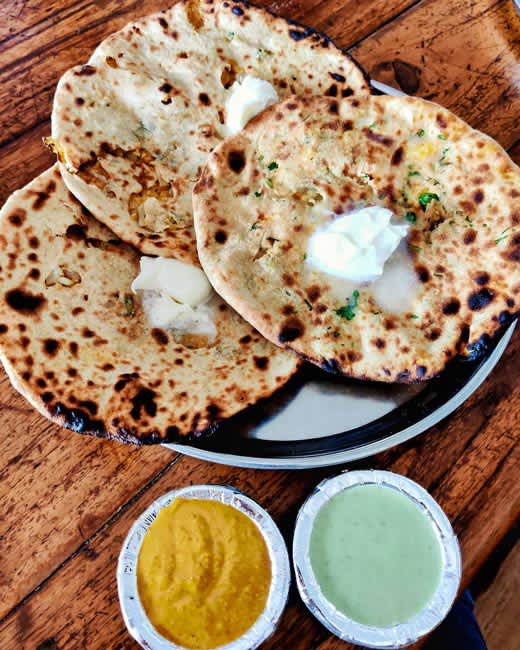 Picture Credits: thatdelhifoodie
Murthal is synonymous with tandoori paratha, makhan maarkey! And since it makes for a short road trip, it's twice the fun! Although the likes of Amrik Sukhdev and Gulshan have become household names, trying out new dhabas is quite fun too, as none of them fails to satisfy you with the crispy parathas and the freshly churned white butter. Be it breakfast, lunch, dinner or those constant midnight hunger pangs, just hit the road and drive till Murthal!
Distance From Delhi | 50 Km
8. Travel Back In Time To The Medieval Era At Night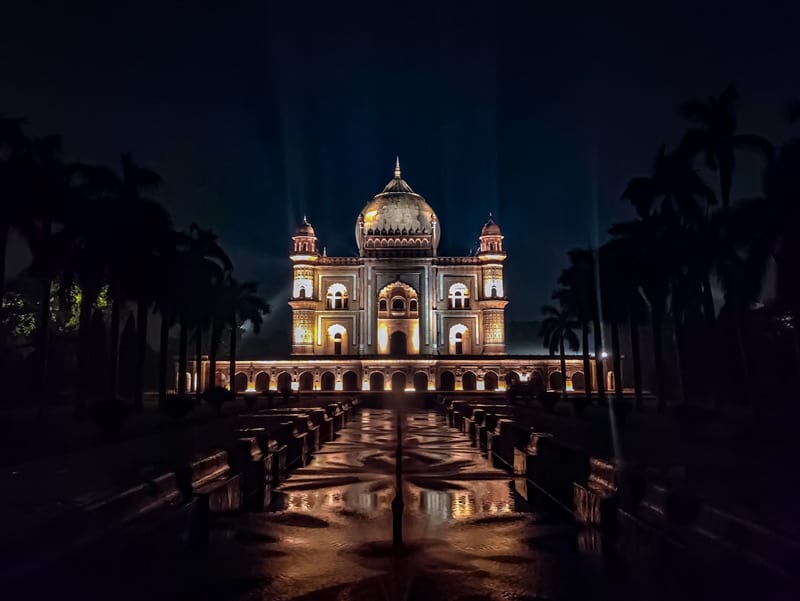 The feeble weather during the day makes it ideal for everyone to treat their eyes with the archaeological beauty Delhi has been blessed with. But what if we tell you some of Delhi's most beautiful historical places turn out to be a real fairyland, post sunset? This picture of Safdarjung Tomb was snapped on one such beautiful night trip and it felt like something straight out of the sets of Arabian Nights. Several other monuments like Humayun's Tomb and Qutub Minar have also been thrown open to the public to encourage night tourism. The chill of a winter night and the amber lights from the ruined walls is a great experience in itself!
We are eagerly waiting for winters! What about you?!