Delhi
8 Awesome Date Ideas To Try Out With Your Bae That DON'T Involve Food
If a foodie binge sesh is not what you're looking for, and you'd rather make memories with your one and only, here we have some amazing date ideas which you can explore once it's safe to do so, and have a happy day out. Let's dive in then, shall we? 
Psst. some of these places might be temporarily shut due to the current scenario, please call them up before dropping by!
1.  Flaunt Your Driving Skills @ F9 Go Karting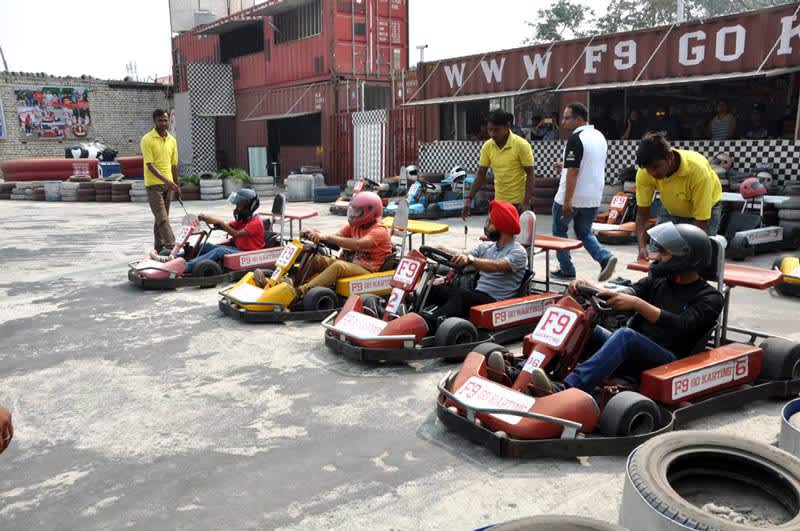 This super fun place in GGN boasts of large multi-level tracks where you can race with your squad in the comfy karts! There's also seating in the arena for the viewers, so you can sit and cheer if you don't feel like going on an adventure. Head on over and y'all can thank us later!
Where | F9 Go Karting - Link Road, Sector 17/18 Dividing Rd, near Green Park, Gurugram
Price | Rs 350 Onwards
Call Them | +91 9818 048 655
Here's Their Website | https://f9gokarting.com/?fbclid=IwAR2x7mmi9RpQi-qfi17EfqROW7g23Uo_FrrM_bwubRn87ueMTnEmiF0d_z4
Check Out Their FB Page | https://www.facebook.com/f9GoKarting/ 
2. A Picnic @ Mehrauli Archaeological Park/Garden Of Five Senses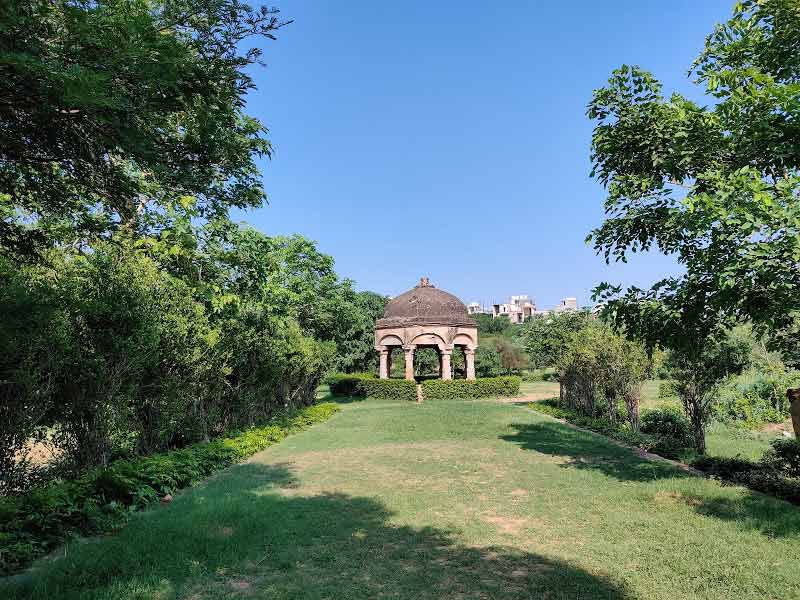 Picture Credits: DS Films
When was the last time you packed a basket and set off for an old school picnic? We're guessing you'd say in your school days, or maybe once or twice with family. If this is the case, then you're missing out! Pack your lunch and head to the Mehrauli Archaeological Park to spend a day surrounded by some breathtaking monuments. If you and your SO love historical stuff, you'll have a grand day!
Where | Mehrauli Archaeological Park: Opposite Qutub Minar Metro Station, Anuvrat Marg, Mehrauli; Garden Of Five Senses: Mehrauli-Badarpur Road, Said-ul-Ajaib
Entry | Rs 35 (Adults)
Timings | 9 AM - 7 PM
Call Them | +91 11 2953 6401
3. Star Gazing @ Parthasarathy Rocks, JNU (If You Manage To Get Entry!)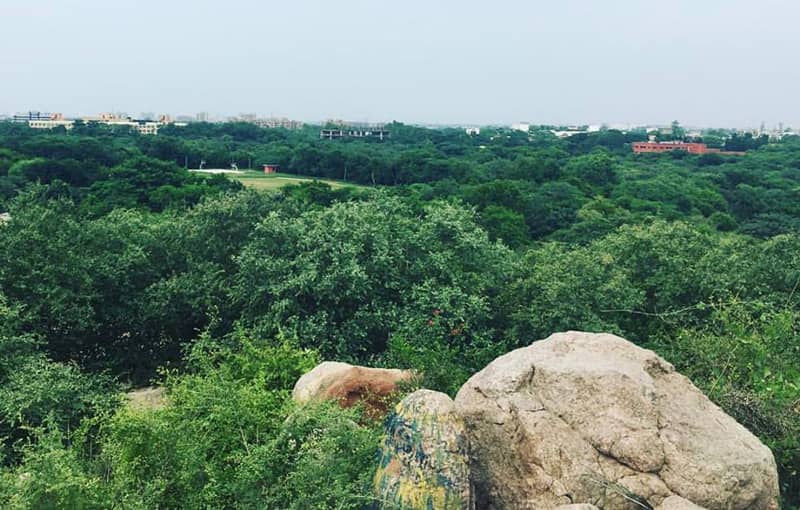 Delhi is full of hidden gems which are tucked away in silent nooks all across the city. One such gem is the JNU campus. If you've ever been inside, you'll know that it's a world in itself. Hidden in one such lane of the campus is the wonder called Parthasarathy Rocks. Although entry to PSR is not open to the general public and you need a JNU ID card for the same, you can always ask a student to help you get entry, and they'll happily do it. Trust us, it will be worth the effort and you'll have one of the best dates ever with your bae!
Where | Jawaharlal Nehru University, New Mehrauli Road, Munirka
4. Go Mountain Climbing @ Indian Mountaineering Foundation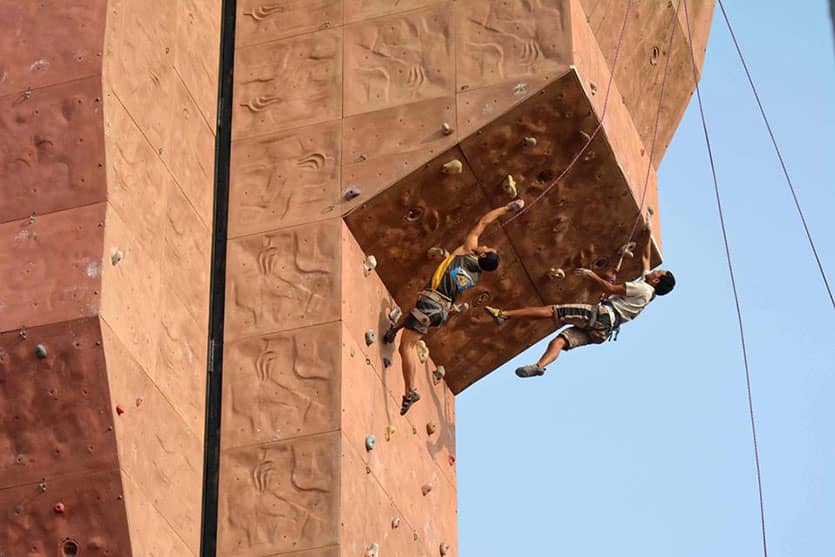 Okay, so you want to take on some adrenaline-pumping adventures with bae, but really don't have time to go anywhere outside Delhi? Well, good news! You don't have to. Just head to the Indian Mountaineering Foundation in Anand Niketan. They have these super-awesome climbing walls which give you the feel of climbing up an actual mountain! Sounds oh-so-amazing, right? Trust us, it's better than it sounds!
Where | Indian Mountaineering Foundation - 6, Benito Juarez Road, Anand Niketan
Price Per Head | Rs 200
Call Them | +91 11 2411 1211
Check Out Their FB Page | https://www.facebook.com/indmount.org/
Here's Their Website | http://www.indmount.org
5. Sound & Light Show @ Purana Qila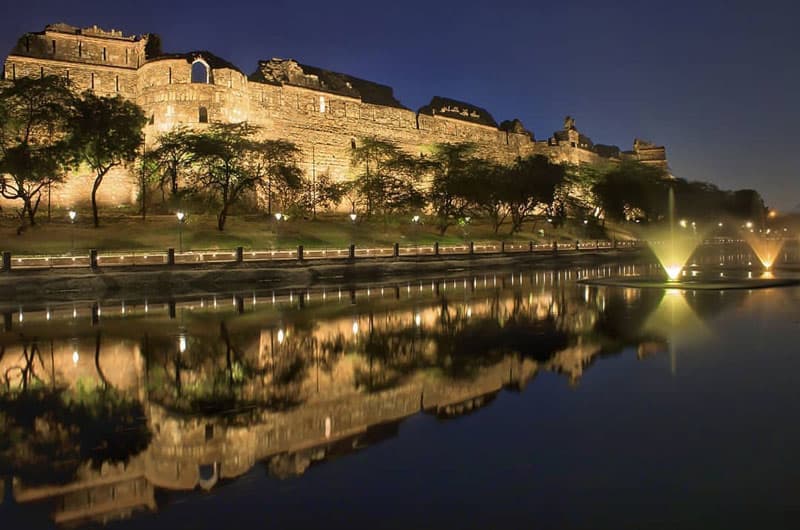 Picture Credits: portfolioillusion
There's nothing more romantic than walking hand-in-hand with your partner down the ancient pathways of Delhi's rich heritage. One such stunning monument is the Purana Qila. It stands mightily, silently whispering the tune of history in our ears. But there's one thing that makes this place even better than it already is - the Light & Sound show held here every evening! 
The show called 'Ishq-e-Dilli' takes place in Hindi between 7:30 - 8:30 PM and between 8:30 - 9:30 PM in English. The timings tend to change in different seasons, so it's always better to check before going. This will be a once-in-a-lifetime experience for you and bae, so definitely head out here one pleasant evening!
Where | Purana Qila - Mathura Road, Near The Delhi Zoo
Timings | 7:30 - 8:30 PM & 8:30 - 9:30 PM
Call Them | +91 11 2327 4580
6. Paragliding @ Flyboy In Gurgaon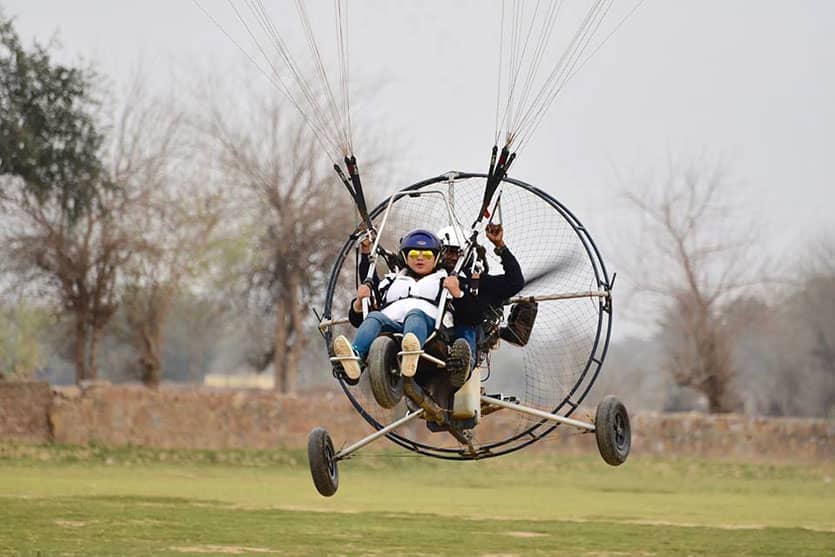 How many times have you wanted to fly high in the sky with your loved one, you know, just to feel the breeze in your hair and forget all about the world? Many times, we're sure. And definitely, the thought of paragliding must have entered your mind, but you stopped because you were of the opinion that there are NO paragliding facilities available in and near Delhi. Again, surprise!! Flyboy in Gurgaon offers you the chance to sail through the sky with their state-of-the-art paragliding experience. They literally give you wings!
Where | Flyboy Aviation - Adjacent Ireo Grand Arch, Gurgaon
Price Per Head | Rs 1,600 Onwards
Timings | 5 - 7 AM & 5 - 7 PM
Check Out Their FB Page | https://www.facebook.com/FlyboyAerosports/
Here's Their Website | http://www.flyboy.in/
7. Go For A Camping Trip To Camp Wild Dhauj, Faridabad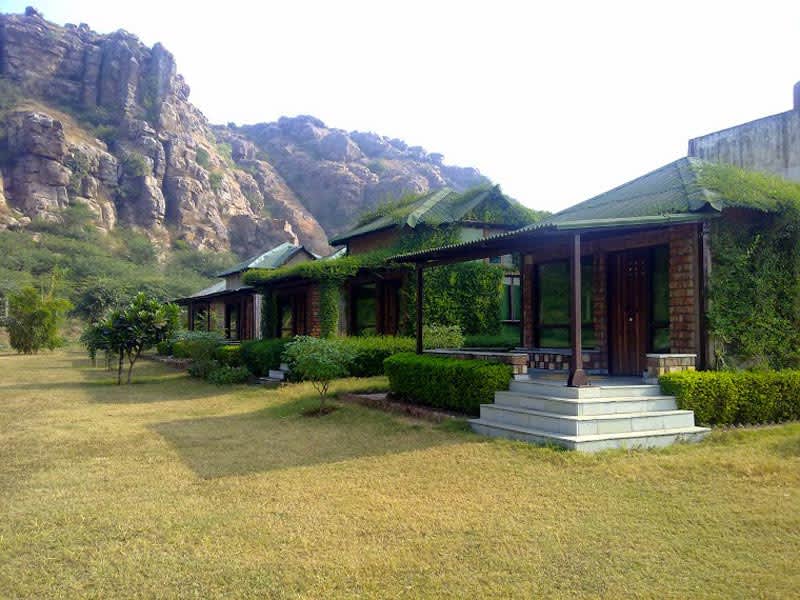 Now if you don't want to sit and laze around and suddenly feel a spurt of energy, you should definitely head to Camp Wild in Faridabad for an awesome adventure camping experience. They offer a wide variety of fun activities for their visitors, some of them being hikes, rappelling and artificial wall climbing (nice!). To top it all, they even offer some lucrative packages that you can check out. Really, this place is like another world in itself!
Where | Camp Wild Dhauj Faridabad - Manger-Dhauj Road, Manger, Faridabad
Price Per Person | Rs 1,500 Onwards
Check Out Their FB Page | https://www.facebook.com/dhaujcamp/
Here's Their Website | http://campwilddhauj.in/
8. Take A Stroll Through Delhi Ridge Road, Kamla Naga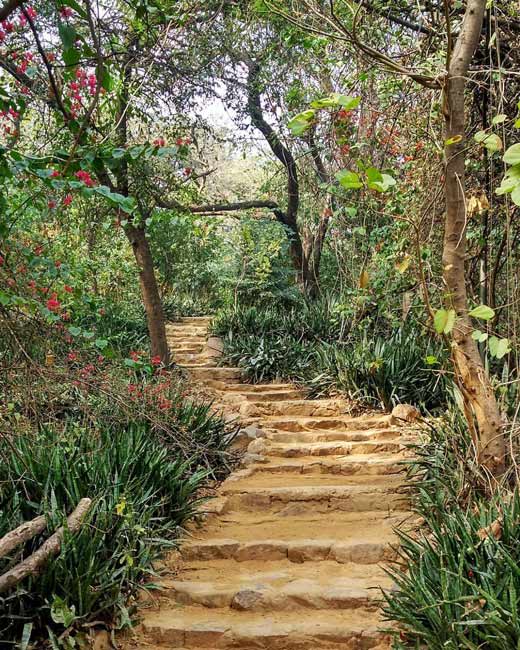 Picture Credits: delhiexplorer
If you're from Delhi, chances are high that you've definitely heard about this hilly road near Kamla Nagar called the Ridge Road. So this is basically a strip of road sandwiched between vast expanses of trees on both sides. This is actually a pahadi, which will give you the feeling of being in a hilly area, when you're right smack in the middle of Delhi. If you want to experience something surreal away from the hustle and noise of the capital city, and want to spend some quality time with bae while on a drive with the music blaring, you know where to head!
If you're not one of those cliched 'movie and dinner' every week kinda couple, and want to experience something new every time you head out with bae, then well, we just gave you a new checklist to cover. Check 'em out and thank us later!