Delhi
7 Yummies Like KitKat Waffles & Cheese Maggi Every Student Must Try @ Balli Lane Near Amity Uni
Since the campus of Amity University is strictly vegetarian, the meat deprived students resort to Balli Lane, which is adjacent to the University. There's also a shack owned by Mr. Balli, right outside gate 2 of the University for their quota of non-veg food. Serving some of the most extensive variants of Maggi, various types of paranthas loaded with ghee and butter, biryani, Chicken Seekh Kebab, Chicken Tangri Kebab and many more things, this place is undoubtedly every foodie's haven. 
One can also find anything here, from rolls, momos, shawarma and noodles to burgers, sandwiches, waffles and Chilli Chicken, all at student-friendly prices. Though there are multiple stalls around the place, there are only a handful that are favourite among the students. We tried almost every working outlet in this lane and have handpicked the best among all. Come, check them out!
1. Oreo Shake @ Thee Pot

Despite numerous food options, this area had very limited beverages offerings. In such a scenario, Thee Pot emerged as a saviour serving some of the finest drinks, both hot and cold. Since it's opened recently, they were serving only the cold alternatives, which made us order their People's Favourite, an Oreo shake which had 5 Oreos blended nicely with milk with a dash sugar and chocolate syrup. The quantity was a little less according to our liking, however, we loved the overall taste of this liquid refreshment!
Price | Rs 130
2. Mix Sauce Cheese Maggi @ Balli Maggi Point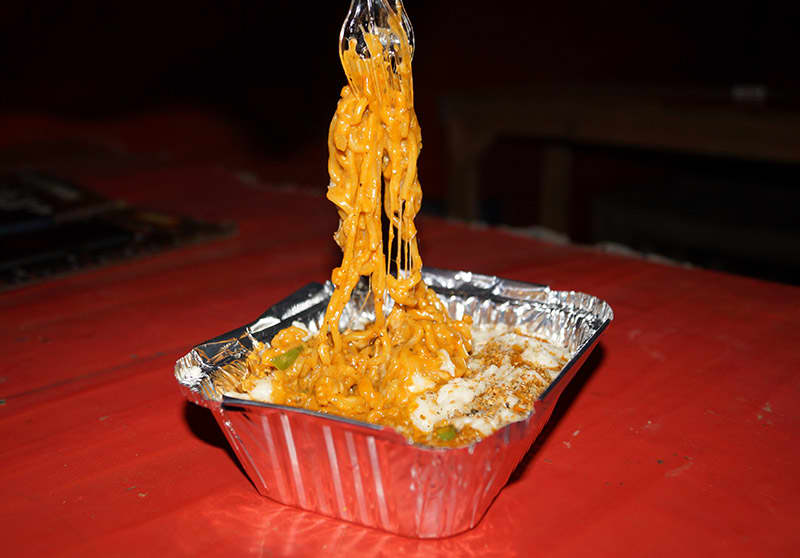 The most prominent and venerable adda where students feel utterly exalted is the Balli Maggi Point or BMP, as it's lovingly called. This eatery has an enormous menu of varied food items ranging from paranthas to multiple types of Maggis. We tried their most sought-after option, Mix Sauce Cheese Maggi, which was cooked in a homemade spicy paste before being sautéed well in mix of Arrabiata and Alfredo sauces along with grated cheese, which could be felt in every bite and garnished with cottage cheese with oregano sprinkled over it. High on spices with a perfect blend of taste and texture, we went all gaga over this one!
Price | Rs 100
3. Chicken Momos @ Khan's Corner
Among innumerable vendors serving momos, Khan's Corner stood apart, where they served us 12 sumptuous pieces of evenly steamed momos bearing a filling of finely minced chicken, cabbage and onions, pan fried with black pepper, salt and red chillies. Sprinkled with chat masala, these soft balls from heaven were squishy and tasted best with the spicy chutney that they came with. You definitely gotta try this one out!
Price | Rs 60
4. Kurkure Chaap @ Satiate Café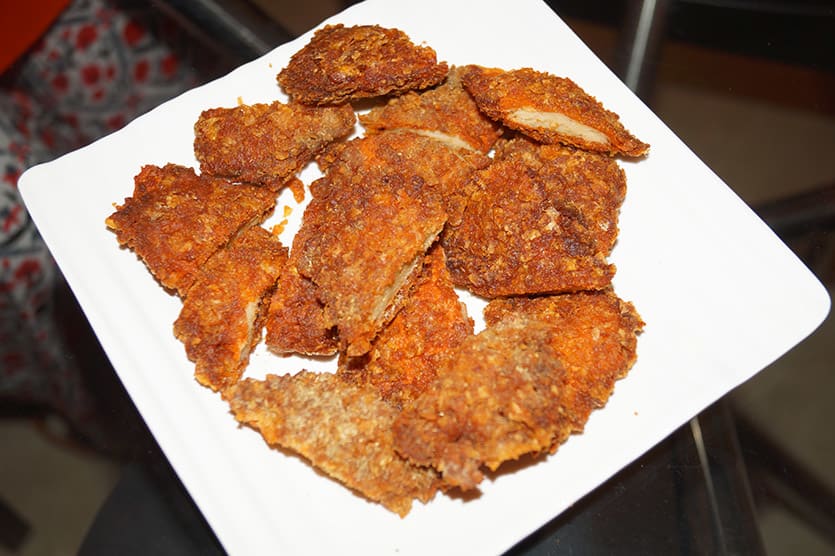 Titillated by the name of the dish, we ended up ordering this where we were served chaap chunks, covered with bread crumbs and dipped in a paste of chickpea flour along with red and green chillies, black & white peppers, ginger, garlic and dried coriander before being deep fried. The pieces had developed an amazing crunch on the outside owing to the bread crumbs they were coated with and were searing hot and squishy on the inside. The masala in the paste was kept a notch higher to compensate the blandness of the chaap inside making this wholesome dish worth splurging on. Served with a spicy mint chutney, this item was treat for the taste buds!
Price | Rs 180
5. Veg Cheese Sandwich @ Cafe 701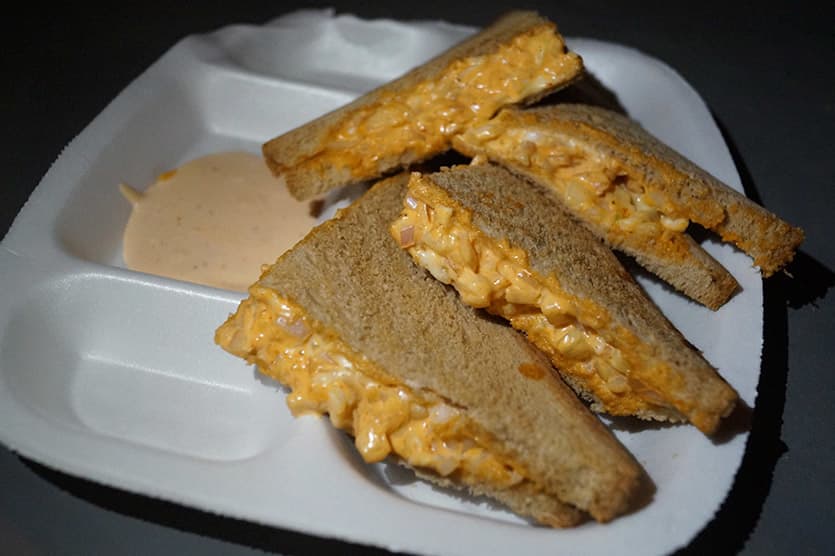 This place knows how to transform a simple item like cheese sandwich with finesse. Cheddar cheese, hints of mozzarella cheese, diced onions, cabbage, capsicums and ample amount of Thousand Island Sauce mixed together with a dash of oregano and cream formed the filling of the sandwich, which was then grilled slightly in order to give the bread slices a certain level of crispness on the outside and at the same time to melt the cheese on the inside. Unsure about this item by its appearance at first, we were pleasantly surprised when it turned out to be the highlight of the evening owing to its magnificent taste when dipped in the mayo it was served with. So, when are you dropping by for your share?
Price | Rs 225
6. Death By Eggs @ Egg Bistro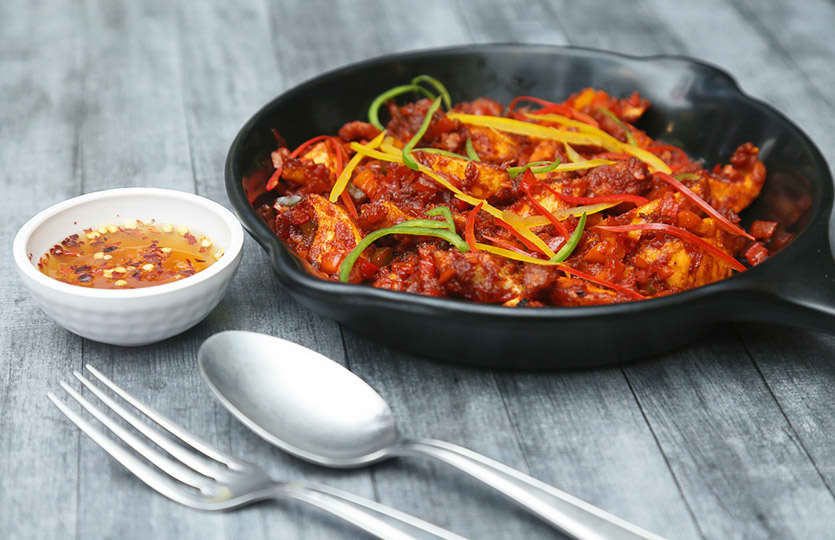 Now, this one's a unique dish where four eggs were beaten, added to a pan and half cooked & then stirred well in a spicy sauce along with diced onions & yellow and red bell peppers. The eggs, though remaining mushy on the inside, developed a light crust on the outside. The dish was extremely spicy with garlic and ginger marking their dominance. Even the essence of red, white & black chillies and other spices was absorbed beautifully by the battered eggs. Keep your water bottles handy for this one!
Price | Rs 160
7. Crunchy KitKat @ Waffle 901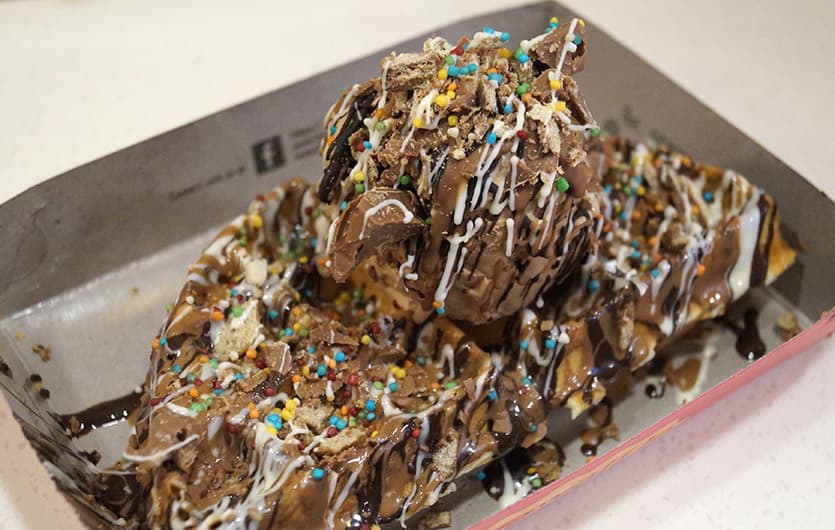 The hankering for something sweet took us towards this place. From a limited menu we made our decision to order their Crunchy KitKat waffles, which came in two pieces and were topped with Hershey's chocolate syrup, coated in Nutella and finally a dollop of chocolate ice cream before being sprinkled with crumbled Kitat and candy pellets. Owing to the properly fermented batter, the waffle base was downright fluffy with a nice crunch on the outside and had slightly absorbed the chocolate sauce making it worth every penny, satiating our hunger to the core. Don't believe us? Head over to this joint and try them out for yourselves!
Price | Rs 230
The food here is prepared hygienically and does not leave a hole in your wallets. Also considering the timings of the University, Balli Lane is active till 5 PM only, barring a few joints that open till a little later. Nevertheless, a fun filled evening, scrumptious food items and lots of memories is what can expect from here. All we can say is, the fuchcha inside us will go home grinning from ear to ear. Happy munching!
Where | Balli Lane - Gate Number 2, Amity University, Sector 125, Noida