Delhi
7 Things Like Gadbad Ghotala, Butter Chicken Spring Rolls & More We Tried @ This FAB Place In GGN
We've found you yet another place that is definitely one of our favourites in Sector 29 and we can't wait till you taste their beer or try some of their unique dishes, 'cause we know, you'll fall in love with this place, too!
Boombox Brewstreet most definitely brews some of the best beer around here, and if you're a regular in this part of GTown, you'd know how tough the competition is when it comes to microbreweries. Here's everything we tried from their recently revamped menu, and we highly recommend you do so, as well.
1. Signature Special And Craft Special Beer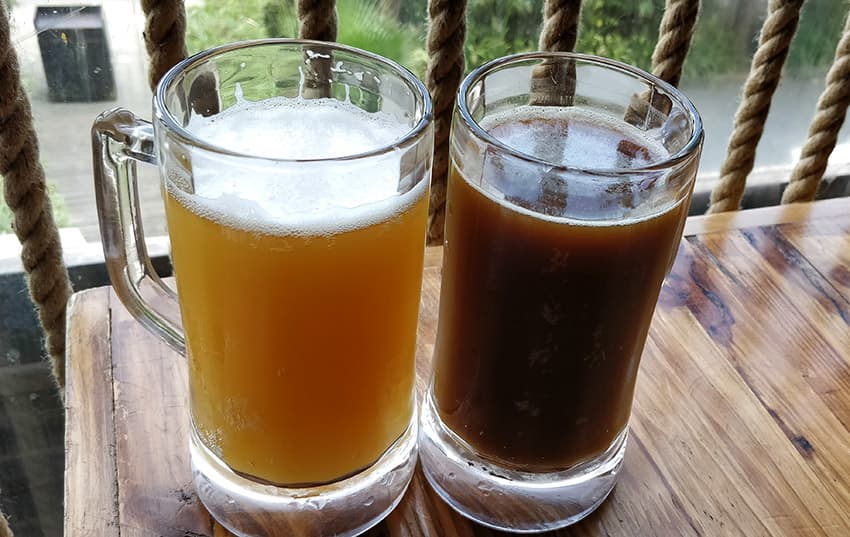 A beer is a must on a hot sunny afternoon, don't you think? We ordered a mug each, of both their special beers and trust us, there really is something about their beer that sets them apart from all the other microbreweries around. While the Signature Special was a one-of-a-kind dark beer, comparable to authentic German Dunkel beer; Craft Special was a delicious wheat beer that you'd want to keep drinking all afternoon. Go on, slurp up some great beer here this summer!
Price | Rs 235 (Special Signature Beer) & Rs 225 (Craft Special Beer)
2. Butter Chicken Spring Roll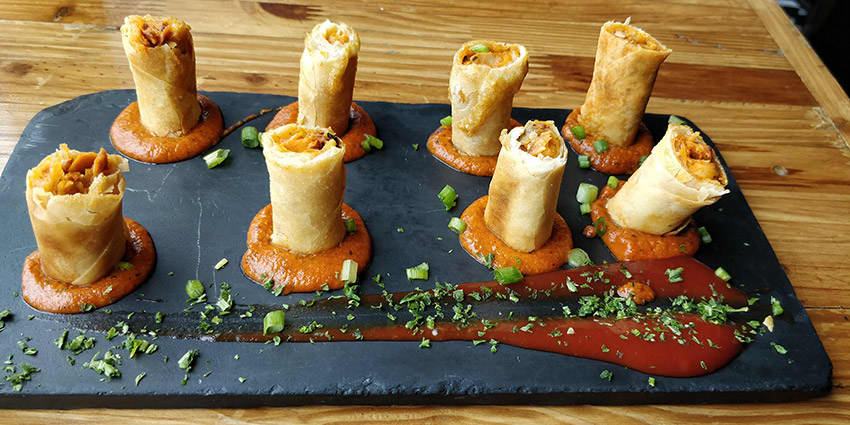 Butter chicken lovers, you'll gobble this dish up in seconds! This unbelieve fusion of our two favourite food items - butter chicken and spring roll - was simply delicious. Crisp, cutesy spring rolls filled with succulent chicken pieces in a gravy made to perfection, this dish disappeared from the table within 2 minutes of being put on it, because we simply couldn't resist! For those who need a dip with their spring rolls, worry not, each spring roll comes with some extra gravy at the bottom, so yay!
Price | Rs 345
3. Kadhai Paneer Tacos With Malabari Parantha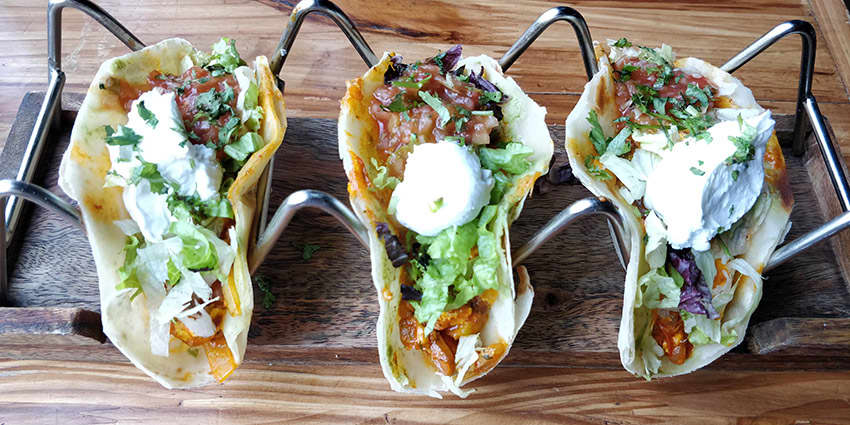 This place is definitely taking fusion food to another level, Indianizing it in ways so refreshingly flavourful. Imagine a Malabari parantha instead of a taco shell, stuffed with flavourful kadhai paneer, topped with salad leaves and sour cream. This new take on tacos definitely impressed us and proved to be a great vegetarian starter. If you're looking for an appetizer that works as a light meal as well, this is something you must try here!
Price | Rs 355
4. Bhiku Matrey Vada Pav - Chicken Tikka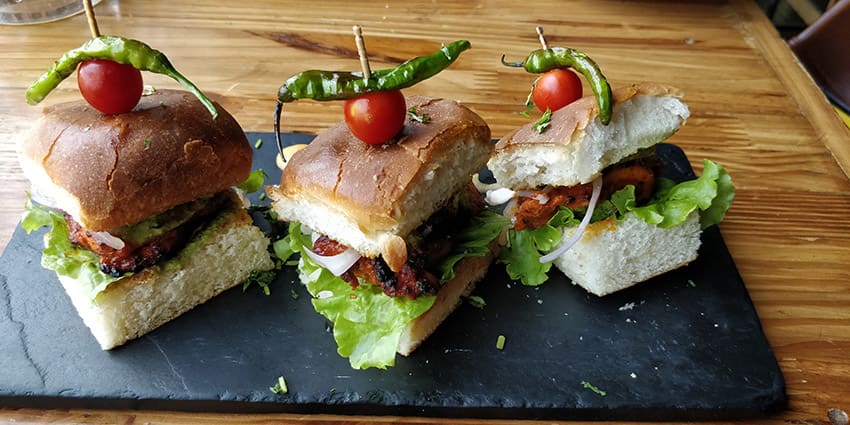 Another interesting take on the classic Vada Pav, this one came with a scrumptious stuffing of chicken tikka that tasted more delicious with every bite! The chicken tikka that was very well-prepared and sat between a lettuce leaf & a layer of chutney, was an amazing treat for the taste buds. Beautifully decorated with a cherry and green chilli on top of each bun, the dish came with a side of peri-peri mayo that really enhanced the overall flavour!
Price | Rs 299
5. Sundried Tomato And Basil Pesto Sauce Pasta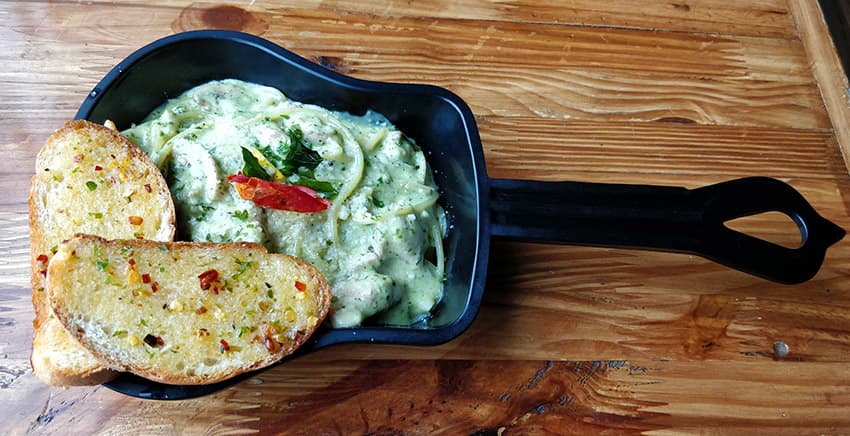 First of all, we really appreciated the generous quantity of delicious sun-dried tomatoes in this pasta. Most places don't put too many of those in their dishes, but these folks really stole our hearts with their generosity in this regard. The pasta was quite creamy and cheesy, so if you're a cheese lover, this one's most certainly for you!
Price | Rs 425
6. Gadbad Ghotala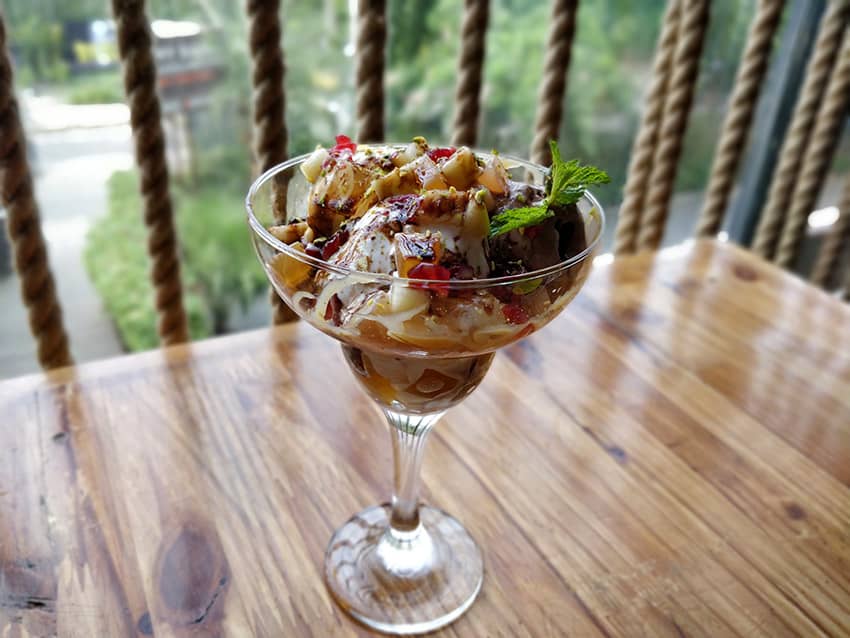 An ice cream sundae is the best way to end a meal in this heat, so that's exactly what we ordered next. This cup, chock-full of three flavours of ice cream - chocolate, vanilla, and mango - topped with fresh fruits and mint was just the thing we needed! We thoroughly enjoyed this refreshing delight and it most certainly prepared us well to face the sun, soon after.
Price | Rs 345
7. Fried Ice Cream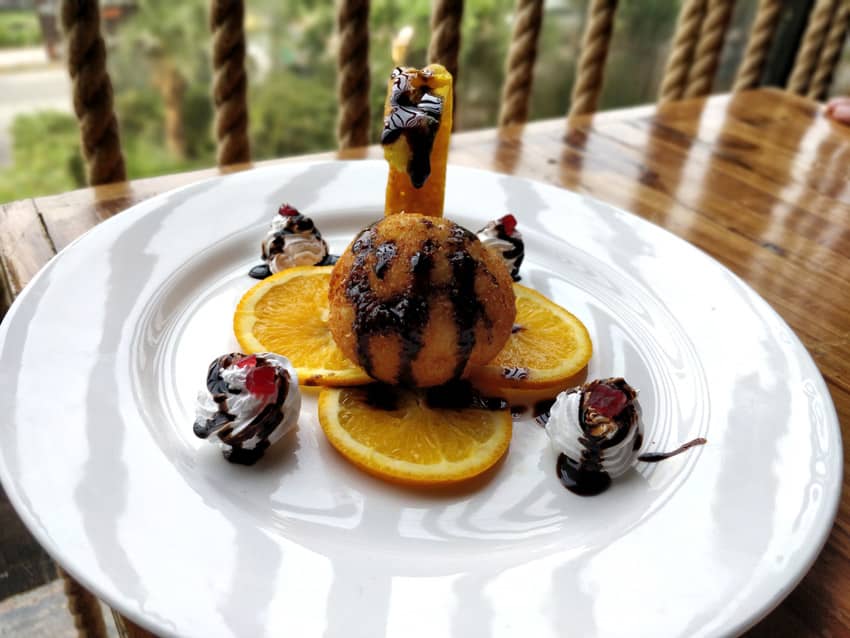 Imagine a fried ball of coconut shavings stuffed with vanilla ice cream and topped with chocolate sauce! The very thought of it makes us want to go back every single time. A hot crispy coconutty shell with perfectly frozen ice cream inside, this proved to be a spectacular end to our meal here. Sitting on a bed of orange slices, the presentation of this dessert was also pretty amazing, and the foodgasm we had after eating it, was just beyond words!
Price | Rs 279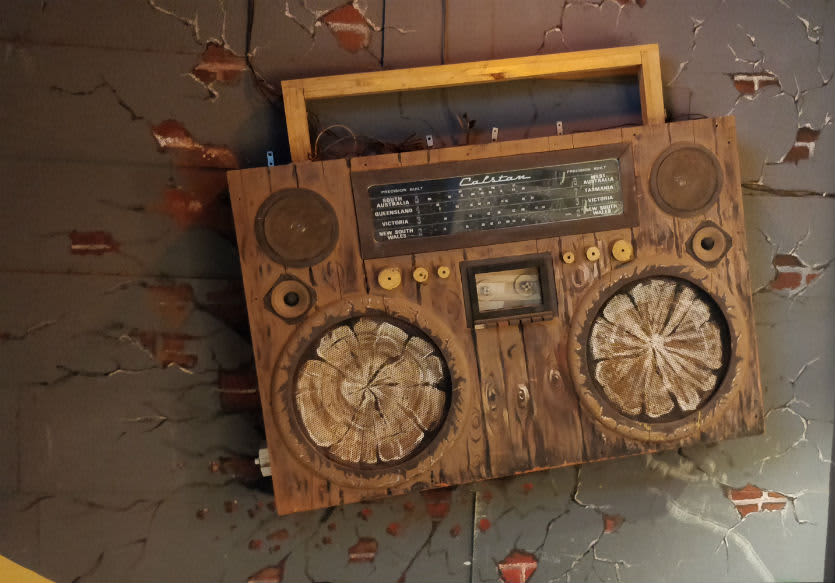 You know what's better than the fact that their beer and food is so delicious? They have a happy hour food menu where you get most of these lip-smacking dishes at too-good-to-be-true prices between 12 PM - 4 PM! For example, starters are available within a price range of Rs 99 - 115, pizzas at 125 bucks each, mains ranging from Rs 145 - 175 and even a couple of desserts (one being Gadbad Ghotala itself) for Rs 130 each! Doesn't this make Boombox Brewstreet one of the best and most pocket-friendly lunch places in town? So, what are you still waiting around for? Gather up your buddies and scoot!
Where | Boombox Brewstreet - SCO 53, 1st Floor, Main Market, Sector 29, Gurgaon
Call Them | +91 9821 494 360
Timings | 12 PM - 12 AM
Here's Their FB Page | https://www.facebook.com/boomboxbrewstreet/