Delhi
7 Things Like Cheese Roll, Chicken Piri Piri & Mutton Burra Kebab To Devour @ KARMA, GGN
Right at the Delhi-Haryana border stands a white BYOB (Bring Your Own Booze) restaurant called KARMA. The grand and well-lit entrance is a giveaway of its charming interiors, which promise only good times ahead. There's a conveniently placed wine & beer shop right outside this place, from where you can choose your liquor for the night and thereafter head inside for some yummy indulgence. We recently visited this thriving eatery and tried a couple of their dishes. Here's what we thought of them. Read on!
1. Crispy Chicken Mayo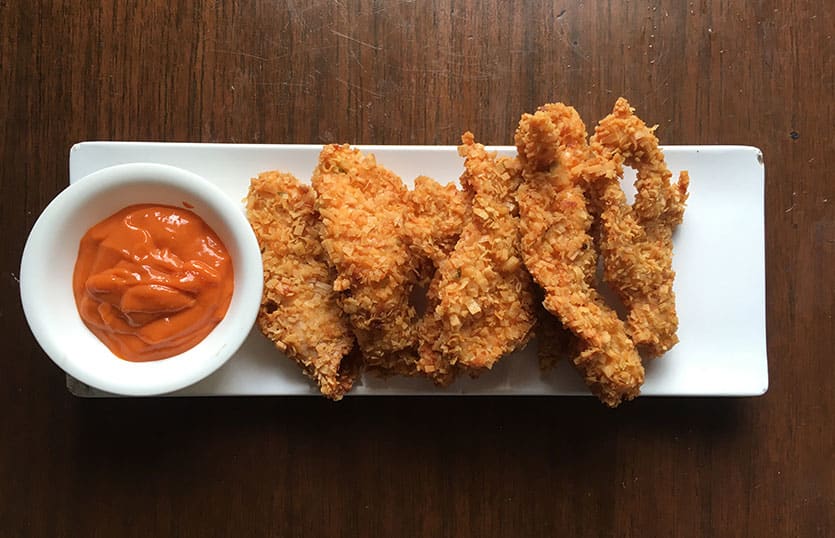 KFC has set the standard for the perfect chicken crunch. But the Crispy Chicken Mayo here can easily give the American chain a run for its money. With battered chicken breasts fried to perfection, savour the taste and the crunch of this dish in every bite with a pint of beer. It comes with tangerine coloured mayonnaise which complements the chicken quite well. Order this one for sure whenever you drop by this place!
Price | Rs 350
2. Bell Pepper Cheese Roll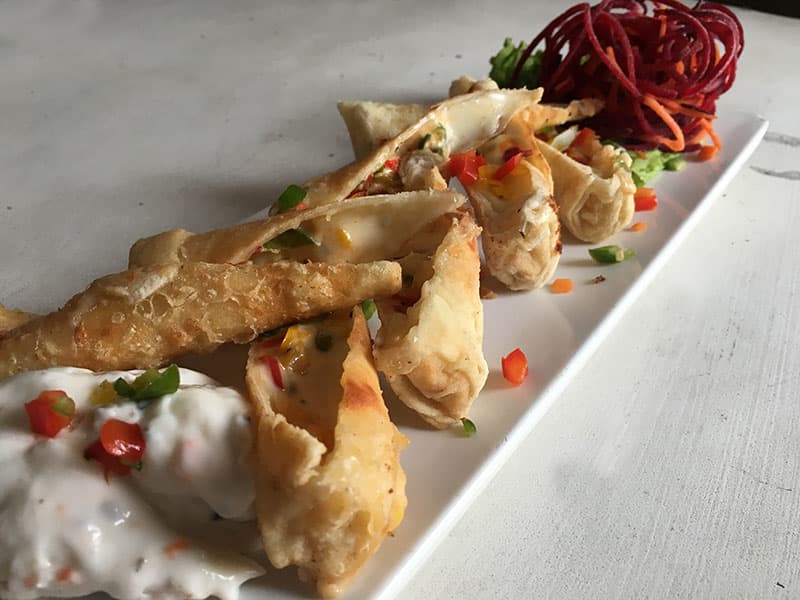 Crispy on the outside and cheesy on the inside, these rolls are basically heaven on a platter for all the cheese lovers. True to their name, these rolls are packed with flavourful vegetables like bell peppers and corn bits. They come along with a mayonnaise dip and the sizeable proportion of these rolls make it the perfect go-to finger food for a ravenous group. So, definitely try these finger-licking delicacies here!
Price | Rs 350
3. Blue Lagoon & Hara Aam Zaada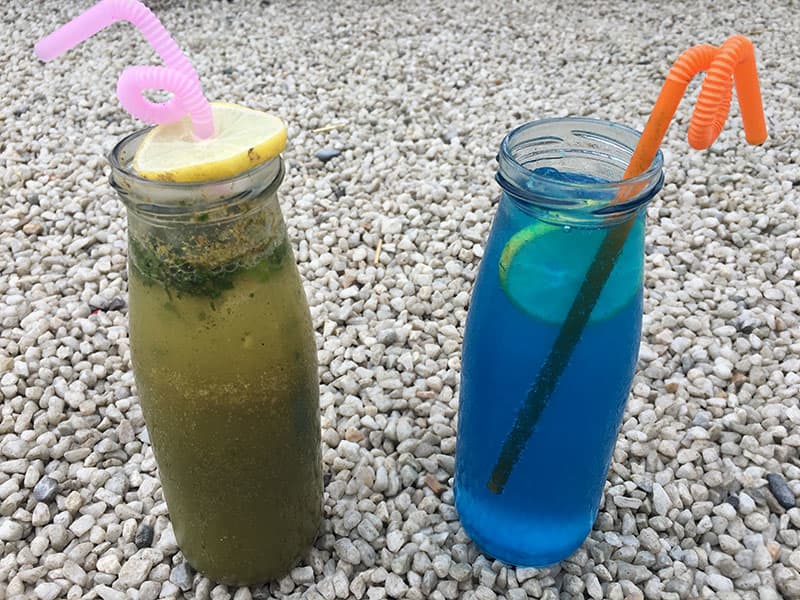 Blue Lagoon and Hara Aam Zaada, these two mocktails are perfect for all the people out there who don't drink alcohol. Definitely order the Blue Lagoon for its biting punch to give your mouth a flavour shock, whenever you want to rejuvenate yourself after a long day. Hara Aam Zaada, inspired by the one too many abuses hurled lovingly at us by our parents, is an interesting mocktail oozing with mint bits. These two drinks were the perfect start to our meal!
Price | Rs 150 Each For Blue Lagoon & Hara Aam Zaada
4.  Mutton Burra Kebab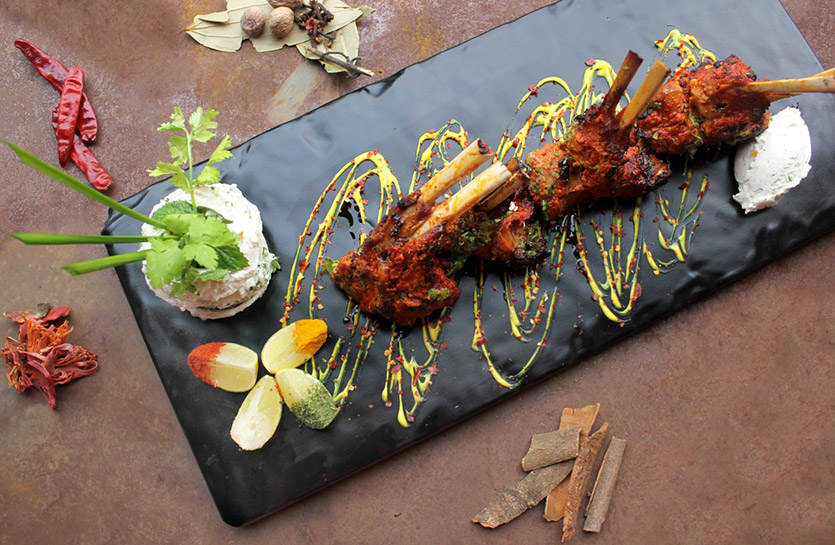 Spicy, flavoursome and succulent, the Mutton Burra Kebab here was all this and more. This dish will surely make your tummies growl out loud in hunger 'cause it looks that delicious. The platter comes with well cooked and big chunks of mutton, marinated and roasted in the tandoor and served with mint chutney and a mountain of onion rings. We devoured it as soon as it was served to us and our taste buds have never been more thankful. It's the perfect companion to go with your chilled beer, so order this one up when you plan to sit and chug with your buds!
Price | Rs 490
5. Grilled Chicken Piri Piri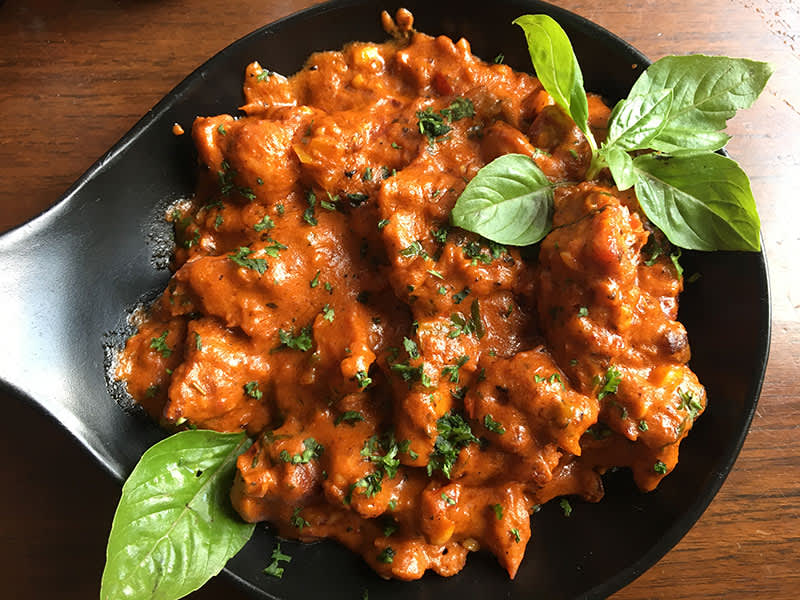 Hot, spicy and saucy best describes these juicy pieces of grilled chicken tossed in hot piri piri sauce. The best part about this dish was that we could still see charred lines on the chicken, which managed to retain their smoky flavour amidst all the gravy. This dish can be ordered as a starter and also along with your choice of bread. Do try!
Price | Rs 370
6. Farmhouse Pizza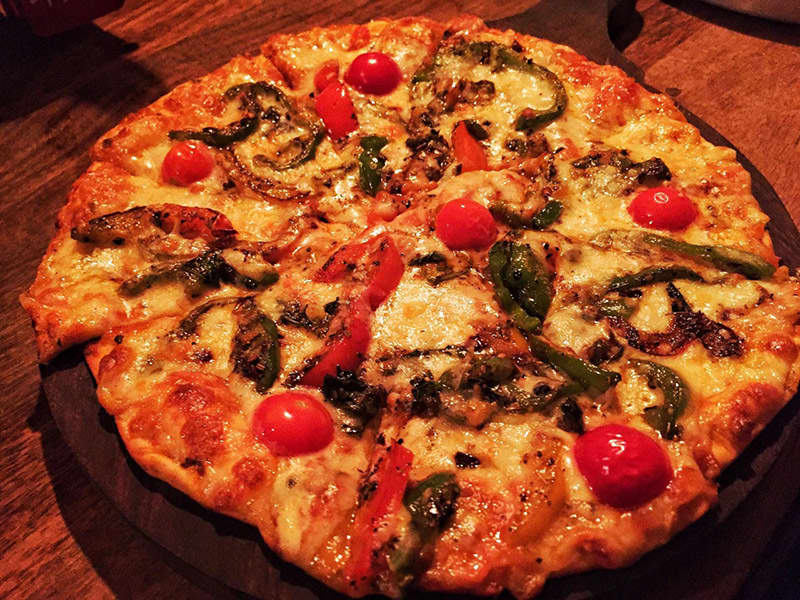 Pizza is our forever love, so their classic Farmhouse Pizza was something we just HAD to try. The fresh crispy thin-crust base and the veggie toppings mixed with loads of cheese, made this one of our favourites here. The sizeable portion of its 8 slices allows you to enjoy the flavours without feeling too heavy because of the base. So, make it a point to devour this item whenever you drop by this place! 
Price | Rs 290
7. Soya Malai Chaap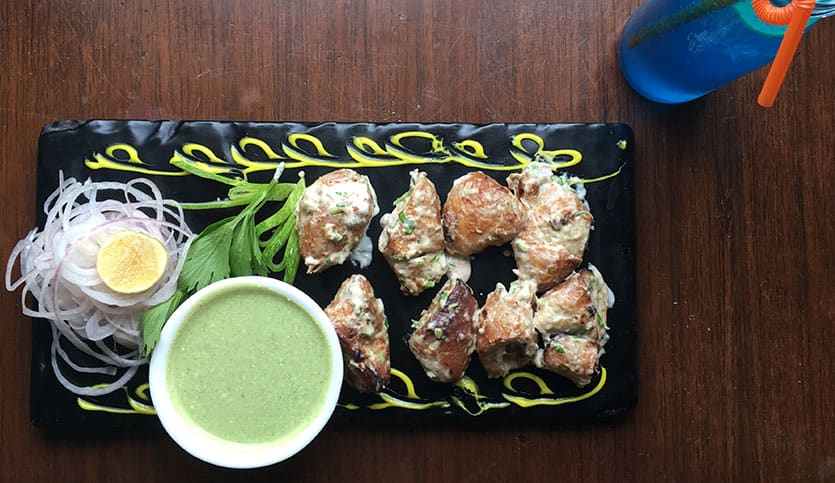 Soft, creamy and succulent, need we say more? This dish can arouse hunger in a monk on a year-long fast. The platter comes with 8 good and big chunks of soya, marinated in malai gravy, tangy mint chutney and a mountain of onion rings. We devoured it while it was still hot and our taste buds thanked us for it. This dish is a great accompaniment to every kind of alcohol. So, come here and gobble it all down while you chug on your drinks with your pals!
Price | Rs 300
Stuff your mouths as much as you want at this awesome sauce place, without worrying about the bill burning a hole in your pocket. The reasonably priced and unbelievably scrumptious dishes they offer here are definitely worth your money. Scamper on over with your buddies!
Where | KARMA - A BYOB By Lockup - DLF Phase III, Gurugram
Timings | 11 AM - Midnight
Call Them | +91 9582 204 219
Go Through Their Insta Feed | https://www.instagram.com/KARMAbylockup/
Check Out Their FB Page | https://www.facebook.com/KARMARestaurantGurgaon/