Delhi
7 Quirky Dishes Under Rs 200 To Try @ The 1st Street Food Fusion Cafe In North Campus
Delhi is known for a lot of things - monuments, museums, temples and heritage buildings with stories you'd love to hear someday over a cup of tea. But the best thing about our mini-India has always been its food. Delhites love food and tangy snacks have always been our favourite to savour. We found just the right type of cafe for all the indie street food lovers who love their usual chatpata food with a zest of hipster in Hudson Lane. Namaste Dilli is your place to be at this weekend and if you aren't aware of their quirky 99 Menu, what are you even doing with your life? Here are some of our picks for a mouthwatering evening snack at this awesomesauce eatery!
1. Rose And Kaffir Lime Iced Tea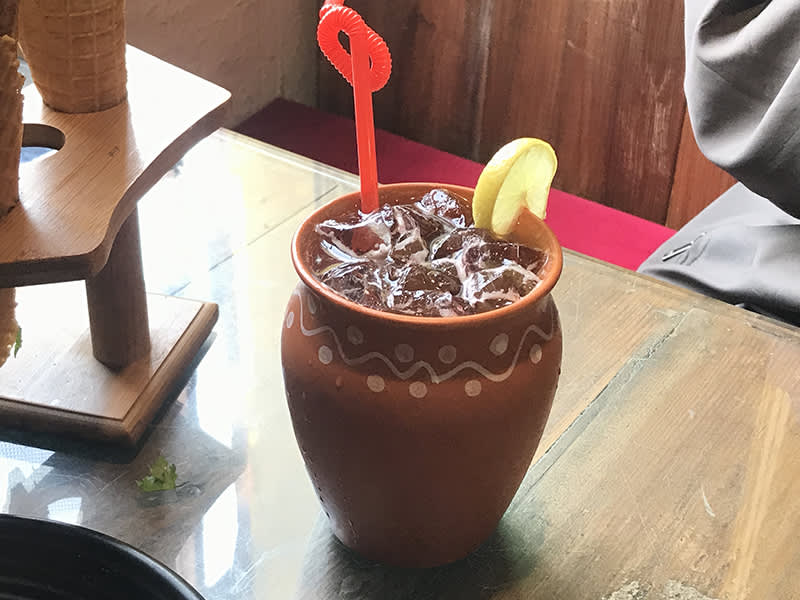 How about our honest reaction at the first sip? Eeep! This cooler was a splash of refreshing liquid down our throats. The heat might not be scorching and you may not be needing a bottle of water every hour but this? You need this before your meal at Namaste Dilli. The invigorating drink was a mixture of the legendary kaffir lime juice and a hint of sweet rose syrup served in an earthen glazed pot. The floating cubes of ice clanking with the glass were almost melodious, giving how heavenly the drink was. The drink was served with a quirky straw that reminded us of beach drinks! Aah, just imagine what a delight this drink would be in extreme summers?
Price | Rs 139
2. Ferrero Rocher Shake
Chocolate will make you sin and just because there is no mention of this in the Bible doesn't mean it isn't true. This unconventional chocolate milkshake had a surprise element waiting for us, peeking from the foam. Yes, it was a Ferrero Rocher ball. The drink was loaded with chocolate sauce and the thick creamy milk blended with the flavour just made our day. The drink was really refreshing and didn't fall short of taste for even a sip. It wasn't watered down and well, we're in love with it proudly!
Price | Rs 169
3. Palak Patta Chaat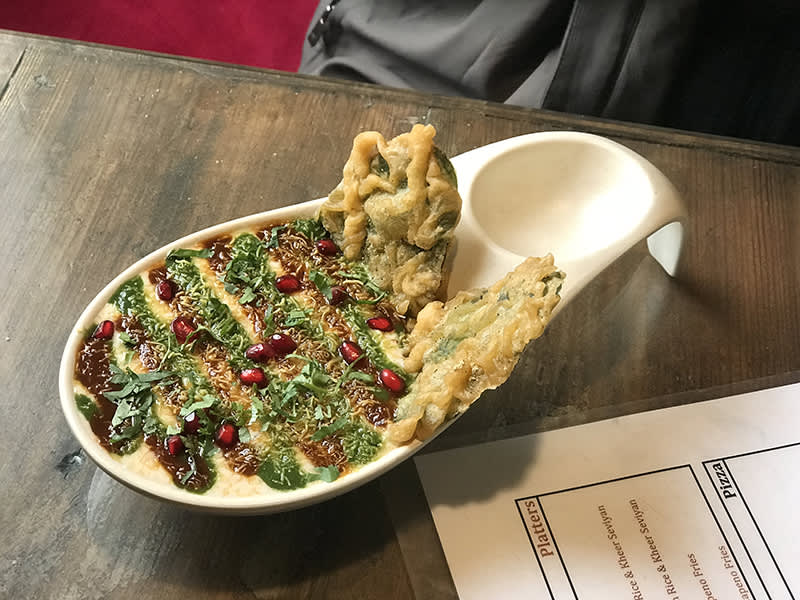 Is your mouth watering? Ours certainly is. This colourful pool of flavour is nothing but one of our favourite dairy products - curd. The sweet and tangy flavoured curd was served to us in a generous amount with two crispy fried leaves of palak. The curd was loaded with all the flavourful sauces of tamarind and pudina. Garnished with pomegranate seeds and coriander leaves, this dish brings you the taste of dahi from our preferred dahi bhalla with crunchy leaves of palak to dip in the pool. Disclaimer - it drips, and we loved it!
Price | Rs 99
4. Wai Wait Chaat Cone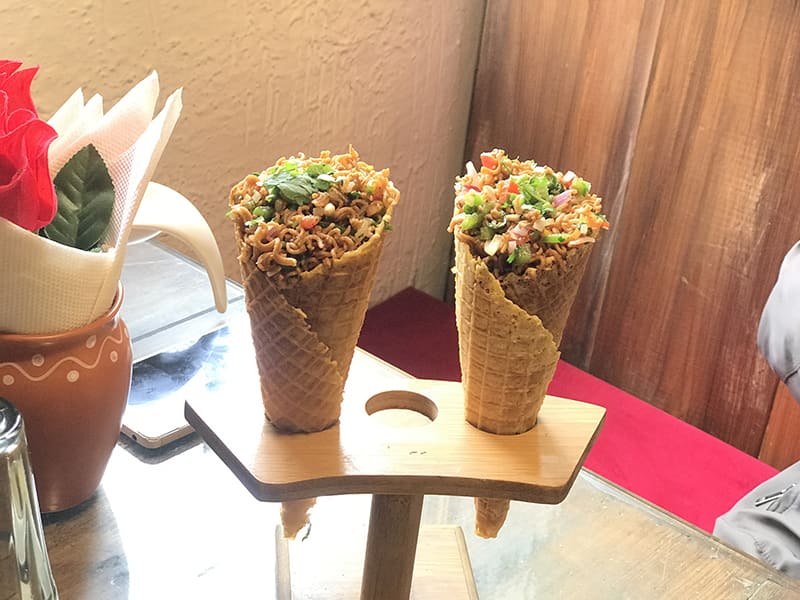 Oh! The good old days of hostels where we used to steal these. Wai Wai was perhaps our first packed noodles we used to eat raw. The crunchy curls of the dried noodles comprise of a majority of our school days. This cafe brings the crispy snack back to you with your favourite street food - bhel puri. The mixture of nuts and puffs was served to us upright in a sweet ice cream cone. The flavoursome ingredients were falling everywhere with our continuous and big bites. We created a crunchy mess, and that wasn't even our favourite part. The spicy mixture mixed with the sweet and nutty cone called for drools and maybe a glass of water because boy, it was super spicy!
Price | Rs 99
5. Tadka Maggi
Who runs the world? Girls. Who runs the sleepovers? Maggi. What can you ask for when cooking your Maggi? Spice? Check. Mustard Tadka? Check. Onions? Check. Tomato? Check. You name it, they had it. This loaded mixture of our beloved Maggi was nothing less than a total yet good makeover. Shallow cooked in oil and herbs, the recipe is to die for! It brings our midnight munchy rescue dish with a twist of their own desi Tadka. Garnished with coriander leaves, the complete meal was a mix and match and a successful experiment. Good going, Rick!
Price | Rs 99
6. Peri Peri Mayo Fries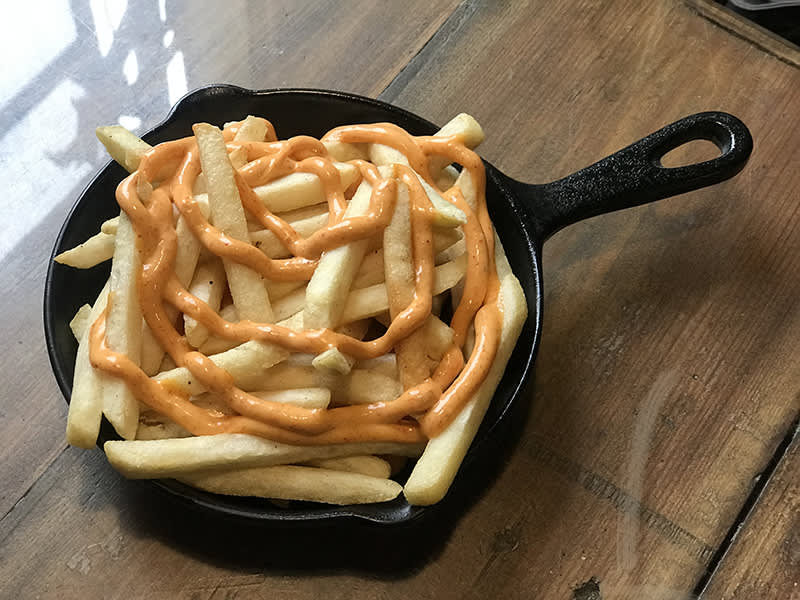 If you're expecting something exclusive, this dish might not be your best pick. The plate was not at all a disappointment, nonetheless. Plain and salted fries served with a drizzle of Peri Peri mayonnaise might just be what you need if you're looking was a crispy snack with a cheesy twist. The hot mount of simple fries was only to our liking. Contrary to the expectation with such dishes, the fries crunched with our last bite and didn't drown in their own sogginess. If you happen to love simple fries, this dish will surely make you want to give them the Namaste Dilli's touch!
Price | Rs 99
7. Bhapa Doi Cheesecake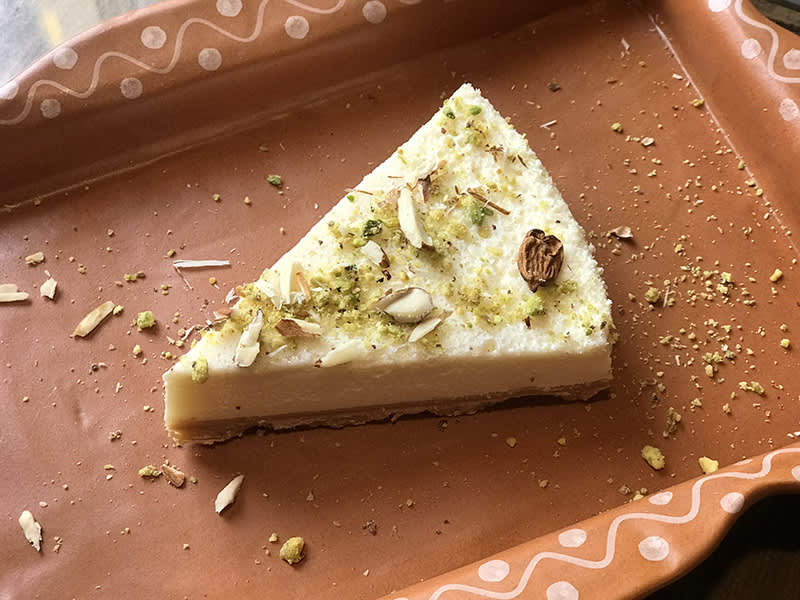 When we say this dessert melted in our mouths, we mean literally melted. The bottom of the cake was crumbly and tasted sweet and nutty while the filling was oozing with the overwhelming flavour of delicious yoghurt. This beautiful slice was topped with chopped almonds, bringing the flavour out more. The nuts added to the decoration and our palate. This small slice was filling and refreshing, after all, the tangy and spicy dishes we had called for it. This fluffy filling was nothing short of a mouthful of pure bliss, and for people who have a sweet tooth, you'll be scrapping it off the plate because we were awed by the smoothness till the last bite!
Price | Rs 99
Every once in a while, we come across a place we wish was more known. This small hipster cafe is one of them. The interior is hugely welcoming with walls painted with beautiful graffiti all over it. The tables, the walls and the overall interior expresses the vibe of that cafe. The seating is exceptionally comfortable, and a filling luncheon won't poke a hole through your pocket. This cafe is one welcoming spot in the middle of a busy intersection of neverending life struggles. So how about you drop by the cafe and enjoy what this place has to offer?
Where | Namaste Dilli - 2516, 1st Floor, Hudson Lane, GTB Nagar
Call Them | +91 9711 433 326
Timings | 11 AM - 11:30 PM
Check Out Their FB Page | https://www.facebook.com/namastedillicafe/