Delhi
7 Swanky New Restaurants That Have Popped Open In The City In February, 2020
Disclaimer: Bearing in mind the current health crisis befalling the city and the world at large, we're tweaking our content policy and recommendations. Stay positive, keep hygiene levels up and don't fall prey to panic and misinformation.
Hello, food connoisseurs! Are you bored of visiting the same old places and are itching to try something new? Well, we feel ya, buds! Here we present a list of some newbie restaurants which popped open on the city's thriving food scene recently in February. Read on and start making plans to explore all these spots super soon!
1. The Big Tree Cafe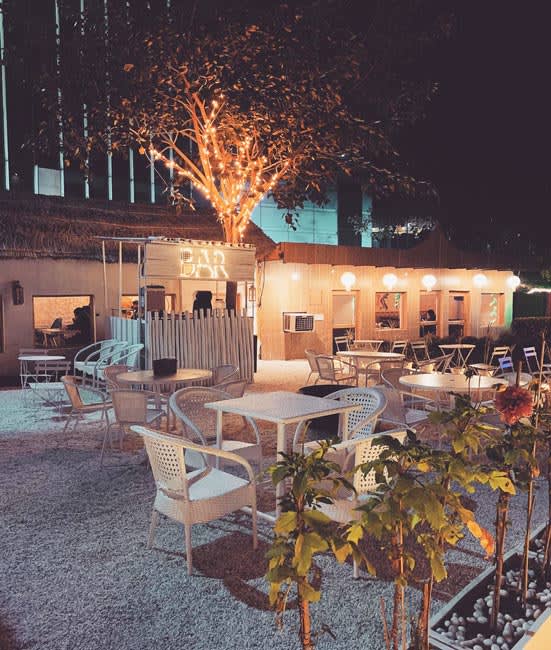 Picture Credits: sip_n_work
If you're a fan of aesthetically designed cafes, then this new place is the perfect spot for your next weekend plan. A stupendous entry comprising an archway of trees shining bright with glimmering fairy lights and super cool interiors with an outdoor seating area, you have to see this eatery to believe it. Besides, if you're an environment enthusiast, you can plant a sapling while you wait for your meal. Do try their Peri-Peri Soya Chaap, All American Burger & Chilly Bomb Pizza when you land up here!
Where | The Big Tree Cafe - Opposite Rapid Metro Pillar 174, Golf Course Road, Gurgaon
Timings | 12 Noon - 12 Midnight
Call Them | +91 11 6699 2365
Meal For Two | Rs 1,000
Check Out Their FB Page | https://www.facebook.com/bigtreecafegurgaon/
2. Josh The High Energy Bar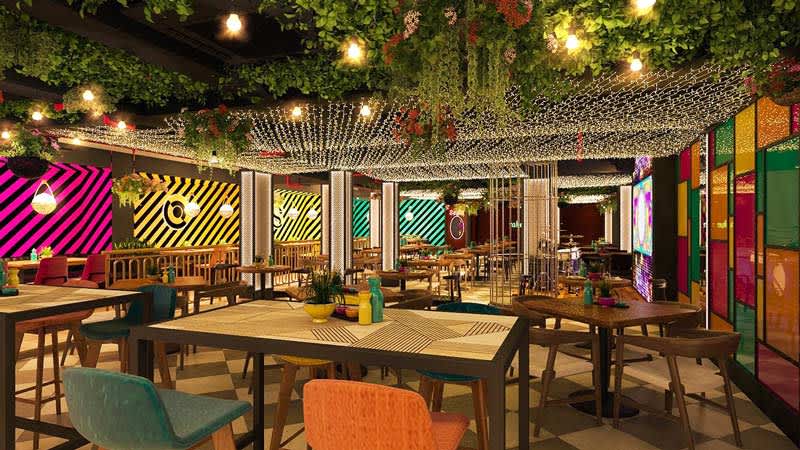 Picture Credits: shivamsehgal25
How's the josh? It's definitely gonna be high at this snazzy bar because the vibes are gonna guarantee you an adrenaline rush. Ceilings festooned with fairy lights, checkered floors and a super plush seating area, we just can't get enough of this place! Wolf down Kaatil Keema Maggi, Desi Duo Dimsums & many other crazy options off their menu to ensure you have a whale of a time with your squad!
Where | Josh The High Energy Bar, UG-131, Garg Plaza, Road 44, Pitampura
Timings | 12 Noon - 12 Midnight
Call Them | +91 11 6699 2534
Meal For Two | Rs 1,000
Check Out Their FB Page | https://www.facebook.com/joshthebar/
3. Diablo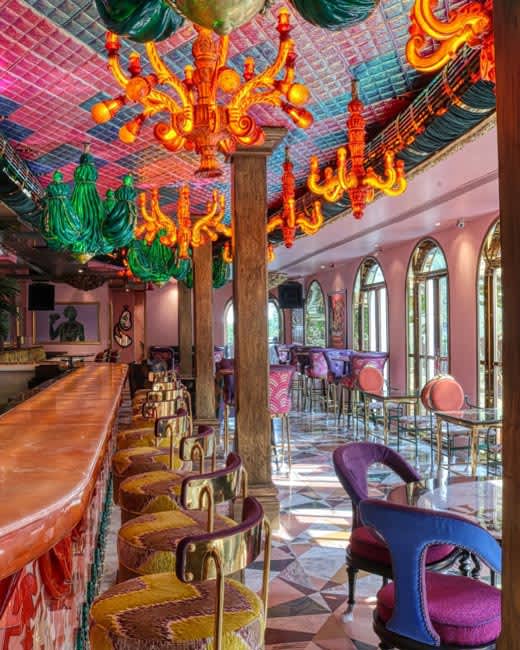 Picture Credits: natasha_jains_diary
This new restaurant recently dropped open in Mehrauli and we're absolutely fawning over its unbelievably transfixing interiors. Boasting of stark white walls on the outside, while the indoor seating area is an ethereal explosion of every colour on the spectrum, you won't be able to help but gape as soon as you step into the place. The grand entrance has gargoyles, magnificent saddles and peacock sculptures that make it a wonderful spot to click that Insta-worthy pic. Make your way over to feast on Greek-Turkish & Mediterranean fare that will make you want to lick your fingers clean!
Where | Diablo - Qutab Garden, H-05/12, Kalka Das Marg, Behind Qutab Minar, Seth Sarai, Mehrauli
Timings | 12:30 PM - 1 AM
Call Them | +91 9319 301 333
Meal For Two | Rs 2,000
Check Out Their FB Page | https://www.facebook.com/DiabloDelhi/
4. Padmanabham.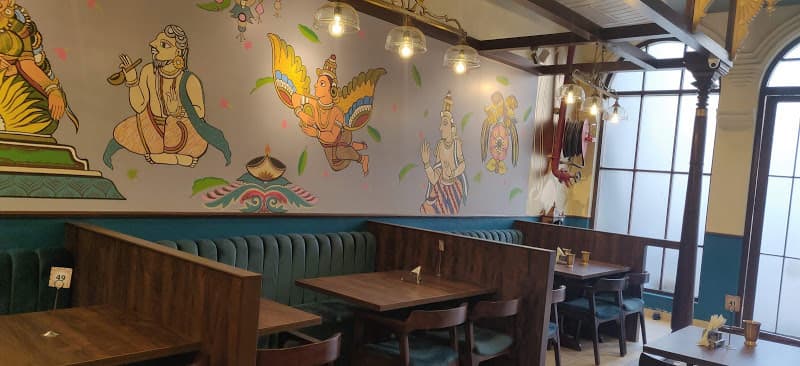 Picture Credits: Vaibhav Bolwani
The brass utensils, staff dressed in traditional dhotis, the fragrance of incense sticks and Kalamkari adorned walls will take you back to the beautiful cities of South India the moment you step into Padmanabham. You oughtta strut over for your fill of authentic treats on their menu which includes over 15 varieties of Idlis, 28 types of Dosas, Uttapams, Mini Meals, Ghee Pongals and oh so much more. These folks even dole out an elaborate North Indian fare and we couldn't be happier. The winner from the menu is their Bhojanam, which is an unlimited thali served on a banana leaf and comprises items from different states every day of the week on a rotational basis.
Where | Padmanabham - 52, Atul Grove Road, Opposite Metro Gate 2, Janpath
Timings | 11 AM - 11 PM
Call Them | +91 8882 300 300
Meal For Two | Rs 600
Check Out Their FB Page | https://www.facebook.com/PadmanabhamJanpath/
5. Urban Room, Delhi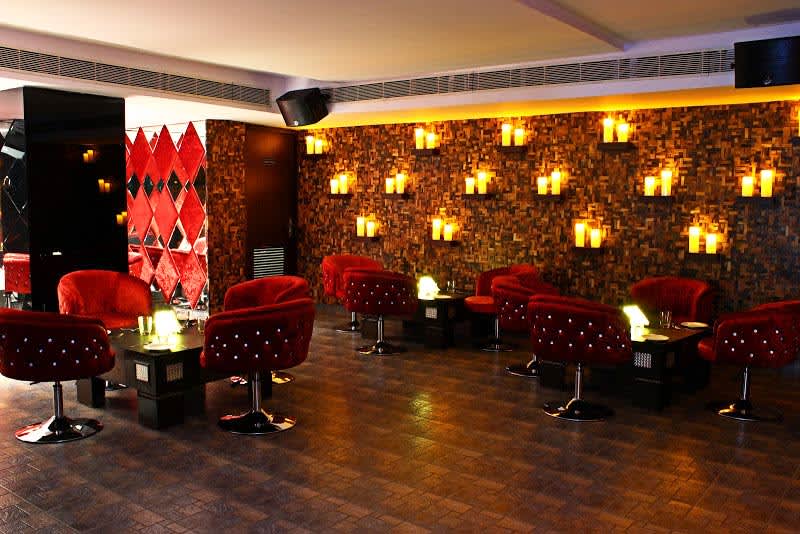 Visit this place once and you'll forget everything else for that's the kind of impact it leaves on its patrons. Setting the mood right with dimly lit interiors, comfy red couch-like chairs and chocolate brown walls, it looks like something straight out of a mystery novel. Devour their Malai Paneer & Corn Seekh Kebab, Sri Lankan Junglee Chicken Curry and all other fancy dishes on the menu with bae for a romantic foodie date!
Where | Urban Room, Delhi - F-39, Block F, East Of Kailash
Timings | 11:30 AM - 12:30 AM
Call Them | +91 11 6699 2446
Meal For Two | Rs 1,600
Check Out Their FB Page | https://www.facebook.com/urbanroomdelhi/
6. Dadel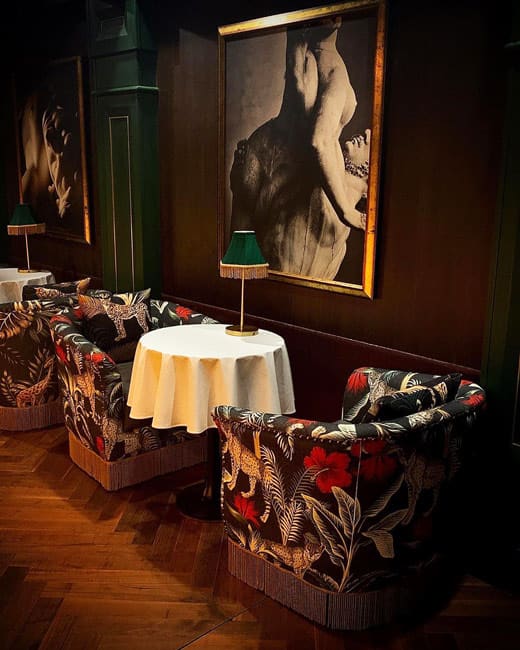 More than an eatery, Dadel is an experience, as we like to put it. The instant hit of neon when you enter this place is what enraptures you first. Step in and prepare to lose yourselves in the labyrinth of flavours, music & texture. The bar occupies the centre of the premise with a luxurious seating area around it comprising comfortable lounge chairs. Owned by celebrity chef Kelvin Cheung, you must head over to feast on the most exotic dishes off their expansive menu personally helmed by the master chef himself!
Where | Dadel - 62, Basant Lok Market, Vasant Vihar
Timings | 7 PM - 1 AM
Call Them | +91 11 40450161
Meal For Two | Rs 2,000
Check Out Their FB Page | https://www.facebook.com/dadel62/
7. Absolute Barbecues, Noida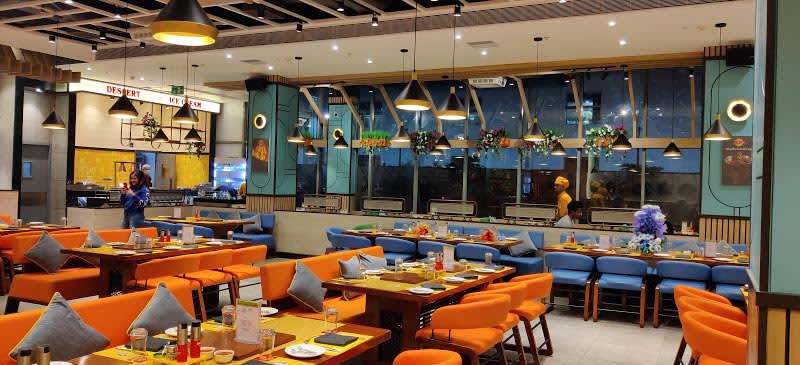 Picture Credits: Tushar Tyagi
As much as we adore fancy restaurants, places that offer buffet always have a soft corner in our hearts for no other joint can fill our stomachs without emptying our pockets & of all the buffet places, Absolute Barbecues has come to become a beloved. The live menu option is just irresistible and even the rest of the menu is so eclectic and vast that you'll be spoilt for choice! You can even go for exotic meats like rabbit, octopus, quail and many others here. Do try their Chilli Mustard Fish, Mutton Rogan Josh, Sri Lankan Shrimps Curry and Angoori Gulab Jamun fosho for a hearty foodie binge!
Where | Absolute Barbecues - Shop 1-3, Lower Ground, MGF Metropolis, MG Road, Gurgaon & Noida
Timings | 12 Noon - 4:30 PM & 6:30 PM - 11:30 PM
Meal For Two | Rs 1,600
Check Out Their FB Page | https://www.facebook.com/Absolute-Barbecues-India-108642384030127/
Don't wait up folks and visit these places ASAP!